West Roseville
| | |
| --- | --- |
| | Afternoon sun |
| | Climbing and bouldering |
Introduction
Yet another zero access sport crag on the North Shore! The crag offers about 10 micro routes, with a great 24 that punches straight through the big roof (Thunderbird). Be wary of some of the bolts. The crag is within the Lane Cove National Park.
Access
To get to the crag, park on the left at the corner of Shirley Rd and Valleyview Close in Roseville and find a faint track between number 130 and a light pole. Veer right then back left to the top of the cliff (you'll come out directly above Thunderbird). Descend to the right (chopped steps).
---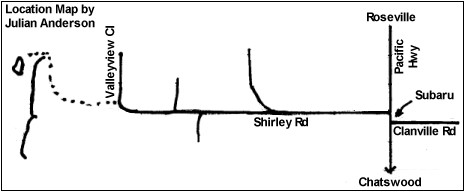 Climbs described left to right.
* * *
Thunderbird
23M1 or 24
8m
At left end of crag. An excellent and pumpy little number. Head up to the roof, then blast out and along, following the RBs (which can be preclipped by hanging over the top).
Munch (FA) 1994, David Coward (FFA) 1995
Thunderbird Variant
21
8m
Up the crack then through the roof (RBs).
Munch 1994
Cats Underpants
17
7m
20m right of TV, past overhang. Pretty worthless. Watch out for the melted sling (from the 1994 bushfires).
Munch 1994
* *
Toad Hall
23
8m
Right of CU. Undercut start then follow the line of FHs.
Munch 1994
* *
Deal With It
22
8m
Right of TH. Follow line of FHs.
Munch 1994
Flame Trees
17
7m
Right of DWI. Follow the line of green ring bolts. Mantle to finish.
Munch 1993
Toprope Problem
15
7m
Right of FT.
There's some good mid grade bouldering (V1 to V5) through the bush on the right, on a 4m high boulder with a huge gum tree growing out of the top. The problems are all thin, so bring your tape.