The Wastelands
| | |
| --- | --- |
| | 5-10 minutes |
| | Afternoon sun |
| | Overgrown except for Rainbow and Aunty Dot |
Introduction
A collection of short south-west facing crags, accessed from a fire trail that runs along beneath the escarpment. Most of the smaller areas would only appeal if this is your local crag, but Rainbow Wall is probably the pick of the bunch. The area was burnt in September 2003 by the fire brigade, causing minor damage to the rock. Some rebolting has been done at Rainbow Wall, the rest of the bolts are mostly rusty original carrots in various condition - mostly they are ok. Vegetation is slowly claiming back many of the routes, unless some local enthusiasts get inspired once again. I've left the star ratings on the climbs as they were from the glory days.
Access
Park at the end of Peppermint Grove, Engadine. The road winds around a bit, just keep going until the road ends in a cul-de-sac and you can continue on foot past a locked gate onto a dirt fire trail. This quickly connects with a sealed fire trail, head right onto this and uphill for a further 50m until you can take a smaller fire trail left down the hill. You should pass another gate before the trail flattens out and the cliffs start appearing on your right. The fire trail runs flat and straight for another 1km, providing convenient access to all the crags. It is also possible to access Rainbow Wall, Bumbly Buttress and Cave Rock from Bullecourt Ave, however as you are coming from above it is hard to know where you are unless you are familiar with the area.
---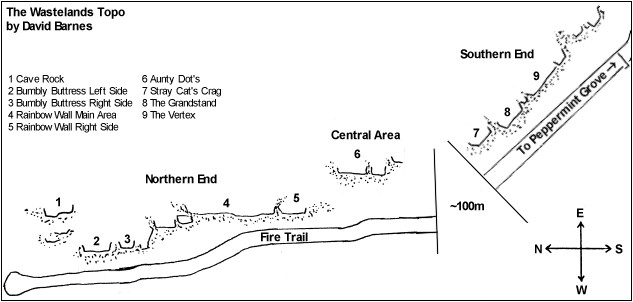 The Vertex
A 15m south facing bulgy slab. Most of the routes look fairly scrappy and vegetation has claimed back some of them. All fixed protection looks dodge. Routes described right to left.
Kon Bon Wa
20
8m
2m right of AFA. Cams and 1 BR. Tree belay.
David Barnes 1991-07
*
Asking for Action
18
8m
Arete right of KKB. Very poorly placed first BR (halfway through crux), then quite sustained to top.
David Barnes 1992-11
King Kong's Bum
14
10m
Thrutch up the big dirty bum crack.
M. Fox 1991-07
*
Breathless
20
15m
Left of KKB. Straight up past a wire and 3 BRs. Double BBs.
David Barnes 1993-03
Cringing Dinosaurs
21
15m
Start below right tending ramp. BRs and cams; thin at the top.
David Barnes 1991-03
*
Stormy Rocks
20
15m
Start at poor rock. 4 BRs.
David Barnes 1992-10
Slabathon
24
15m
Left of SR. 3 BRs and friends with a technical crux.
Graham Fairburn 1991-01
*
Jeopardy
24
14m
The left arete. A steep route with a FH, cams and BRs.
David Barnes 1993-06
The Grandstand
The prominent south-facing bulgy buttress with the rusty iron implements half buried at the base. All bolts are 20+ years old and are rusty carrots. There is a rap chain set well back from the edge above Ocean of Wind. You can scramble up to this anchor to set up topropes from the left. Routes described right to left. All day shade.
Pandora's Pillar
12
6m
Start right of the right hand arete in the gully. 2 FHs Chain belay on top of buttress. You might have to bush bash to get to the start.
C. Jeffs 1992-12
I'd Rather Be Climbin'
17
8m
The right arete. Cam and BR, Chain belay on top of buttress.
C. Jeffs 1992-12
No Wasted Space
17
15m
Left of IRbC. BR, mid size cam and FH on overhang.
Alan Smith 1993-04
Alley Boys
20
15m
Up corner (cams and 1 BR). Chain belay on top of buttress.
David Barnes 1991-08
* *
Ocean of Wind
16
15m
A great easy route up the front of the juggy buttress, climbing between the two 'plates' of rock. Start right of the first bolt (direct start is much harder). Finish with an airy slabby mantle. 4 FHs + medium cam above 2nd bolt. Chain belay on top of buttress.
David Barnes 1992-12
*
Dodging the Elements
17
15m
Left hand arete on front face of buttress starting directly above the ironmongery. Up the blocky, steep arete, fighting to stay away from Ocean of Wind, past 4 FHs and a couple of medium cams in the middle. Chain belay on top of buttress.
David Barnes 1993-01
*
Weirding Way
17
15m
A great top half, but the bottom is heavily vegetated. Starts 2m left of DtE, below corner and above major tree fern. Up corner (cams) then up fun headwall past FH and BR. Slabby topout to chain belay on top of buttress.
M. Walters 1992-05
Stray Cat's Crag
Next buttress left of The Grandstand. Virtually all of the bolts are in bad shape. Routes described right to left.
Love Letters From Tasmania
15
8m
The crack. Natural pro.
M. Fox 1992-03
Swimming in a Sea of Sand
15
8m
Left of LLfT. Need a mid size cam.
M. Fox 1992-06
*
Plummet Earth Eats Worms
20
9m
Left of SiaSoS. Groovy slab with 2 BRs and large cams. DBB.
David Barnes 1991-04
*
Avian Avarice
19
8m
The left arete. Head up the right side of the arete past a cam and BR.
M. Fox 1991-06
Aunty Dot's
A short but pleasant wall that would be great on sunny winter's day. The rock is good and the walls are clean. Not bad if you don't mind short climbs. Virtually all of the fixed protection is worthless, so toprope or boulder. There is a lot of rubbish around the place for that urban grunge feel. It's located up the hill above the fire trail, about 100m past Stray Cat's Crag. Look for the "51" painted on the embankment. Routes described right to left.
A
20
5m
Short wall facing descent gully. Up (BR).
To Catch a Thief
19
6m
At far right hand end of wall. Vandalised BR and mid size cam. Double bolt belay.
David Barnes 1992-01
*
Eat More Onions
20
6m
Left of TCaT. 2 BRs (second is vandalised) to double BB (shared with TCaT).
David Barnes 1991-11
El Crapo
17
6m
Just left of steep gully. Dodgy BR.
C. Jeffs 1992
Sabrina
16
7m
Up the crack with jugs at the top.
M. Fonda 1991-11
*
Vengeance
18
7m
The orange streak in the centre of the wall. Hard start past vandalised first BR.
M. Fonda 1991-10
*
Highway Neanderthal
14
7m
Left of V. Up past 2 BRs with friend just below top.
David Barnes 1992-01
Faith
13
9m
Follow the right-tending ramp up and right to V. No pro.
A. Le Gras (solo) 1991-12
Psychedelic Nightmare
14
7m
Left of F. Straight up past BR and cam.
G. McGregor 1992-01
Ordinary People
18
7m
Left of PN. Straight up past BR and cam.
M. Fonda 1992-01
Temporary Insanity
14
7m
2m right of corner. Straight up past 2 BRs and cam.
C. Jeffs 1992-01
NFI Crack
6
6m
The wide crack 2m left of the arete.
Peter Monks 1998-02
Left again is a short black wall with a couple of routes that are usually bouldered. Another 20m or so along the cliff is a cool cubby house perched in a tree!
Rainbow Wall Right Side
This dank, overgrown little wall is the continuation of Rainbow Wall across the creek. Walk directly to it from the fire trail.
*
Slave to the Crank
25
7m
At far right hand end of crag. 3 FHs to tree belay. Thin.
*
Cranky Jaws
19
7m
Left of SttC below flake. FH, BR and mid size cam.
David Barnes 1991-09
Galactic Crack
12
6m
The crack.
R. Roxby 1991-09
Dildo Comes Again
12
5m
The corner. Up to tree belay.
M. Fonda 1991-12
I'm On Fire
16
7m
Left of DCA (just right of scrub). 2 BRs then finish off left.
M. Darda 1992-12
There's some scrub at the base of the cliff just here.
Pyro Monkey
15
7m
Left of scrub. Natural pro.
S. Johnson 1991-09
*
Dancing With Dolphins
18
9m
Left of PM. BR then friends. Variety of finishes at top to unpleasant scrub. Rap off tree.
David Barnes 1991-09
Wicked Ticket
20
9m
Up past flakes via BR and 2 FHs.
David Barnes 1991-11
Rainbow Wall Main Area
An impressive stretch of rock with some distinctive vertical stripes easily seen from the fire trail. Although this wall is very short, less than 10m, the rock quality and sustained nature of the climbing more than makes up for it. Almost all routes here are sport climbs with lower-off anchors. Bash in from the right side along the base of Rainbow Wall Right Side. The cliff saw some extensive rebolting in 2006, but the cliff remains unpopular as evidenced by the overgrown ferny base.
Routes described right to left. The routes close to the creek suffer from seepage and the rock is only fair.
Pot of Gold
15
9m
Start right of blunt arete. Up thin wall to break (mid size cam) then easily up and left up ramp (take care with pro). Traverse left along break (PR on SRW) to rap chains on F.
Peter Monks 1997
*
Conan and the Gonad Cruncher
15
9m
Start below blunt arete at right hand end of main wall. Up right hand side of arete passing 2 very rusty RBs. Joins SRW.
David Barnes 1991-07
Sweet Red Wine
22
8m
2m left of CatGC. Up past cam, RB and PR to chain over top. Dangerous rusted bolts.
David Barnes 1991-01
*
Fatboy
20
10m
2m left of SRW. Up crack then blast straight up past two RBs and FH to chain lower off. It has a chipped hold than can be avoided at grade 22. Tricky between 1st and 2nd bolts. Rebolted 2006.
David Barnes 1991-06
Get It On
17
8m
4m to the right of DT, climb up dirty face, without using any of the holds on DT. At 2nd RB move to the right and up to shared chain with Fatboy. Rebolted 2006
M. Fonda 1993-04
*
Dave's Toaster
17
8m
Lone trad route amongst the RBs. The right facing flake crack, 3m left of the major gum tree and in the middle of the crag.
Hardy Brothers 1980s
Contrived Pate
20
8m
Up the flakes past cam, RB & FH. Hard for the grade.
Chris Wallace 1993-12
*
Bolting Blues
24
8m
Very sustained and very hard. Start just right of RWaW. Super rock past 3 RBs to lower off shared with RWaW.
Graham Fairburn 1990-06
* *
Room With a View
22
8m
2m left of BB. 3 RBs.
David Barnes 1991-10
* *
Check Out the Chicken
22
8m
One of the best here, and a good 'warm-up' for the harder routes. 2m left of RWaV below flake. Three RBs and FH to chain lower off on left. Used to be 20 until the fern grew out of the hole at the top. The new crimpy face moves out left make the route even better!
David Barnes 1990-07
* *
Billy McDougall
22
9m
As for for BE, but pike out of last direct move and move right and clip the last bolt on COtC and up to anchors.
Bundy?
* *
Billy's England
23
8m
Classic climbing with new bolts. 2m left of COtC. Balancy start leads to reachy moves up to break. Up to big reach move, then right to chain lower off shared with COtC. 3 RBs.
David Barnes 1990-07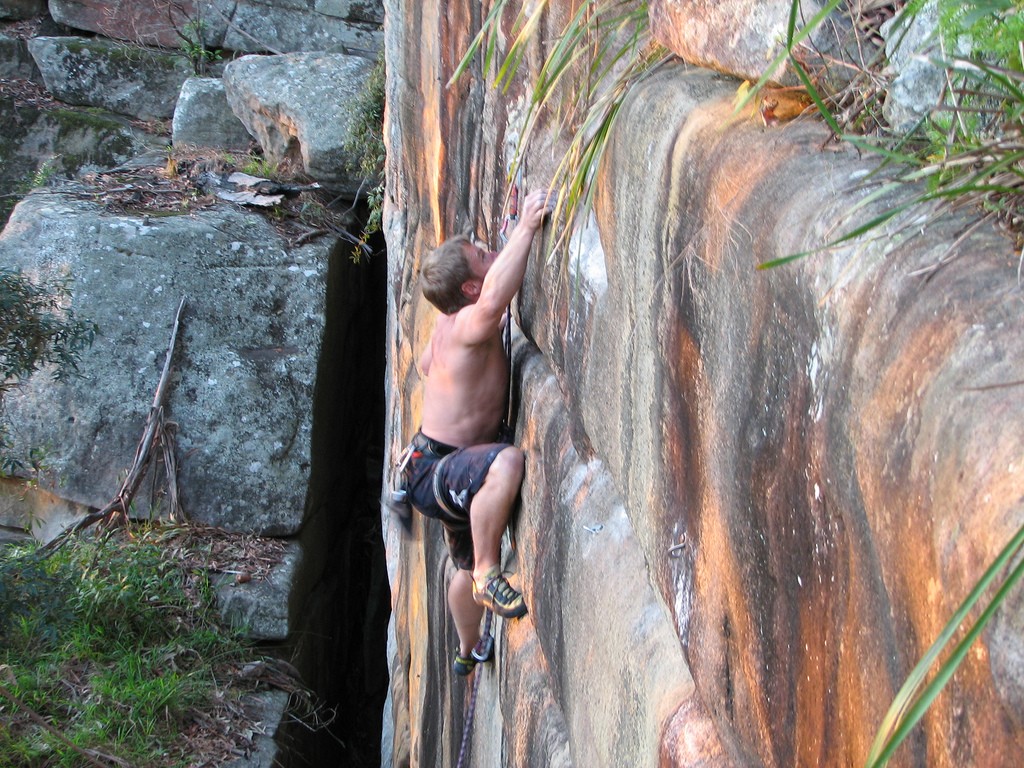 * *
Hip and Hunky Rhythm
24
8m
2m left of BE. 3 FHs to chain lower off.
Ben Pearce 1994
*
Sick Cows on Acid
25
8m
Start behind block. Superb rock, shite bolts. 4 badly rusted BRs and a positive ape factor.
Ben Pearce 1994
Courting Notoriety
18
8m
The offwidth 2m left of SCoA.
A. Ridgley 1995-10
The location of the following climbs is uncertain, but probably they are on another wall offset from the main wall.
*
Love Mission
20
7m
Just right of big gum tree. 2 RBs and mid size cam.
David Barnes 1991-11
*
Poetic Licence
23
7m
Start behind tree. Excellent rock with 2 RBs and small cam.
David Barnes 1991-12
Year Seven Girl
20
6m
Marked, below flakes. Up flakes with no pro (top rope recommended).
Gary Hardy, Mark Hardy 1980s
Hot Chips and Sauce
??
10m
The steep climb between Bumbly Buttress Right Side and Rainbow Wall Main Area. Up corner wall past FH to bolt, then over bulge and up steep head wall past chips to chain.
Bumbly Buttress Right Side
Obvious from the fire trail, although a bit overgrown with triffids. Yosemite Sam should be obvious from the fire trail.
Mulch Mattress
17
10m
3m right of FotF. Up to break, traverse left under overhangs to FotF then up.
M. Walters 1992-05
*
Flight of the Fanciful
21
10m
2m right of crack. Stay left of poor rock. 3 BRs and medium size cam.
David Barnes 1991-12
*
Yosemite Sam
17+
10m
The wide offwidth crack that goes half way up the wall. 2 BRs and mid size cam. A scrappy tree has invaded the start of the climb.
M. Walters 1992-05
*
Finger Lickin' Good
20
10m
Left of YS. Up sharp wall passing 3 FHs. Probably impossible now because of the tree.
David Barnes 1992-11
Bumbly Buttress Left Side
Clearly visible from the fire trail. Also a bit overgrown.
Snowbound
15
9m
Straight up to cave then traverse left and continue to top. Take cams.
M. Fonda 1990-11
*
Direct Door
21
9m
Up to horizontal, traverse right 2m then up.
M. Fox 1991-09
*
Emma Loves Artichokes
22
8m
Up to seam and up (take care with pro).
M. Fox 1991-05
Mortal Sin
20
8m
Start below flakes behind bush. Natural pro to tree belay.
Graham Fairburn 1991-11
Spasticosis
7
7m
Up the ramp (cams).
M. Fonda 1990-07
Cave Rock
Located left and up the hill from Bumbly Buttress. A tiny area with micro steep routes on questionable rock. The fixed protection is crap.
Nancyboy
18
7m
On right side of cave. 2 FHs (first is shared with C).
M. Fonda 1992-11
*
Cream
19
8m
3 FHs up and out roof of cave. DBB.
David Barnes 1992-11
*
Who's the Joker
18
8m
Left side of cave. 2 FHs to double BB.
David Barnes 1991-10
Cowboy Caviar
15
6m
Left of cave. Vandalised FH then BR.
M. Le Gras 1991-09