The Lost World
| | |
| --- | --- |
| | 15 minutes |
| | Shady for most of the day |
| | Sport climbing |
Introduction
One of the taller and better sport cliffs in The Shire. Routes are generally quite sustained, with superb rock quality and interesting sloping pocket features. The downside is the vegetation and the small number of routes. Seepage can be a problem after heavy rain. Recent rebolting and rebrushing has brought this cliff back to it's former 80s glory.
Access
To get there, find Koorabar Road in Bangor and park at the southern end of the street. Walk to right edge (west) of little cleared park (thru a gate) to fire track below the houses. Walk west along this track for about 60m to a locked gate (on your right) across a diagonal access lane, opposite is a bush, walk down the left side and then head down the hill slightly right for 40m. Just before the cliff edge you'll hit a track. Straight ahead is a cairn above the scramble down. Drop down and head left 10m then right (facing down), you're level with the base of the Little East wall at this point. Drop down and walk right (facing out and down) 30m to the main wall. To get to the top the top of the main wall, turn right (west) and walk along a trail near the clifftop for 35m to cleared clifftop and carrot bolts (involves a small scramble down to this platform). Rap in from here.
---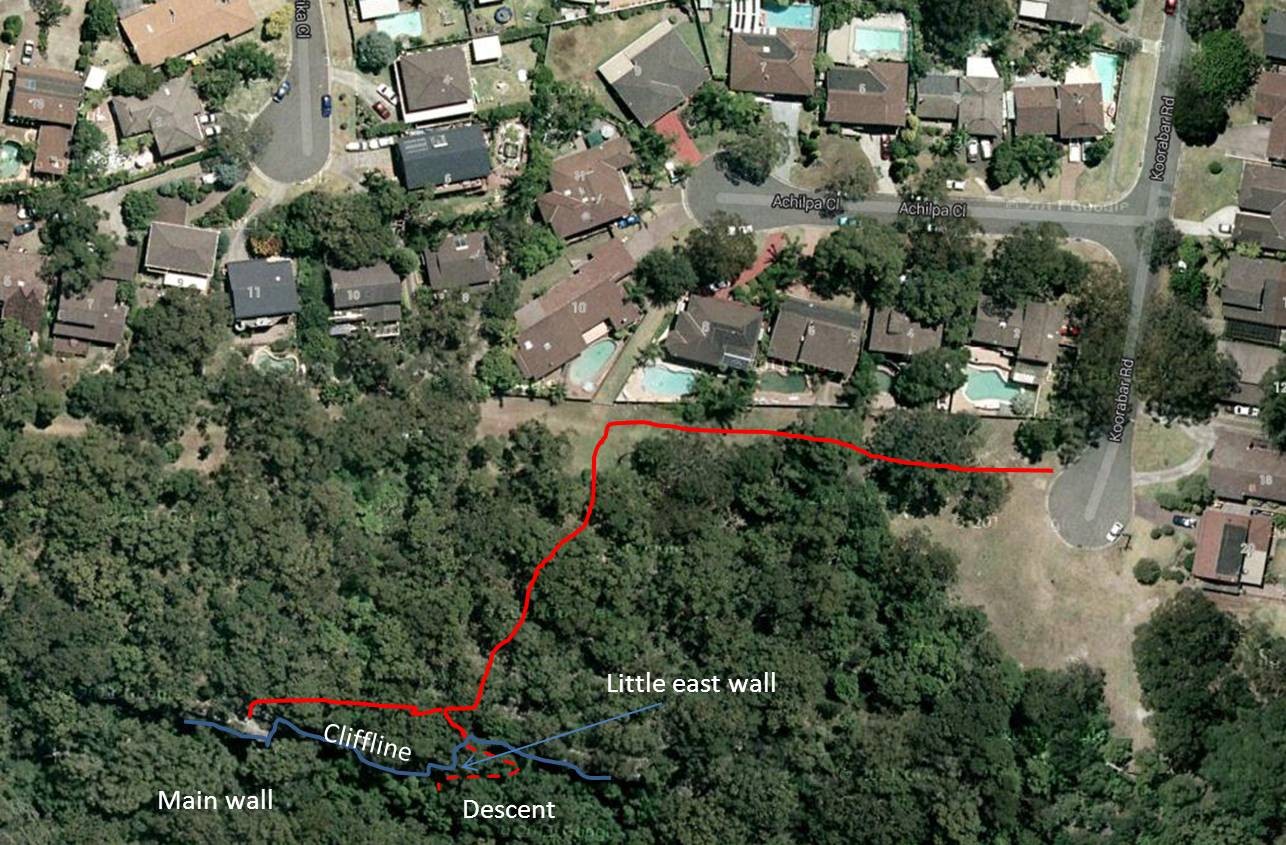 Tull's ball tearer?
This is the only thing I could find here, though it is described as being 55m East of the little east facing wall, it's more like 30m east. Anyway, up hard dirty seam and black wall with very small chips, looks 24+
Little East Facing Wall
The following climb is on the small east facing wall halfway down the descent.
* *
Screaming Pretty
20
12m
In middle of east facing wall.on descent Follow rings on good rock around roof to anchor. There is also an old carrot leading out left onto a dirty block, ignore.
rebolted and direct finish added 2014 mikl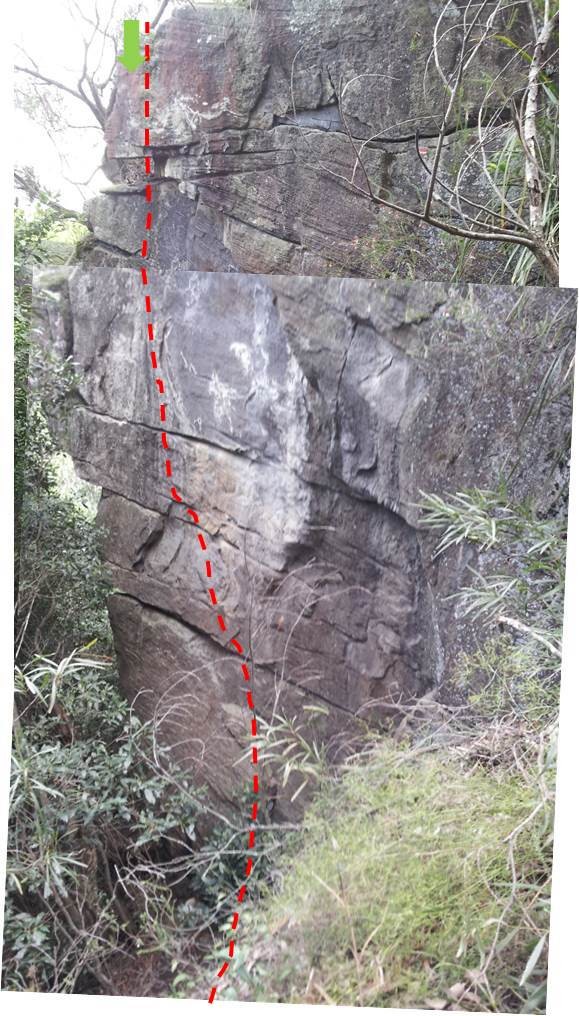 Line of Screaming pretty from the descent.
Grunting and Groaning
20
17m
Leftwards traverse, finish up Screaming Pretty past dodgy bolt.
* *
White Corner
24
15m
trad, a bit scary if you are old but good gear. About 10 m left of the base of the descent, almost straight below Screaming pretty. I used a nut tool to get the good wires in off the ledge. little wires up corner to small cams and a fist sized cam at the lip
mikl 2014
Main Wall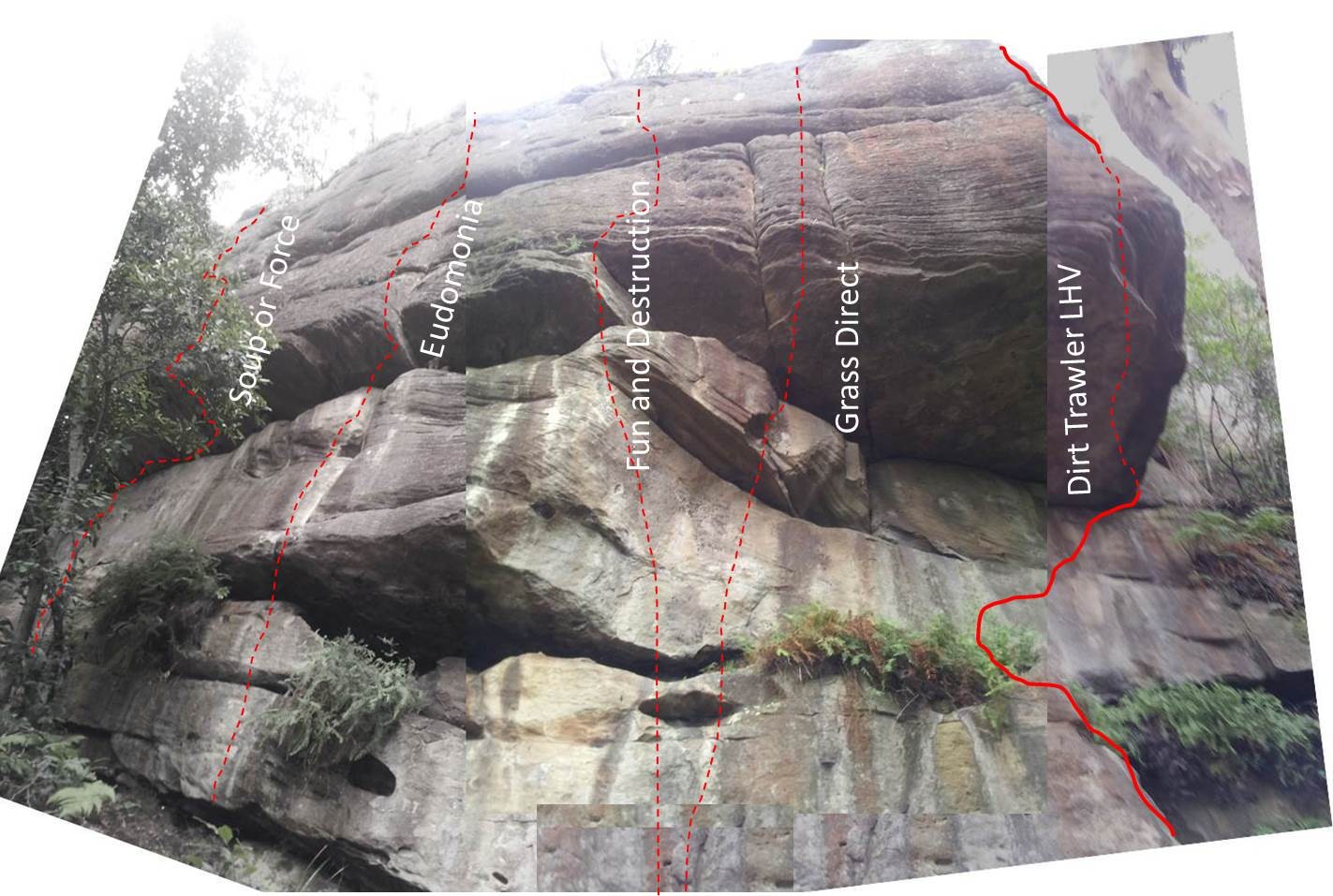 Dirt Trawler
23
20m
Dirty and thin. Climbs the face on the right side of the prominent arete. Scramble up to vegetated ledge under big roof, out right under roof and then back left onto thin face. Direct up face avoiding the arête on the left.
Dirt Trawler Left Variant
21
22m
About the best warm up here - but still a bit dirty. An easier variant to Dirt Trawler. Up that route to 3rd bolt then traverse left across sloping horizontal break to arête and up this finish.
Nightcrawler (project)
20m
The big ceiling direct and then up the gritty main arete. Probably grade 28+?
Project Neil Monteith
* * *
Grass Direct
25
18
Start below twin roof cracks marked PT. Up and through roof, move R on lip and up twin slapping cracks then seam above (KotG).
mikl law 2014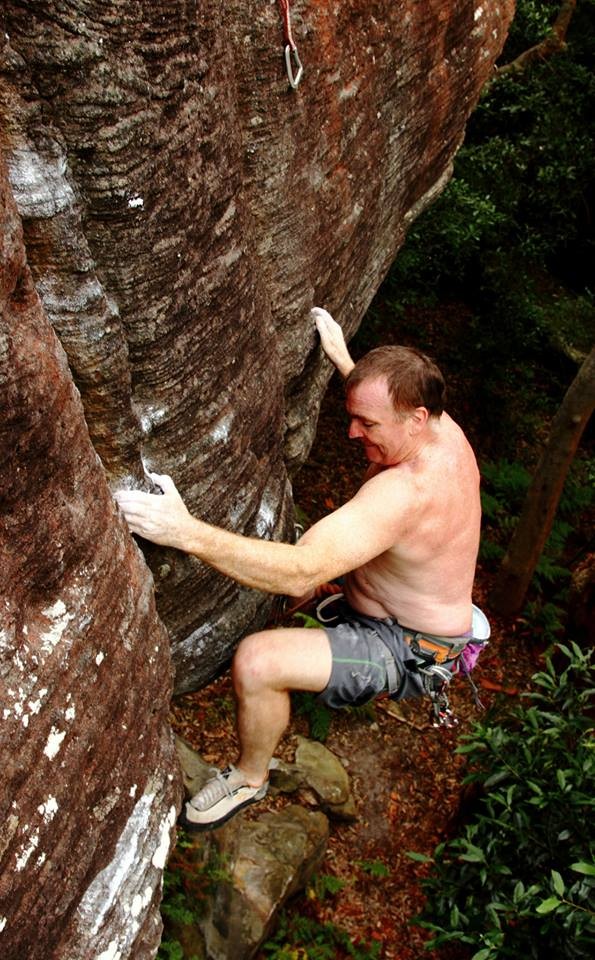 mikl working Grass Direct
* *
Keep Off the Grass
23
20m
Marked PT. Start up Fun and Destruction and traverse right 2m above roof. Rebolted 8/2009
Neil Mahant c1988
* * *
Fun and Destruction
23
20m
AKA Fun and Danger (erroneous). Great sustained and varied climbing from start to finish. Starts on left edge of cave. Up jugs to small ledge, traverse left across horizontal break and up to under bulge. Over this and up crimpy face with a little left trend under 2nd bulge to water-washed pockets. Run it out up easier ground to the anchor. Rebolted 8/2009
Neil Mahant c1988
*
Cat Burglar
23
26m
A big girdle traverse to get onto the arete. Start as for Eudaimonia to 2nd bolt then big rightwards traversing link-up line eventually joining into the end arete of Nightcrawler.
Neil Mahant c1988
* *
Eudaimonia
22
20m
1m left of the chipped "PT". A great climb up a series of bulges and seams on the left end of the wall. This route was originally chipped in two places, the lower one has been filled so grade has been bumped up. Rebolted 8/2009.
Neil Mahant c1988
Superforce
25
20m
Bloody hard! Start a few metres left of E. Up through roof and step right, hard move past ring and old piton, then up to lower-off (shared with Soup or Force)
Neil Mahant c1988
*
Soup or Force
22
15
Start as for Superforce. Delicate and reachy start coming in the from the left, then through the roof on secret holds and finish up seam on the left line of bolts.
Mike Law 2009
* *
BlockRock'n
23
16
About 20m L of Soup or Force, scramble up onto ledge. Up slabs and right arete of hanging block.
mikl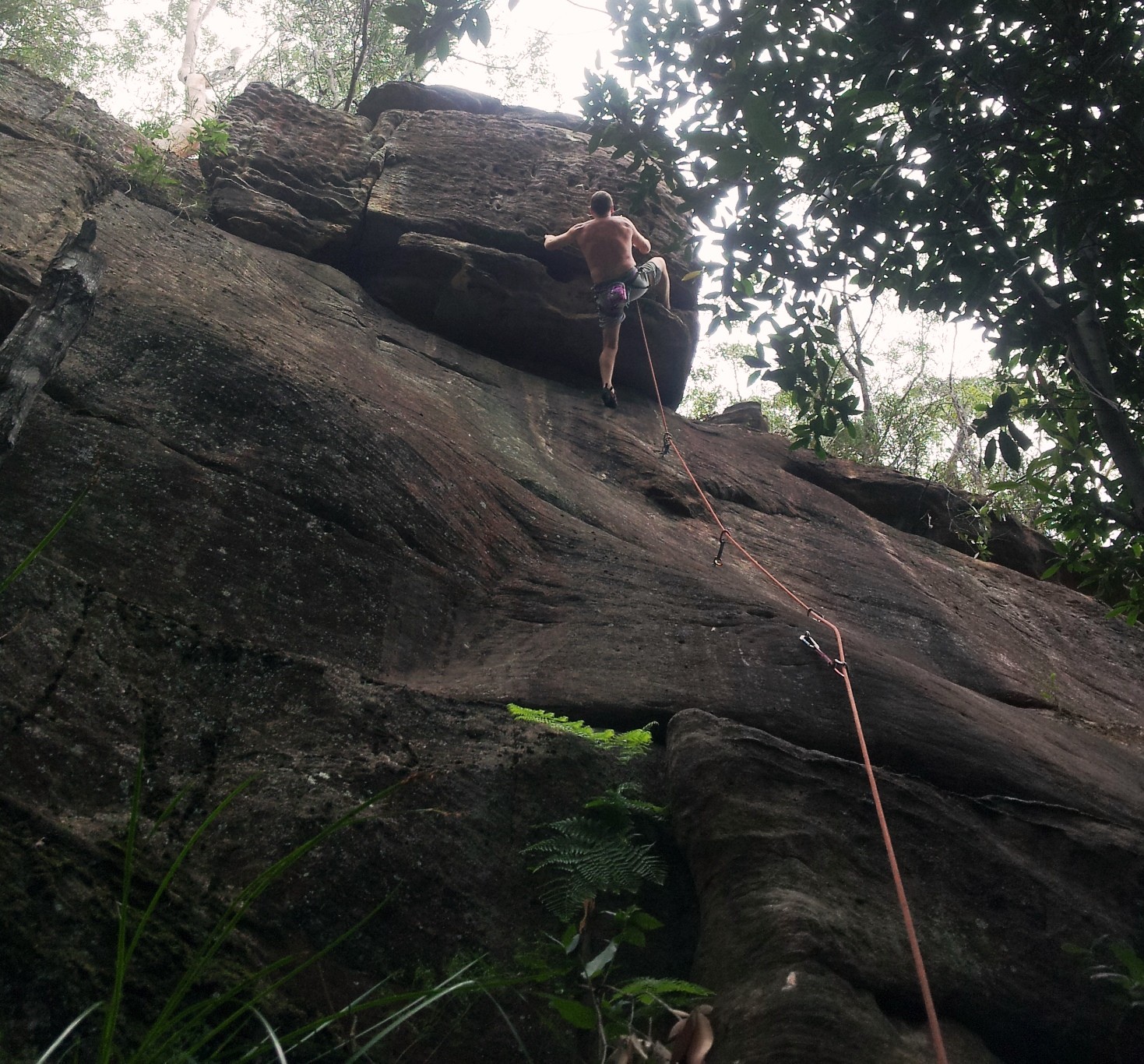 mikl of FA of Blockrockn
* *
Jam, no butter
22
16
More like Butter, no jams. About 20m L of Soup or Force, scramble up onto ledge. Up easy corner on left then R and up slab and thin crack thru block. You can skip top (dogging) bolt if you use a short draw or locking biner on 2nd bolt on bulge.
Patrick Burr 2015
Hobbit Corner Area
Walk 45 m left of the Main Wall and scramble up to ledge on rungs below Funky Little Corner. walk R to Hobbit Corner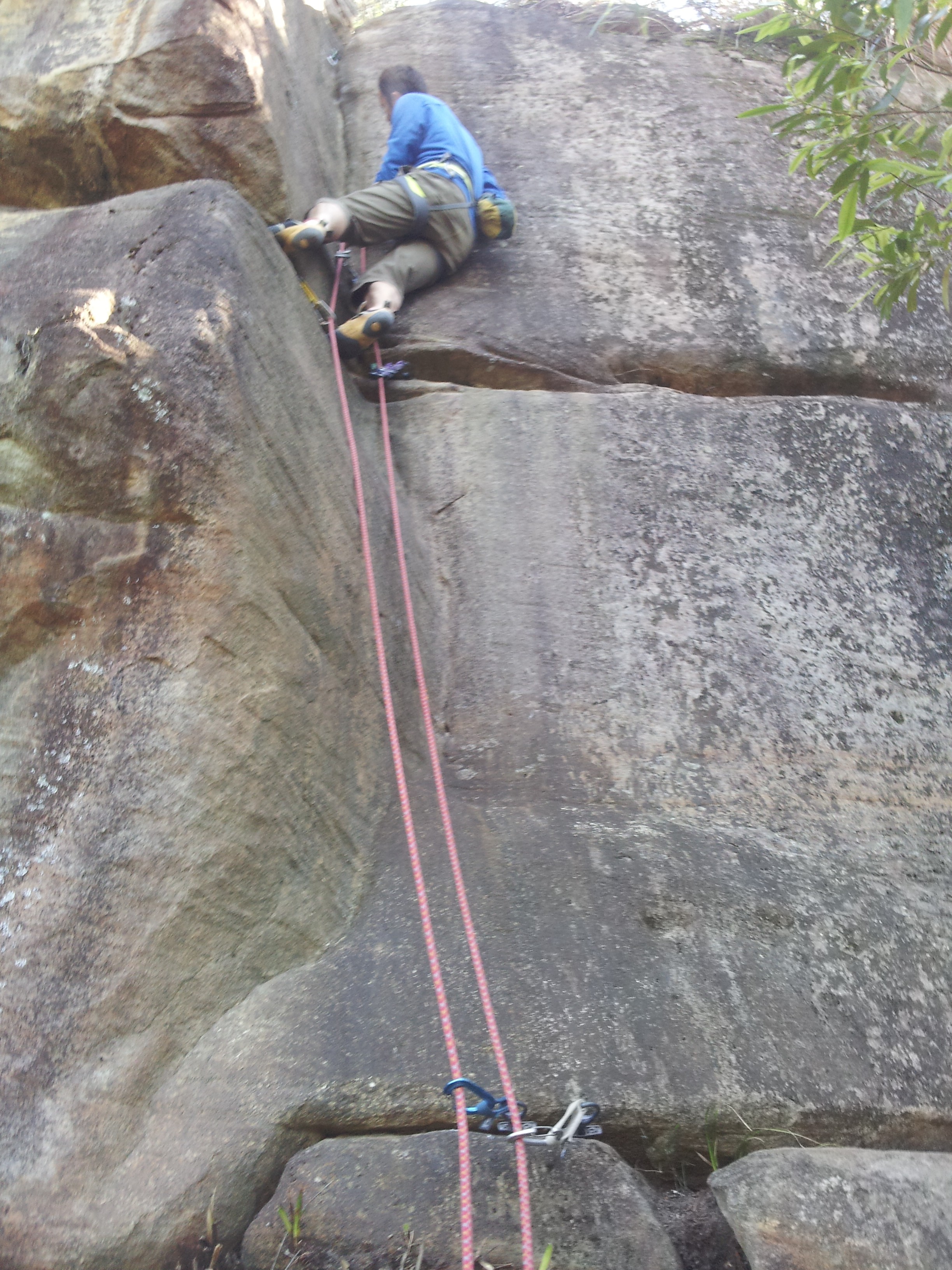 Monty on Hobbit Corner
* *
Hobbit Corner
20
10
Shire classic, take extra finger sized nuts and shallow cams or a pink tricam, keep a green camalot for the top. Up past good break through blank corner to good breaks and up
mikl 2014
Friction Project
10m L of Hobbit Corner. Up wall, roof, and shallow corner .
*
Funky Little Corner
21
9
20m L of Hobbit Corner. Up corner. Wet after rain
mikl
Lost World Cave
Mikl's Roof Project
10m
Right side of cave 10m R of Neils scoop project. Follows roof flake horizontally.
* *
Family Ties
25
10m
The direct line through the pocketed roof into the bizarre bell shaped scoop then straight up the technical stemming corner. Corner seeps for days after heavy rain.
Neil Monteith, 8.8.2015
* *
Ancestry
25
15m
Very steep. Start at right end of lower bolted flake in middle of cave. Long traverse left across horizontals, then through scoopy roof and up stemming corner.
Neil Montieth, 15.8.2015