The Great North Cliff
| | |
| --- | --- |
| | 5 mins |
| | Afternoon sun |
| | Cliffs up to 20m high |
Introduction
Another crag surrounded by bushland but in the middle of suburbia. The crag faces west, so is better on summer mornings and winter afternoons. It's located down in a shady gully, however, so it could be cold in winter and relatively climbable in summer. The crag tends to be quite wet, and the rock in amongst the vegetation isn't the best. Things may have become a little overgrown due to limited traffic, you might want to bring a wire brush and gardening gloves! There is some good bouldering (mainly traverses) at the southern end of the cliff.
History
The existing routes were put up between 1995 and 1998 and there is some potential for new routes. Some of the climbs at the crag have "enhanced" holds, against the wishes of the original developers. If you're putting up a new route, please don't chip any more holds.
Access
Park at the northern extremity of Elouera Road in Westleigh (near Westleigh Drive). Follow the Great North Walk signs down between the houses and the pumping station for about 350m until you hit the main Great North Walk track (there's a sign just here). Either rap in off the DBBs in front of the sign, or descend at either end of the cliff. The southern descent (to the left) is easiest. Climbs described right to left (south to north), facing the cliff.
---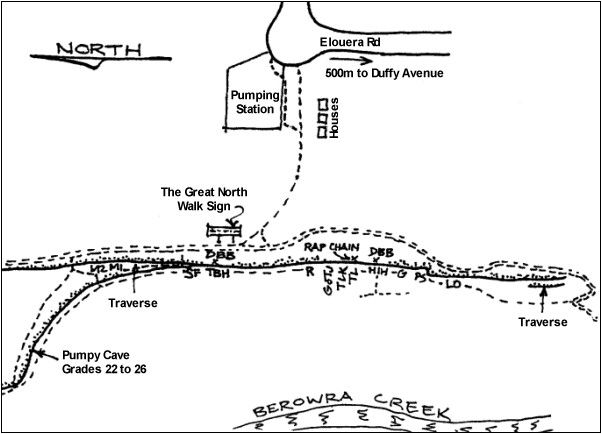 *
Lust Object
22
9m
About 70m north of the southern descent. A tricky start leads to a pleasant slab (RBs). Lower off the top RB (the roof above is as yet unclimbed).
Adam Cavanough 1990s
PS
11
5m
Marked. The corner 10m left of LO.
Geckoville (Open Project)
25?
10m
8m left of PS. Thin and balancy.
J
??
??
Marked. Left of G. Chipped.
*
How's it Hanging? A Bit to the Right
22M1
20m
Left of J. Aid past first BR to pocket, then continue up (BR and cam) past ledge (BR and RB) to rap chain.
Adam Cavanough 1990s
How's it Hanging? A Bit to the Left
19M1
22m
Follow Howsit to first ledge, then move up and left past a tree and a BR to the top. Double BB belay.
Adam Cavanough 1990s
* *
Thin Lizzy
23
10m or 20m
15m left of Howsit. Head up wall (cam and 2 RBs) to chain. Either belay then rap (put a long sling on the next RB to protect the second on the crux), or continue straight up the wall above (10m grade 17). Variant finish (17) heads diagonally right (RB) and up.
Adam Cavanough 1990s
JG
??
??
Marked. Left of TL. Chipped.
The Lizard King
24
12m
Left of JG. Climb wall (FH and cam), then move left (cam) and up (RB and BR) to chain lower off.
Adam Cavanough 1990s
SV
??
??
Left of tLK. Chipped.
*
George of the Jungle
20/24
20m
Left of SV. Stick clip FH, then up to ledge (using the tree only scores a 20). Continue up wall (BR and RB) to next ledge (BR). Climb final wall (BR) to top. Cam belay.
Adam Cavanough 1990s
Rampant
23
12m
10m left of GotJ. Climb wall past 4 RBs. Lower of last RB or move left to belay (mid to large cams).
Adam Cavanough 1990s
The Brown Hornet
21
19m
About 40m left of R. This climb is located directly below the Great North Walk sign. Wet after rain. Up wall (2 RBs, cam) and through the break in the roof to the ledge as for SF. Continue left and up to double BBs.
Adam Cavanough 1990s
*
Super Friends
19
23m
Wet after rain. 5m left of TBH. 1. 16m. Up (2 BRs) to roof. Traverse right (cams) to break in roof. Up to belay ledge (BB and large cam). 2. 7m. Move left and up (2 BRs) to double BBs on top.
Adam Cavanough 1990s
There's some traversing boulder problems just right of M1.
Monkey 1
18
20m
About 25m left of SF, above the lower cliff line. Located about 20m right of the northern descent route (where you climb down the first tree). Pretty worthless. Up the easy slab to RB. Head right (RB) and up through overhang.
Adam Cavanough 1990s
Monkey 2
15
20m
Pretty worthless. Up M1 to RB, then move left (RB) and up to top.
Adam Cavanough 1990s
Sport Cave
This large, south facing cave houses the following five sport routes, amonst the best routes at the crag. These routes remain dry in the rain, and the cave is shady during summer. The routes were apparently put up by Barry Jones in 1986 or thereabouts, but appear to have been (sparsely) re-equipped with new RBs and double RB lower offs since then.
A
24?
11m
At right hand end of cave. Heads up and right, tackling the steepest territory in the cave.
*
B
26?
13m
3m left of A. Straight forward start, then head right.
*
B, Left Hand Variant
24/25?
13m
Up as for B, then split left.
*
C
24/25?
13m
4m left of B at undercut wall. Up undercut wall using some deeply chipped pockets. Staright up through bulge and past a ramp and through the to top of the cave.
* *
D
22
9m
7m left of C, at far left end of cave. Up slab then out steep rooflet. Up great flaky arete to top.