The Gap
| | |
| --- | --- |
| | Morning sun |
| | Sea cliff |
Introduction
The Gap is the original home of Sydney sea cliffing, with Mike Law and friends starting the phenomenon here in the mid 1970s. Unfortunately it was subsumed into the Sydney Harbour National Park in the mid to late 1980s (along with many of the more impressive Sydney sea cliffs) and climbing has since been banned. The cliff and route descriptions have been included in here in the hope that one day access is restored but until then, climbing is banned in this area and they are serious about it - motion activated cameras will automatically call police and you will be fined.
Access
Climbing is banned in this area - motion activated cameras will automatically call police
---
Climbs described right to left (north to south), facing the cliff.
Main Wall
The prominent steep 40m south facing wall with the obvious line up the centre (Cruise or Bruise). To get to the base of the wall, rap in off the triangular block located just over the fence and in the middle of the bay.
* *
Big Dipper
24
55m
Start in the little corner past arete, 40m right of CoB. Not accessible in big seas. 1. 20m (24) Up the corner, head right (manky BRs) then through roof and up wall. Continue past small ledge (manky BR) to large ledge. 2. 35m (20) Walk 4m left then climb diagonally left and up to top.
M Law 1980s
*
Cruise or Bruise
21
42m
The obvious line in the middle of the northern wall. 1. 30m (21) A hard but well protected crux to get established in the corner (2 good BRs). Cruise up the steep corner to a small belay stance. 2. 12m Either continue up the line (loose), or traverse right around the arete and up the short wall (no pro).
Mike Law 1976
Snivelling Grooves
23
45m
15m left of CoB. 1. 15m (22) Up flake and wall then head left, up and back right to the belay. 2. 30m (22) Head right to roof then up to flake. Follow flake left to a stance, then move right and up a variety of cracks to the top. Take a large cam.
M Law 1980s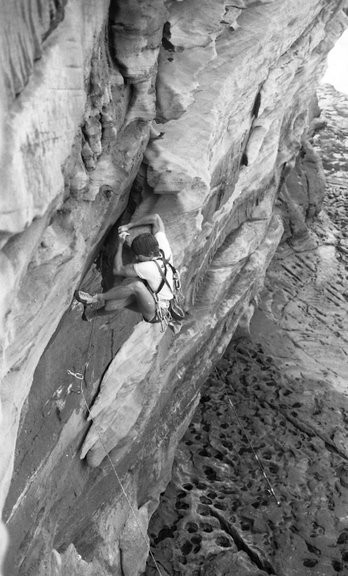 Oblique Stress
23
45m
Start under roofed corner, 5m left of SG. 1. 15m Up corner (manky BRs) then traverse left under the roof to a crack. Follow this (getting harder) then belay on the right (BBs). 2. 20m (23) Head 4m right to arete. Up this then move left to crack. Up the wall, through a bulge (BR) to belay below roof. 3. 10m Follow the jam crack left through the roof.
M Law 1980s
The Cove
The small southern cove, located about 100m south of the main wall (separated from it by a small buttress). It's possible to walk around underneath the buttress, but you stand a good chance of getting wet. It's better to jump the fence at the look out, walk 5m right (facing out) to a large bolt. Carefully solo down the corner below this to a large ledge with a rap station. It's a good idea to leave the rap rope in place here as well.
*
Jen's Climb
23
15m
Start below a thin crack 2m left of the right arete of the cove. Up (manky BR) to gain the crack. Follow this for 2m then move right to the arete and up.
M Law 1980s
Sabotage
22
18m
3m left of JC, at the base of the abseil. Up (BR) to corner. Traverse left around arete (BR) then up the wall above (BR).
Glenn Robbins 1980s
Shall We Dance?
25
15m
4m left of S. Up the blank corner.
*
Swing Time
20
25m
4m left of SWD on boulder. 1. 15m (20) Strenuously up to ledge at 5m. Follow low traverse line right to arete. Rap off, or 2. 10m (19) Continue up the slopey corner above (no pro).
Giles Bradbury 1980s
Cute Energy
20
50m
Start as for ST. 1. 25m (20) Follow the gutter left. 2. 25m (20) Head diagonally up and left.
Glenn Robbins 1980s
Life Jacket Chimney
24
30m
At the buttress above the keyhole. The keyhole is almost directly below the Dunbar's anchor. Up for 4m then move right to the line that goes through the rooves and on to the top.
Warwick Baird 1980s
The following two climbs are accessed either by walking around through the keyhole (only when the swell is small and the tide is out), or by rapping all the way down Poet's Corner.
Escape Climb
15
25m
The corner, about 10m left of LJC.
Ugly John Paradox
??
??
Unknown - somewhere near EC.
Poet's Corner
To find this short classic, walk right (south) along the fence until an orange corner comes up close to the fence. Rap down.
* *
Poet's Corner
21
10m
Up the corner (2 manky BRs). Recommended top rope only.
M Law 1980s
Early Day's Madness
??
180m
As for PC. A mammoth leftwards traverse that finishes at the base of Why Me. It's the longest climb in Sydney, and almost certainly unrepeated, so race down there now to bag the coveted second ascent!!
To get to the following climb, scramble down about 12m right (south) of PC. Rap down a small corner then tension right under the big roof (difficult) to a hanging belay (very manky BBs).
* * *
Lost in Space
20
20m
Huge roof with crazy moves. Take a #9 hex. Up and through roof to ledge (big exposure). Head up and right (BR) to arete then up. Reasonable pro but crazy!
M Law 1980s
Duelling Biceps Area
Climbing is banned in this area - motion activated cameras will automatically call police
* *
Why Me?
25
60m
Just left of the arete, about 8m right of FF. 1. 20m (23) Up and right (BR) then up and left (BR) to flake. Continue up to rounded hold (BR) then head diagonally right (BRs) to crack. Up to ledge. 2. 20m (25) Right out roof then left over bulge and continue left (stance). Blast over roof and up wall above to belay in V corner (BBs and cams). 3. 20m (21) Head diagonally right to slabby corner (as for FF).
G Bradbury M Law 1980s
* * *
Boyzone
24
95m
9m right of LGM, below big corner. 1. 25m (20) Follow the corner straight up then step right to belay as for WM P1. 2. 20m (24) Move up to traverse line, then an excellent and pants filling traverse left (6 manky BRs). Step down to double bolt belay. Possible to rap off from here. 3. 20m (22) Move 2m left and punch through roof (BR - hard to clip). Head 4m right along traverse line then move up (BR) and right to belay at far left hand end of ledge (double BBs). 4. 30m (16) Dangerous. Head up (rust stain that might have once been a BR) past ledge to corner. Follow to top.
M Law 1980s
* *
Feeding Frenzy
23
20m
Variant second pitch to B. Follow the lower traverse line (BR then cams) to belay as for B P2. Much safer than any of the pitches on B.
G Bradbury 1980s
* *
Fish Fingers
27
75m
1. 25m (27) Up B for 10m then step left (BR). Through roof to flake (BR) then up to break. Move right and up to roof (BR), then launch out big roof to BR on lip. Continue up to belay on BRs on B P2. 2. 20m (27) Over rooves and up (BRs and a large cam) to belay on ledge as for B P3. 3. 30m As for B P4.
M Law G Bradbury 1980s
Let's Get Married (Project?)
??
??
1m right of D. An old Giles Bradbury project (so it must be pretty bloody hard!).
* * *
Doggit
28
18m
20m right of FA at brown slime. Blast straight up the wall (BRs and small to mid size cams) to belay as for B P2. Rap off, or finish up B.
M Law 1980s
* * *
Fat Action
25
40m
Start at the ledge at the bottom of the abseil. Up to BR, then move right and crank straight up wall (BRs).
Stuart McElroy Late 1980s
Duelling Biceps variant Finish
25
15m
From cave on pitch 2, head right and up past U-bolts. This was the origianl finish and is desperate.
Neil Monteith 2009