The Cathedral
| | |
| --- | --- |
| | 5 minutes |
| | Shaded |
| | Funky sandstone |
Introduction
The Cathedral is a popular and extensive crag located in a beautiful setting on the banks of the Woronora River right in the heart of the Shire. It is also one of the taller crags in this guide with unusual solid and very frictional rock. There is something for everyone, from grade 27 cracks, great sporty little 16s, a range of good cracks to learn on (no holds) and heaps of low 20 walls. But be warned, it isn't easy gym climbing, a unique combination of power and footwork is necessary for most routes. Trad climbers and sport climbers will both enjoy the place. It also has the best collection of cracks to learn jambing on in the Sydney area, with 14 strange crack routes. The area is very shady, not only from facing south but also from thick vine covered jungle. Bring mozzie repellent in summer (it's humid and windless then, but you can go for a swim). Winter has awesome friction and is the best time to climb here. One person has reported a tick here (most people don't get up anything).
History
This place has seen a lot of past traffic, firstly by tourists then by rock climbers. At the base of the pointy arete project there is a weird carved cup holder and the date New Year's Day 1941. There is evidence of old building foundations and escaped exotic tropical gardens just out from the cliff. It is believed climbing occurred here in the 70s, there are some very chunky early 1970's bolts above Head Injuries, in Wacky Tabbaci chimney and on top of it, on Mr Squiggle and near Wire Brush and Dettol. In the 80s the Savage Shire Sandbaggers (Graham Fairbairn, Kent Heffernan, David Barnes) got the ball rolling and climbed almost everything of note. In the 90s there were extensive mopping up operations that produced some more good climbs. In 2006 a few climbs were rebolted and the top access was rediscovered. In 2011 the crag was fully rebolted (many with lower-offs) as the proximity to saltwater caused significant corrosion on the old mild steel bolts.
Access
Park at the end of Shackel Rd, Bangor. Please don't fill up the street and block access for locals. If there are a few cars about then park 50m further up the hill. Locate the track heading down into the bush on the left. It is marked with tape and first heads across the shallow gully, then turns right and heads down through a little rock band. Turn left here for The Wedges bouldering Continue down 50m to a track marked with yellow and white tape heading off left for access to the far right slabs and Angel's Buttress. For the main area continue on down. The last section negotiates a few rock platforms before emerging at the left end of the main cliff. The original access was via the footbridge at Prince Edward Park, but this is longer and is fairly scrubby. The nearest railway station is Sutherland, about 4.3km away. Combine with bus M92 that runs down Menai Rd. If you've got a boat or kayak, paddle in!
---
Much of the climbing is on the left end of the crag, but the middle walls and Angels Buttress are very worthwhile too. There is a good high slabby bouldering area at the top of the hill, The Wedges.
The Wedges Bouldering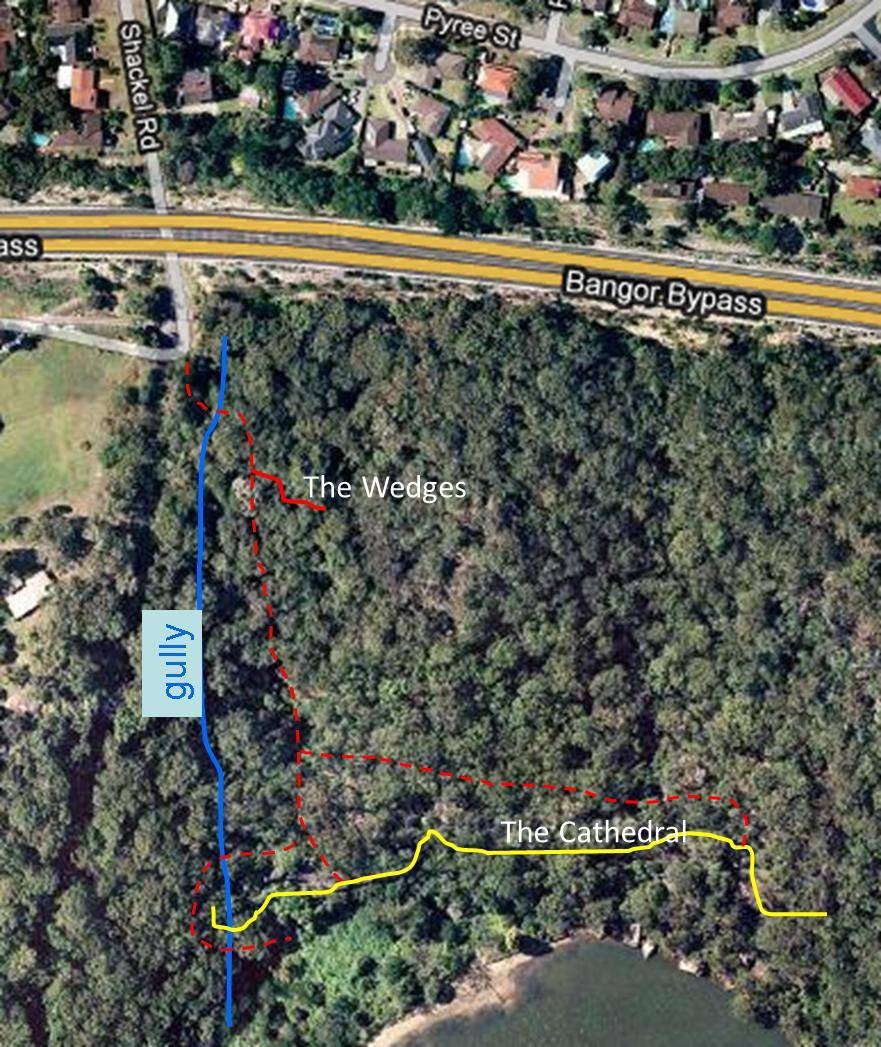 The Wedges is a set of big fallen blocks with hard starts and high easy slabs, not your usual slab fare. There are Ubolts on top of the 2 big ones for toproping. Walk down as for the Cathedral, across the swamp and down through a small rock band. Head left instead of the down the hill to the Cathedral, the small overhang has the first few problems including the weird tufa. After 20m drop down and around the base of the first slab.
*
Blind Fury
V4
(SDS)
Start in back of roof and out right around arete, into diagonal crack and up wall above past big jug. Cramped and technical.
Jason Budden
* *
Tufa One
V4
(SDS)
Start under the roof on the right, out to lip and up thin tufa to break and round finish.
mikl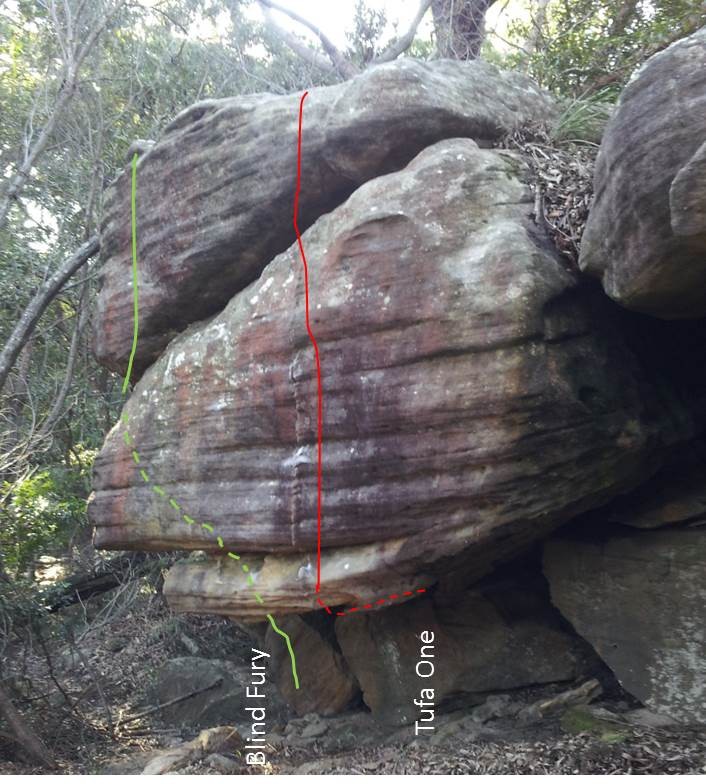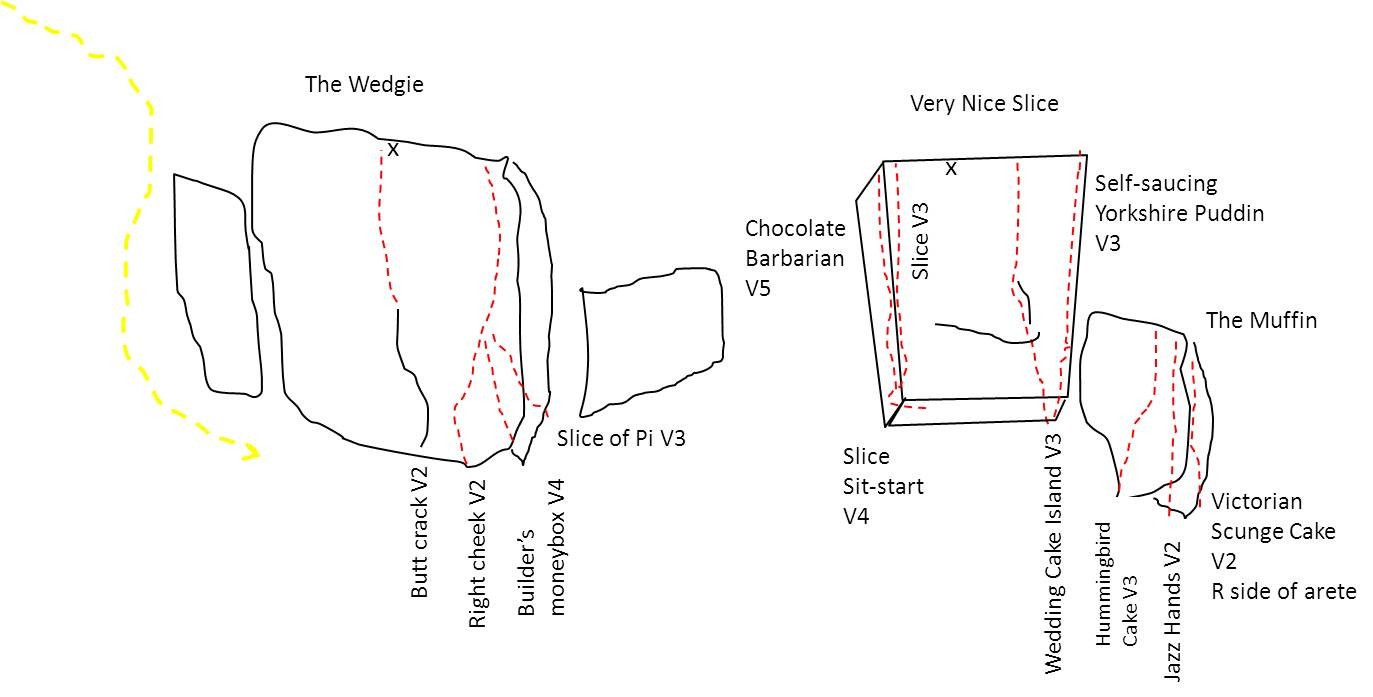 The first block you come to is the Wedgie, Butt Crack is the crack that looks like a butt.
* *
Butt Crack
V2
Up crack and slick slab.
Right Cheek
V2
Step up on plate 1m R of Butt crack and up rib
mikl
Builder's Moneybox
V4
Start just left of R arete and up
mikl
Life of Pi
V3
R side of R arete then left to easy rib
Gareth Downey 2013
15m R is Very Nice Slice.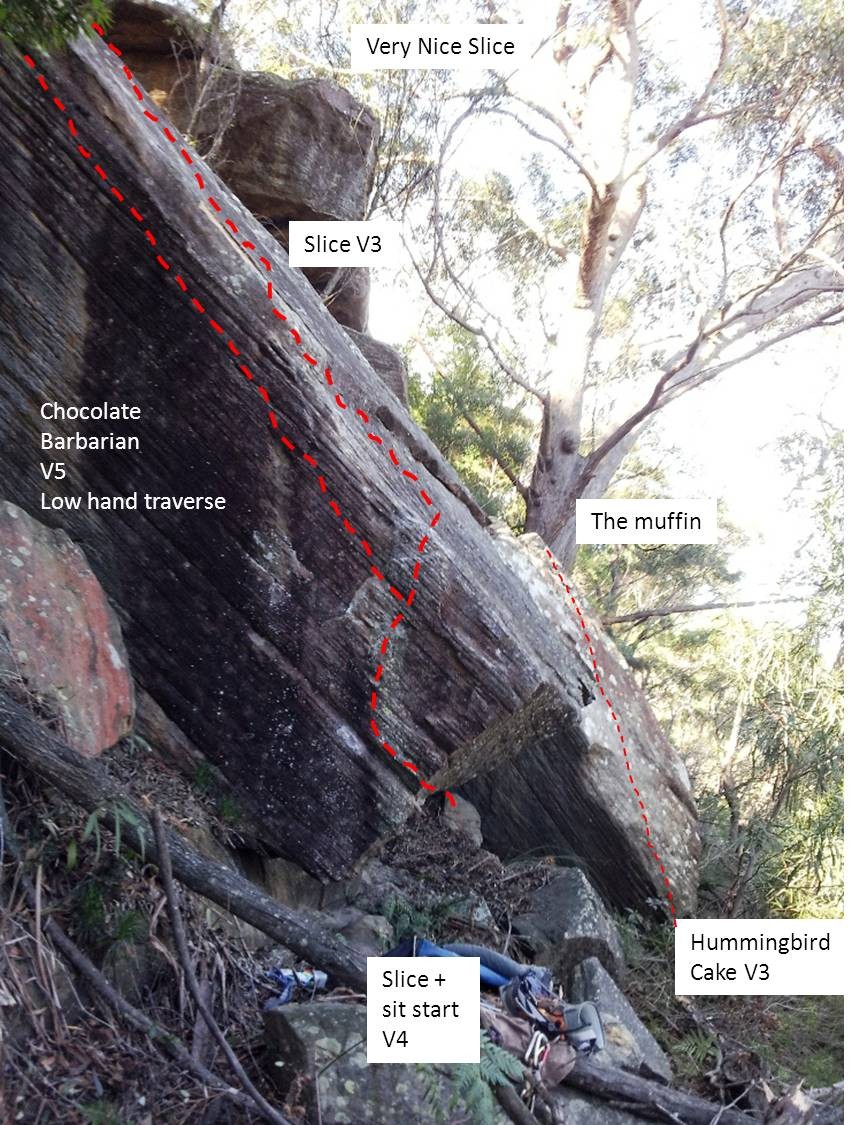 Chocolate Barbarian
V4
Sit start on overhanging wall around left, back wall left of the boulder is off (you could stand on it no-hands) then handtraverse the steep left side
mikl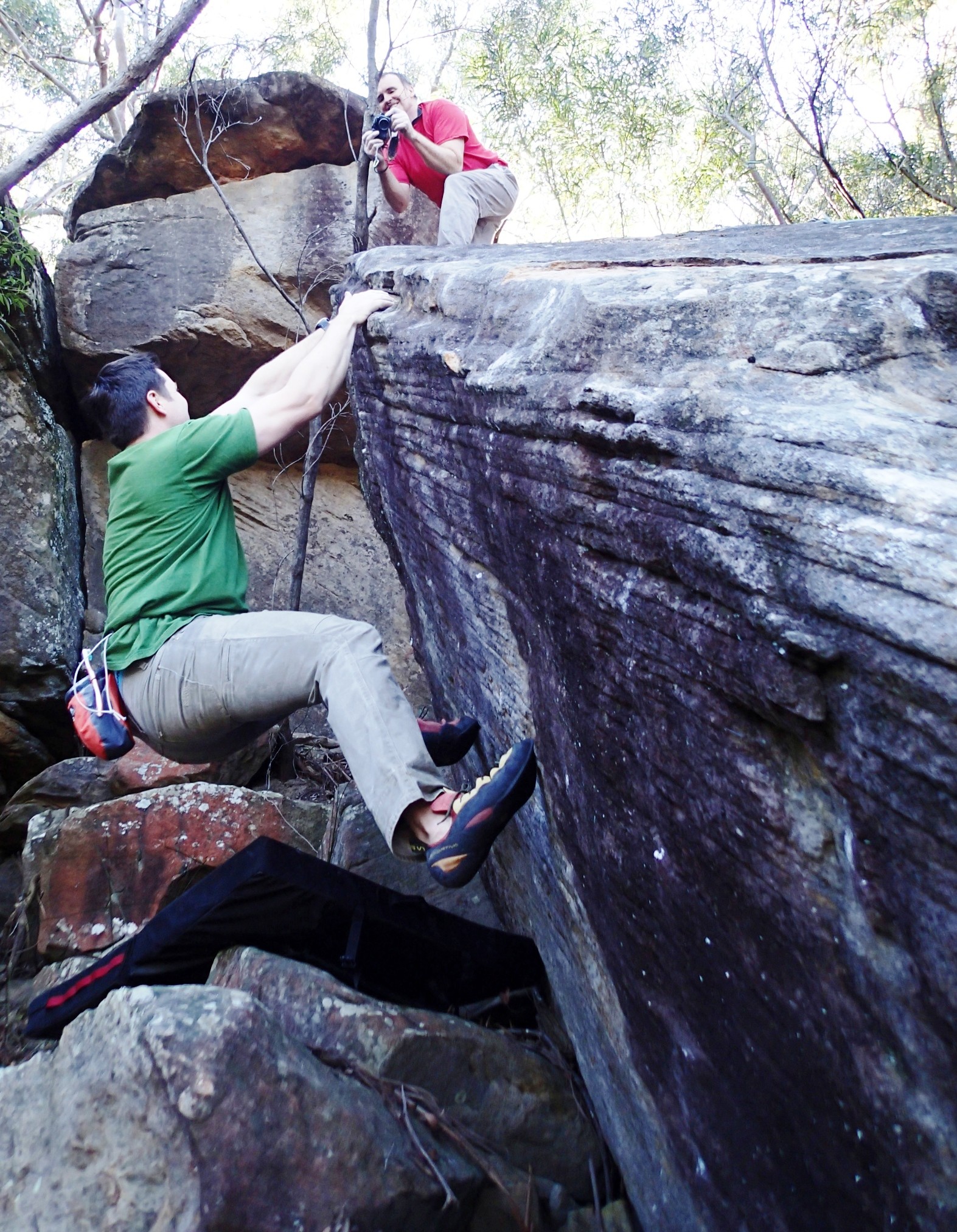 Gareth Downey on Chocolate Barbarian
Slice
V2
Pull onto airy slab and right side of arete. Sit start as for Chocolate barbarian adds a grade
mikl
Wedding Cake Island
V3
The top slab is a bit harder. Start 2m right of centre on 2 handed rail and drift left then up.
mikl
Self-saucing Yorkshire Puddin
V3
Start in corner on big slopes (right boulder is off) and up to easy finish. Starting up Wedding Cake Island makes it V2
* * *
Wheel of Cheese
V5/6
Start on big slopes just left of corner (as for SSYP) and then traverse the lip (back wall is on for feet till you get to the pockets/toehooks at the start of Choc Barbarian) and finish up Chocolate Barbarian. A 12m pumper.
mikl
The boulder leaning against the right edge of the Slice is the Muffin.
*
muffintop
V4
Tenuous laybacking, start on left egde and layback directly up the edge, the 2 holds in the centre of the slab are off
Hummingbird Cake
V3
Shorter and funky. Start on the left edge and head up to a good little edge.
mikl
Jazz hands
V2
Start left of R arete, pull on then easier
Jeff Crass 2013
Victorian Scrungecake
V2
R side of arete, awkward start.
Gareth Downey 2013
Continuing 20m down the Cathedral track, there's a small diamond shaped boulder on the left, there are a few easy slab problems on this.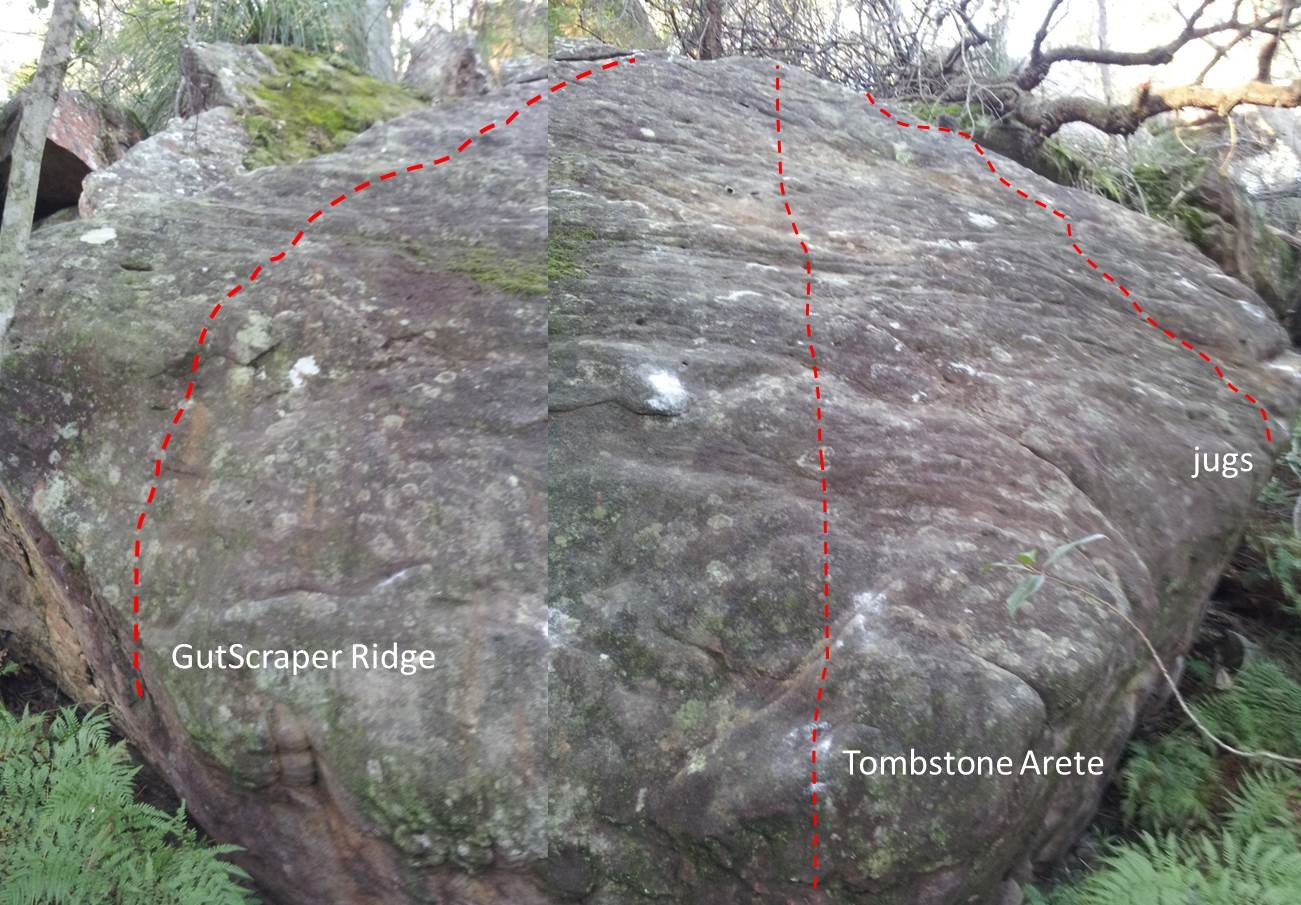 GutScraper Ridge
V0
Up left side of slab
*
Tombstone Arete
V1
Easy slab up centre.
Jugs
V0
4
Right side of slab, starting on jugs
The Main Cliff
Walk down the Hill to the main cliff

The Ampitheatre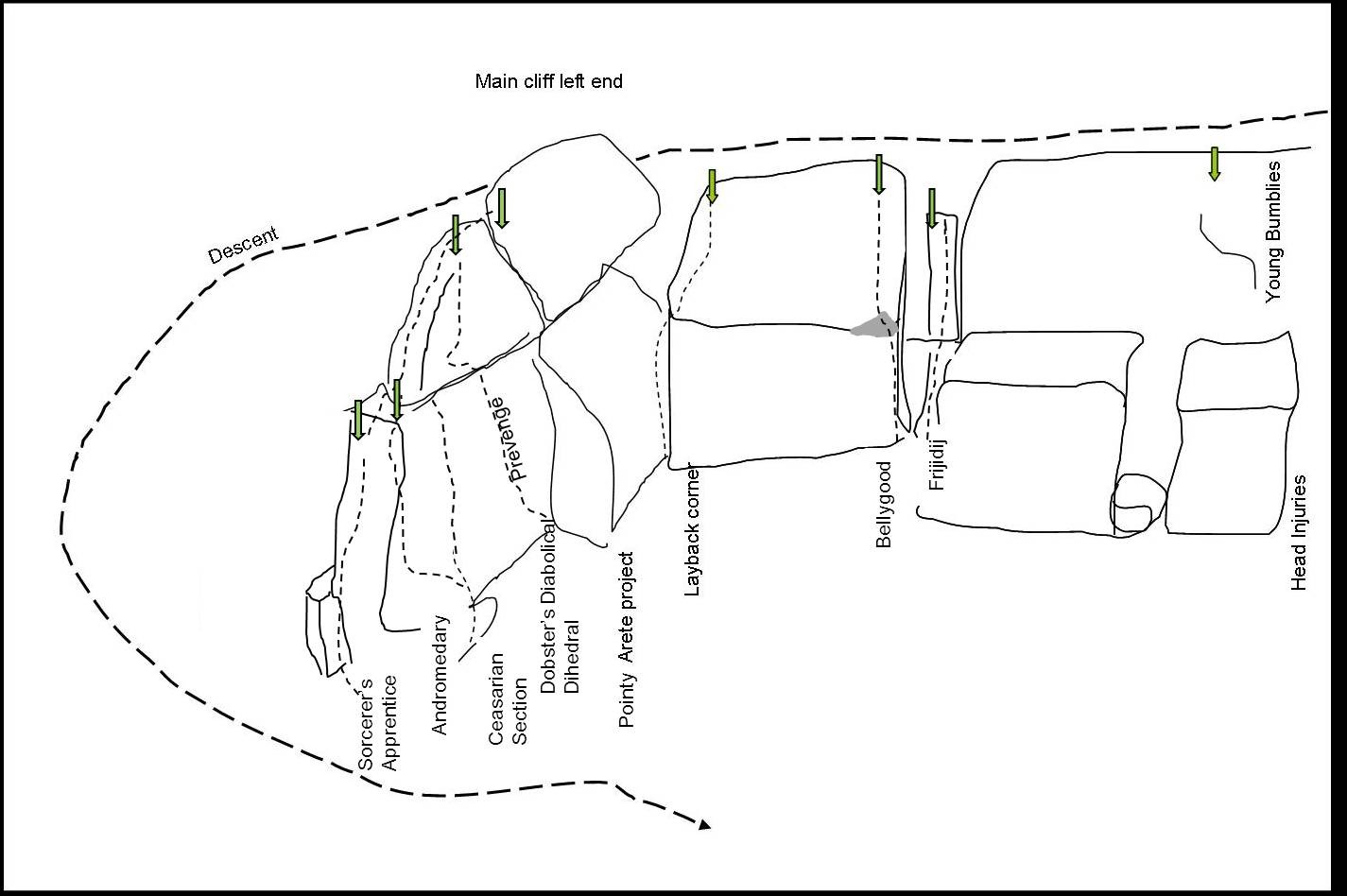 * *
The Sorcerer's Apprentice
19
10m
The short corner/roof and funky slabby arete that the path ducks under before arriving at The Ampitheatre. Corner crack/mantle then up the arete to loweroffs. Looks about 12 but you'll be surprised.
Stu Dobbie, May 2011
*
The Sorcerer's Apprentice P2
12
8m
Can link this but probably better to do this as a seperate pitch as you are out of sight of the belayer. Continue past the loweroffs to ledge and belay from 2 Ubolts on boulder. Up slab and either lower of anchor of Prevenge or go to top and bring up second and rap off. You also walk in from behind to access this.
mikl, monty 2013
*
Andromedary
16
12m
A pleasant warm-up slab. Clip bolt in middle of slab (on Caesarean Section), perhaps using the tree, then step left and up to 2 bolt lower off on boulder above (or continue up P2 of Sorcerer's Apprentice and step right to Prevenge lower-off)
mikl law 2013
* *
Caesarean Section
24
10m
Start below the boulder, 5m left of the Pointy Arete project. Up the slab past U bolts to lower off.
Richard Sonnerdale
* * *
Prevenge
24
12m
Weird slab left of V corner (DDD), on relatively big, oddly spaced holds. Bridge up the V corner and jump left onto sloping hold below 1st bolt (has been done direct by a tallish lad) and upwards to black bulge, layback up and finish R to anchors/
mikl law 2013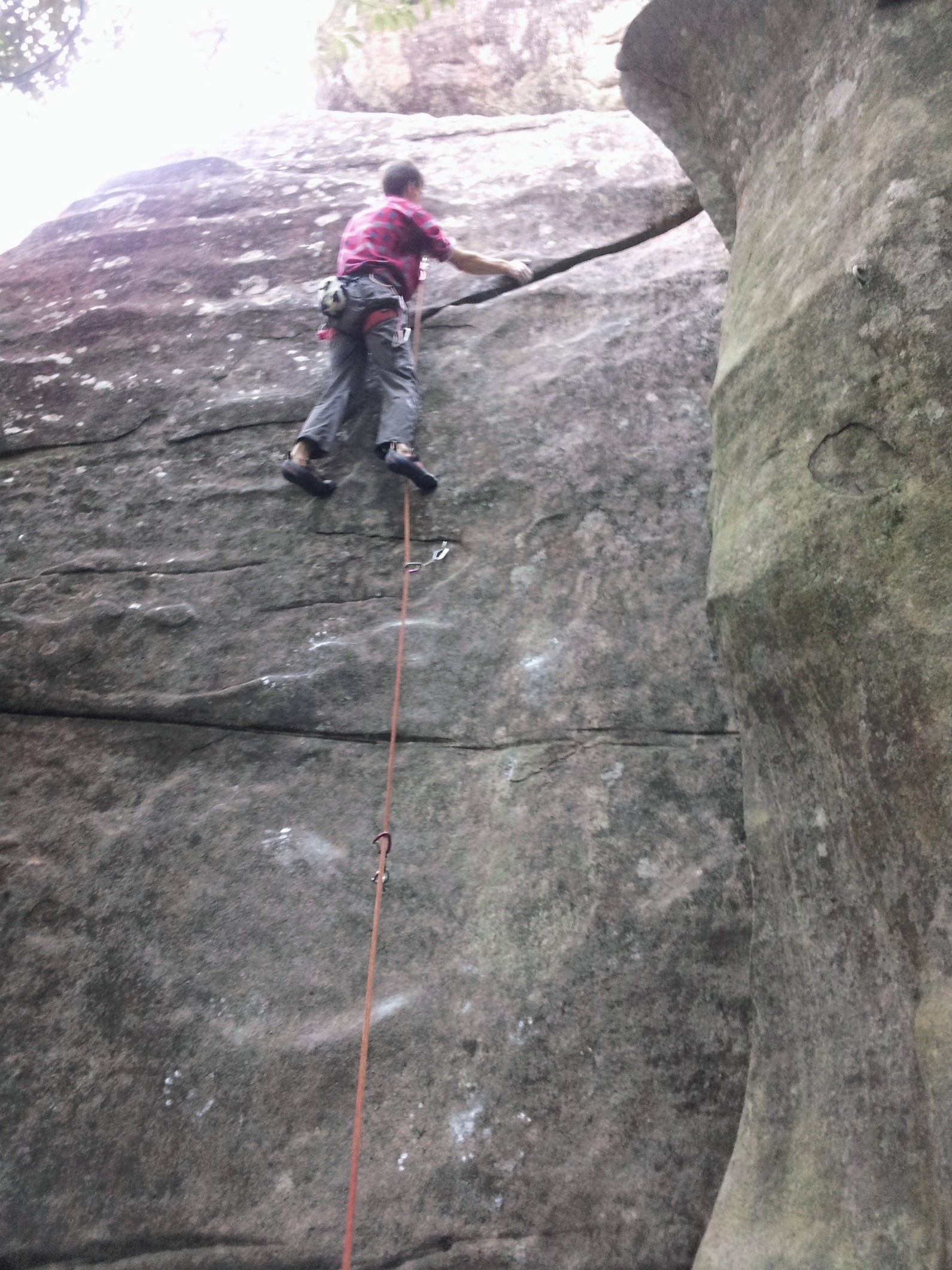 Leith Dawes hitting the undercling on Prevenge.
*
Dobster's Diabolical Dihedral
17
15m
A good intro to a squeeze exit. The Vee-corner immediately left of the pointy arete. finish up easier layback crack (take a wide fist-sized cam) to single Ubolt loweroff or top anchor on top. Rap off Prevenge anchors.
Stu Dobbie, Gavin Critchley May 2011
The Pointy Arete Project
The pointy arete 5m right of CS
* *
Layback Corner
20
12m
Start 10m right of CS, in a right facing corner that stops at 8m. Head up the corner (layback or jamb), stay right and up arete to anchor. The crack section may have been done before, although there were many loose flakes removed.
FRA Mikl Law 2011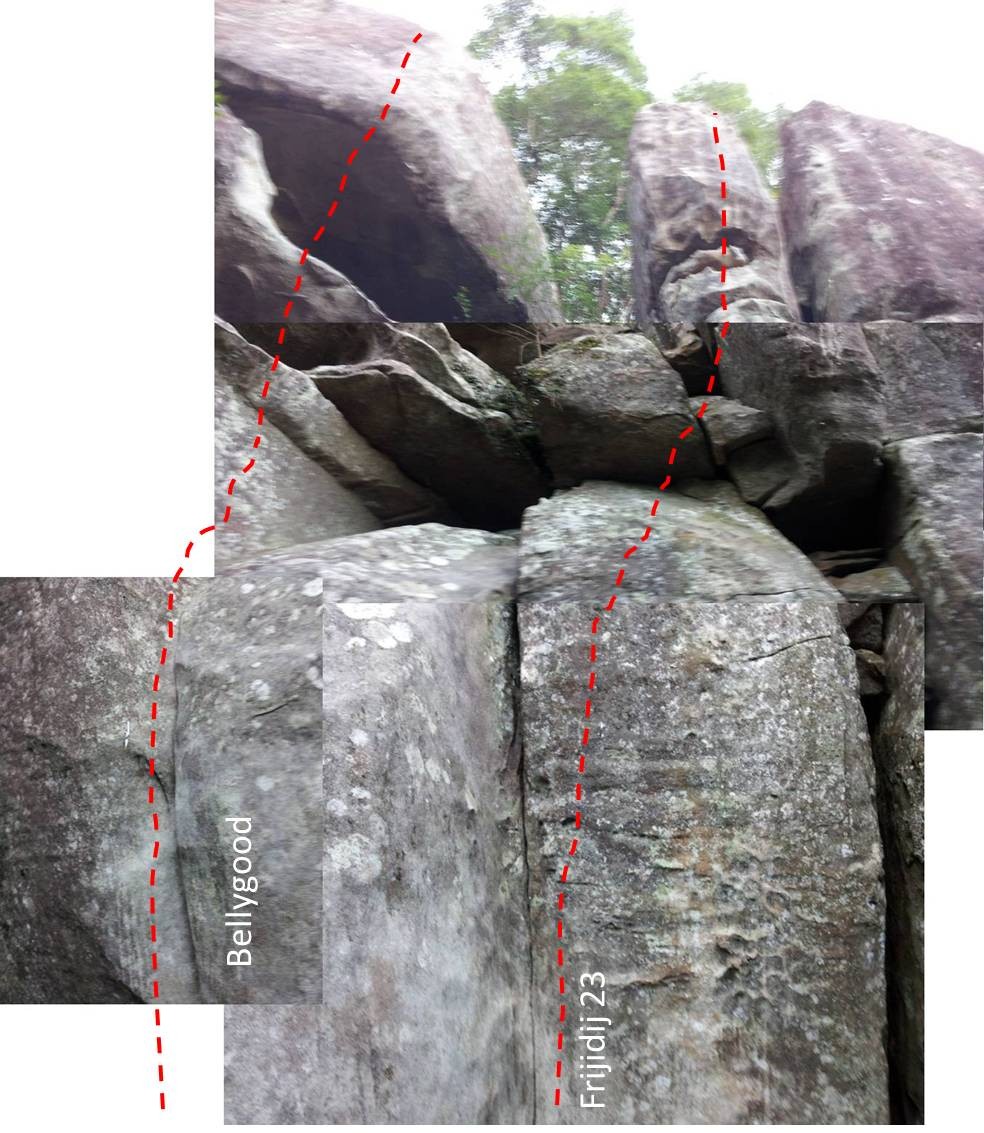 * *
Bellygood
25
10m
So you think you can boulder? Walk up and right 10m from Layback Corner to short flared layback seam. Up to cave and round roof and up. Maybe 21 V4
mikl law 2014
* * *
Frijidij
23
10m
Up easy corner 2m right of Bellygood Arete, right and up slapping fridge arete. This is just left of a short chimney corner
mikl 2013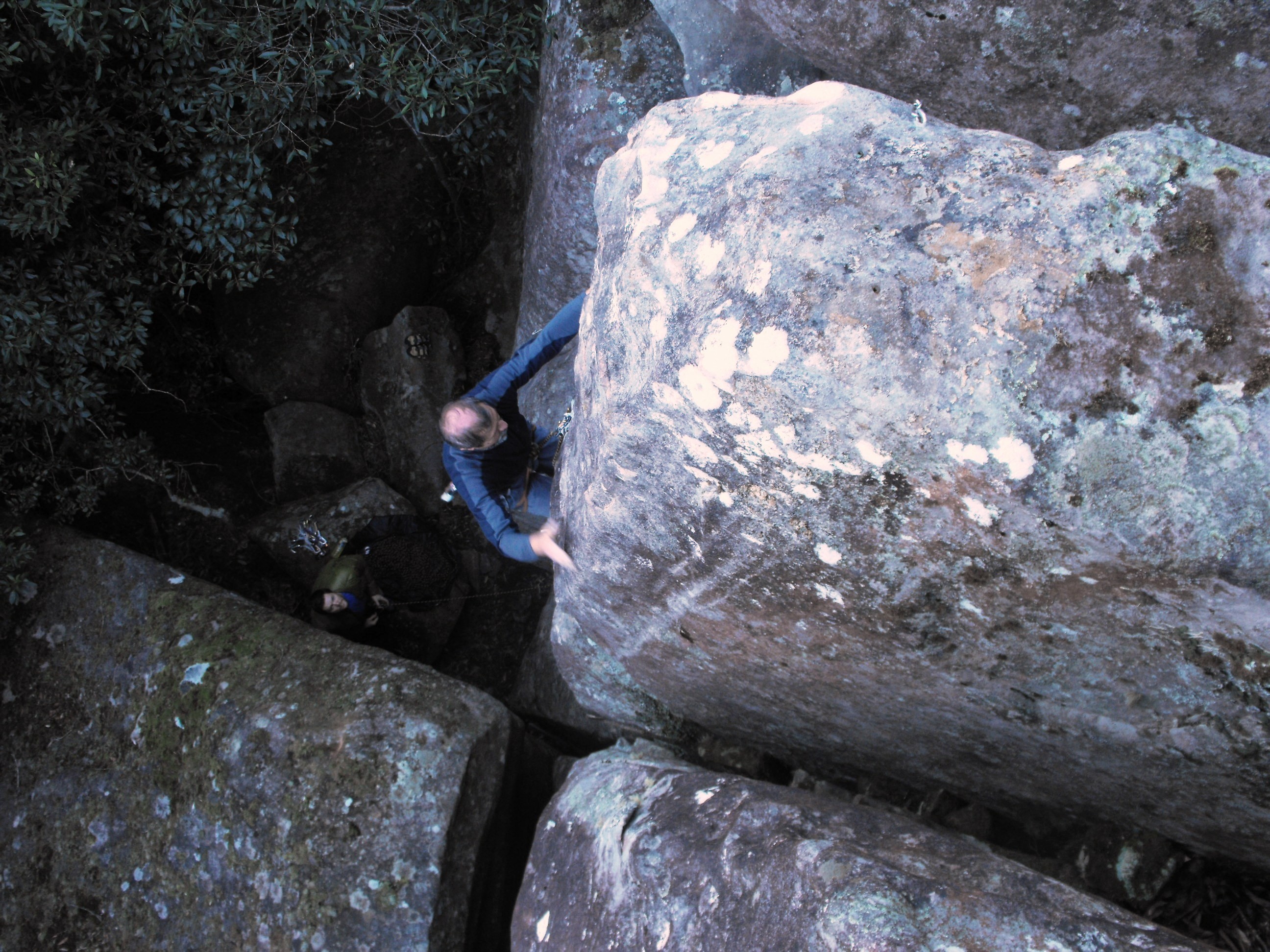 Jeff Crass going for the dyno on Frijidig
Main Wall
* *
The Quatermass Xperiment
20
12m
Start 2m L of head injuries, up and left on jugs, then smaller holds, then no holds. Good start to Young Bumblies (belay at ledge)
Gareth Downey 9/03/2014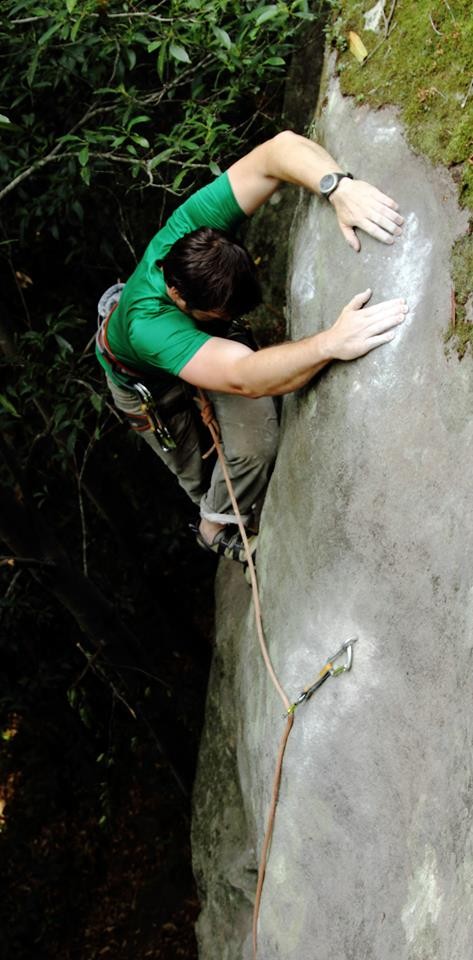 Gareth Downey of the FA of The Quartermass Xperiment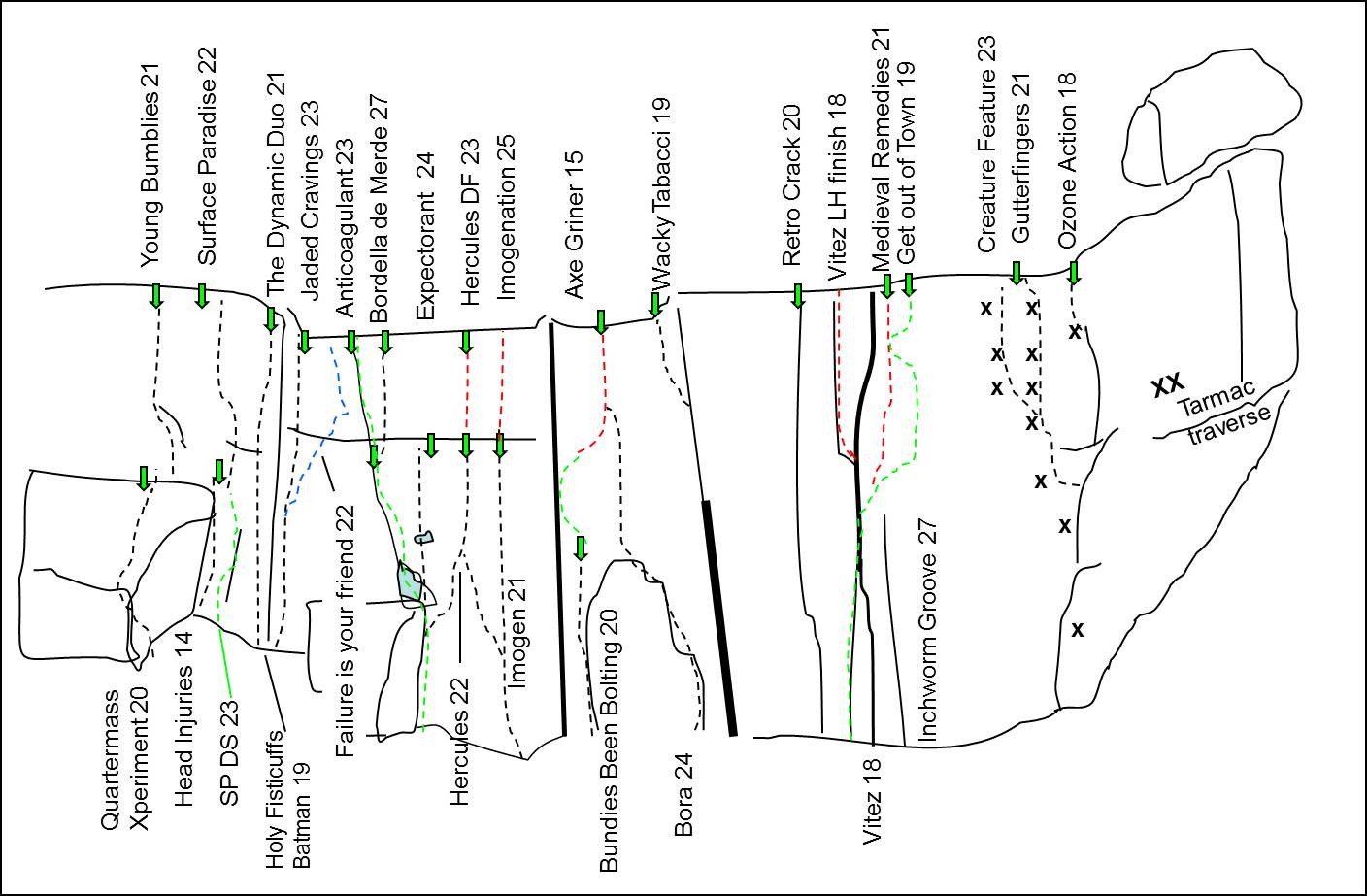 *
Head Injuries
13
8m
Walk down and right 30m and up to right facing corner crack to lower off on ledge
Graham Fairbairn 1989
* * *
Young Bumblies
21
10m
Slabby classic. Climb HI or TQX then head left and belay on Ubolt. Up flake and steep wall (4 Ubolts). Lower off all the way to the deck
Graham Fairbairn 1989
* *
Surface Paradise
22
20m
Start up HI and up wall above, powerful then delicate
Mikl 2011
*
Surface Paradise DS
24
10m
Up seam right of HI and up arete to join SP. A few weird moves to a sloping ledge above the 3rd Ubolt. The fin on the left side of the ledge is on. Stay on the right side of the arete above to join SP at the break.
mikl 2011
* *
The Dynamic Duo
21
18m
Start 2m R of HI, just left of a wide crack. Head left up the flake and onto the steep wall. There 'may' be some bridging into the corner but can be done without at 23.
Kent Heffernan 1989
*
Holy fisticuffs Batman
19
18m
Mostly easy bridging up a hand and fist crack. Take (age/10) each of yellow and blue camalots, 2 hex 10s are handy too. Crack corner between TDD and JC, either step off block or crank thin crack start. Easilyto roof and a move, then up to final juggy chimney.
mikl 2015
* *
Jaded Cravings
24
16m
Start 3m R of HI, in wide crack. Up the EZ arete. Gather your thoughts in a small cave, then bounce on to the arete and up, Using the crack at one point loses a grade.
David Barnes 1990
*
Failure is your Friend
22
18m
Follow JC till after the second bolt then head rightwards. After the big break head right and up. Left hand bolts above break are another project.
Jason Lammers 9/04/2011
Thin wall special project
5m left of Anticoagulant et al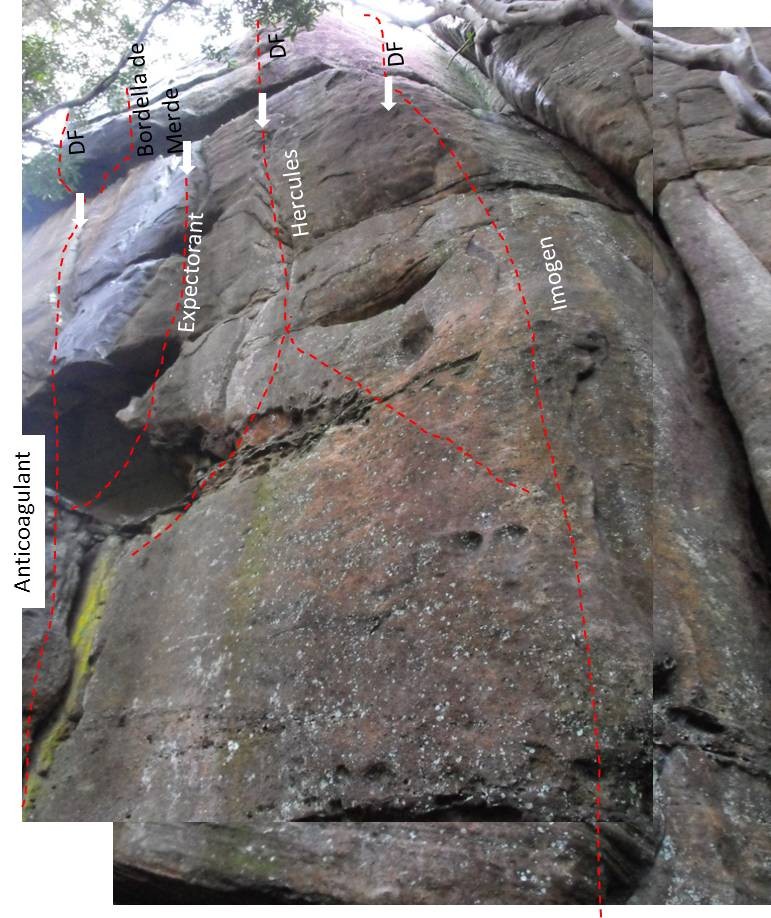 This next section of wall has a break at 10m with harder extensions above.
* * *
Anticoagulant
24
15m
Up corner 15m R of HI (confusingly marked SSS) to cave then left and continue up leaning crack to bulge. Extension is 25. Weird, funky fun.
Graham Fairbairn 1989 to bulge , Extension to top by mikl 1990
* *
Bordella de Merde
27
8m
The 3 RBs to double RB lower off above and right of Anticoagulant, easiest to start up Expectorant.
Cam Taylor
* *
Expectorant
24
15m
Start up corner as for Anticoagulant and Hercules then up through caves on jugs tilll you get spat off. V5 maybe?
mikl 2011
* *
Hercules
22
15m
Start up thin flake on right (same as Imogen) and step left, no bridging up wide crack on right. Easier to start as for Anticoagulant in easy corner (with initials SSS for some reason!). Up corner and step R to line of bolts up crack.
Kent Heffernan 1989
* * *
Hercules Direct Finish
23
25m
From the top of Hercules, blast up the arete past hard move to slabby finish to lower off.
Mike Law 1990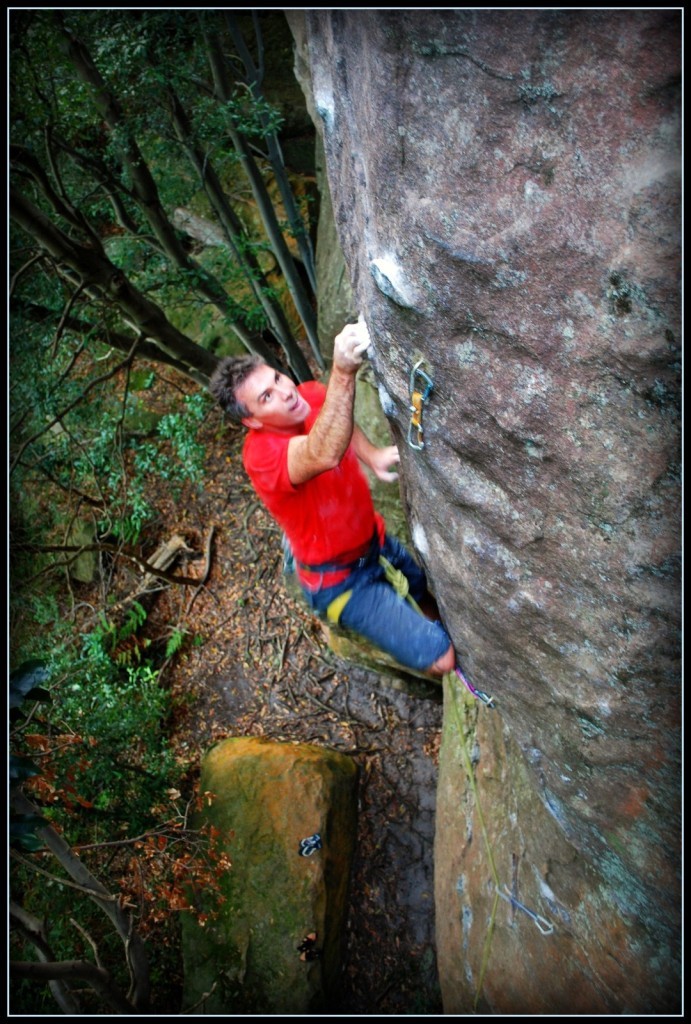 * *
Imogen
22
15m
Start just left of Cathedral Cave. Straight thin flake, climbing the wide crack on right to avoid the start is off. Way cool rock climbing.
Jason Lammers 5-11-2008
* * *
Imogenation
25
25m
Imogen extension. Up Imogen and up wall above
Mikl 17/06/2013
* *
Fat Crack
21
25m
Great training for a trip to yosemite or Frog Buttress. Mega line left of the Cathedral cave and BBB. Take mostly medium wires and finger to hand cams, keep a big (fist +) cam for the first section above the thread, and another fist sized one for the final chimney.The middle section was done earlier by the extension to Bundy's Been Bolting:- The Shute. The whole route is 'Streno Fun' with bomber gear! Winter and long pants is best.
Mikl Law 2013
Axe Grinder
15
8m
Probally a bit of a pain to get to. Rap in from trees on top of cliff to hanging belay off rings and old carrots. 3 RBs to double RB lower off. Nice and airy up there.
David Barnes 1989-09
*
Bundy's Been Boltin'
20
15m
Start just left of the Cathedral cave. Only 20 to the first lower off. There is a one move extension to the second lower-off at 22. From here you can get into the wide crack and thrutch up then go right to join Axe Grinder at 23 (Cameron Taylor, The Shute).
Jason Lammers 2007
The Missing Link (Bundy Project)
??
25m
The 'direct' extension to BBB. With an extra bolt it now seems possible to climb the missing link section to link into Axe Grinder and Bora. Lets see how it goes :-)
The large chossy cave located here is called The Cathedral, and gives the crag its name.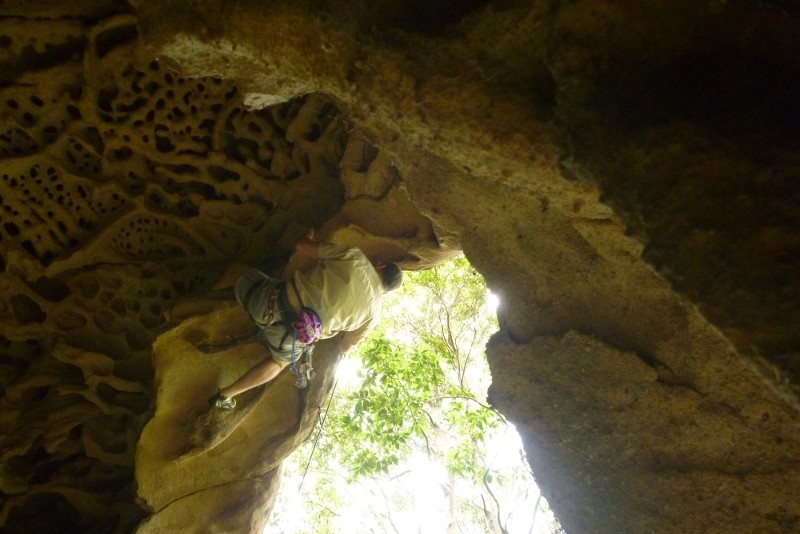 * *
Bora
24
25m
Pumpy pumpy pumpy. Up right side of cave and traverse lip then up groove and wall to top on chips. 10 Ubolts to anchor.
mikl 2012
* * *
Wacky Tabacci
19
25m
If you like this sort of thing, this is the sort of thing you'll like. A classic with exposed climbing on good holds with 'sporting' pro, but there is one chimney move so long pants recommended. The obvious chimney to the right of the Cathedral cave. Up then use jugs on right arete. Above chokstone/roof thing, step around left arete and up to lower off. Technically easy but pretty out there, would have been a 14 in the 70s. It's better to be overgraded than a sandbag I suppose.
Graham Fairbairn 1989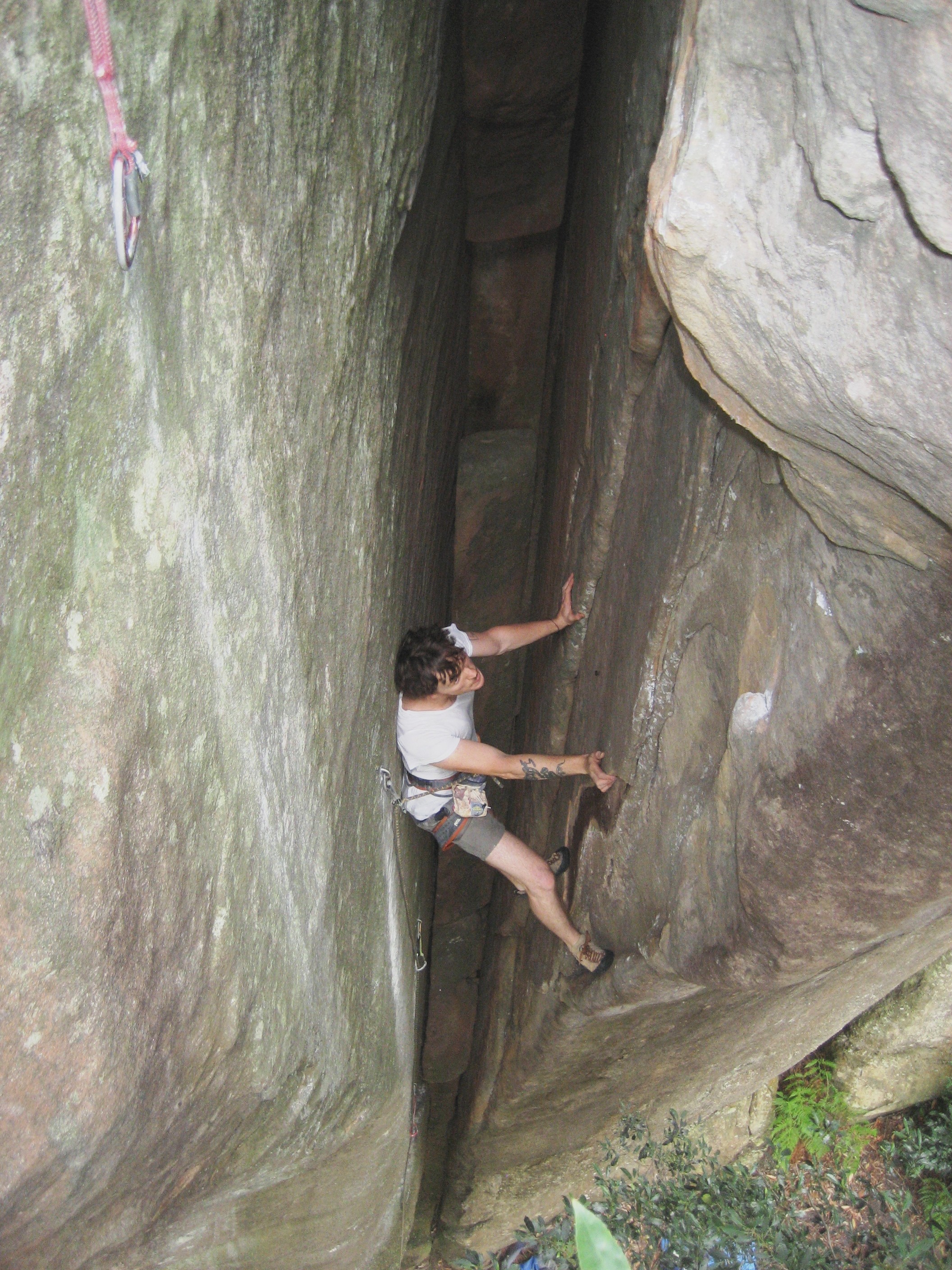 Nathan on his first lead and first outdoor climb on Wacky Tabacci. He's done the chimney move and is doing the airy bridging up the 'jugs' on the arete.
* *
Retro Crack
20
25m
The bolted crack line 5m right of WT and 1.5m left of GOoT. Mostly laybacking and climbing the left arete, but a jamb or two may be needed. Could easily be led on large natural gear if you don't like Ubolts. The easier top half had previously been bolted and probably traversed in from one of the cracks on the right.
Mikl 2011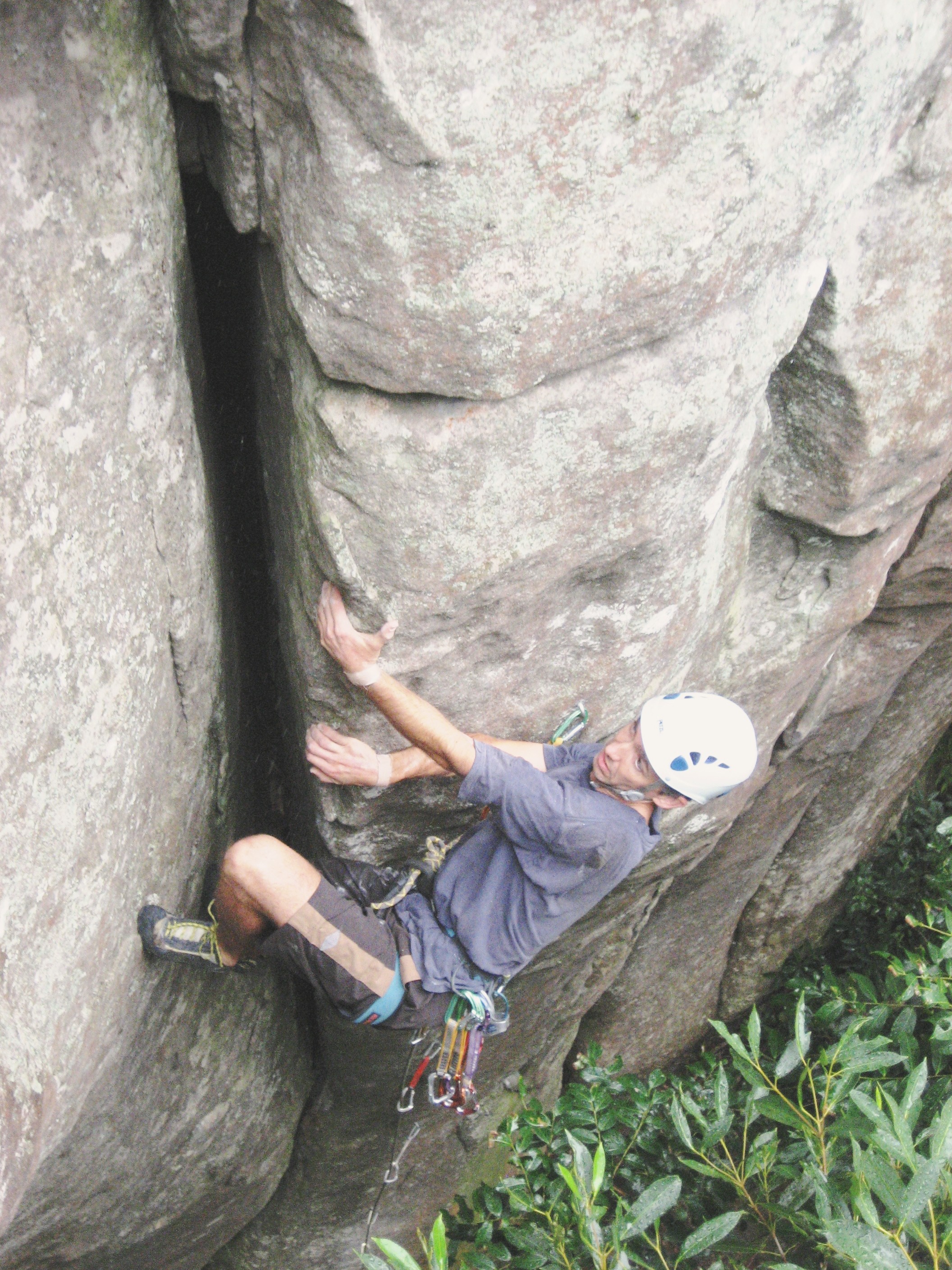 * *
Get Out of Town
20
25m
Start on face 1m left of V. Hard off the ground to RB, and trad up to pea pod. Step left and up delicate flake past 2 rings to lower-off.
Kent Heffernan 1989
* *
Vitez
18
25m
The obvious recessed corner crack. Follow crack up and over a bulge to the pea pod.. Traverse R past anchor for Inchworm Groove onto wall to the top.
P. Farkas 1989
*
Vitez Direct finish
19
25m
Finish straight up wide crack past 3 stainless carrots
unknown
* *
Medieval Remedies
20
25m
(i.e. leeches). One tres funky move. Start up Vitez or GOOT to pod, right a move to Inchworm Groove anchor then climb the wall a metre R of wide crack (Vitez DF) past 3 U's to lower.
Ben Williams 2015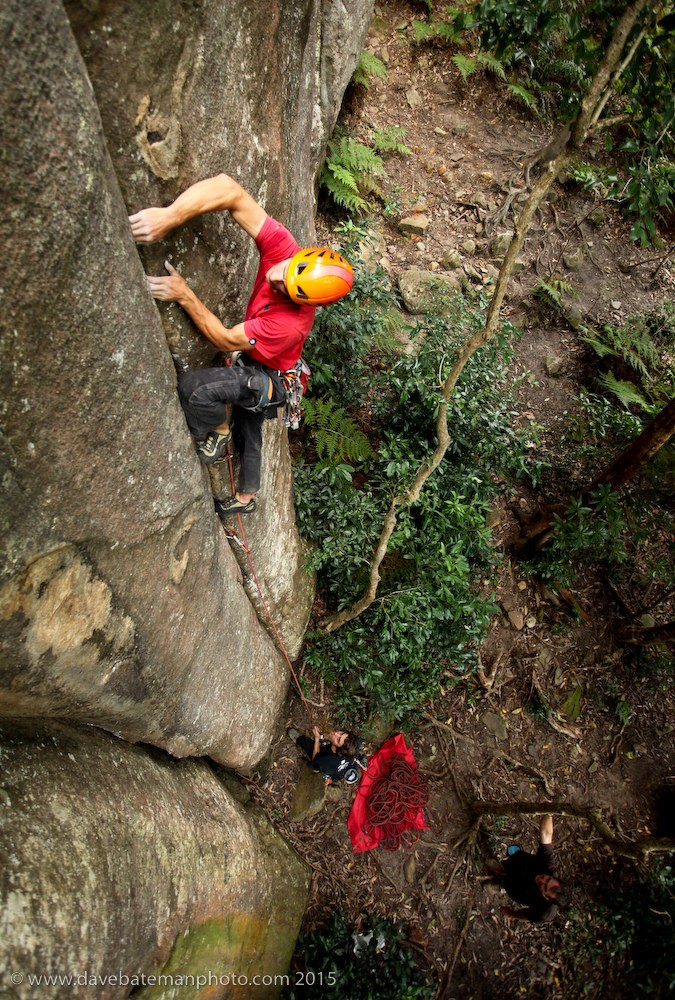 *
Inchworm Groove
27
10m
Once the hardest trad line in The Shire/Sydney/NSW maybe. Start below the thin seam, tenuous moves up the groove to lower off chain at half height or on to top.
Mike Law 1990
* * *
Ozone Action
18
20m
Sydney Classic trad route at the grade! Hard weird start. Take a few cams and slings. Follow the flake line / water groove past a hard clip (or stick clip from the ground), gear in the crack, another RB, sling the spike (maybe hang some gear off it to keep it on) and throw in a cam (the bolts out left are tempting but may make your higher gear fall out), then either right up jugs for a few moves then back left, or straight up the flake. Cams then up flake and top wall (BR) to lower-offs or top out.
Graham Fairbairn 1989
* * *
Creature Feature
23
22m
Great moves on the top wall. You can sling the big jug above the second bolt on OA. As for OA for 10m (past 2 RBs and a possible sling runner). Then move left (bolt) and up the thin slab and left again past left hand line of bolts to lower off.
Graham Fairbairn 1989
* * *
Gutterfingers
21
20m
Excellent climbing finishing in strange laybacking up a runnel. You can sling the big jug above the second bolt on OA. As for OA for 10m (past 2 RBs and a possible sling runner). Then move left (bolt) and straight up the gutter on the slab above, move left to lower off as for CF.
Vanessa Peterson 2011
* *
Jack and the Beanstalk
14
8m
Probably the best easy route here. 3m right of Ozone Action at tree. Up, using the suffering tree to start. 2 Ubolts and optional cam. Finish up one the arete clipping the bolts on the right
Christina Fairbairn 1989
The next climb used to finish at the Tarmac Traverse. The tree that used to be climbed to gain the rock has now gone.
Guerrilla Warfare
14?
8m
Directly below CQ. Start used to involve the tree, but it's long gone, so the grade is probably much higher now. 2 BRs.
Kent Heffernan 1989
Ghostrider
23
8
The short hard little problem under NN. Hard start to pocket then crimp your way to the chain under NN. Probably easier if you're tall.
Jason Lammers 2006
Tarmac Traverse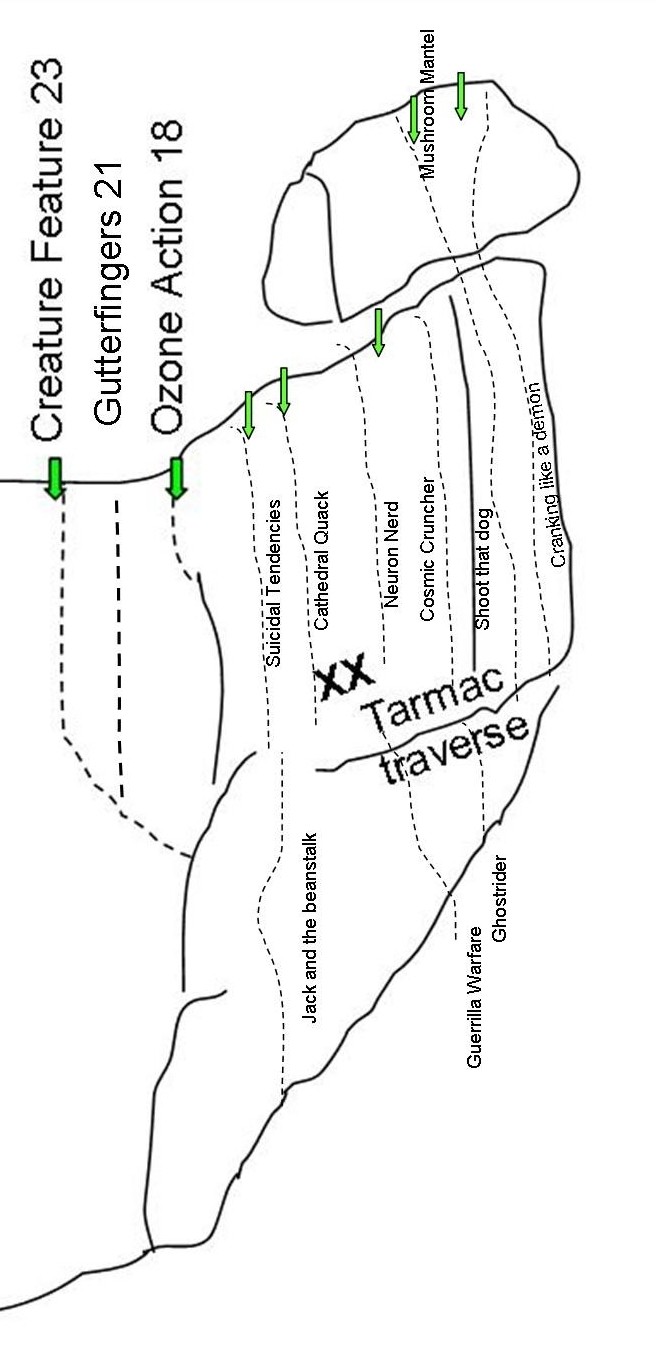 Aero Arete
13
8m
Just right of arete. Up, using pro to the left (as for the top of OA) or clip the bolts on ST.
Steve Turcsanyi 1989
Suicidal Tendencies
17
8m
Next route right. 3 Ubolts to lower off. Don't stray left or right!
Graham Fairbairn 1989
*
Cathedral Quack
16
8m
Next line to the right. Up (3 Ubolts) to lower off shared with ST. Named for a group of ducks that used to frequent the crag.
Kent Heffernan 1989
*
Neuron Nerd
16
8m
Step right from the chains and up.
Graham Fairbairn 1989
*
Cosmic Cruncher
16
8m
The right most line. Ubolts to lower off (shared with NN).
Kent Heffernan 1989
Shoot That Dog
14
10m
The chimney. Looks hard.
Kent Heffernan 1989
* *
Mushroom Mantle
22
12m
Start below flake. Stand on tree to start. Up the flake with a bizarre mushroom near the top. Finish standing on the blob, 4 Ubolts and lower-off.
Graham Fairbairn 1989
*
Cranking Like a Demon
24
12m
Start left of descent chimney. Up slab and bulge (4 Ubolts) to lower off.
Mike Law 1990
The Slabs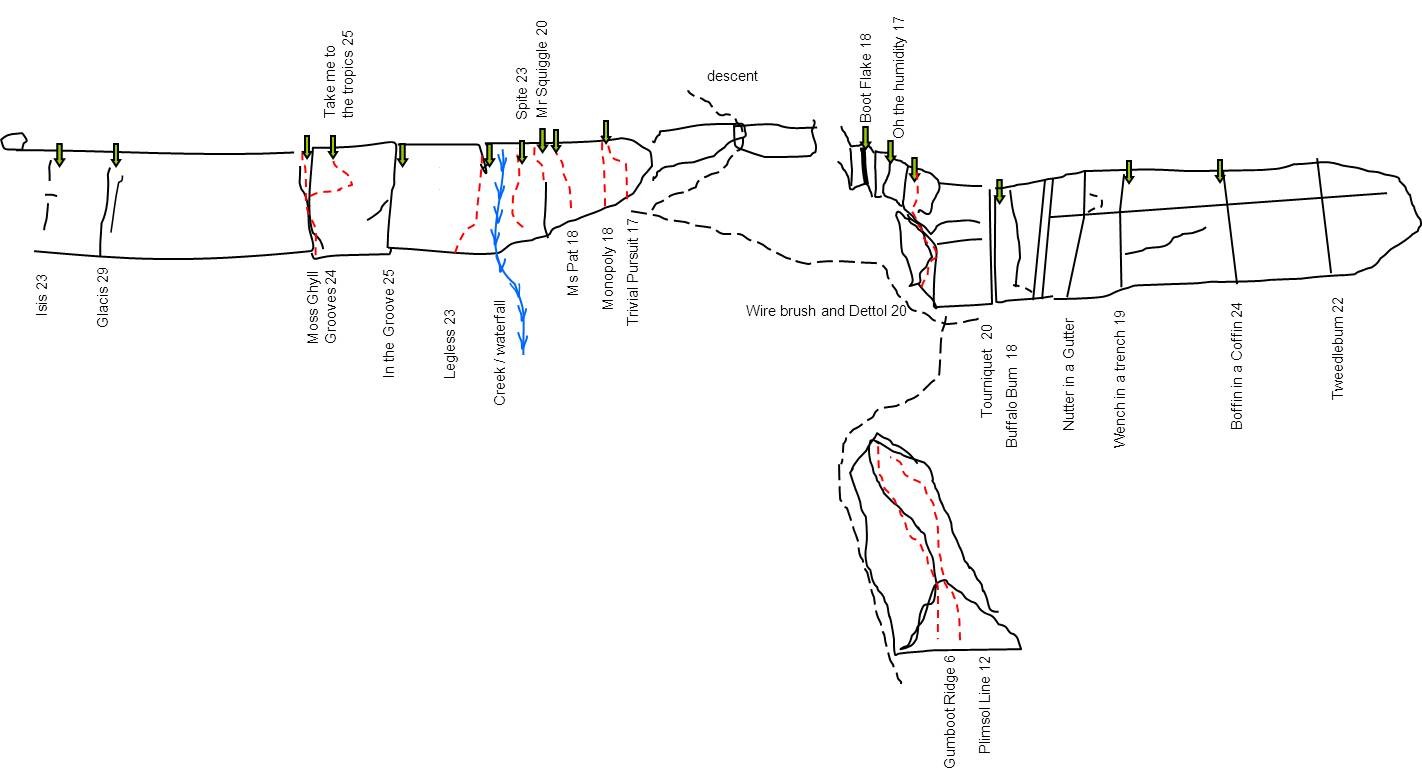 * * *
Isis
23
12m
25m right of the main wall. Up seam to lower off. Powerful moves.
Mike Law 1990
* * *
Glacis
29
18m
3m right of Isis. Sustained and desparate climbing up the twin cracks to anchor.
Mike Law 1990
* * *
Moss Ghyll Grooves
24
10m
20m right of G, starting below cracks at left edge of steep wall. Up the cracks heading slightly left at the top to anchor. Looks easy...
Mike Law 1990
* *
Take me to the Tropics
25
11m
A bit contrived. Up MGG then move right and back left to anchors. Looks desperate!
Cam Taylor 2008
* * *
In the Groove
25
15m
Right of MGG. Up the slab laybacking furiously, especially the final wide crack.
Mike Law 1990
There are two random old carrots high on this wall. Good luck!
* * *
Legless
23
20m
10m right of ITG. Stick clip high Ubolt, either batman up rope or pull nasty boulder problem to start, right to corner then up and out right for a move to bizarre Greek dancing boy move at top.
Mike Law 1991
A creek tumbles down the hill just here. There are three slab climbs on the Trauma Wall; slab climbing is hard work.
* *
Spite
25
15m
Just right of the creek. A desperate granite slab test piece ( I know that the topo says it's 23). Stick clip high Ubolt and go
Mike Law 1990
* * *
Mr Squiggle
20
10m
8m right of the creek and 5m right of Spite. Up the fun and increasingly delicate groove. Left a wee bit at the top before moving right to anchors.
FRA Mike Law 1990, there were some 70's style bolts on this route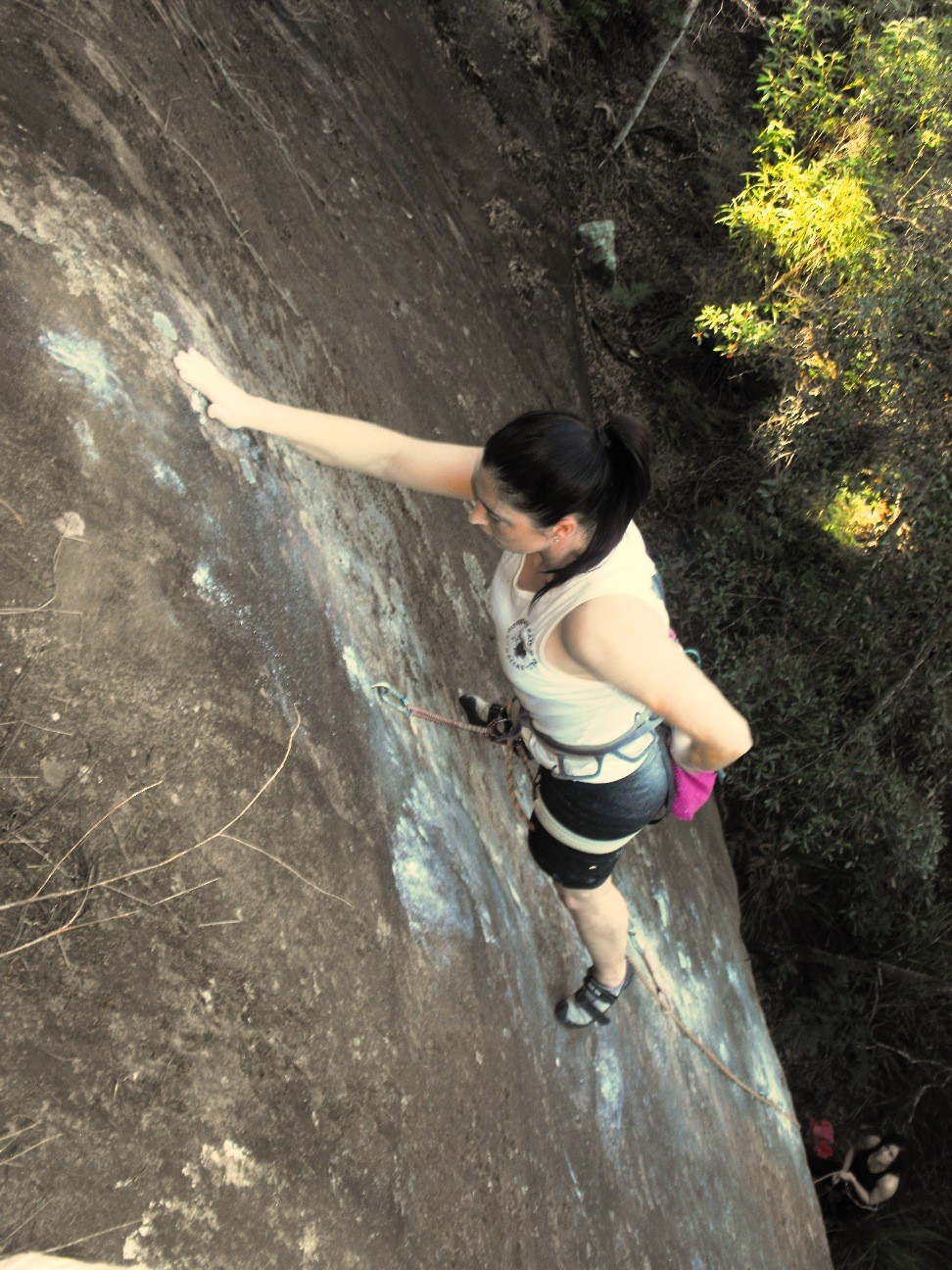 * *
Ms Pat
21
10m
4m right of MS. Up the delicate slab to anchors on block. In the 80s it had 3 less grades and 2 less bolts!
Mike Law 1989
*
Monopoly
18
10m
5 metres right of Ms Pat. Climb up onto the hollow sounding flake (RB). Climb the smooth slab (RB) using the small crystals that poke out of the sandstone. Some may require reading glasses to spot the crystals!
FA: Michael Combley & Andrew Rigden, November 2013
*
Trivial Pursuit
17
1om
Start 2 metres right of Monopoly: Climb into the scoop and comfortably clip the RB. Friction up the slab to reach sloping holds, continue smearing upwards and mantle shelf onto the holds. Stand up and clip the next RB. Move left to lower off Monopoly Both Monopoly & Trivial Pursuit are both excellent practise pieces for the harder slab climbs to the left. 10 metres to the right of these climbs is a pathway that descends to Angels Buttress and also another pathway upwards that joins the Cathedral descent path. To reach the Cathedral descent path climb upwards 10 metres right of Trivial Pursuit and follow the yellow and white insulation tape bands to reach the main access path
FA: Michael Combley & Andrew Rigden, November 2013
Angels Buttress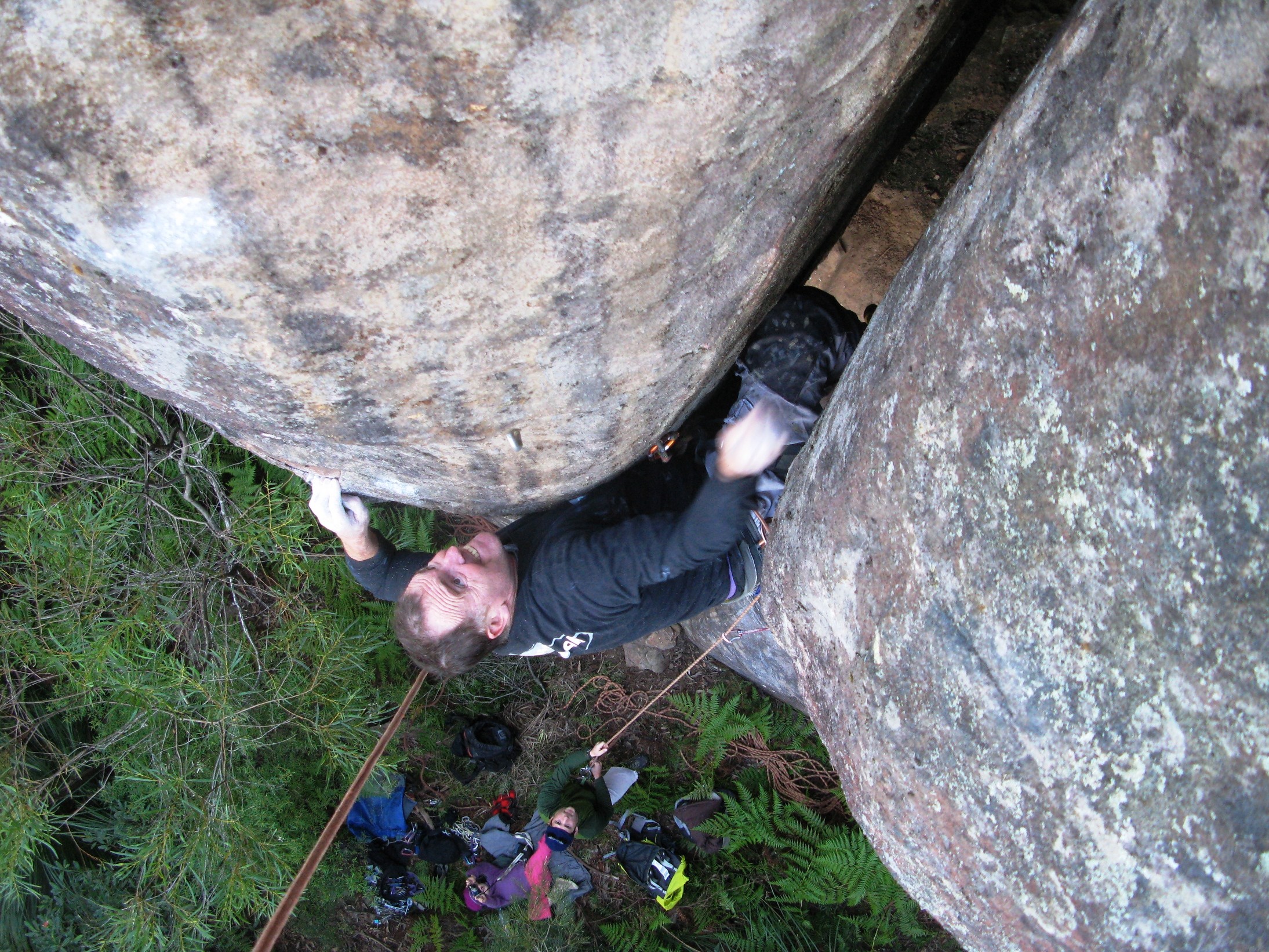 * *
Boot Flake
18
6m
Fun laybacking with a groovy finish. 1m left of Oh the Humidity at a wide layback flake. Named after the hole at the base ate 1 of my new Miuras.
mikl 2013
Oh The Humidity
15
6m
Hidden behind the trees left of WB+D (about 10m up hill) is a finger crack that widens near the top. Final weird mantle-sit move to 2RB lower-offs.
Stu Dobbie, Sept 2012
* *
Wire Brush and Dettol
20
18m
About 40m right of MP is a giant flake leaning against the cliff, forming a very overhung wide layback corner. Undercling the wide crack then walk left 4m and up the wall to anchor. Clip the bolt with a screwgate to limit your fall (on the top wall, belayer should keep a good watch as you are still close to a big ledge, or bring the second up to the big ledge and belay from there on the first bolt off the ledge). It was originally graded 18 and had two 70's toproping bolts in it, but was covered in lethal loose blocks and probably hadn't been climbed.
FRA Mike Law, May 2011
Arete Project
Short arete 2m right of WB+D
*
Tourniquet
20
18m
Learn to offwidth and remove ugly excess skin! 8m further right around the arete is an offwidth. Grovel up past 2 bolts to hand crack and gear to lower-off.
FRA Stu Dobbie, May 2011
* *
Buffalo Bum
18
18m
The hand and fist crack 1m right of Tourniquet. Good stuff, eats cams. Step in from right past the eternal wet patch. Lower-off on left as for Torniquet
Mike Law, May 2011
Michael C twin crack project
watch this space
* *
Nutter in a gutter
21
15m
Funky flare with weird bridging, followed by face moves. Crack 8m R of Buffalo Bum. Up crack to ledge, arrange good pro and walk R 1.5m and up to jug rail and back left into crack.
Gareth Downey, 1st Dec 2013
* *
Wench in a Trench
20
15m
Hard start up wide crack 8m right of Buffalo Bum past 2 RBs, then nice through bulge at top to loweroffs. Nuts and cams for top section; you can also get some gear in the break before the 2nd bolt.
Stu Dobbie, Enmoore Lin Dec 2011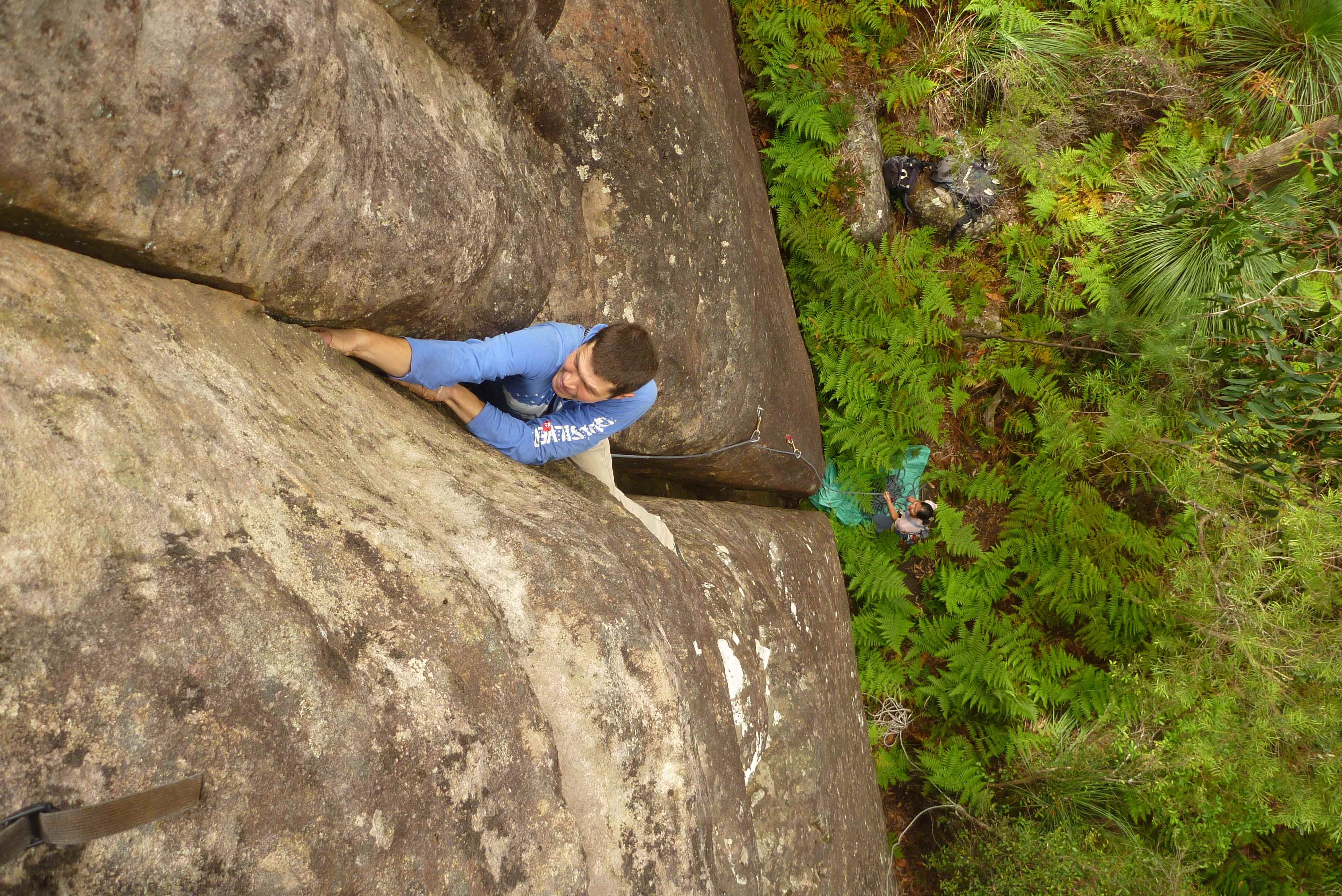 * * *
Boffin in a Coffin
24
12m
Epic offwidth through roof 8m right of Wench. Offffffwidth into sport climbing crux on wall.
Mikl 2011
*
TweedleBum
22
12m
Wide crack through roof 4m right of BiaC. Take a #4 camalot and a gardening glove if your fists are small.
Mikl Law June 2011
Turtle on a Girdle
16
60m
A traverse of Angels Buttress. Start up Tweedlebum then traverse left forever along the massive horizontal break.... until you reach the half way ledge on Wire Brush and Dettol. Finish up WB&D or traverse off.
Stu Dobbie, Enmoore Lin (alt. leads)
Gumboot Ridge Boulder
*
Gumboot Ridge
6
15m
Easy beginner's arete with bolts to protect the second. Walk 10m downhill from WireBrush and Dettol and slightly R to block, walk down the RHS of this. Up the arete.
mikl 2013
*
Plimsol Line
13
15m
Another easy beginner's slab climb up the middle of the Gumboot Ridge slab: Start at the lowest point of the slab and follow the line of RB's trending left to the single RB belay at the top. A little bit vegetated at present but a bit of rain and foot traffic should clean it up nicely
FA: Michael Combley & Andrew Rigden (Solo), November 2013