Solar
Introduction
Not far from Hotdog Walls and a similar style of crag. Great views, great exposure and some nice climbing. Faces NNE, so it is an excellent winter crag.
Access
See maps for Hotdog Walls climbing area. If you are driving via access 2 (currently 4wd only), instead of driving 3.3km, turn left onto a small road at 2.7km. Alternately, if arriving via access 1, drive past the Hotdog Carpark a further 600m to a right-hand turn. This smaller road can be seen on the second hotdog access map. It is 1.1km long. The first 300m is 2wd (small Carpark) then it is 4wd for the rest. If you drive the remaining 800m you can drive all the way to the top of the cliff and belay off your bumper bar!
---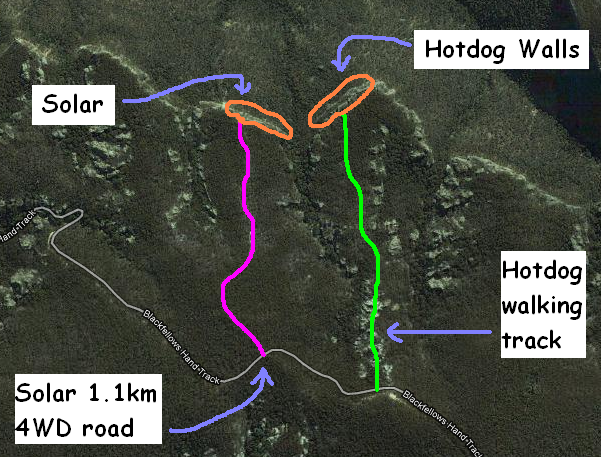 Routes are described from left to right base of cliff, this includes any general direction ie rap trees etc. Rap in and climb out. Take a few rope protectors. All routes start from ledges or semi hanging stances (2 routes). Most bolts are glue in stainless steel bolts requiring bolt brackets, plus a couple of bashins. Rap in anchors are trees. Friend sizes are Wild Country.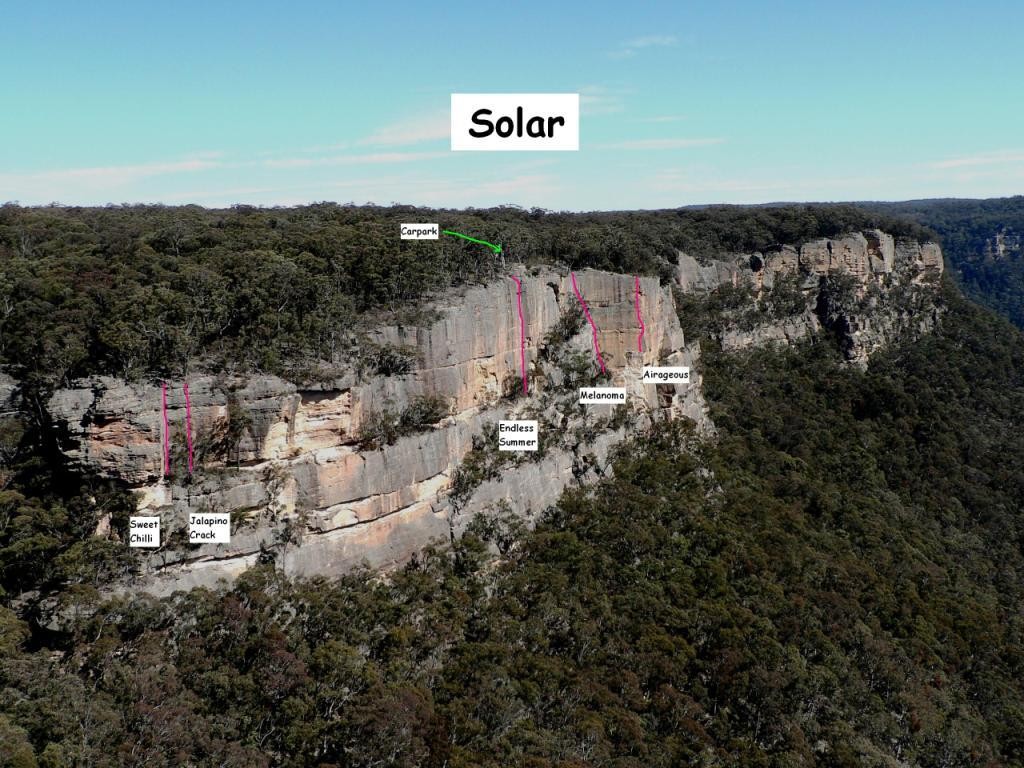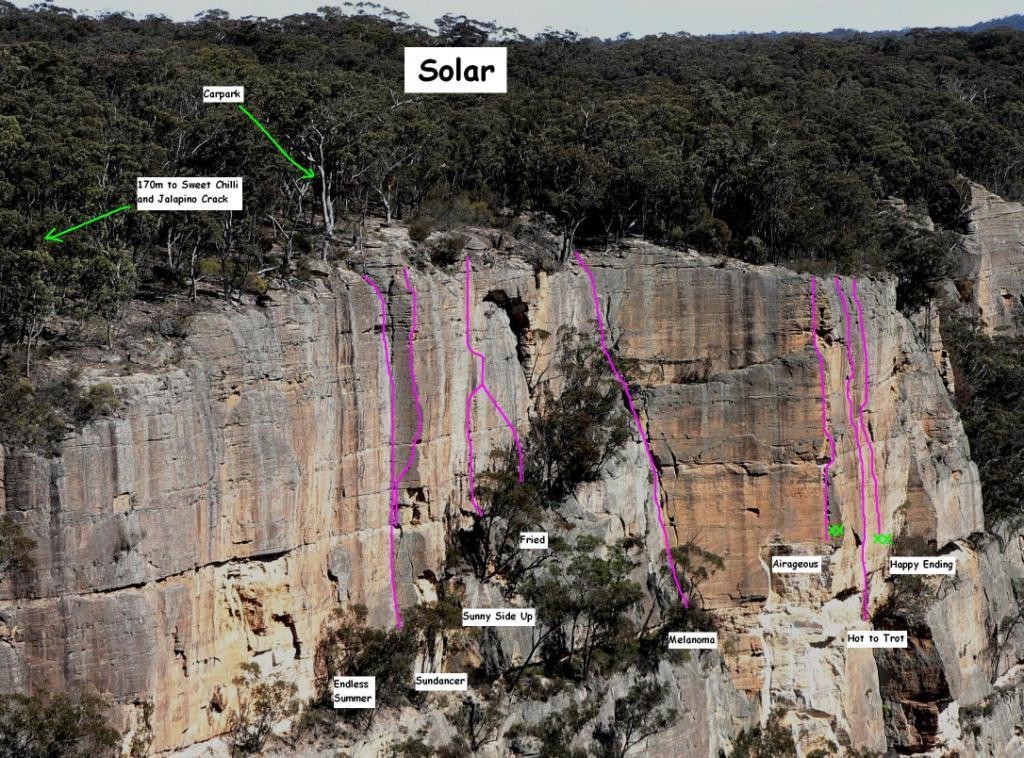 The first 2 routes are 170m from where the track meets the cliff(Carpark). Routes are 10m before the rocky outcrop.
Sweet Chilli
17
20m
Right facing corner crack. Small to medium cams plus wires.
Mark Wilson and Brendan Helmrich, June 2011
Jalapino Crack
20
20m
6m right of Sweet Chilli. Thin face crack. Sustained. Wires and cams up to medium, double up on micro cams.
Mark Wilson and Brendan Helmrich, June 2011
* * *
Endless Summer
22
40m
Absolute ripper! Rap down the arête from the large smooth barked gum tree 10m towards Hotdog Walls. Classic open book corner starting from good ledge. Fiery start. Double set of wires and double set of cams #00 to #3
Mark Wilson and Brendan Helmrich April 2011
*
Sundancer
20
27m
Very nice arête. Rap down Endless Summer to footledge 13m above the ground, semi hanging belay (or start up Endless Summer) Belay gear #0.5 #3 #3.5 friends. Friends #00 to #3.5 plus wires. Climb corner crack for a couple of metres, traverse right to #3.5 cam placement plus small wires, then up the arête past #3 cam and 5 bolts.
Brendan Helmrich and Mark Wilson, June 2011
*
Sunny Side Up
21
25m
Nice route. Use the smooth barked gum tree at the Carpark. Rap down to large ledge. There are 3 lines of scoops. Take the left line of scoops to overlap. Thread runner at start and 2nd thread between 1st & 2nd bolts, optional #3.5 cam 1m after 2nd bolt. At overlap traverse right under 3rd and 4th bolt then up and back left, optional #3 cam for final moves. 8 bolts all up.
Mark Wilson and Brendan Helmrich, April 2011
*
Fried
21
25m
Right line of scoops. Up then leftwards to join Sunny Side Up after 5 bolts. 10 bolts in total. Was originally heading straight up after the 4th bolt. Give it a shot if you want.
Mark Wilson and Brendan Helmrich, August 2011
Melanoma
17
45m
Corner crack. Starts from sloping ledge, rap down wall to the right of the route. Halfway between the end of the climb and the arête. Single set of wires and double set of cams
Brendan Helmrich and Mark Wilson, April 2011
* *
Airageous
17
30m
Very airy arête. As you gaze into the valley and look leftwards, there is a striking hanging arete! Facing in, Rap down right side of arête and swing left when near the 2 belay bolts. 10 bolts on the route.
Brendan Helmrich and Mark Wilson, May 2011
* * *
Hot to Trot
22
40m
Great wall great route! Locate first cairn 7m past the arête. Rap down until 5m above shale ledge. Grab the big jug and clip the 2 belay bolts under the lip, extend with 4m sling down to the ledge . Rap to the ledge. 13 bolts plus #3 cam at 25m plus #1.5 cam just before the top. At the 8th bolt there is a bulge with minimal holds, traverse right then up and back left. (Or climb direct 24/25?) Take about 4 extender draws.
Brendan Helmrich and Mark Wilson, June 2011