Slab World
| | |
| --- | --- |
| | 20 minutes |
| | morning shade, afternoon sun |
Introduction
A pleasant but fairly small crag offering walls up to about 15m in height. The rock is fairly typical for the Lower Blue Mountains, i.e. soft, crumbly, and easily broken. Take care!
Access
Drive out to Martin's Lookout on Farm Road at Springwood. Park at the end of the dirt track and walk towards the lookout. 20m before the lookout, turn right and head down the path. Follow this for about 15 minutes as it drops down into the valley. After a steepish section and several switchbacks, you should locate a large obvious cairn at a right-turning switchback. Follow the climber's trail away left across to a giant yellow chossy cave, then follow the cliff line along for about 200m. Spider Wall is up high on a ledge, while the main wall is 100 metres further along. Routes described left to right.
---
Spider Wall
Located high up on a ledge about 100m before the main wall. Take care - some of the rock on this wall is quite fragile, and pieces are likely to break off until it's seen a bit more traffic.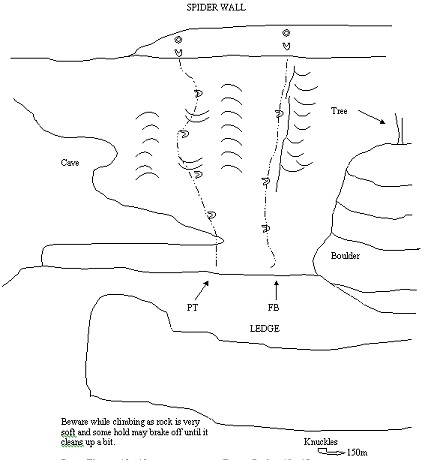 Potato Thrower
18
12m
Up trending left and following the streak to a bulge at the top. 4 U bolts to RB / U anchor.
Stephen Hawkshaw, Andrew Morrison 2002-07
Fosters Buckets
17
12m
Up following the orangy white groove. 3 U bolts to RB U bolt anchor. A bit runout at the top.
Andrew Morrison, Stephen Hawkshaw 2002-07
Main Wall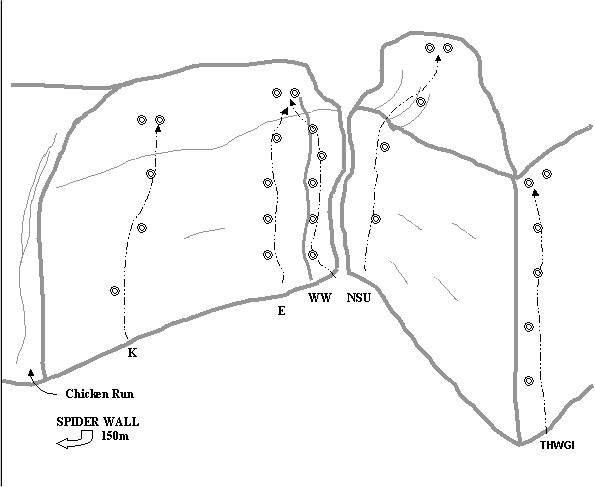 Chicken Run
12
20m
1. 15m (12) Follow the left (right?) seam up the arete. Traverse left to ledge with tree to belay. 2. 5m (6) Scramble up the dirty gully. Getting off may be epic. Try heading right.
Rod Wills, Kevin Van Tilburg 2000-11
*
Knuckles
18
10m
4m right of CR. Line of BRs up orange streak finishing at RBs above bulge. 3 BRs + DBB.
Kevin Van Tilburg 2001-08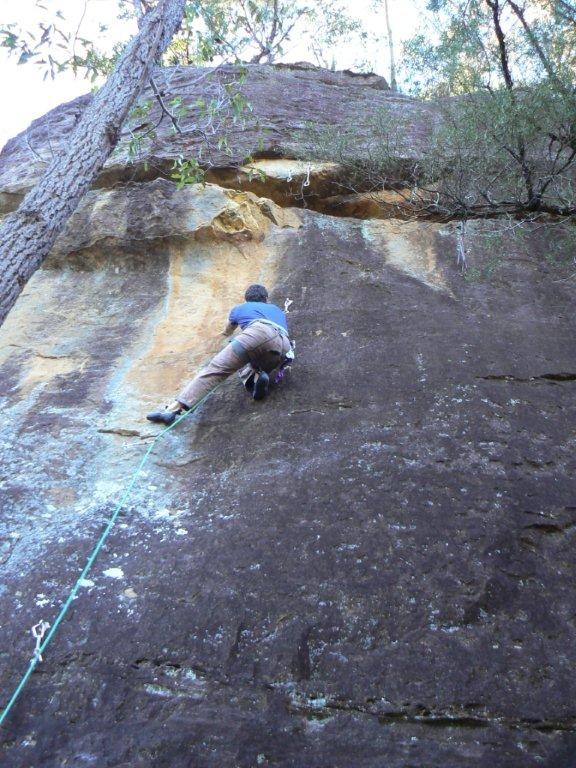 Elmocize
17
10m
5m right of K. Line of BRs on left side of arete, finishing up WW on slab. 4 BRs + DBB (shared with WW).
Rod Wills 2002-02
*
Wiggly Woo
16
10m
1m right of E. Follow line of BRs up arete to slab finish. 5 BRs + DBB.
Borrowed Friends
15
10m
The wide arching crack between WW and NSU.
Warwick Williams, Stu Dobbie, Oct 2012
No Stone Unturned
19
10m
2m right of the big crack. Follow line of BRs up the thin face, to a hard move over the bulge (crux). Finish up slab to DBB.
Kevin Van Tilburg 2001-02
*
To Hell With Good Intentions
21
12m
Arete 6m right of NSU. Laybacks and crimps with crux after second BR. DBB lower off.
Rod Wills 2002-09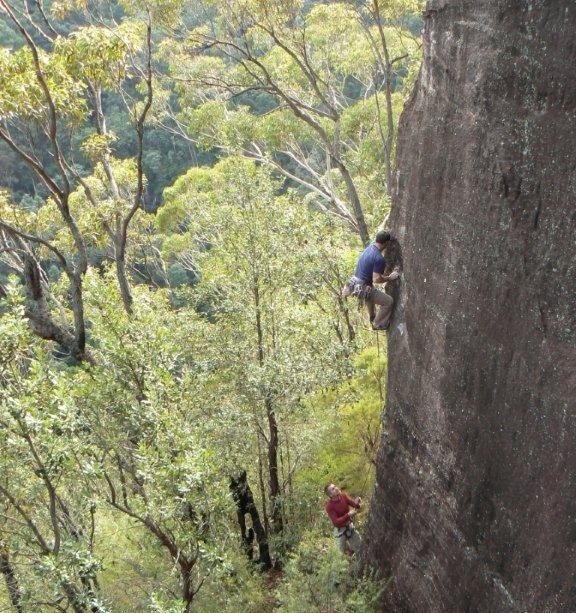 Choss City
The next area is 50m further on past the slab. There has been some concerns expressed as the suitability of the rock for climbing.
Grapes Explode in the Microwave
16
12m
1m right of small cave. Up crack and some loose blocks.
David Filan 2011-11-27
There Will Be Tears
16
7m
2m right of GEITM. Short bouldery route.
Rod Wills 2011-11-20
Resolution
15
10m
4m right of TWT, right of dirty gully. Up clean streak over slab to shared loweroffs.
Kevin van Tillburg 2012-01-01
Nut Up Or Shut Up
13
12m
2m right of R. Start is at grade then easier moves from ledge to ledge.
Arlo 2013-11-06
Dude's Christmas Carol
12
10m
1m left of faint arete. Juggy start to slabby finish.
Rod Wills 2012-01-01
Paperbag
13
10m
On faint arete. Juggy face to sloping top.
Kevin van Tillburg 2011-12-04
Passion in my Pants
12
9m
1m right of P. Reachy start up juggy face tending slightly right to shared loweroffs.
Rod Wills 2011
Communal Fisting
17
9m
Hard start jamming up crack, getting easier after the second bolt to shared anchors. Trad start?
Rod Wills 2013-12-29
Any Given Sunday
19
12m
Just left of groove. Reachy start, then through three varied mantles to the top.
Rod Wills 2013
Another Fine Product From The Nonsense Factory
18
12m
1m right of AGS, balance and smear up tricky slab and then layback to glory.
Rod Wills 2013-12-29
The Greater Fool
13
12m
Layback up right side of flake, step onto wall and up slot between the walls.
Rod Wills 2013
Antastic
14
13m
2m right of P5. Onto attached flake, step right across onto face and up over juggy bulge.
Kevin van Tillburg 2012
That's What She Said
14
14m
2m right of A. Straight up face, over bulge to top.
Kevin van Tilburg 2013
Zero Gravitas
15
14m
2m right of TWSS, again straight up over bulge to juggy face.
Rod Wills 2012-12-29