Rosa Gully
| | |
| --- | --- |
| | Various aspects |
| | Sea cliff |
Introduction
Although Rosa Gully sports some pretty big cliffs and has easy access to boot, it has a few easy sport routes which should be very popular, particularly Vril (20) Funky Moves (21), Pox (18), Porn Extension (18), and The Last Wave (20). Recent rebolting should make this place great!
Access
Rosa Gully is located just north of Diamond Bay, and the parking for the crag is the same. From the carpark, head north across the grassy area and down a "Vee" of grass, jump the fence and follow track down into the main gully. Scramble on down the main gully and down to the water (to the mouth of the gully), which is where the existing climbs are located. An obvious feature is the ladder at the mouth of the gully on the northern side. This leads up to a walk around ledge that continues to the north for several hundred metres. Quite a few of the climbs start from this ledge. It's worthwhile taking a wander along this ledge even if you don't plan on climbing down here, since it's quite interesting. The routes are described left to right (from the southern side to the northern side) facing the cliff.
---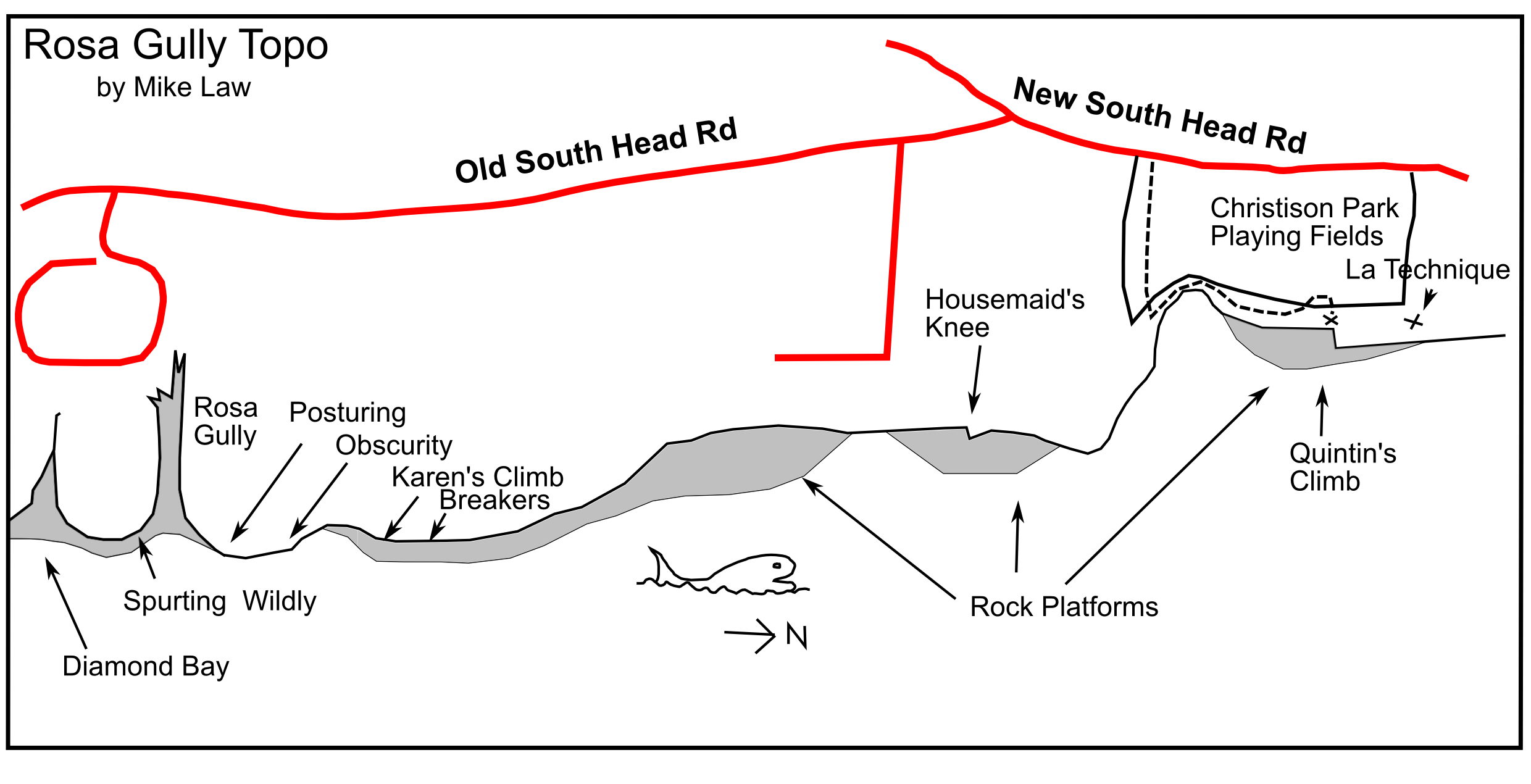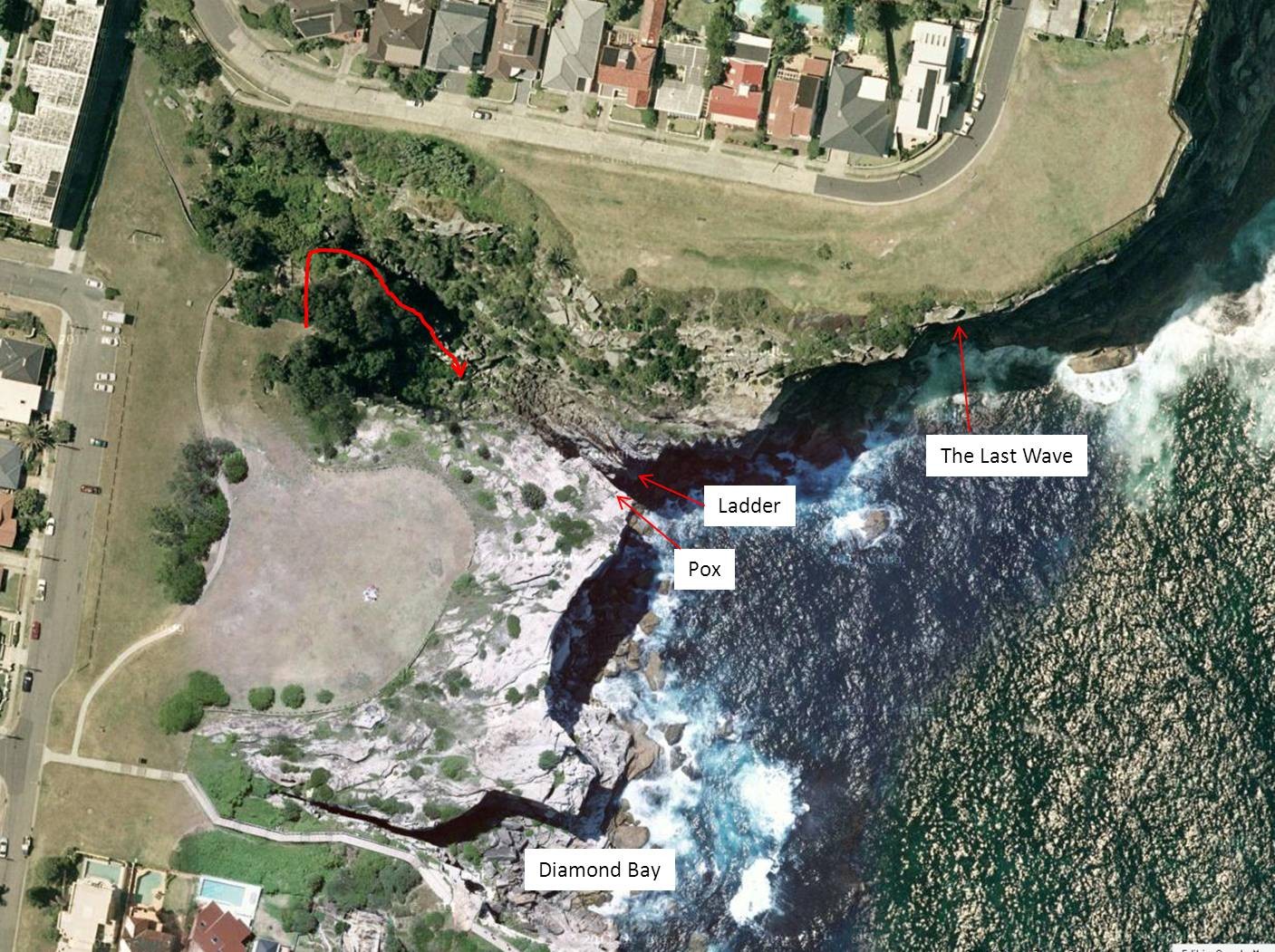 Southern Side
The following climbs are located on the southern side, down near the mouth of the gully (down near the ocean).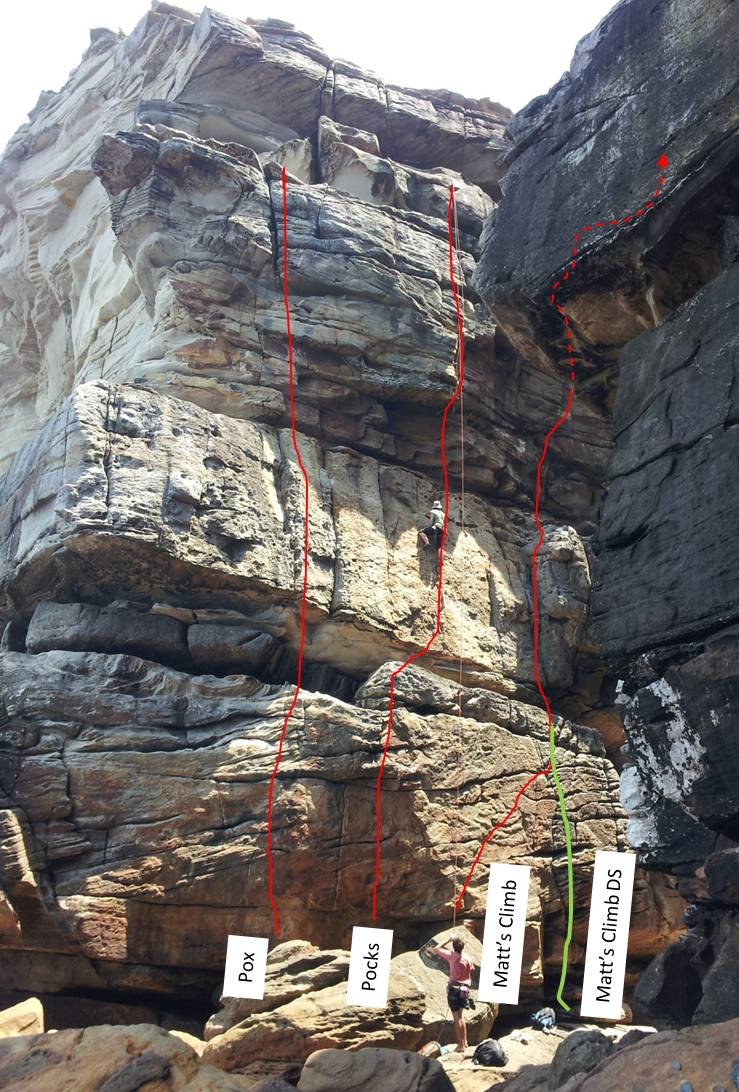 South side at the mouth of Rosa Gully. Matt's climb is shown by dotted line where it is hidden by buttress.
Project
The flake, roof and hanging arete 3m left of Pox, finishing on the big ledge. This may go on gear, please don't bolt it until it has been attempted. There is a 2 carrot anchor on the ledge. The climb starts right in the littoral zone, so low tide and small swell only! It looks like a large block has come off fairly recently, and the whole arete may be a detached block (there's cracks on either side). Take care.
* *
Pox
18
25m
On the south side of the gully, about 3m right of the arete at the mouth of the gully, on the 2nd biggest boulder. Opposite the ladder. Clip first bolt with a screwgate and head out left and up, this is often the crux when the first few moves are greasy. Follow the cracks to lower off. 10 Ubolts. Can be climbed even at a king tide so long as the sea isn't too rough. Originally it was a trad 17 which wandered around a lot and finshed through a chossy roof at the top above the loweroff! It was also Gary's 1st lead!
Gary Eggins, mikl Law 1970s
* *
Rosa Parks
22
25m
Start as for Pocks and straight up thin crack and roofs above to lower-off.
mikl 2015
* *
Pocks
21
26m
Start just right of the thin crack. Up to ledge and step right 1m to next crack system then up. Hard if you're normal height.
mikl 2014
*
Matt's Climb
19
40m
Good trad climbing with ok gear. 4m right of Pocks, 3m R of the biggest boulder. Head up past Ubolt at start and up the ledge at 10m. (The corner above has only average pro but there is good gear in a steep crack a metre right) Up the ledge, belay possible on Ubolt and big cam, or 2 Ubolts. or continue on after slinging first bolt off ledge. Right up wall past ubolt and carrot, and up a short dirty corner (u) then right to corner (U). Head left under the roof (pigeons!) then continue up (medium cam) and right (Ubolt to protect second) then easily R to cam belays. 2) 10m Scramble up and R easily to 3 ring belay above Jurds on Toast 5 rings and 4 grades added in 2014. A three Tonne block came off by hand below the roof.
mikl law 1978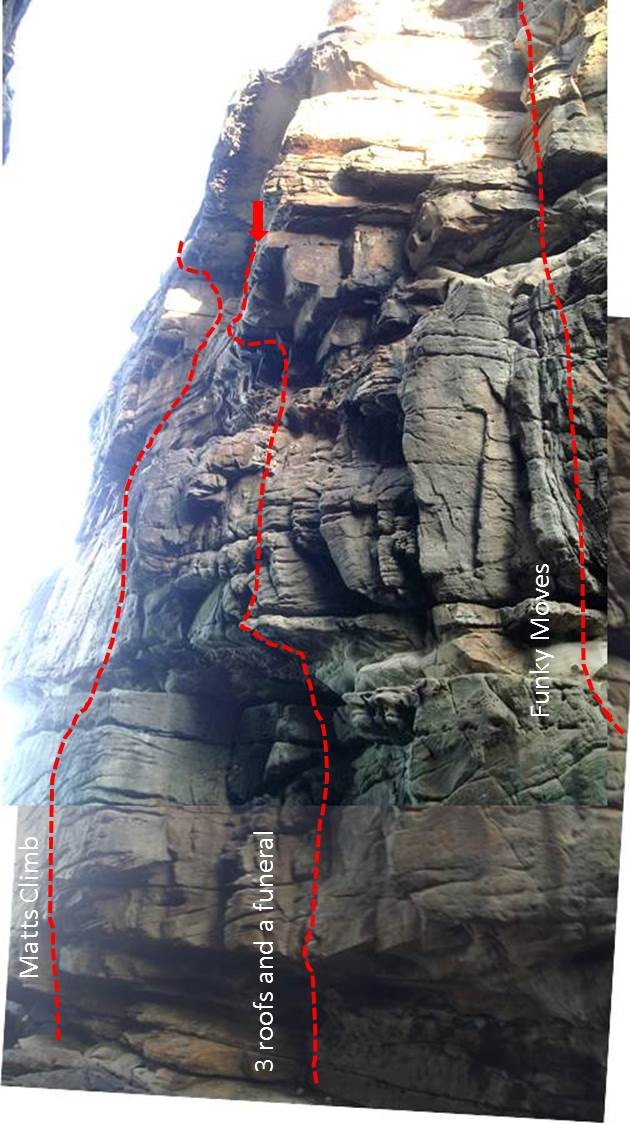 The Devil's Sandpit
20
2m right of Matt's climb and just left of 3 roofs and a funeral. A burly move to the 2nd bolt then up easily to ledge, leave behind the jugs for slopers up rounded cracks to anchor.
Chris Bennetts-Cash, 2015
Everything but the Moves Project
First two bolts of The Devil's Sandpit, clip the 3rd bolt on 3 Roofs and a Funeral, continue right and up the arête.
* *
3 Roofs and a Funeral
23
20
Easier and better rock than it looks. Start about 7m R of Matt's Climb below roofs. 2nd roof is easy but you use a big flake that is drummy, belayer should stay out to the left as you thrutch onto this. Lower offs below choss roofs
mikl 2015
The following climb is at the left side of a big cave about 20m back up the gully.
* * *
Funky Moves
21
35m
Great and varied climbing. 10m right of MC is a corner on the left side of a big shallow cave. Up the flakes on the left of the corner,then up the main corner. No lower off (too long) belay over top on 3 rings. 12 Ubolts. Originally a sandbag 15 with 2 carrots went up here , Jurds on Toast.
Jeff Crass 2014
* *
Harold would Go
22
20
Varied funkiness. Steep corner 2m R of Funky Moves then sandy moves up R to roof (hidden chip to clip high bolt after foot ledge fell on my head), L a move and up. For Eddie Aikau and Harold Holt (who I met 2 weeks before he drowned).
mikl 2015
Northern Side
* *
Chicken of the Sea
19
25m
First line on the left hand side coming down the gully. Up on jugs and cross left onto ledge. up to ramp where you can pull on crimps or step right and to a hands off freakish slab. Then up easily through ledge and second ramp to anchor
Patrick A Burr, 03/06/2015
* *
Rainbow Connection
22
25
Start a metre right of Chicken of the Sea, head up and rightwards to finish up a thin crack. Varied and slightly wonky climbing on good rock
mikl 2015
* * *
Porn Extension
18
10m
Pumpy! Extended with 20m of new climbing. About 40m back up the gully from the sea and 20m R of Rainbow Connection, below a chossy left tending flake. Up the flake moving left past 2 ledges. At top go right to hidden flake at anchor. Careful lowering and cleaning as it's very diagonal (leave 1st draw clipped then climb up and remove it) First crack was done as easy trad (Pornflakes 18), extended by Eugene.Long draws will cut drag.
Mikl Law 1980's then Eugene Mak 2015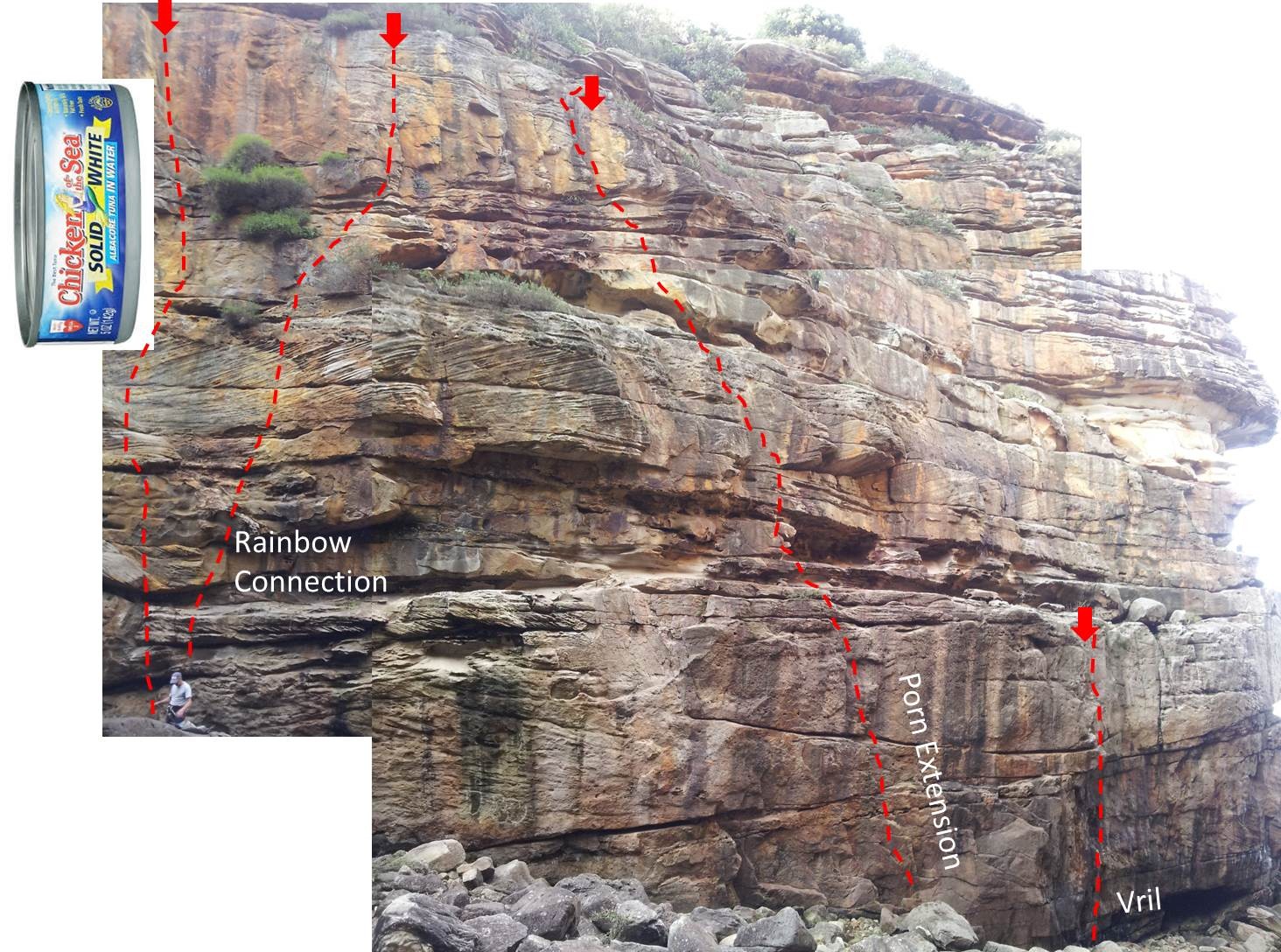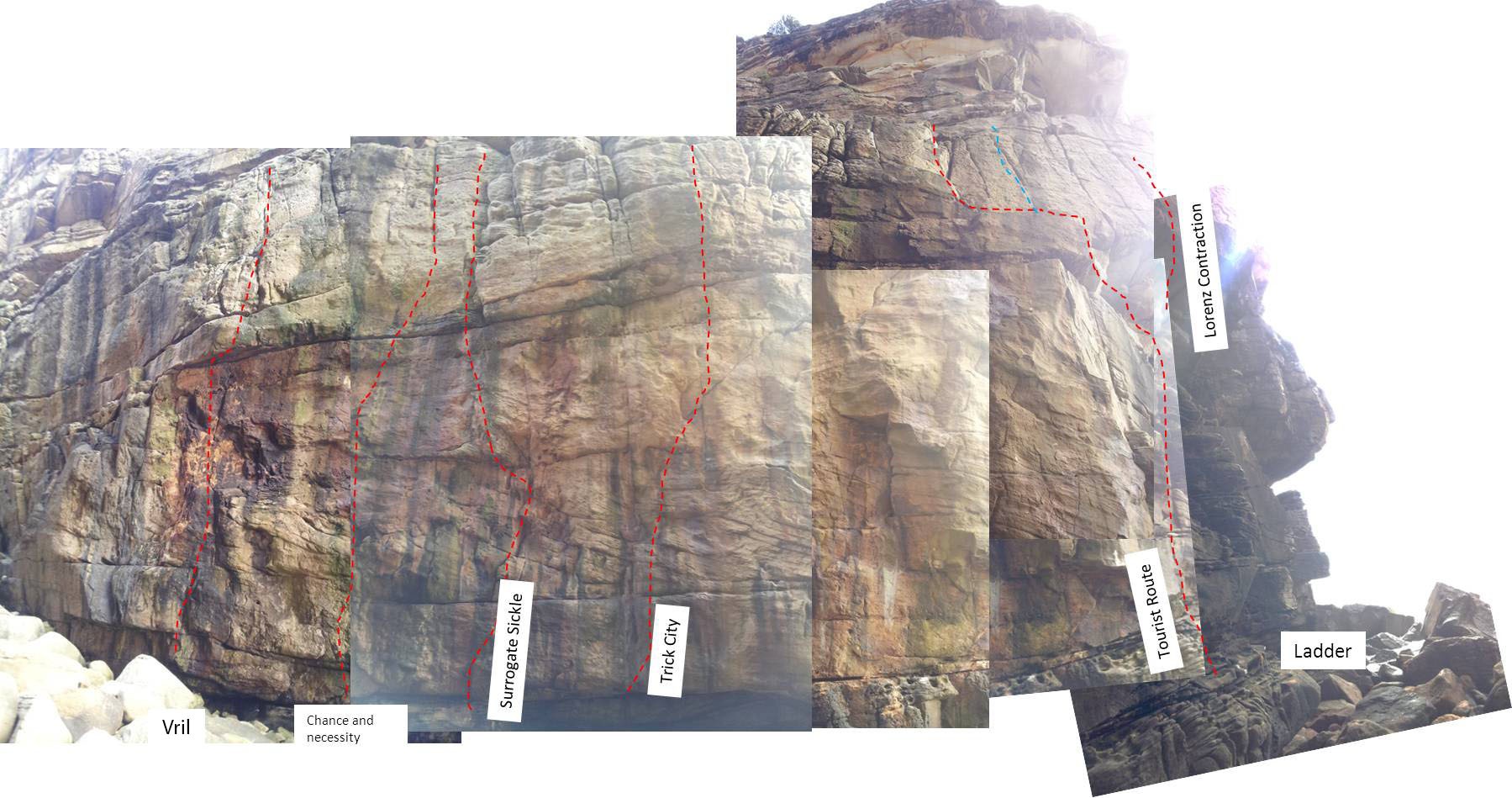 * *
Vril
20
12m
"A ficticious natural force". About 15m left of the ladder, on the left edge of an obvious orange wall with a crack running up the centre (SS). Follow the cracks to a small roof, then head right and up to the top.
Mikl Law 1980's (what gear?), retrobolted 2014
Chance and Necessity
24
15m
2m right of V and 2 m left of SS. Head up the flake (manky BRs), then head left and up to a horizontal. Step right here and continue up (rotten BRs) then right again to a short crack.
Mike Law 1980s
*
Surrogate Sickle
21
15m
Below the obvious crack in the middle of the orange wall, about 6m left of the ladder. An enjoyable and technical little outing, but unfortunately the bolts are pretty far gone (for a change!).
Mike Law 1980s
*
Trick City
23
15m
1m right of SS. Head up and slightly right past break and corroded BRs. Continue to roof and finish up cracks.
Mike Law 1980s
Closed Project
15m
2m right of TC. Line of new U bolts heading up and right towards the Tourist Route. Please stay off until it is finished.
* *
Tourist Route
16
15m
Nice rock and gear. Start below the corner 5m right of TC and 3m left of ladder. 15m (16) Up the corner (sling runner possible), onto 2nd big ledge and continue up cracks (crux) heading left at top (avoid the super easy corner on left). Lower off at 15m 30m (15) Not worth doing this pitch, Continue up and slightly left on ledges.
Mikl 1978
*
Tourist Route Variant
19
45m
1. 15m (15) Up TR for 10m, then step right to crack (leftmost of three through the roof) and up then left to lower-off
Mikl 1978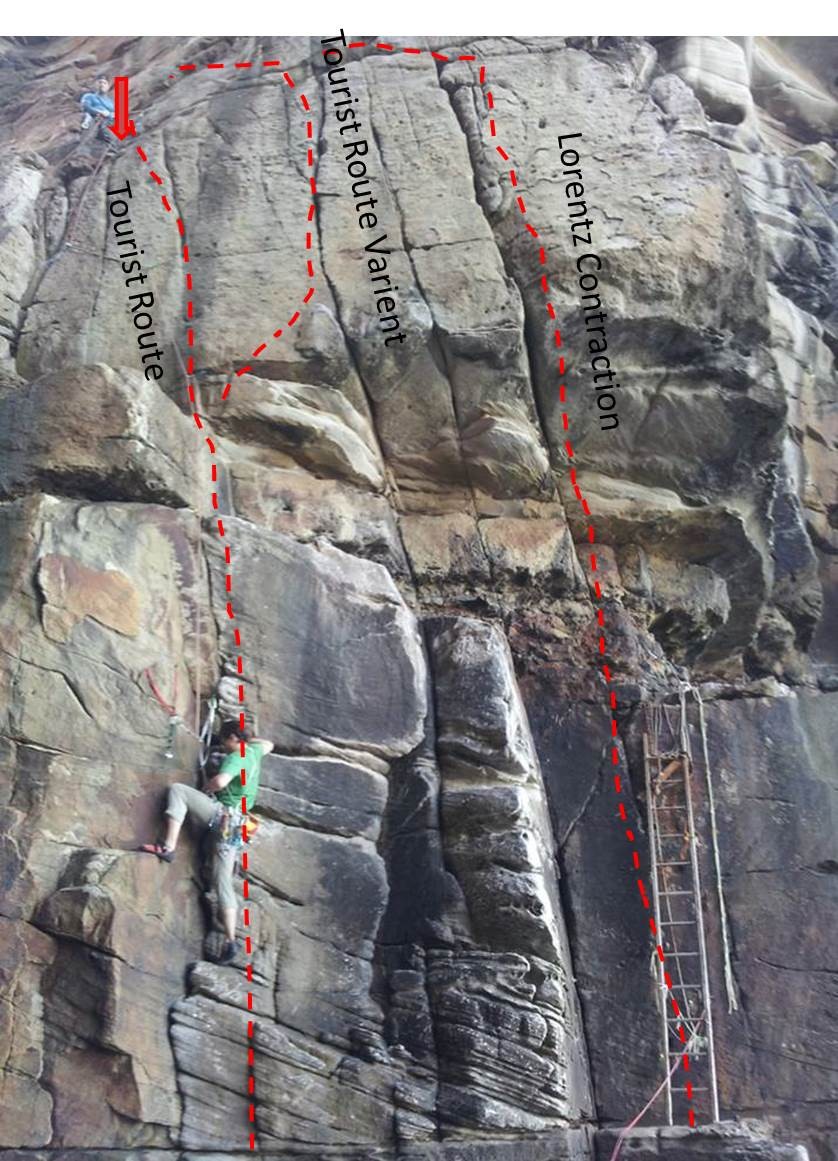 Walk Around Ledge
The following climbs all start either above or below the walk around ledge (which is accessed by the ladder that is located just here).
* *
Lorencz Contraction
22
30m
Doddle up ladder, then continue slightly left and up to roof. Jam through righthand of three cracks and up the thin crack then continue up to cave (manky BB) or traverse left to Tourist Route lower-off. Looks hard!
Mikl Law 1980's
* * *
Posturing
21
40m
On the walk around ledge, 30m right of the ladder, below an arete. The original description describes this climb as "coronary country". I hate to think what it must be like now, after 30 more years of weathering! 1. 20m (21) Jump to gain wall, then dangle right and up (BR) to corner. Follow arete to ledge (corroded BB). 2. 20m (19) Head up and left and follow scrappy corners to the top.
Mikl Law 1980's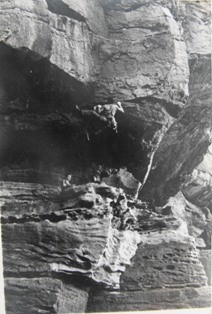 The following two climbs start below the walk around ledge.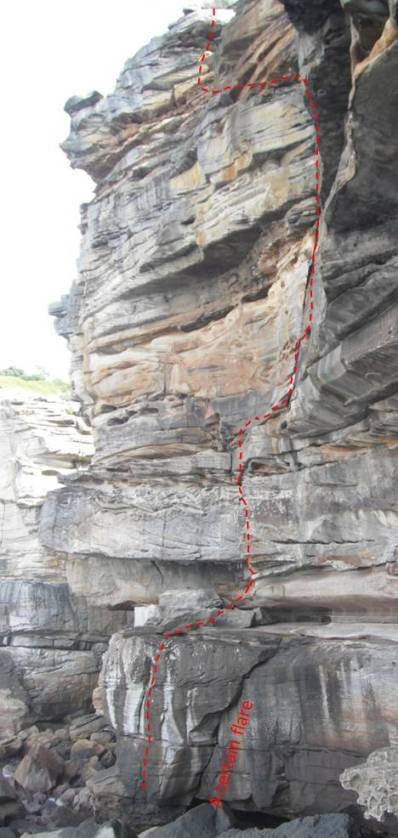 Obsurit (dotted line), A Certain Flair is the leaning crack to the right on the lower cliff.
* *
Obscurity
19
78m
10m right and 15m below P (just left of the obvious flake of ACF). 1. 15m (19) Drift up and left up wall and flake to the walk around ledge. 2. 18m (18) Head up the corner and step right to the arete. Head up this to a ledge with a crappy BB to the right. 3. 25m (18) Head right underneath the flake and layback up it. At the top head right to the corner and up to the belay. 4. 20m Continue up the corner then step left and continue to top.
Mikl Law 1980's
*
A Certain Flair
23
16m
The obvious smooth flake, 2m right of O. 1. Climb the flake to the walk around ledge.
Mike Law 1980s
Back to the walk around ledge.
Karen's Climb
18
75m
Ok climbing in good positions with bad to tragic gear. Has been supercede by The Last Wave. originally graded 15 on trad! Start below right tending ramp, just past the arete approximately 100m from the ladder. 1. 30m (18) Up ramp (cams and 2 BRs) for 5m, mantel right around the arete, up the thin crack. Up wall 5m and traverse left 5m and diag L up loose corner, then easily left to belay on slab below roof (3BB). 3. 30m (16) Left across slab and up V crack. Step right and up loose flake then 6m left to ledge and easy wide crack. back right 6m to another crack. Follow this to the top. Rope drag city, or use lotsa slings and double ropes.
Mikl Law, Karen Pracy 1980's
* * *
The Last Wave
20
50m
Fun sea sport cliffing with the usual mix of choss and pleasure. Loses the sun in summer by 11am. The walk in down Rosa Gully and up the ladder and ledges is nice, you can also rap in on a 50 m rope from the top if you want to suss out the crux moves (leave a rope fixed, hard to pull down and it'll probably end up in the ocean). Take about 11 draws and 2 slings for belays. The start and half the first pitch is a retrobolt of Karen's Climb. Down Rosa Gully and up the ladder, then walk along the ledge 15m above the sea for 100m to a small honeycombed ramp. P1 19 28m Up honeycomb ramp to weird mantel then up and left to belay. P2 18 12 m Up to ledge then traverse left below the choss, up slab and bulge to belay P3 20 10m Up to roof and a few stiff moves.
Mikl Law, Vanessa Peterson , Warwick Payten, Jeff Crass 01/01/2014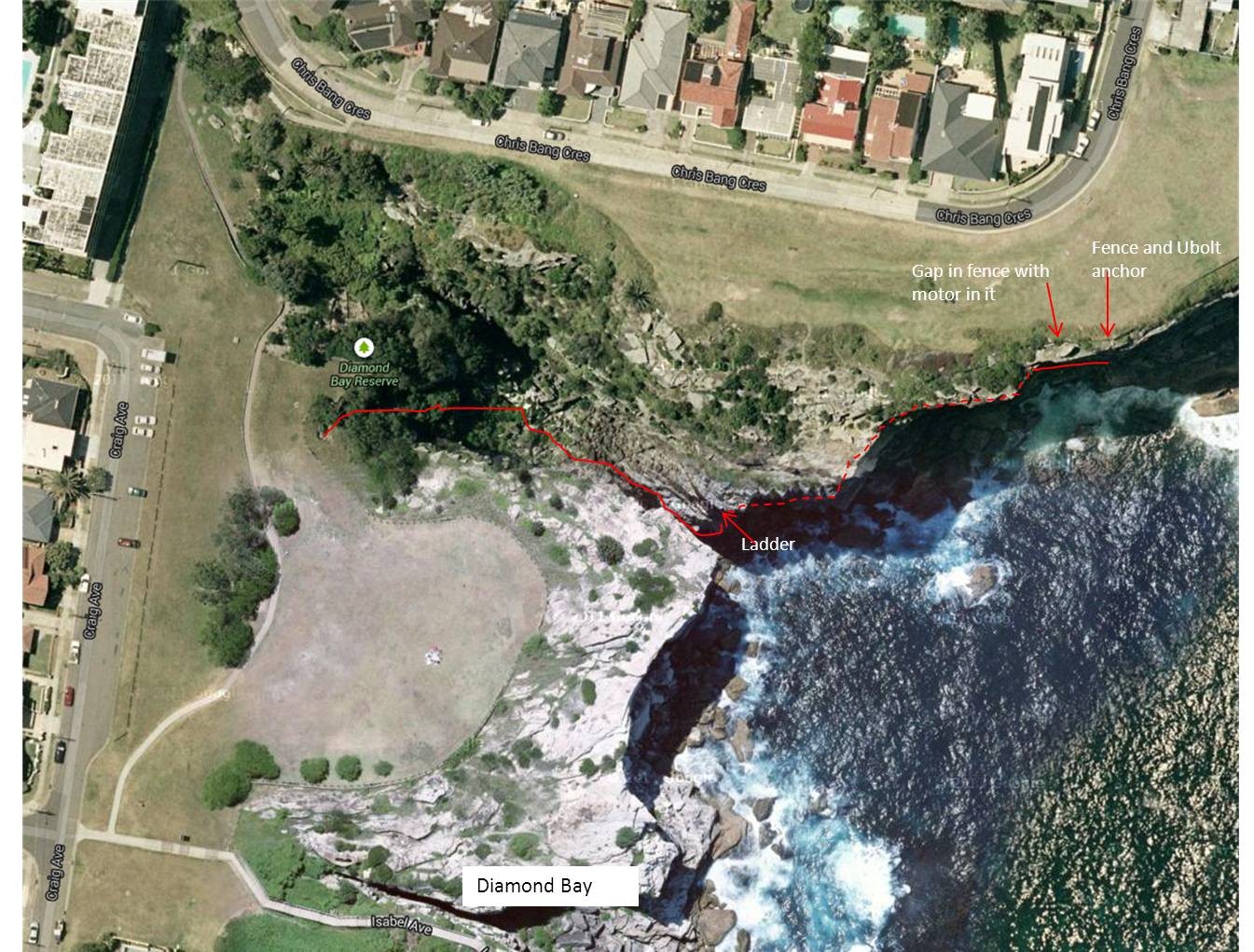 Access to the Last Wave via Rosa Gully or rapping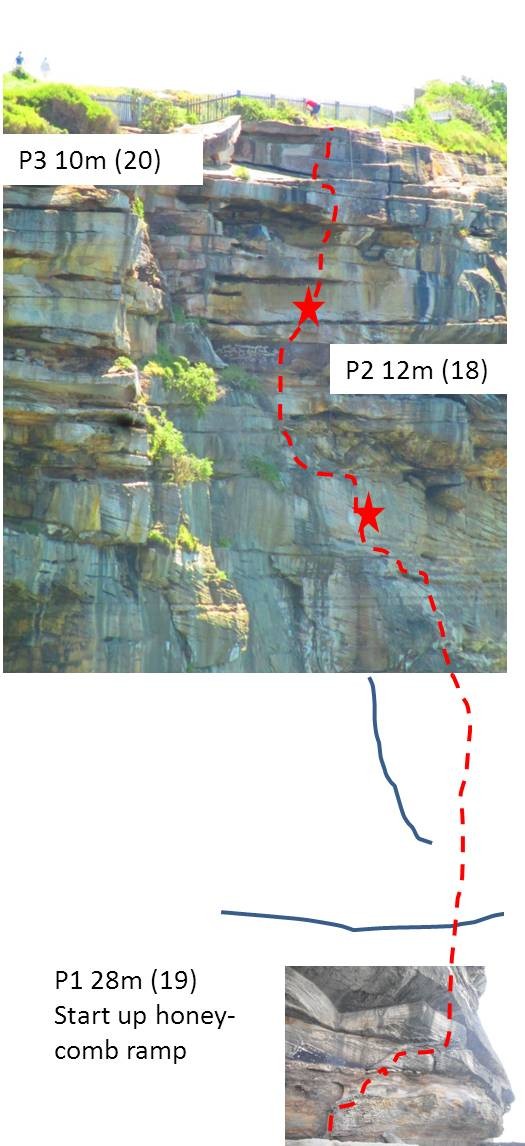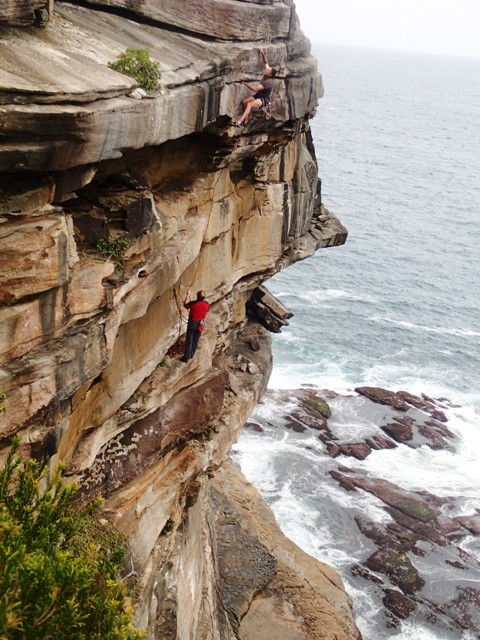 Warwick Payten on P3 of The Last Wave
The Last Wave topo
Breakers
21
70m
About 3m right of KC. 1. 40m (21) Climb up, veering left to bulge (crux). After this, continue up and right past assorted fixed protection (all badly weathered) to belay in a corner that breaks through the rooves (manky BB). 2. 30m Head up corner, then traverse left around the arete and on for about 8m. Wander up to top.
Mikl Law 1980's