Old Bush Road
| | |
| --- | --- |
| | 5 minutes |
| | Afternoon sun |
| | Bouldering |
Introduction
A pleasant little bouldering area offering a good number of problems on rough, unusual rock. Most problems are vertical walls or aretes, in the V0-V3 range. Many problems are marked but nobody has submitted any grades yet. Bring insect repellant.
History
Discovered by Shae Constantine in the early 1990s.
Access
From northern end of Old Bush Rd in Yarrawarrah, head along the ridge and drop down left (west). Continue down past the blank wall with old graffiti, and hopefully you will find a series of west-facing walls with marked problems. There might be other problems around the general area.
---
Problems are described right to left.
OP
The featured easy wall.
Moving along to the next wall.
Up Arrow
Squished in left of MNT.
AB
Start at pocket left of Up Arrow.
HMR
Left-most problem of the four.
Moving left to the next wall.
MC
The distinctive undercut recessed orange feature.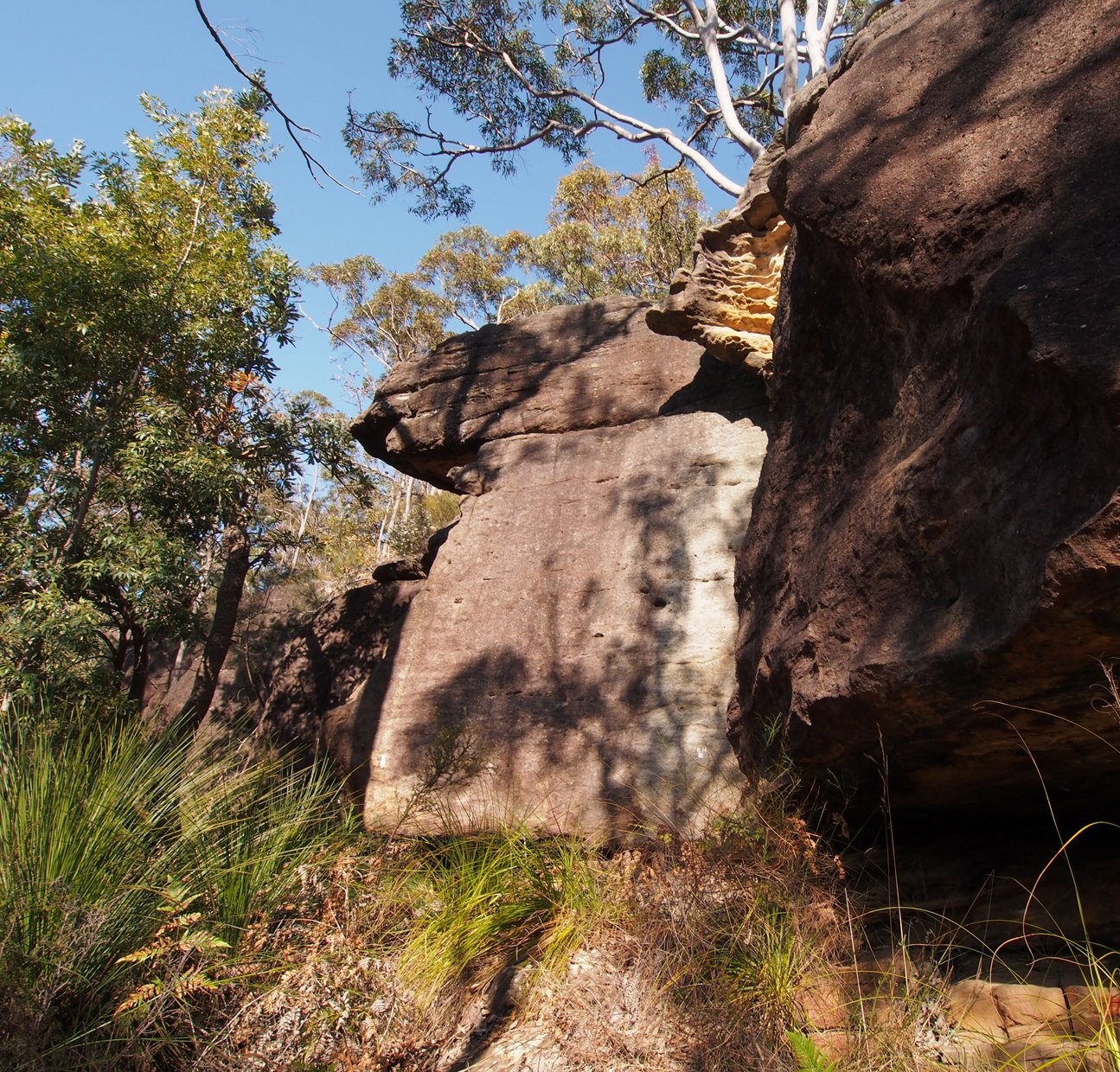 GH
Under orange wide chimney.
G
Just left of GH, up the arete. Say hello to Mr Green Tree Python!
Next wall.
ST
Wall left of squeeze chimney.
ABM
Undercut arete 2m left of ST.
SS
Clean arete left of A.
J
Next route left after the scramble.
The next few problems are on the west side of the block.
BBB
Left of B, at hole. Up past bulge.
TT
Rounded arete at left end of block.
The courtyard behind the block has a distinctive offwidth crack.
WA
The fist crack or the wall to the right.
HB
Wall 0.5m left of crack.
D
1m left again! Squeeze them in!
Continue past the rampy corner.
NN
Easy wall 1m left of S.
FF
In alcove beneath bulging roof, 2m left of NN.
There are probably some more marked problems and plenty of unmarked problems to do!