Oatley Park
| | |
| --- | --- |
| | 1 minute |
| | South-east facing |
| | Short trad and top roping |
Introduction
A pleasant small trad and top-roping area in a scenic location perched above the Georges River. A lot of rock, but not much as been developed.
Access
Find Oatley Park on a map, and follow Christensen Drive until you find a signpost to Webster Lookout. The crag is 2.6km from Oatley railway station. All listed routes are located below this lookout, and have top rope bolts.
---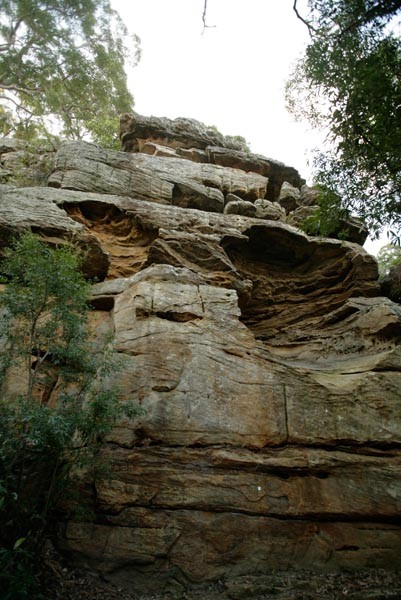 Routes described left to right (facing the cliff).
Upper Tier
The upper cliffline below the lookout.
A
10
4m
Up the easy face.
B
10
4m
Up the easy face.
C
15
6m
Start below the overhang. Up.
D
14
6m
Up the horizontal breaks to the rail of the lookout.
E
13
8m
10m right of lookout. Bouldery start to horizontal breaks.
Middle Tier
Located directly below climbs A and B.
F
16
8m
Face and horizontal breaks to huge gum tree.
Lower Tier
Located directly below the lookout.
G
18
6m
Old aid route. Follow curved crack to chimney.
H
19
6m
Up the arete and horizontal breaks to mantle at lip.