North Coogee
| | |
| --- | --- |
| | Morning sun |
| | Sea cliffs |
Introduction
Located on the sea cliffs between Coogee Beach and Gordon's Bay. Most of the rock here is pretty chossy, none of the fixed protection is in good condition and the rock tends to be slimy year round (there's quite a bit of seepage on much of the cliff, although buggered if I know where it comes from!).
Access
Park in one of the carparks at the northern end of Coogee Beach, or catch a bus to Coogee Beach (372, 373, 374) then walk north around the rocks past the rock pool.
---
Climbs described south to north (left to right facing the cliff).
Pigeon Poo
M2
15m
About 40m north of the old gym steps. The second overhanging corner crack, filled with dirt. Aid the crack (cams and wires). Belay off fence posts or #3 camalots in the fence post holes (if the posts are missing). Take care with protection: the rock is very soft.
Damien Haines, Peter Nolan 1998
About 50m north of PP is an obvious landmark - a green, slimy, muddy corner. To the right is a 10m wide south facing wall.
A
12
14m
3m left of the green, slimy corner. Extremely dull. Only known to have been top roped.
Dry Reachin'
23
12m
3m right of the green slimy corner. Follow fixed hangers up the middle of the wall. Rebolted in 2007, however it's still worth checking the bolts.
Paul Colyvan 1980s
Into the Shit
16
12m
4m right of DR, just left of the arete. Cams then tend left to the 3rd BR on DR. Might be safer to stay on the arete.
Louie the Fly
10
12m
3m right of the arete. Undercut start on jugs then up the low angled corner above.
25m north is a large storm water drain. 20m north of the drain is a blank filthy looking black wall with the following climb.
Punks in the Pub
23
18m
In the middle of the big black greasy wall. Straight up the wall, passing 3 BRs. Take care, since the original 4th BR appears to have fallen out, so the existing bolts probably aren't safe.
Paul Colyvan 1980s
For rap access to the next route, walk northwards along the white fence until you see the large overhung platform. The route is on the northern part of it. There's an expansion bolt (presumably a redirectional) near the top of the climb.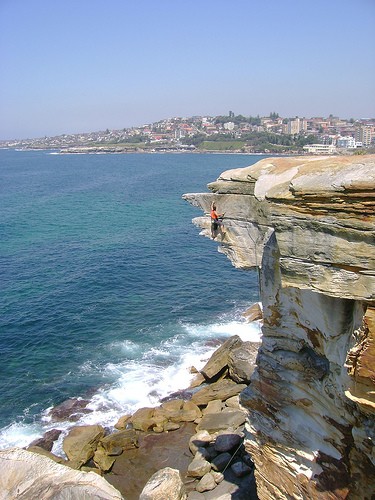 Over Exposed
20
20m
A newer but still nearly forgotten effort by a visiting pom. A mixed climb equipped with stainless rings. Looks awesome! Tie a rap rope to the fence post, rap off and place a #4 cam in a very sandy break! Also put a draw onto the 1st bolt and put your lead rope through it (the first bolt is about 8m up because the bottom is very friable). Big sandy holds then onto arete, rock quality improves here, get to a rest before the traverse. Holds in the break are good. Exposure is a little unnerving!
Chris Fox 2007