Mt Banks
| | |
| --- | --- |
| | 1 hour + |
| | from 1 pm |
| | sandstone |
Introduction
Big. Sometimes loose. A massive, badly made wedding cake of a cliff, there are 2 to 4 bands of rock, each over 100m high with vegetated ledges between them. The entire cliff is over 2 km along the base. The top is capped with Basalt (which means it was once the bottom of a valley).
Access
For climbs on the left;-Walk down the left ridge and rap to the first ledge, then walk right and rap to the ground. For climbs on the centre and right:- Walk or ride around the back and rap down Groseness. Or walk down from Perry's lookdown and up to the base (2 hours). There are bivvys on the First Ledge about 5 minutes left of Original Route, and an amazing stone hut built into the cliff about 1 hr R (above Taghairn), no water at either. On the 2nd ledge there is a bivvy on Original Route somewhere, with a climber log book I hear.
---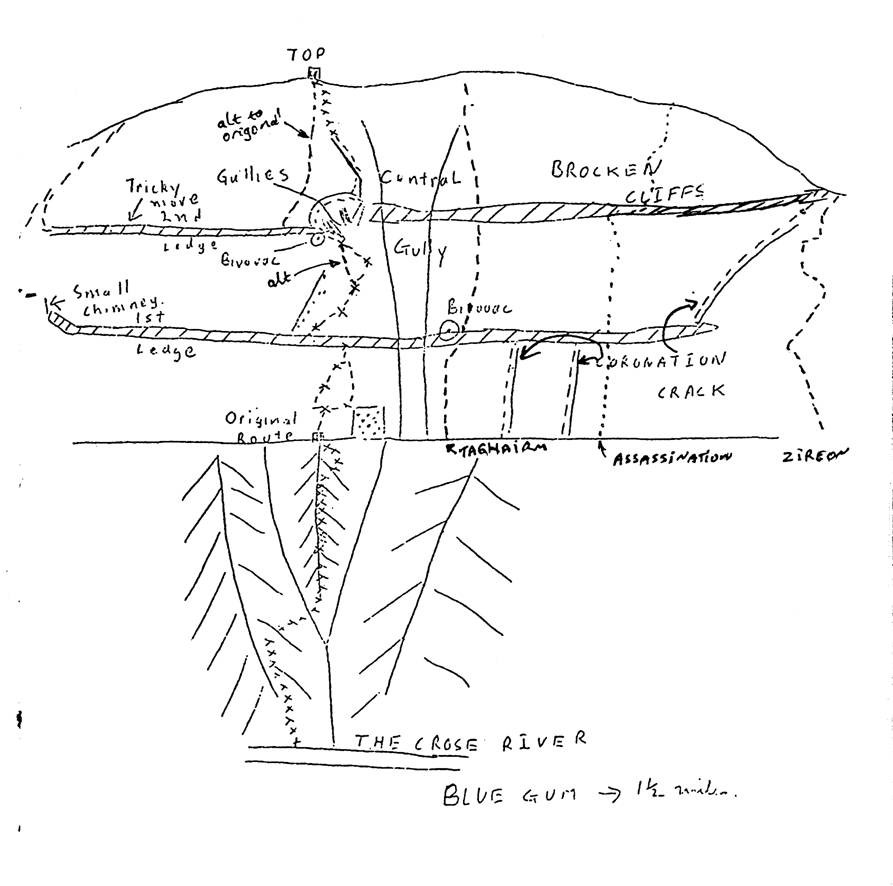 original hand drawn topo from Warwick Williams Grose guide

Original Route
13
300m+
The old fashioned start is down from Perry's Lookdown on the other side of the Grose (2 hours, easy nav, but you need a car shuffle), and then up. It is considered "slothful" to walk down to the halfway ledge then abseil down. Sounds good if you can work out how. (see below, 80 minutes, best to suss it out beforehand) Start, left of the huge central gully. A distinctive large block about 5m high next to the face marks the start. 1) 25m Straight up to tree. Easier than it looks fortunately. 2) 25m Up to the left then right, or Right (supposed to be easier). Traverse (R?) to the nose then fine climbing up the nose. 3) 25m Up the wall. Harder than P1. 4) 21m The scrubby bit onto the next ledge can be slippery. You are at the first ledge, scramble up 30m and left to big corner line- Soaring Crack "The obvious fearsome looking route". Climbs somewhere right of this 5) 27m Bear R up the face to a bolt belay beneath a small overhang (on the R of the ledge, about 20m R of the corner. Some go up the corner or wall just right to ledge at 20m and traverse R). 6) 21m Up the overhang and up to a tree. 7) 30m Upwards going around the corner into the gully a bit. (or 7a Instead of going up the nose there is a beautiful crack above the belay.) 8) 30m Up to the bivouac bed where a tin contains the names of the great ones. 9 + ) Up the ridge then up to the cliffs. Sometimes very bold though not steep.
Russ Kippax, Dave Roots, Enn Trupold, Owen Llewellyn 16,17,18 January 1953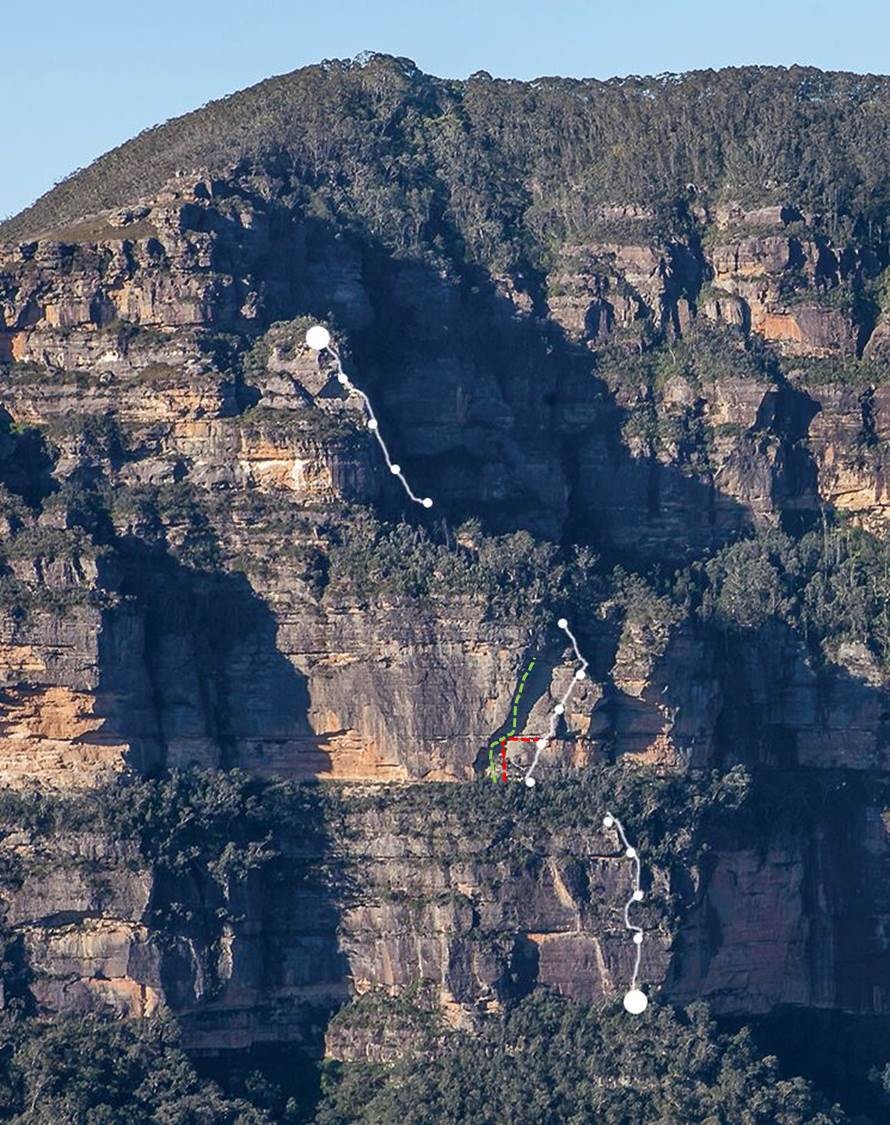 Access to first ledge:- You can just see the rocky gendarme you're heading for from the carpark (see picture below). Contour along for about 800m then drop down 30m into gully, out to ridge and down a bit to small pinnacle (see picture below). Turn L facing out (south) and down ramp (sometimes a fixed rope) which is best to abseil over a little overhang down to first ledge. Walk along south along ledge for another half hour or so to Soaring Corner. To rap the first few pitches below the first ledge check out the topos and walk south about another 30m, get to edge and rap from trees a few times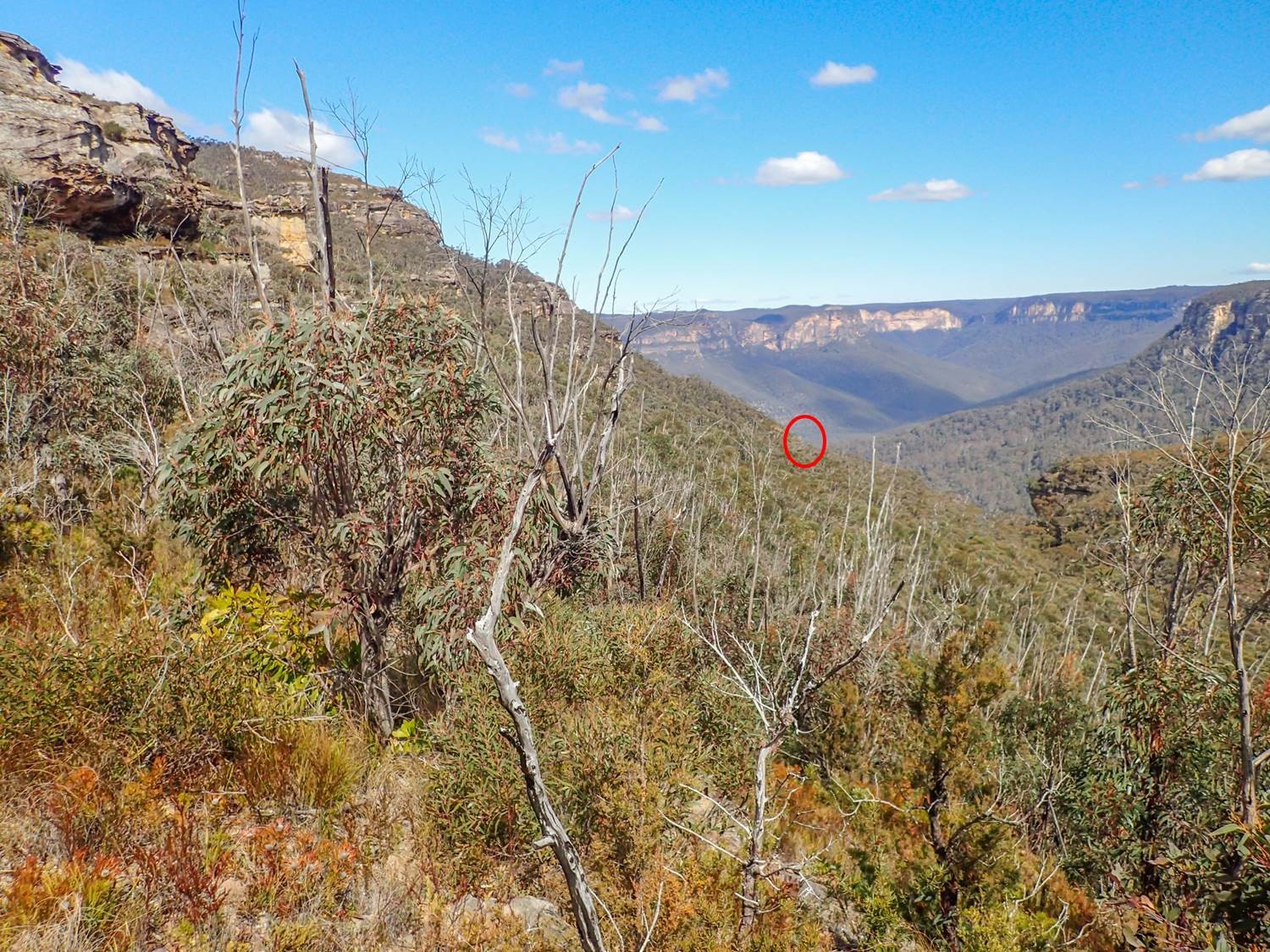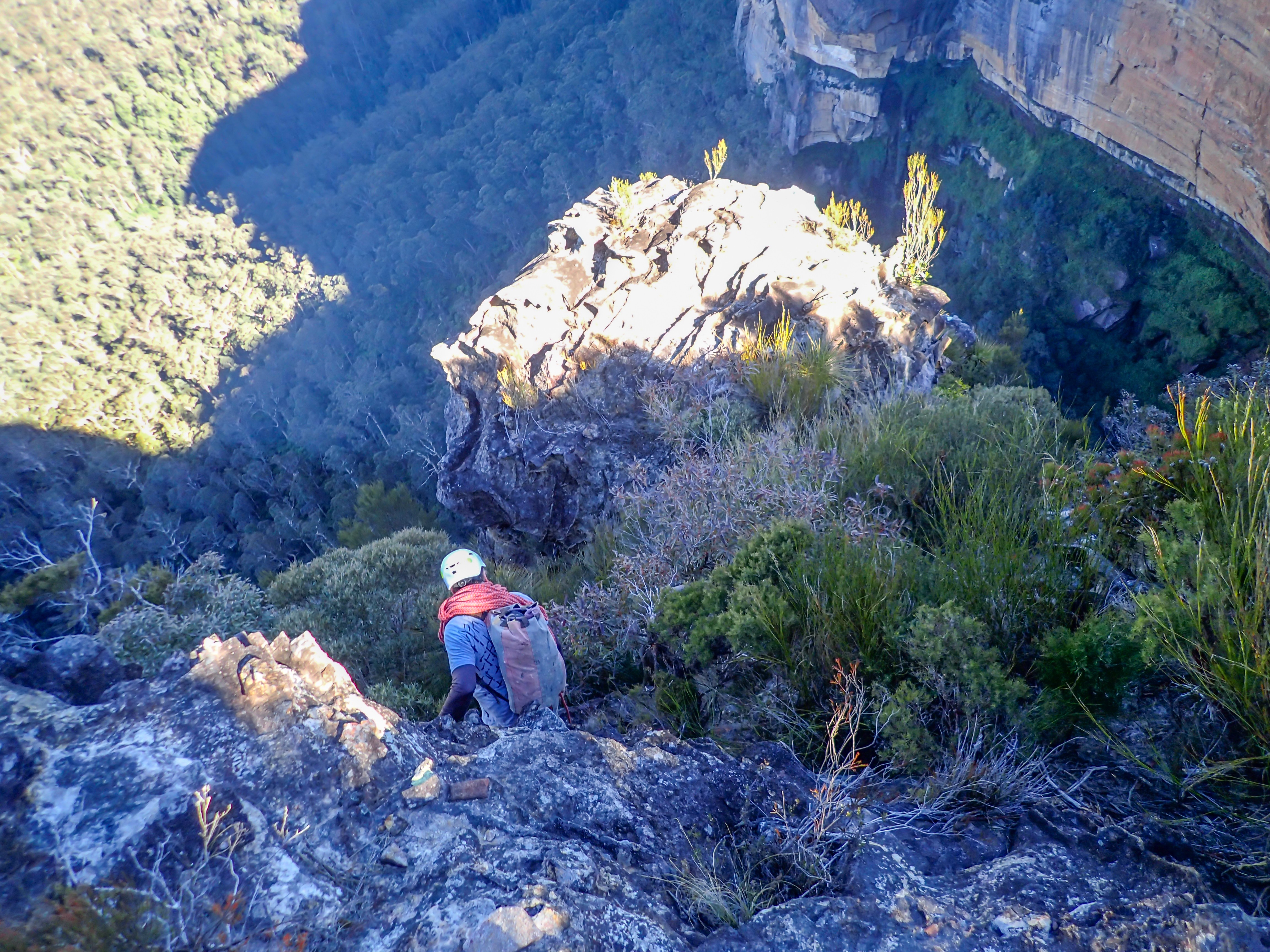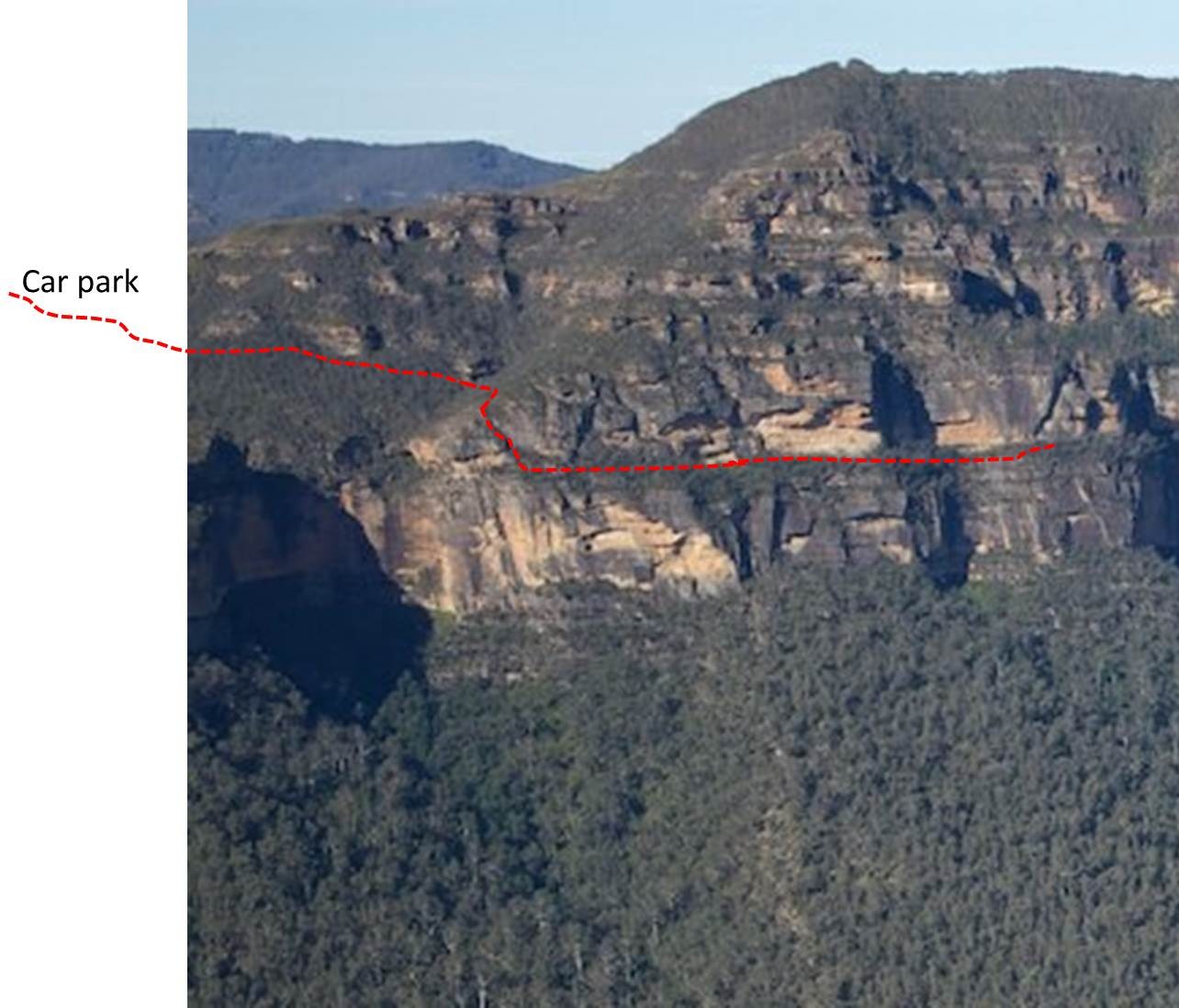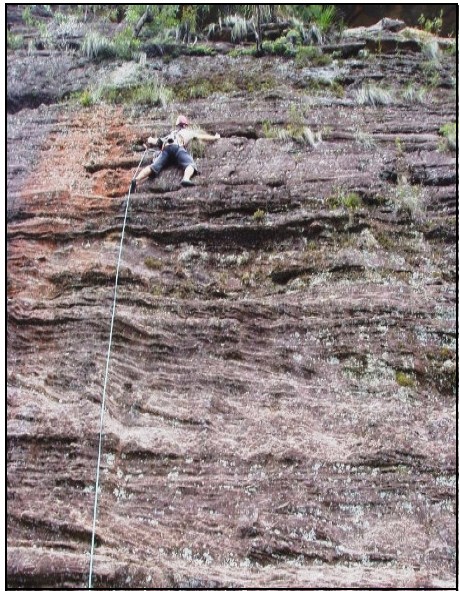 Original route P1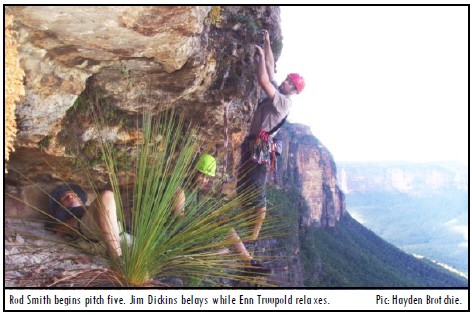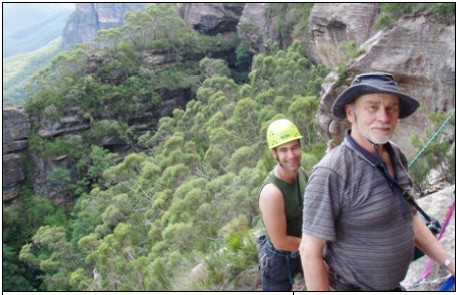 Start of Pitch 9 Original route on the 50th anniversary repeat starring Ern Trupold (R) from the Original Original Route FA in 1953
Soaring Crack
17
42m
One of the more obvious lines on the left side of King George. Start: At pitch 5 of the Original Route there is a fierce looking crack on the left side of the wall. 1) 15m Climb right of the large tree and move diagonally to crack. Some poor looking rock and minimal protection. Obvious belay on ledge. 2) 15m (Crux) Climb up wall moving left to crack and swing up crack to friend belay on wall. Great rock and pro. 3) 12m Up corner crack to ledge.
Bryden Allen, Hayden Brotchie, Jim Croft - Alt Lead s 2,1,3.
original route Alternate Finish
14
The normal finish is rather scrubby. Instead, from the Bivi ledge head up to the next cliff. Follow close to the base around to the left until a 'break' in the severity is found. Scramble up a slab then up a steep 30m. Exposed wall to the top (BR). Easy scrambling and miscellaneous small cliffs remain to the top.
Warwick Williams, Lynn Thompson, Joe Lorincz Sept 1975
Cossey-Richardson
24
250m
Hard, on-sight, runout. I wish we could all climb like this. Start about 100m R of Original route (see photo), right of the central gully is an orange wall with 2 cracks, the orange corner. Follow this for 2 pitches (the business) to the 1st ledge, then simil-solo up diagonally right and wander (below grade 16) to the 3rd ledge then wander off left all teh way to the left end (where Original route walks past).
Lee Cossey, Andy Richardson 2004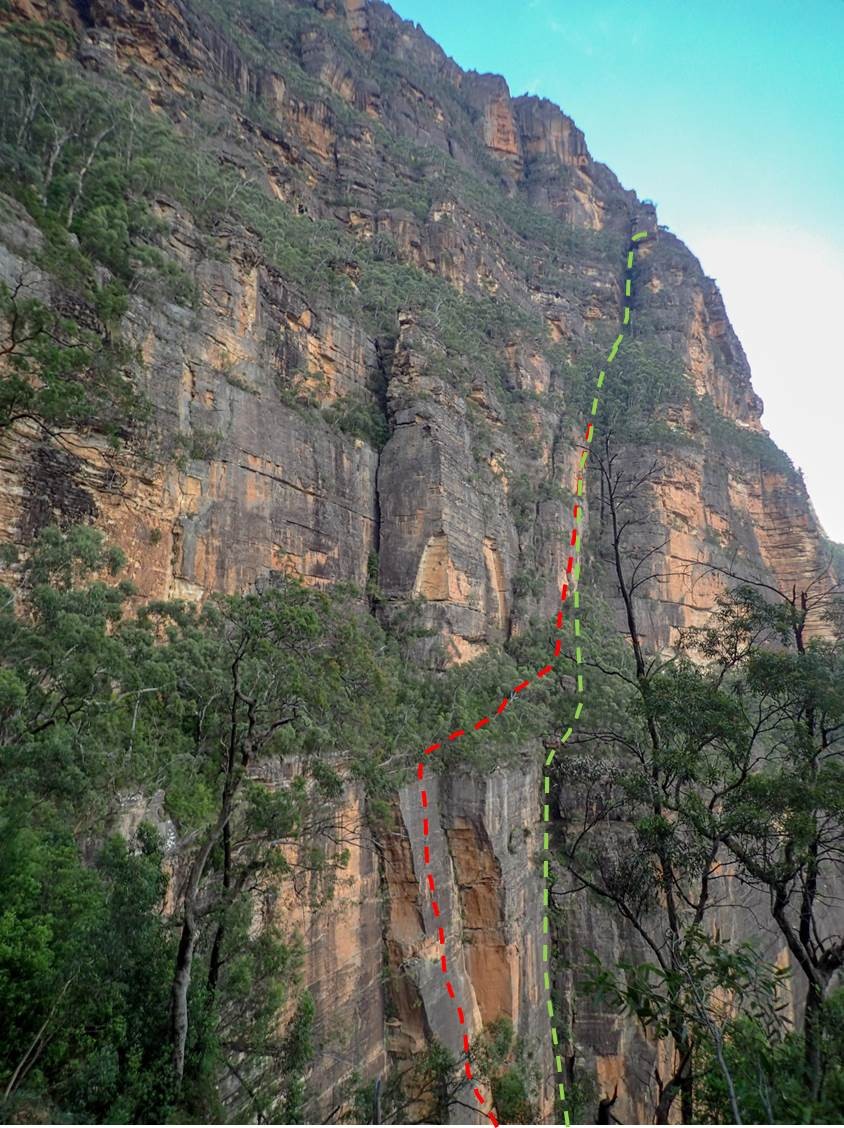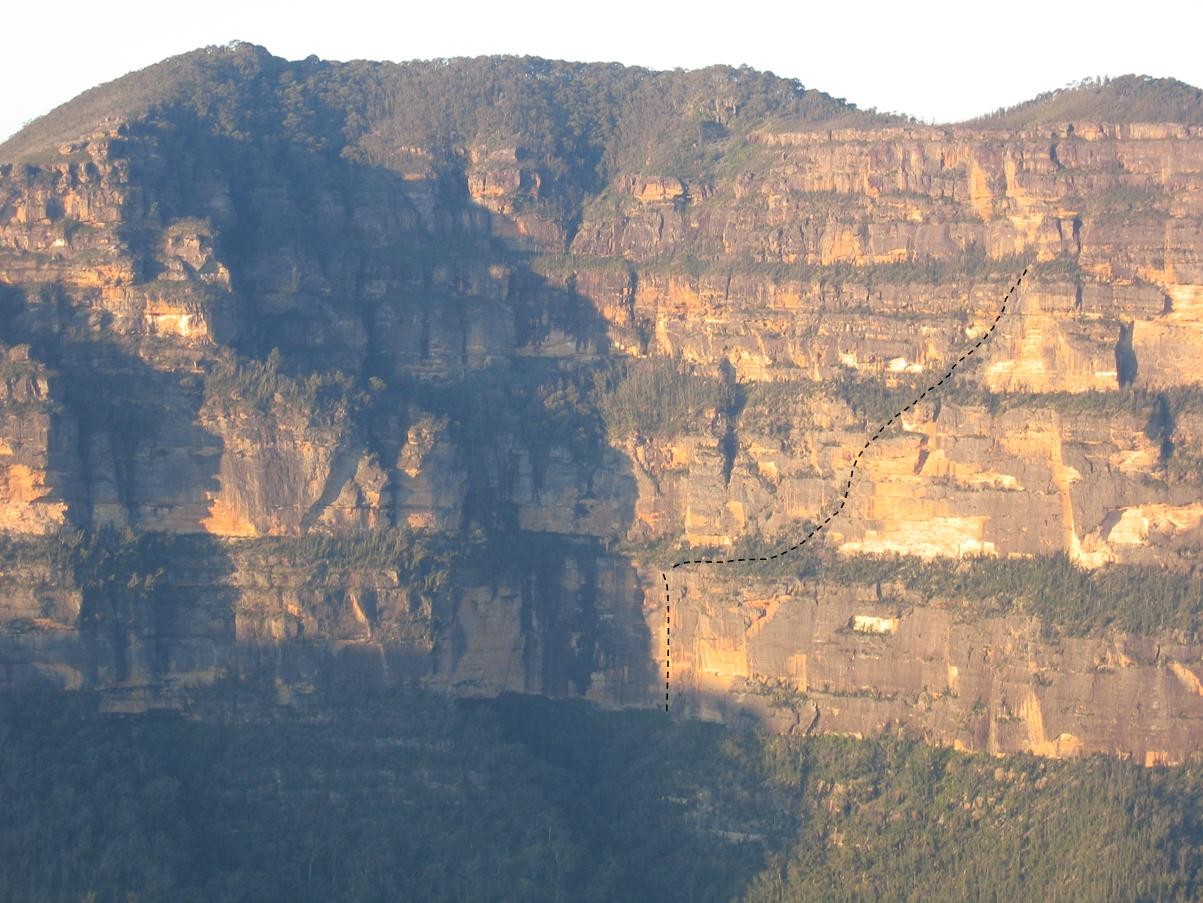 Rough line of the Cossey-Richardson route
Taghairn
14
300m
Sounds like it starts about 50m right of the Cossey-Richardson. See Bryden's hand drawn topo above , but it says Start "Several hundred meters right of the central gully" All a bit of a mystery. I assume that the bivvy above P3 isn't the hut bivvy above The Cossey-Richardson route 1) 21m Fine bridging up right angled corner in yellow rock. Swing R onto nose and up arête to tree anchor. 2) 27m Easy climbing to base of chimney. 3) 27m A clean fine chimney leads to a ledge. Move R and up wall on delicate holds. Short but strenuous layback leads to tree belay. Scramble to bivouac on large scrubby ledge. 4) 30m Poor rock right of bivy. Up gully to base of chimney. 5) 27m Good chimney to tree belay. 6) 18m Continue chimneying then move R across wet ledge to tree belay. 7) 12m (crux) Jamb and layback up perfect crack. Lasso tree and aid move to scrubby ledge. 8) 30m Scramble up ledge and into gully. Climb steep juggy wall for 9m (delicate in places) then continue up gully to tree belay. 9, 10, 11) 90m Easy angled slabs and short walls till top is reached well right of the trig station.
Colin Monteath, Howard Dengate 28/02/1970 -01/03/1970

* *
The Camel
20
500m
Ok climbing (mostly) on generally ok rock (some spooky choss) with generally ok pro (trad with a few carrots). The belays are usually trees or bolts to enable retreat. Most of the pitches are about 16 to (hard) 18 with the top pitches being the hardest (thrutchy cracks, think Yosemite 5.9 offwidth). Probably worth 20 for the epic factor, and the style (slabs and cracks). Best done on a long cool day (October, November?). Gets sun after noon, take plenty of water, and don't drink from the Grose. It's a bit of an epic to access, and to escape from. Easiest to approach traditionally from Perry's Lookdown:- walk down to Bluegum Forest and then walk back up the valley a bit (looks like about 2 km), cross the Grose River (and don't drink the water) (at about -33.594528,150.361746, or Mt Wilson sheet 8030-1N KH550796, there's a fsat orange tree right on the track with Turn carved in it on the north side. This is about 30-80m past the crossing point), and find the creek below Original Route and the Central Gully (maps!). Walk up the ridge just right of the creek to below a huge left facing choss corner on the 2nd Tier, and traverse left 50m to start left of orange wall at ground level. When you finish the climb, walk 20m up the gully to a track heading left. After about 10-15 minutes it drops down over some fallen trees onto to the summit walking track, left up this another 300m then down and right to carpark (45 minutes, take a torch). 1. 30m Start left of orange rock, up to fixed hanger at 10m, then to ledge belay. 2. 20m Walk left and up corner. 3. 30m Up wall. 4. 40m Up easy slab to corners. Up to tree with rope marker. 5. 50m (Scary walk) Go right (belayed) about 10m and scramble up 1st ledge below 100m choss corner. 6. 25m Up corner, loose. U + gear belay. 7. 25m Up left wall, step R into corner. U + gear belay 8. 20m Easily left to block, bolt and U on lip. 9. 50m Up and slightly leftwards forever, 2U + bolt belay (poor rock) on the exposed perch out left (The 11 o'clock pitch, that's the direction you head, and you should be on it by then). 10. 25m Left and up scary erosion groove. Step right at top and up slope to tree and 2nd ledge. 2nd ledge, walk up 15m and then left 40m to weird old 2 bolt anchor with tat. Next pitch starts in sloping dirty corner just to the left. 11. 20m Up finger crack ramp and slab past bolts to 2BB. Stay out right. 12. 25m Right to groove and up, then black slab to small trees (can link to next pitch if you cams for the top). 13. 15m Up wall to big tree. 14. 30m Up dirty seam, right and up tricky slab, wires in finger crack. . 15. 15m Easily up ridge to 3rd ledge - Walk down and left across gully past chossy white corner, and left 40m more to big black corner. 16. 25m Up corner,hand, offwidth ( basalt chock stones!), and flare in corner, tree belay (don't use the dead one like I did) 17. 20m Up gully to base of main corner. 18. 25m Up corner then left wall and crack, sling runners near top, 2UB 19. 20m Right into corner and weird moves into crack on right wall. Follow thrutchy crack (plus chockstones if you are out of big gear) then up to 2UB on right wall high. Then walk out and finish up Camel Back for the 20th Pitch! Jeff Crass, Eugene Mak, Mikl Law 2018 Gear- Take a single rack of cams, finger to a big fist sized and doubles of hand-size, wires, a bunch of brackets (and clipping wires). Torch and 3L of water. Escape- On the 1st ledge it's possible to scramble left through horrendous scrub and past Original route, then up the access ramp (rope) then up to carpark. About 2.5 hours. Probably safer to rap and walk back down to Bluegum and up (rap plus 2 hours). There is an awesome bivvy hut under the 2nd tier about 8 minutes' walk left of the big corner, built in the 50's, no water though. On the 2nd ledge, walk right easily for 30 minutes and up 10m to the firetrail and turn left. About 70 minutes from here back to Mt Banks carpark. You can go left along the 2nd ledge but it gets funky. There is a good cave where someone had an epic bivvy about 40m right of the top of pitch 10 on the ledge. On the 3rd ledge apparently you can walk off left, but few details so don't try it in the dark. Rap to 2nd ledge and go off right.
Eugene Mak, Jeff Crass, Mikl Law 2018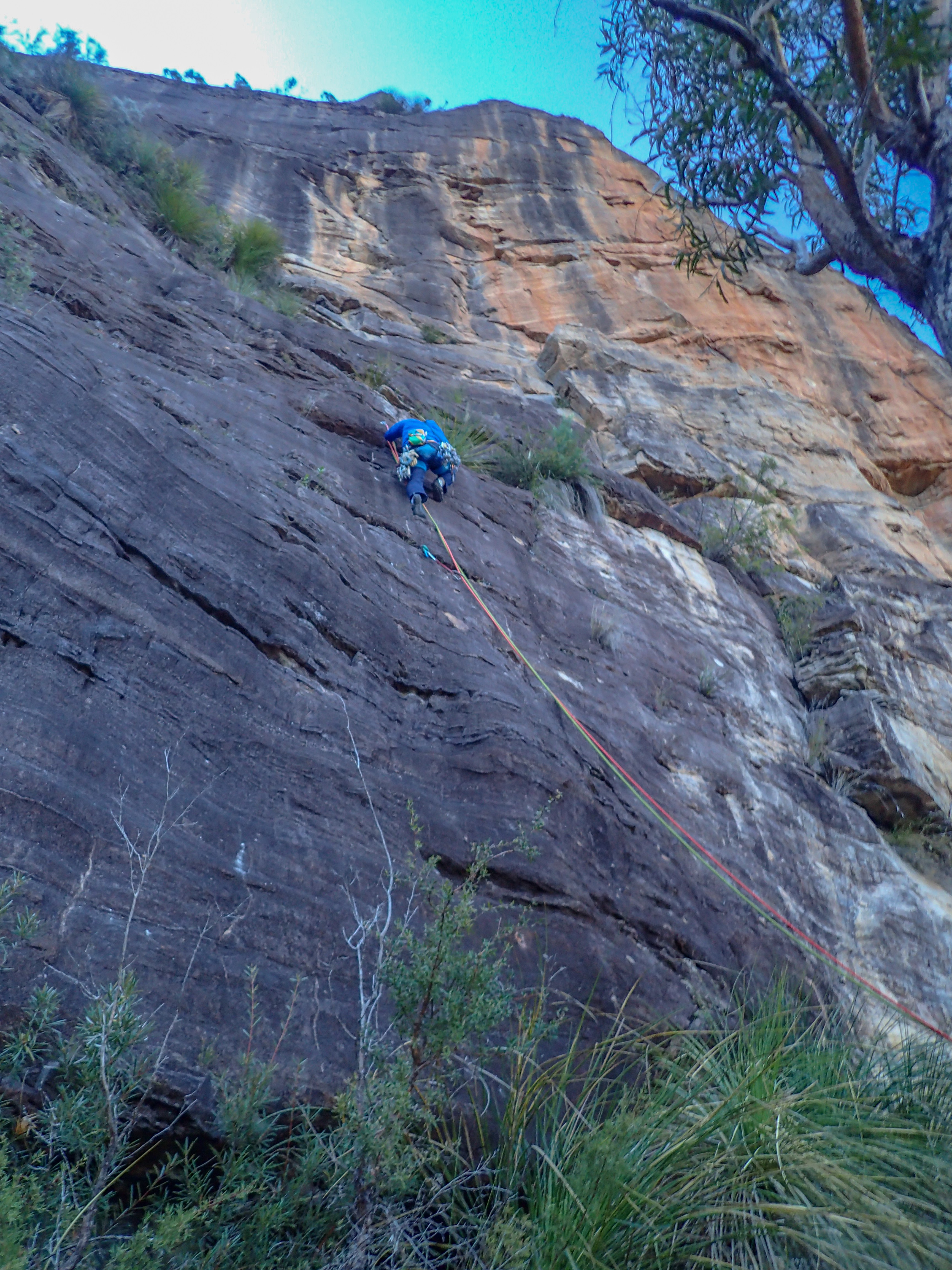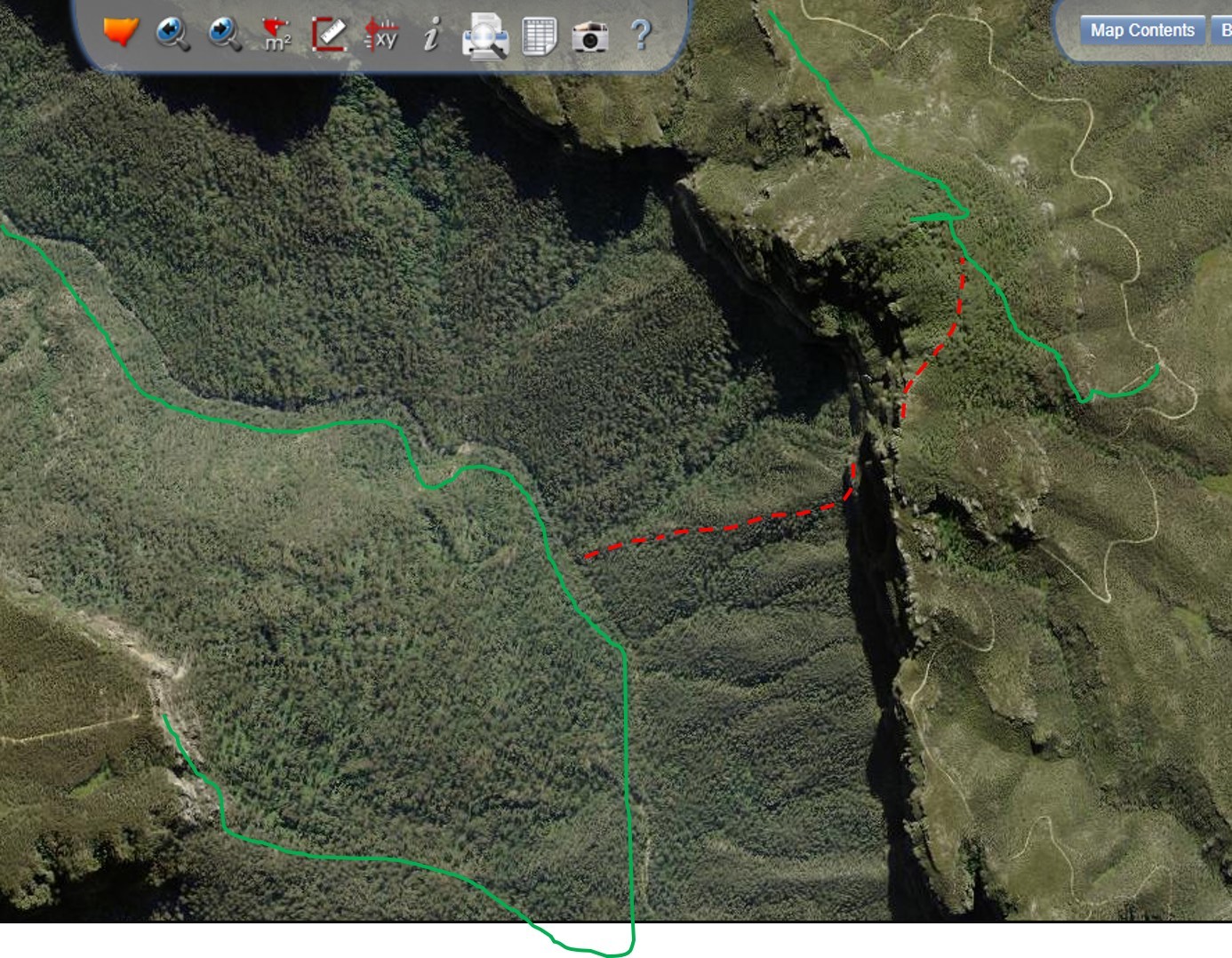 * *
Pitch 20
17
20m
Unusual climbing up a basalt pillar. Virtually pitch 20 of The Camel, as there isn't much other reason to be out there. Walking out from The Camel on the old Abseiller's Track, after 200m the track heads left into thicker scrub then makes a 90 degree right-angle turn. At this point turn left and bash 30m, coming out on a basalt scree slope. This climbs the tallest buttress (-33.590111, 150.370618) on your left, with a finger crack running up most of it. The top is a bit shattered so put in a few delicate directionals and belay from trees on the hill behind.
Eugene Mak, Jeff Crass 2018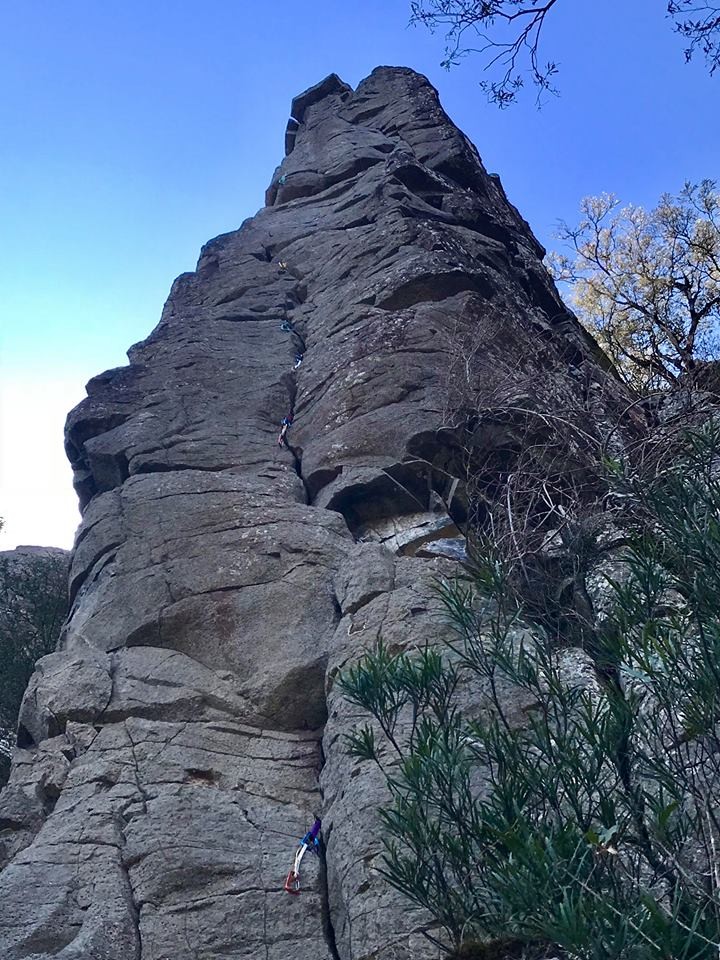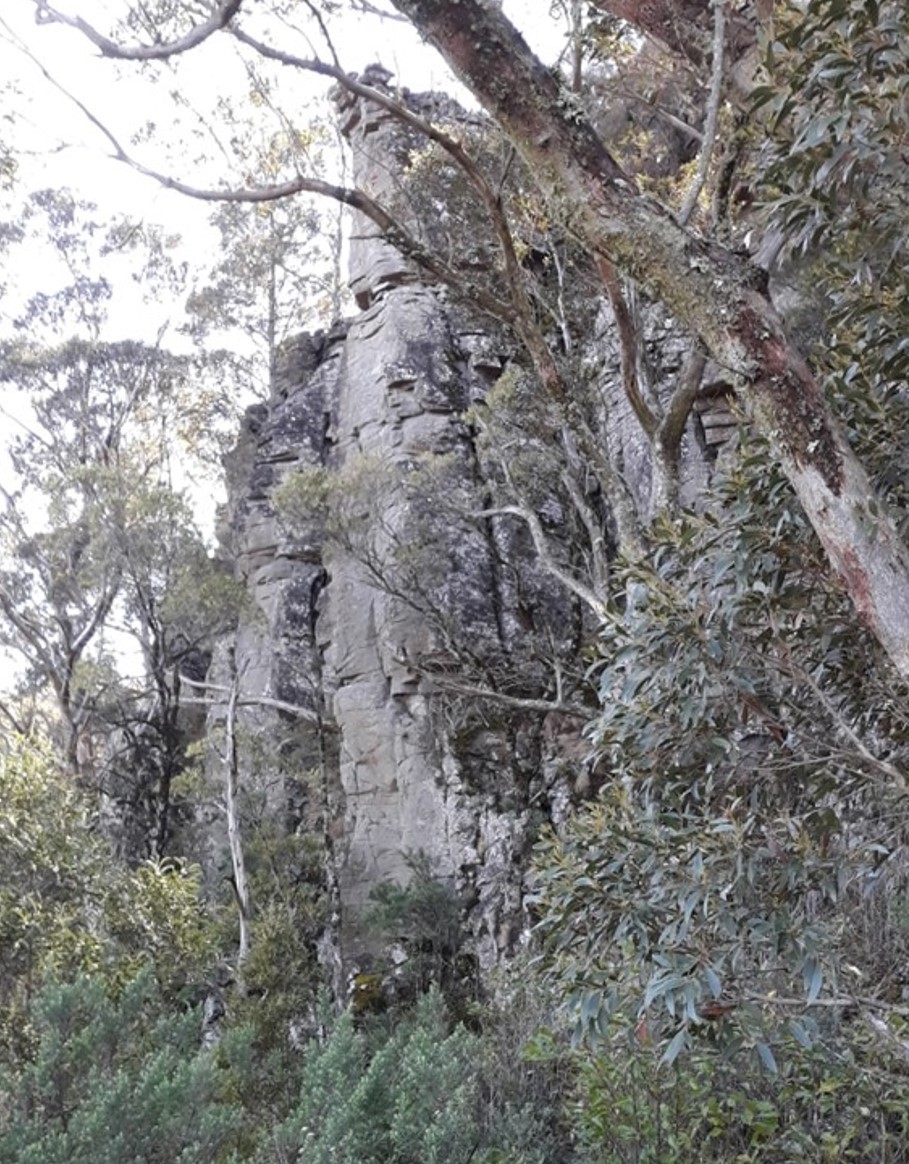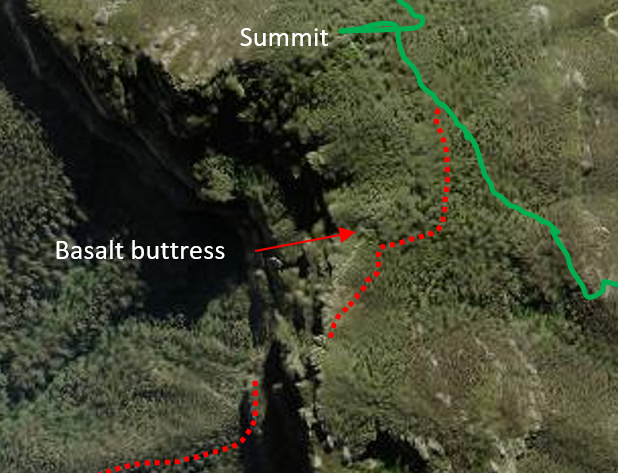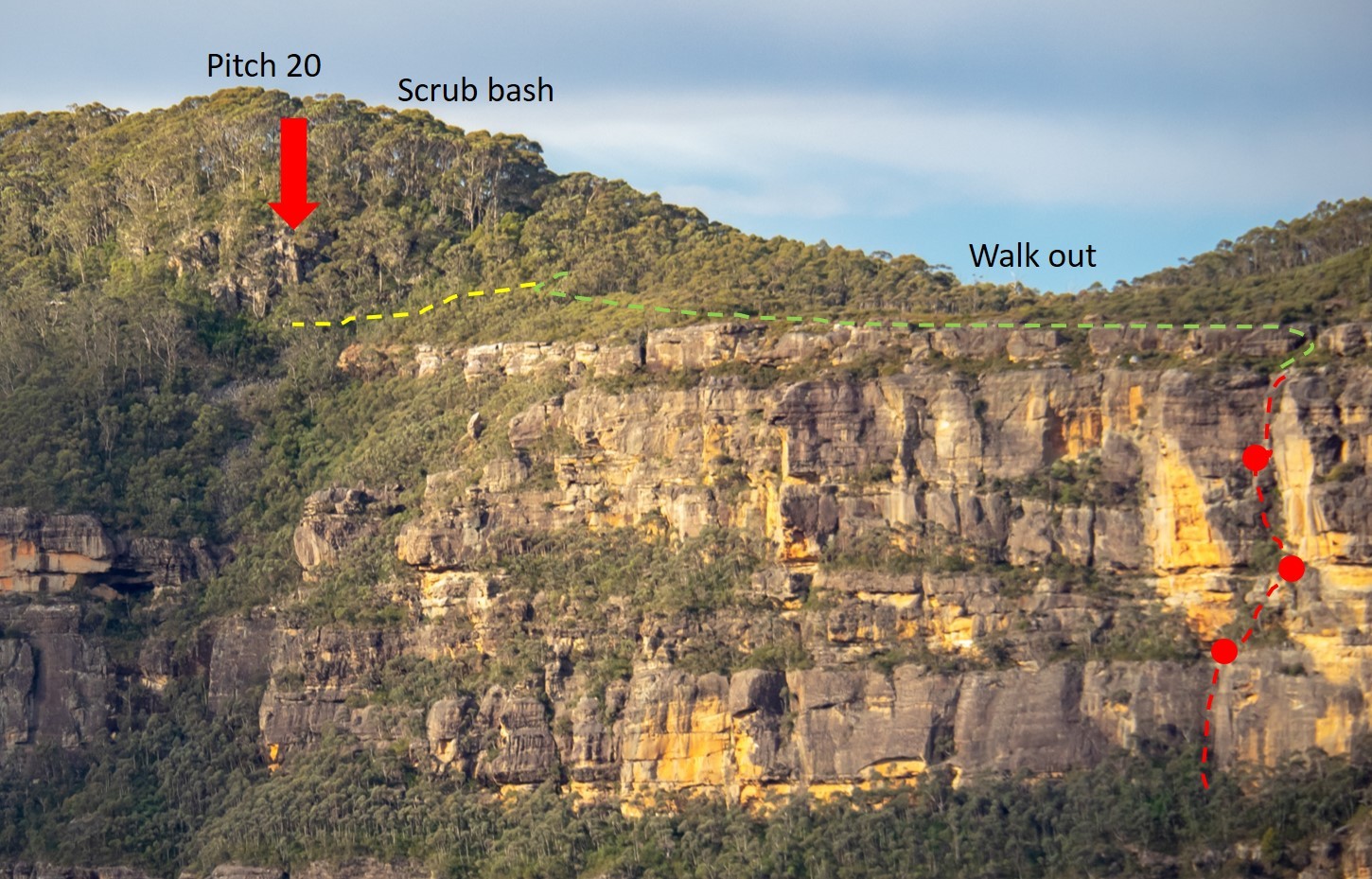 Coronation Crack
13
200m
A short route heading rightwards, originally graded 8. Right of the gull there are 2 lines, climb either to the 1st ledge. Traverse right on 1st ledge then walk along under an "undeniable wall" and up a staircase leading right behind a very long rightwards leaning flake. Walk off R on 2nd ledge.
Dave Roots, Les Tattersall, Carol Wilson May 1953
The Assassination
17?
A good direct climb, the first section is best. No doubt some of the route on the second band has been scrambled over before. Start up a fine looking clean crack (top is hand size) about 60m R of the RH start to Coronation Crack. Climb the line to the first ledge then up the obvious weakness in the 2nd band to the 2nd ledge. At the second ledge walk R along the cliff base to a short wall capped by a bulge, up this and as you will to the top.
Warwick Williams, Nic Bendelli, Joe Lorencz, J Peterson October 1976
Rumadam
13
255m
A bit of a wander that starts from the first ledge. How you get there is up to you. 1) 42m Up wall moving left. Up main wall above climbing right of detached blocks (move belay 10m right) 2) 43m Up slabs to traverse on small overhang and up to ledge. 3) 45m Start 15m left of belay on easy slabs. Up for 15m to scrub. Walk through scrub to large Ledge. Form here walk 200m left to chopped abseil bolts. 4) 30m From old chopped bolts scramble up left gully. 5) 15m Up good looking cracks and belay on left. 6) Scramble up gully for another 30m. 7) 18m Up mossy grooves and escape right on to crack in wall and tree belay. 8) 40m Up crack and scary? over loose ground. 9) 35m? Move belay 20m right to start. Up second pitch of abseil route. Good clean slabby rock, but little protection and most hold slope downwards. 10) 30m? Up to base of first abseil pitch. Pleasant climbing diagonally leftward and up steep juggy crack and follow easiest way to finish.
Hayden Brotchie, John Grey (alt leads) Summer 1997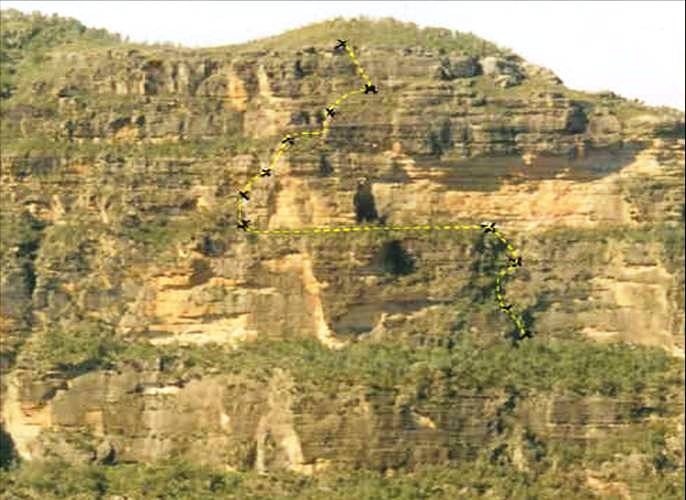 Rough line of Ramadam
The climbs right of this are on the sub-area known sometimes as Banks Wall, but it all blends in with Mt Banks really, the only difference is the access. Most of Mt Banks is 3 and a bit layers of rock, towards he right it is only 2 layers high. The climbing is very vertical and the rock quality is fair, but there are still plenty of souvenirs to be had. Access: From the picnic area go out along the fire trail (60 minutes walk or 15 minutes on a mtn bike) till you come out on the open ridge above Bank's wall and pass the water tank (take a map). Drop west off the track at the low point. Walk down 8m and turn north and walk along under a small cliffette; then a big cave, a long low cave, under a vertical wall with a small roof 12m up and then into a bigger cave with a flat, triangular roof 10m up (walk about 200m in all). This is directly above Groseness, if you go too far (40 m further on) the cliffline turns N.W and you can look back and see Groseness. "Friends don't let friends place Friends" is about 240 m further north on the ledge.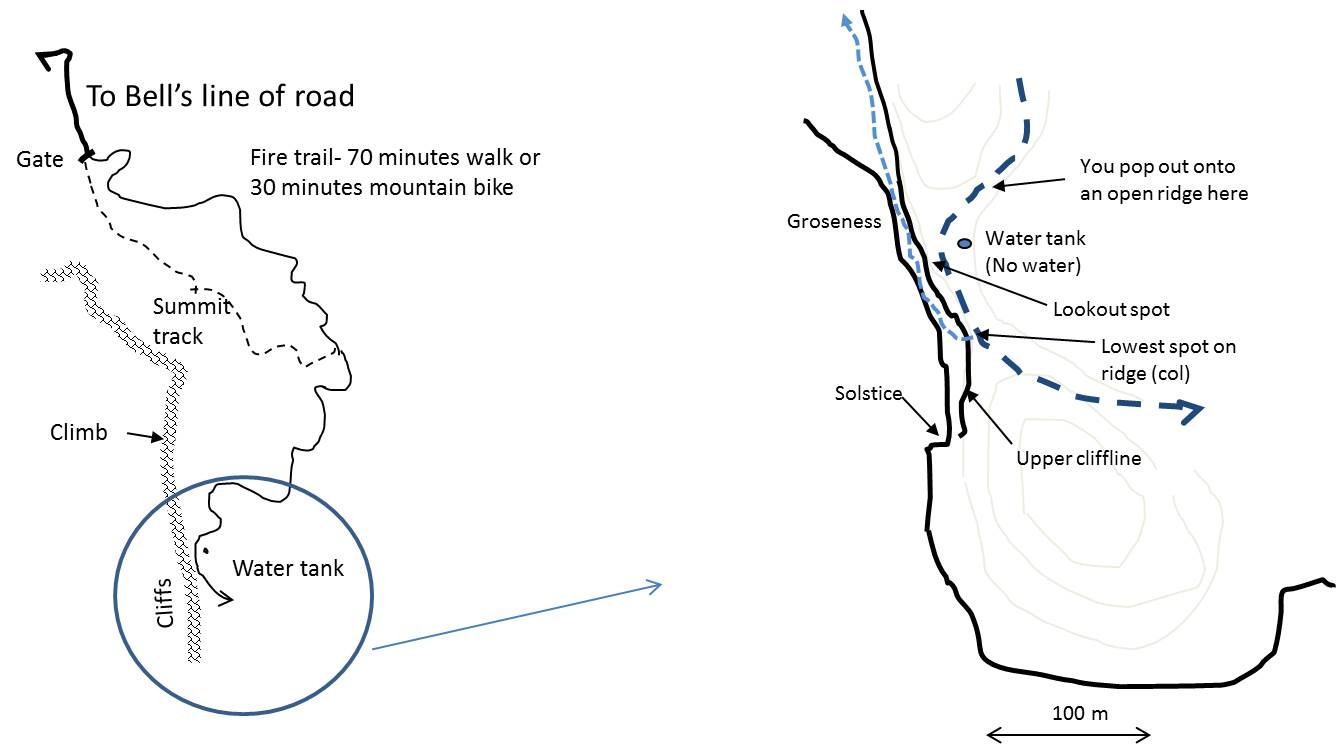 * *
Friends don't let friends place Friends
24
100m
Climbs the "undeniable wall" mentioned in the Coronation Crack description in Warwick William's guidebook. Walk 240 m further left (N) of the top of Groseness along the ledge. On the edge of the wall below are 3 pine trees, rap down off the southmost and smallest one (bring spare slings or rope to back it up with other trees). Rap 50m to small tree and bolt belay, and another 50 m to the ground. Alternately, rap down Coronation Crack. Take a few slings, brackets and many cams up to large size. Shut your eyes on the way down.1) 50m Start about 20m of Coronation Crack at small left-facing weakness. Up past bolt and cams breaks, drift R and up corner at 20m then diagonally left towards ledge and tree belay.2) 50m Up corner above belay and leftwards then up wall with top bolt hard to clip (pre-clip?). Up past cams and some slings to collapse on tree.
M Law, N Monteith (alt) H Lockie 1996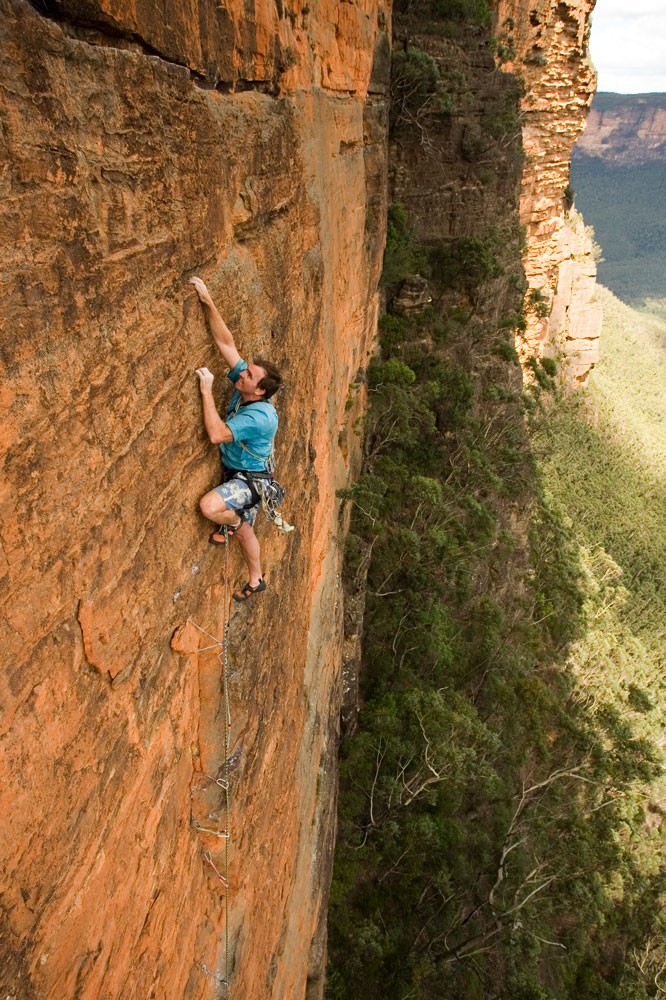 mikl of FA of P1 "Friends don't let friends place Friends"
* *
Weakened Worriers
23
100m
Another route up the grand wall left of Coronation Crack. Best to rap the route, starts below a thin corner 30m left of the top of Coronation Crack. Rap down to cave belay (2BB) and thence to ground. Alternately rap down "Friends don't let friends place Friends" or Coronation Crack Take lotsa cams, double ropes, and brackets. 1) 50m Up wall past bolt to corner, follow this to roof, right to bolt and up wall to cave. 2) 50m Pull through right side of cave then diagonally left past cams for 12m to bolt. Up black streak to top.
Adrian Laing, Mikl Law May 1998
Strange White Dot in the Sky
13
250m
(Sounds like it goes between Weakened Worriers and Zireon). Locate giant flake 30 from base of cliff and 150m L of giant wall of yellow choss at far W end. Up slab to flake then diagonally R to tree belay. Halfway up flake step L to slab. Traverse L and go up small cracks to cave. R through overhang. Up slabs 80m to corner. 40m corner (coronation crack?), then easy.
Michael Arrell, Bruce Reid 6-8-04
Zireon
14
260m
The climb goes up the 'fairly obvious' line to the right of the main face, or 100m left of a huge triangular yellow overhang (this could be the "map of Africa" just right of Groseness). It finishes just where the third cliffline peters out. 1) 18m Start up an awkward chimney then onto the R wall. PR up to belay. 2) 18m Scramble carefully up. 3) 18m Move easily still 4) 30m Up a short wall to scrub beneath the prominent corner overhung at the base. 5) 34m (crux) Overcome the overhang via the wall then very pleasant climbing straight up. 6) 24m More scrub, up. 7) 21m Still scrubby, up. 8) 15m Up in corner, PR 9) 38m An exposed pitch, leftwards across yellow rock to tree. Up to left BR above tree. Tree belay. 10) 5m Up scrub. 11) 9m Up in corner and right. 12) 9m Up crack on the right. 13) 21m Up Chimney of upper (3rd?) cliffline.
Bryden Allen, Alex Campbell October 1964
* *
Ab Flab
24
100m
Nice trad route. Start: Rap down from north edge of cave 20m left of Groseness (facing cliff). 50m rap down wall over ledges etc to bolt belay. 48m rap to tree. 1) (50m) up thin layback crack till 5m below roof, move left to large cam break and blast up wall to belay. 2) (50m) up wall past breaks, move left past bolt and tenuosity and up more easily to big ledge and tree, step right and up to finish. Take wires, cams with lots of extra med to large (at least one or two #4's)
M. Law, M. Wilson (alt) V Peterson 1990
* *
Zanahoria
24
200m
It's amazing what you can do with a carrot. Best to rap Groseness. Start 25m L of Groseness (10m left of slight corner which is Pestosterone). Take a big rack and some brackets. 1) 25m (23) Up slab to ledge and tree. 2) 25m (23) Up then right to layabck and arete 3) 35m (16) up line to tree 4) 20m (16) up to ledge 10m below Ab Flab tree. 5) 50m (24) Right and up shallow corner, left then right at 30m, up wall to roof (big cam) and up headwall and right to BB. Long and sustained 6) 35m (23) up left past 3 bolts then up and right. 7) 15m (16) up weird corner
Carlos Ayala, Mikl 1998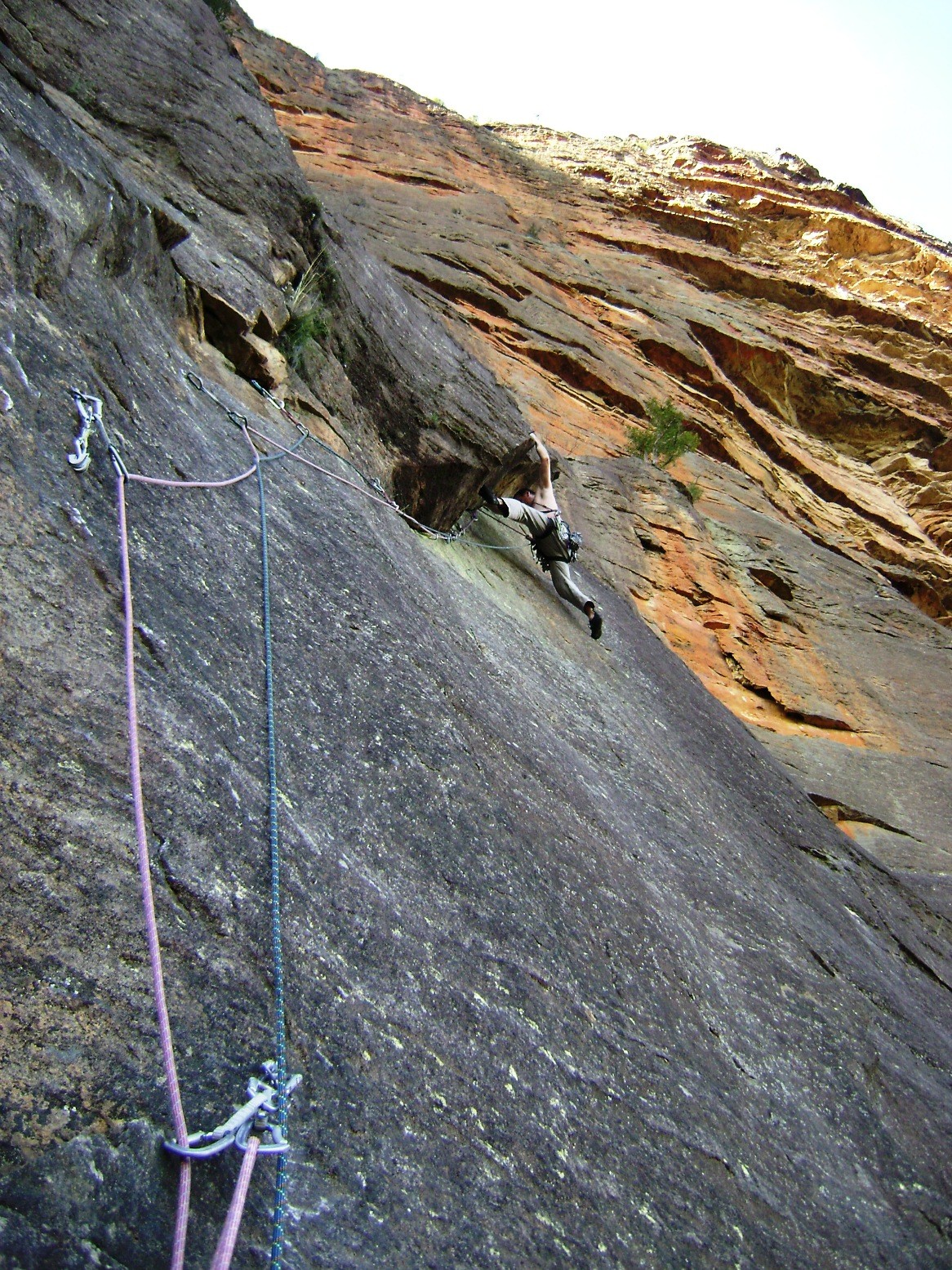 mikl on FA of P2 Zanahoria
* * *
Pestosterone
23
200m
Super sustained sport climb. Rap the line (clean the top few holds, check that the ropes pull cleanly on the top abseil), rings on each belay. Take 18 or so brackets, and maybe a wire to clip anything too far away. Start up the open book corner. 1) 50m 22 corner. 2) 15m 22 Right and up flake 3) 50m 23 up 4) 50m 23 Up 5) 45m 22 up
Mikl Neil Monteath 1998
* * *
Groseness
24
205m
Excellent and very vertical climbing, the runout sections are easier than they look. This goes up the only section of Mt Banks that doesn't have huge vegetated ledges on it. Access and descent: There's a cairn on the edge of the cave, about 5 m south (left facing out) of the point of the triangle roof. Scramble down on the left (facing out) then back right to trees 5m below this and rap straight down 10m to a rap station (belay # 5) on the edge of the cliff, 1m south of a little conifer. Abseil down the route. There are a selection of rings and chains on the belays, some of the glue was dodgy so use all the anchors, leave some water on "the oasis" too. The rings are a bit tight so if you leave a biner clipped into the rings, it may (has often) jamb the abseil rope. Scramble up 10m to a ledge about 8 m south (right) of the corner (Pestosterone) to a short crack. Inspection of the climbing helps as you rap in. The climbing takes about 4-6 hours. Take slings and brackets. 1) 35m (20) Thin crack and slab to ledge 2) 35m (20) Up and left into corner line, up to tree 3) 45m (24) Sustained up to nice ledge ("The Oasis") 4) 45m (23) Thin start then right and up, runout up and right (medium cam if you're scared) then back left to anchor. 5) 35m (22) Up to edge of cliff 6) 10m (15) Up easy choss to ledge 5 m below cave
M Law, V Peterson 1990
* * *
Tricycle
22
220m
Fabulous roof undercling, do this and rap down to warm up for Pestosterone. From the base of Groseness / Pestosterone walk 170m right to huge corner. All bolts on the first 2 pitches P1 (17) scramble up corner and short chimney then up nice layback past 4 BRs to 2BB on ledge. P2 (22) 15 m Layback awesome roof with feet in tricycle position past 5BRs to 4BB, leave tatt and rap off P3 to P12 Another 9 pitches of choss and doddle. Up corner to ledge, diagonally right and up to next cliff. Up corenr for 10m and traverse left, up wall and inot gully till forced out left up and back rightish.
M Law, N Monteath 1998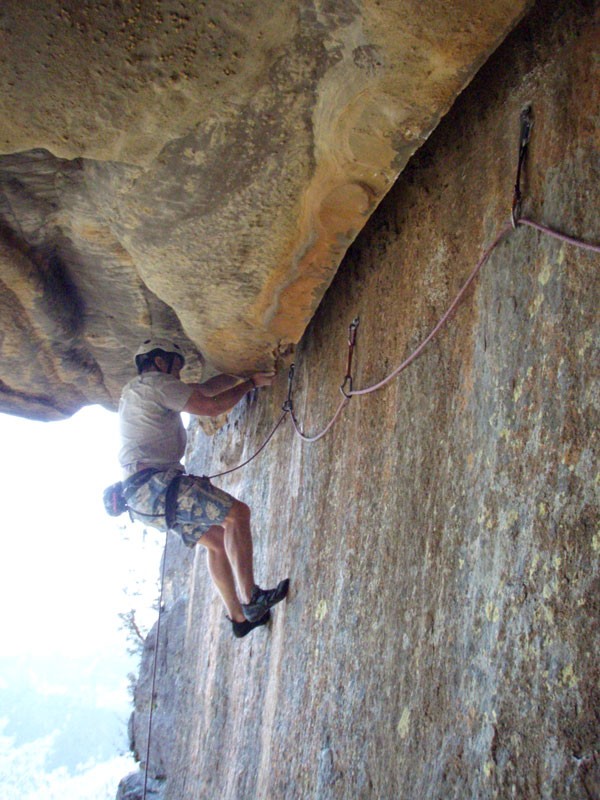 Mikl on the FA of the roof on Tricycle
Jeremiah
14
240m
The first ascent of the walls right of Mt Banks. A lovely easy wall to finish with inspiring exposure. Start: about 1.2km downstream (R) from Mt Banks a lovely black wall slopes left up the upper (2nd) cliffline. The climb finishes up here and starts to the left of this black wall traversing R then up an obvious line of weakness. 1) 34m Easily R and up 2) 30m Pleasantly on till obvious problems above 3) 12m Up the overhang on the left swinging on one's hands, then easily up to the next stance. 4 18m Up chimney the finish up bridging on rotten rock. More difficult than it looks. 5) 30m easily up on the right Walk another 30m to the base of the black wall 6) 30m Up, tree runner, and bracket type bolt belay 7) 34m Up and to the right (left?) easily 8) 37m Same (left?) 9) 9m Same 10) 6m Up onto ledge above, walk left to the other side of the gully then up an easy chimney.
Bryden Allen, Bob Ryan 20 Sept 1963
Banks Papers
18
90m
Situated L of the chalky section of cliff on Frank Hurley Head. The treed slope beneath the cliff at this point has a broad gully which meets the cliff below some huge unclimbed chalky corners with recent rockfall beneath them. The Banks Papers is 150m L of the gully The climb is an obvious right-leaning flake which starts halfway up the 1st cliffline. Some easy ramps lead to it. Start L of the flake where a scrubby right leaning ramp cuts across the face beneath the flake. Proabbaly about 30m R of Jeremiah. 1) 45m Up ramp and short wall to belay at trees on ledge below and R of the flake. 2) 45m (crux) Walk L 8m to incipient corner, up corner (micro cam) and wall to base of flake. Up flake (many med/large cams) until it runs out. Traverse L at top to weakness then to top. Rap descent off trees to right (double ropes, 2 raps) or finish up Jeremiah / Solstice etc.
Andrew Peacock, Lucas Trihey 21/11/1997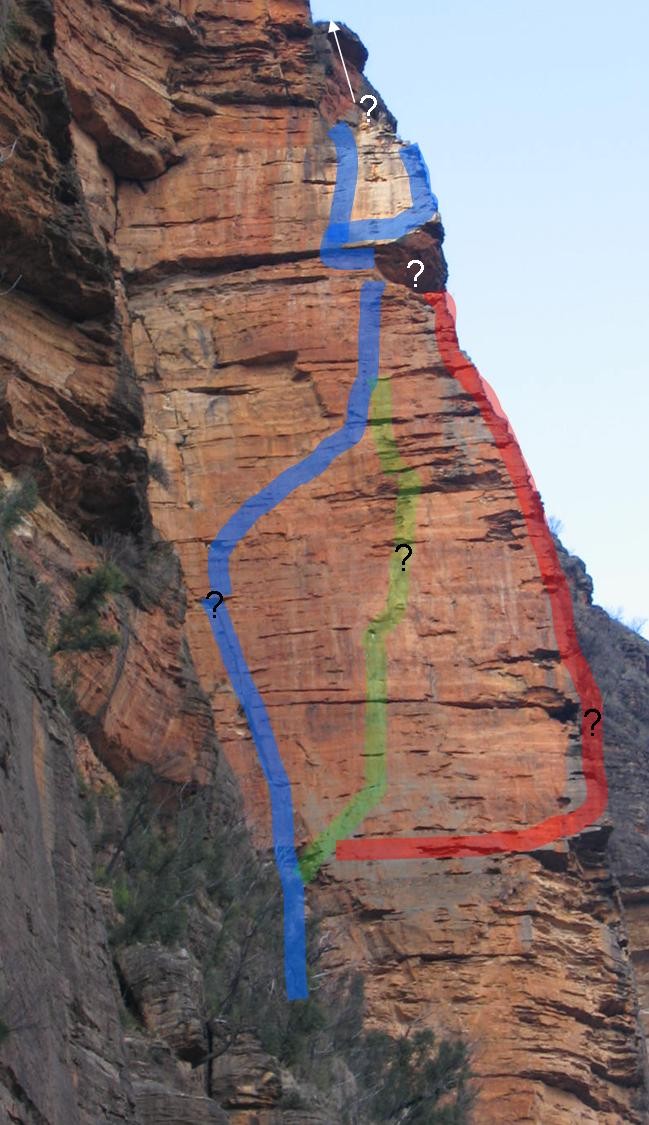 Rough guesstimate lines of Solistice (blue), Eclipse (green) and Balck Hole (red). The ? is a guess at the belays. They all join at the cave on the arete, the go out left to the next ledge, then up somewhere.
Solstice
21
110m
On the prominent red left facing red wall in the second band of cliffs. Abseil on 120m of rope to halfway ledge or climb lower pitches of Jeremiah or Banks Papers. Scramble up easily 15m to flat ledge at the start of the thin crack which goes up the left side of the red wall a few meters right of the main chossy corner. 1) 30m (17) Up crack to a cramped belay in a cave where the main crack stops. 2) 30m (20) Up and R following a thin crack for a few meters. Traverse R to a footledge, SLCD, with a couple of grey blocks. Up a little and right again heading for a prominent loose flake system. Don't use the flakes which are loose but climb a couple of meters right of the flakes by linking horizontal breaks, SLCD, and head straight up to the ledge and cave on the arête to belay from SLCDs in cracks in the black rock on the outside of the cave. 3) 20m 21 left from the belay fro 5m following the traverse line under the roof, placing SLCDs. Pull through the roof at its smallest point, placing wires and SLCDs. The either :- staright up past a bolt and a medium SLCD, or traverse R above the roof to the arête and up to a big ledge with a large block belay. 4) 30m (15) Up the awkward scrubby crack fro 3m then more easily up juggy rock to the top
Simon Bolton, Lucas Trihey, Dave Wagland 21 June 1998
Eclipse
23
103m
Climbs the wall right of Solstice. 1) 28m (22) Start as for Solstice. Move up a few metres towards the crack but before making the last move into the start of the crack move R through a short juggy bulge and onto grey rock. Head up and R towards the centre of a red wall. Where the wall begins to overhang slightly head up to a hole with white guano and BR. Up and R past a BR the up 8m to belay from large cams in a series of horizontal breaks. 2) 25m (20) Up and R for a few meters thru a small roof staying just R of the prominent loose flake system (join Solstice here) by linking horizontal breaks, SLCD, and head straight up to the ledge and cave on the arête to belay from SLCDs in cracks in the black rock on the outside of the cave as for Solstice.
Lucas Trihey, Chris Jackson 19 July 1998
Black Hole
21
100m
Graded 16 but it's really 21. Start as for Solstice 1) 30m (16) Up and R a bit, but instead of heading up the Solstice crack, move R through a juggy bulge and onto grey rock. Traverse 25m R (SLCDs and wires) along the compact grey rock to the arête then up a few move to a spacious round belay cave and bolt. Bolt, sling and #5 Camalot belay. 2) 30m 12 Carefully up arête, mostly on the R side, watch out for brittle ironstone ledges. Belay in the Solstice belay cave. 3, 4) as for Solstice (21)
Lucas Trihey, Hayden Brotchie, Chris Jackson 19 July 1998
The Timeless Land
19
65m
Good crack. Start about 150 m left of the R end of the wall, and 25m left of the bivy cave with some initials scratched in it. An obvious clean left facing orange overhanging corner with a thin crack. 1) 45m (crux) scramble up, thrutch, bridge, and jamb to belay on good ledge. 2) 20m easily to 1st ledge. Abseil trees 30m left (double ropes) or finish up another climb
Lucas Trihey, Andrew Peacock 22/11/1997
Hezzikiah
14
200m
Start "this climb goes up the face directly above the camp (in Blue Gum Forest? Warwick Williams from "Rockclimbs in the Grose valley). I don't know where this climb goes. There are 2 possible gullies and if it goes up the (slightly) more obvious RH one, then it climbs a bit left of Frank Hurley's Face. 1) 15m A small wall to a scoop on the left. The holds are very rounded and the climb is very delicate. Fortunately a very good piton runner. 2) 30m Up to the right, bush runners and belay 3) 34m Up to the halfway ledge (maybe scramble up to the next cliffline here?) 4) 15m Up then walk left along ledge to the right to the black wall. The climb goes up the gully on the left. 5) 30m Up from the middle of the wall, left to the gully. 6) 21m Up on good rock to tree belay. 7) 21m The crux, left then up in corner. Bolt runner then belay. 8) 24m Up, then R onto ledge 9) Right and up, scrambling on upper faces remains to top.
Bryden Allen, Jack Pettigrew January 1964
Frank Hurley's Face
19
235m
A great 1st pitch with average rambling afterwards. Don't do it in the rain. Take plenty of slings and trad gear, double ropes useful on upper pitches. Access, either down David Crevasse and walk L, or rap Groseness and walk R. Start on the right end of Banks Wall (200m R of Solstice) at a thin corner 3m L of the end of the wall. Scramble up to plinth below corner. Bolt belay. 25m 19 Awesome thin crack. 40m 17 Awkward corner, cam on right wall, bolt, then easily up left crack 40m Scramble diagonally left through scrubby ledge to base of wall to 10m right of prominent diagonal at "x" 25m 15 Straight up (3 BRs) to cave, move left 3m to cam and bolt above lip. 45m 18 Up tending right to bolt in shallow corner on right at 12m. Up to overhang (bolt) then left 2m to next bolt. Up trending R (12.30 o'clock) past 2 more bolts to bolt belay in cave. 30m 17 Step right (BR) and up past bolt, veer left and back right into scoop, bolt over top, then head up and right. 30m 10 Scramble up and up gully. Escape by walking up and L through cliff, then north along ridge to join road
Mikl Law, John Croker 13/11/2000 (in the rain)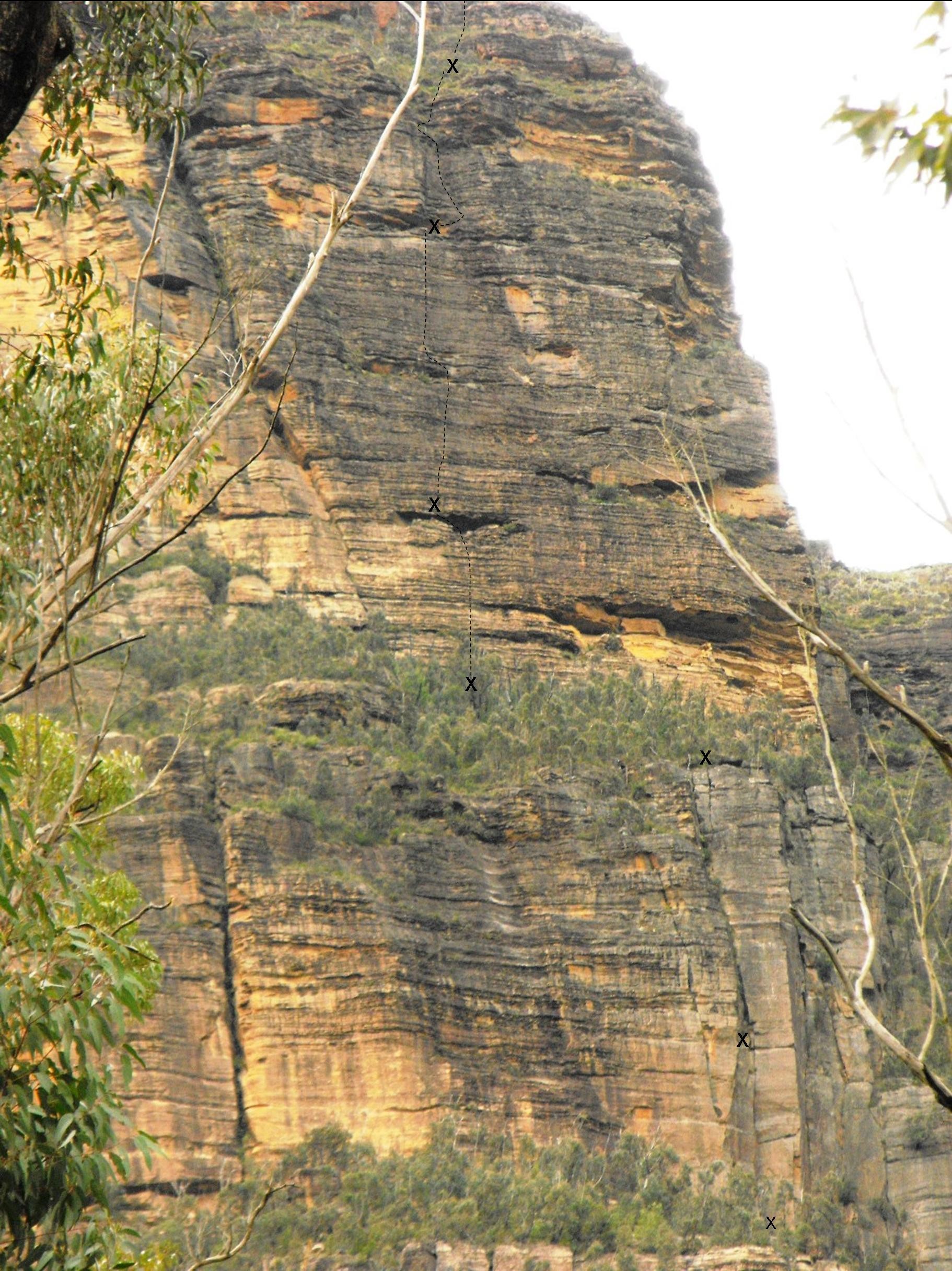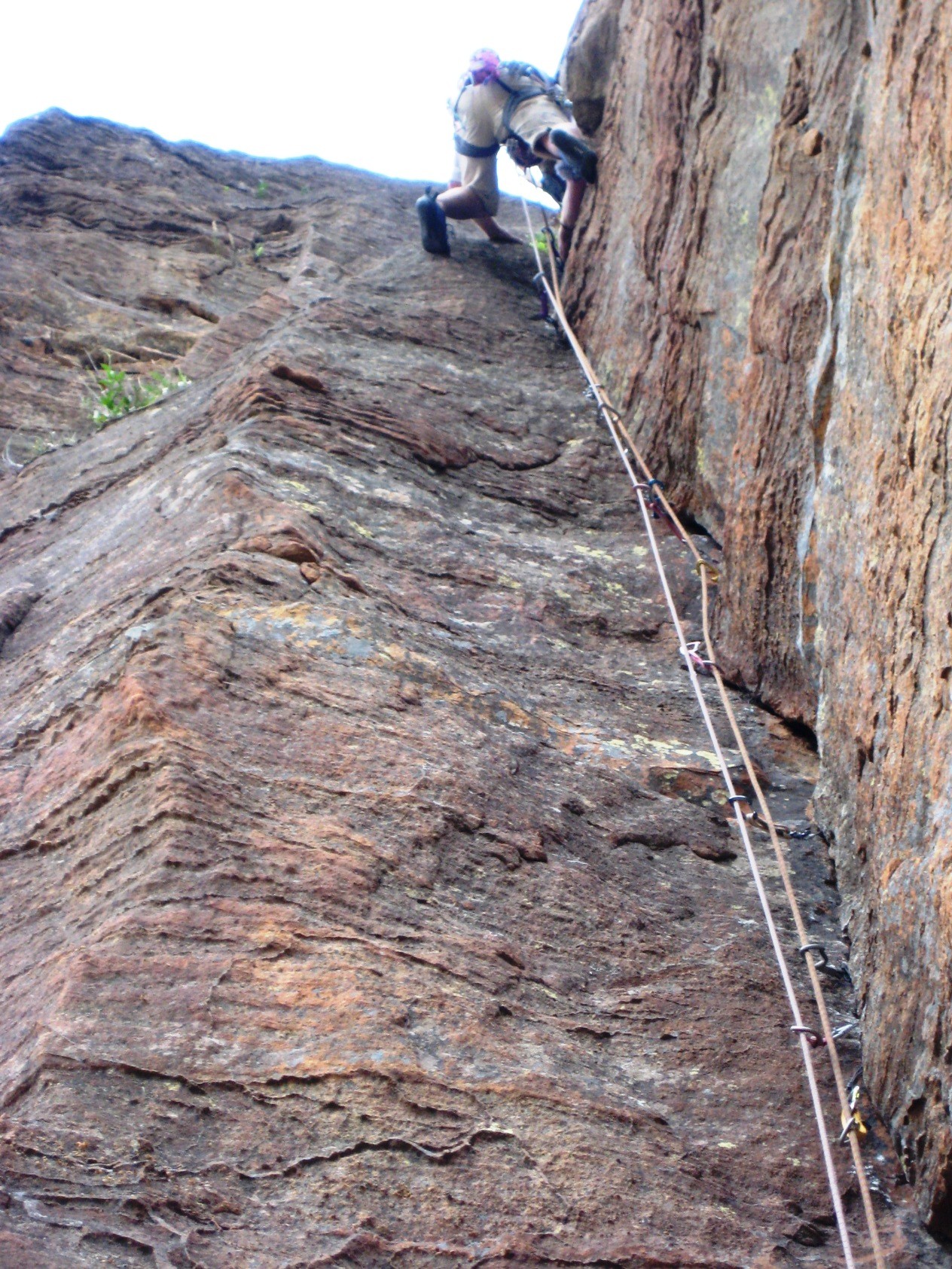 Mikl on FA of Pitch 1 Frank Hurleys Face
Serrata
14
260m
Takes the right side of a big wall between Gordon-Smith Chimney and David Crevasse. Rambling, but committing climbing escapades via black slabs with some exposure. To our relief this was a quick ascent taking about 5 hours of climbing. Access: From David Crevasse walk left (facing cliff) 450m. See Canyon guide for more details on the crevasse. Scramble up left side of buttress for 50m to ledge with tree. 47m. Up left lending corner for 30m, then up short wall tending left. 12m. Easy up and right through scrub. 35m. Up gully/chimney then out on right wall and further up gully to tree belay. 50m. Walk down and right 15m to gully. Scramble up to large block belay on right. 18m. (Crux) Up flaring groove, swinging left on holds to cracks. Cams for belay. (Warning for pitch 6: We first tried traversing directly right to orange corner and around the large vertical blocks. However, the blocks shifted outwards 5cm when climbed on. These lower blocks are obviously very unstable. However, the rock 10-15m above the blocks (orange corner) appears to be fused to the wall.) 38m. Traverse right for 5m then up and diagonally right on black slab, up grey wall just left of orange corner. Move into top of corner, around right past bolt in recess. Belay a few metres further right on ledge. 12m. Up a few metres to grovel ledge, moving right to freedom. Good cams for belay. 40m. Into the amphitheatre via black slab and greenery. Belay in corner. 30m. Short corner then scrub. Wander off right into gully to exit.
Mike Patterson, Hayden Brotchie (alt) 30th April 2005