Middle Cove
| | |
| --- | --- |
| | Crag faces south |
| | Climbing and toproping |
Introduction
The major attraction to this area is a 10m high south-facing crag set amongst peaceful bushland in Middle Cove. Some of the old lead bolts are worthless, but top roping for most of these routes is possible thanks to rebolting in 2004 of the bolt belays and lower-offs. There's also several smaller areas within the reserve. a) Ranger Dave's Schoolyard for the gifted climber. A handful of short, mid-grade climbs. (See https://www.thecrag.com/climbing/australia/north-shore/area/276941769) b) Brendan's Blackboard is covered in chalk. A good little bouldering area. (See https://www.thecrag.com/climbing/australia/north-shore/area/441265320) c) The Eastern Outpost. A low quantity but decent mixture of short sport climbs and tall bouldering. (See https://www.thecrag.com/climbing/australia/north-shore/area/765521430)
Access
Located in Harold Reid Reserve, Middle Cove. From Eastern Valley Road, turn east into Cawarrah Rd, then Right into Rembrandt Dr. Follow this around until a narrow road leaves off to the right, with a white gate. Turn into this, and follow around, until a cliffline appears on your right (i.e. the cliff is inside the loop of road). If you're thinking of staying late at the crag, park outside the reserve, since the gates are often closed early in the evening (5:30pm or so). The main wall is the obvious south facing wall on the loop road. For the other smaller cliff lines see links above in 'Introduction'.
---

Climbs described right to left, facing the cliff.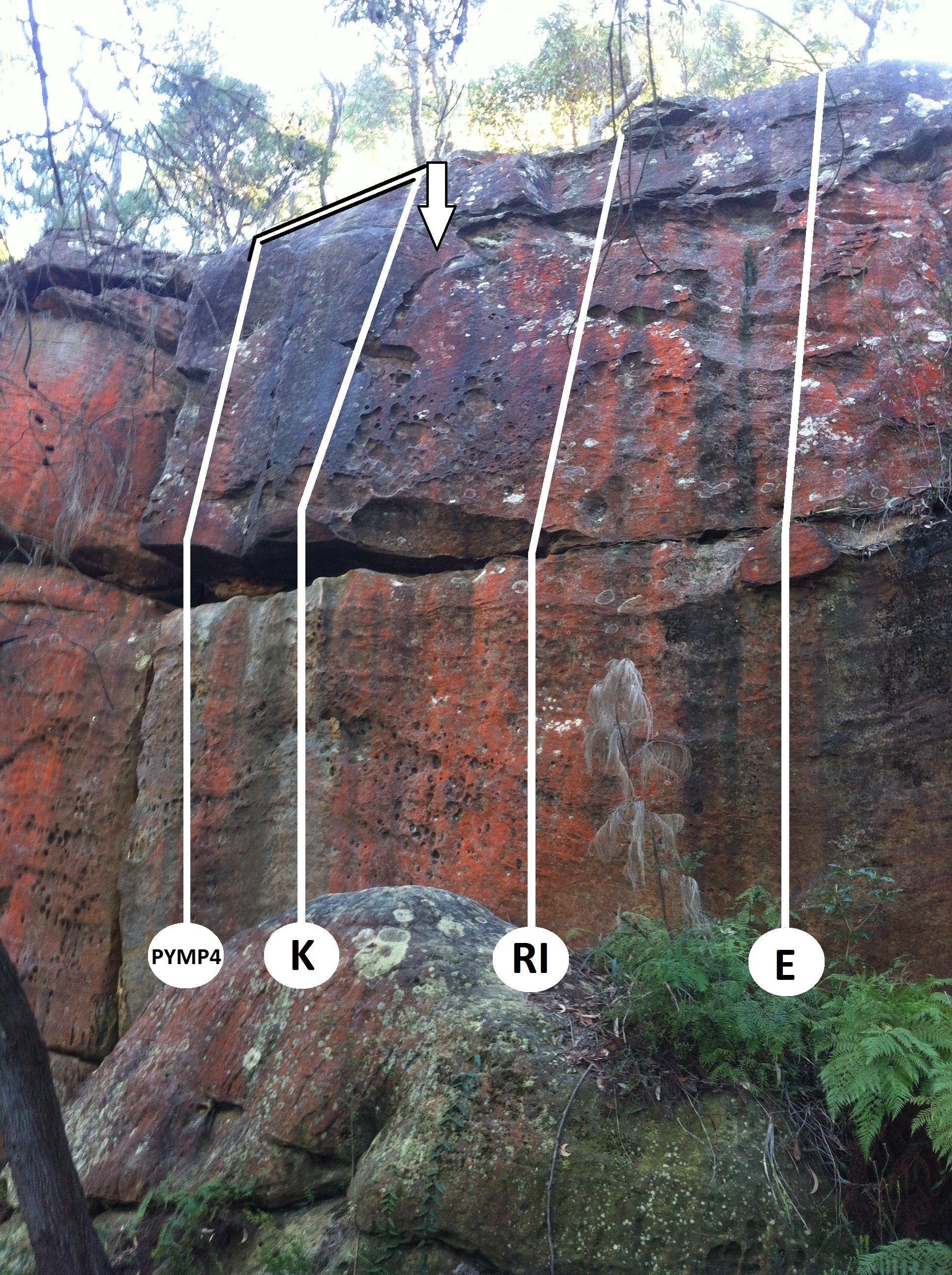 Ept
11
8m
At far right end of crag, just below obvious bollard. Hard move to gain bollard (easy if you're tall), then up the easy wall above. Tree belay.
Rusted Iron
14
8m
2m left of E. Trick start then straight up the ironstone wall above. Tree belay.
Rhett Hamilton-Smith (solo) 2000-07-16
Kempt
15
8m
1m left of RI. Start below the obvious mantleshelf. Hard start then straight up the wall above. DBB.
Practice Your Mantle Part 4
16
10m
The next step up from mantling at Blues Point. Start beneath the big break between K and G. Make your way up to the break and over a good introduction to slab with a fun mantle to finish the climb. Shared DBB with K.
Brendon Allan Flanagan 2010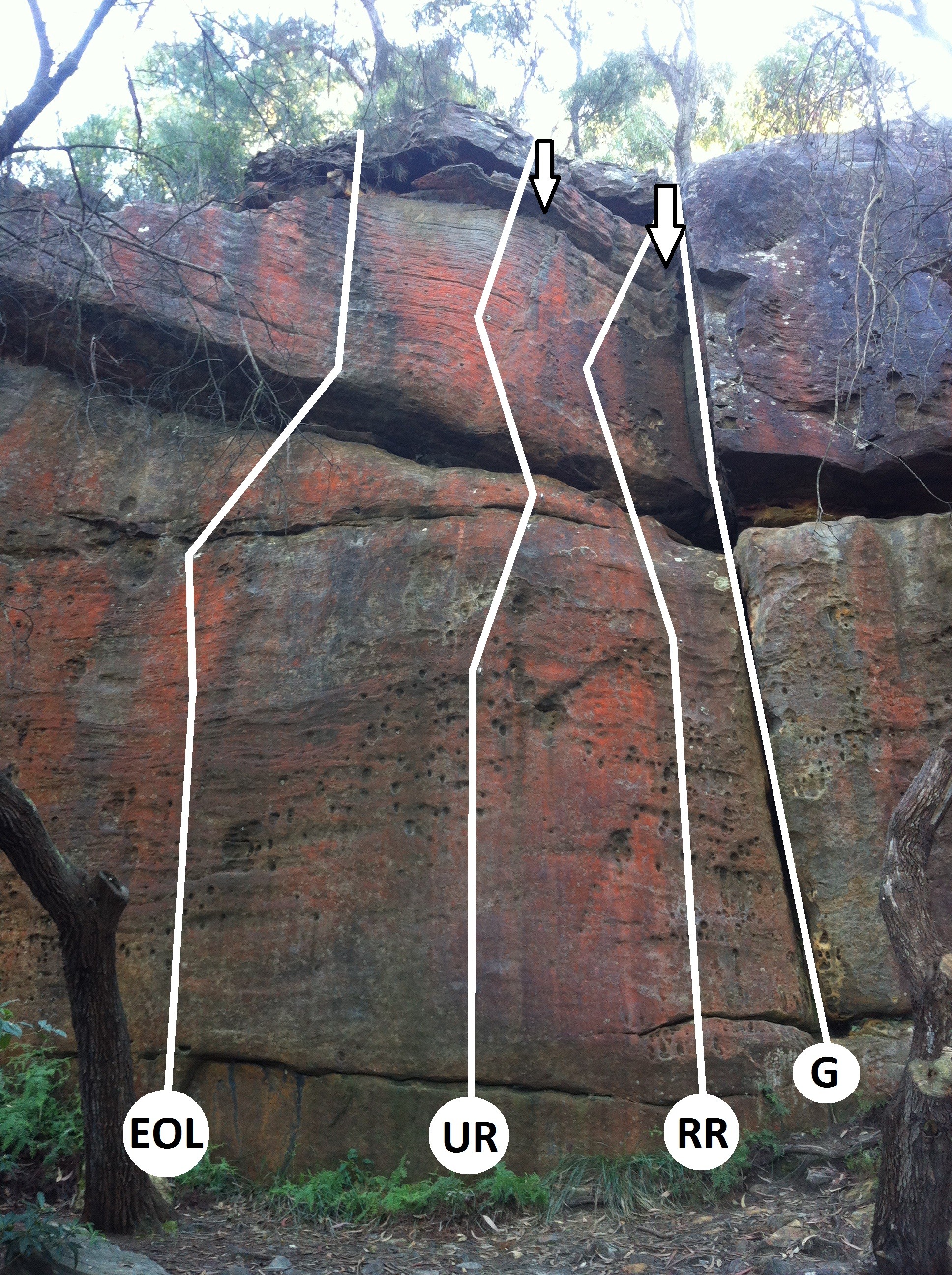 Gruntled
15
10m
Up the obvious fist crack, with a new DBB on top.
Ringo's Revenge
16
10m
0.5m left of G. Up the thin looking wall past 2 good BRs. Shared DBB with G.
Munch 1993
*
UK Rootfest
21
10m
1m left of RR. Hard start past 2 RBs then easier climbing up flake and past dodgy FH (take care - it's been hammered flat by vandals a number of times). Chain lower off with surface rust. Appears in good condition.
Munch 1993
*
Enemy of Love
17/19
10m
3m left of UR. 3 manky BRs lead through small roof. Tree belay.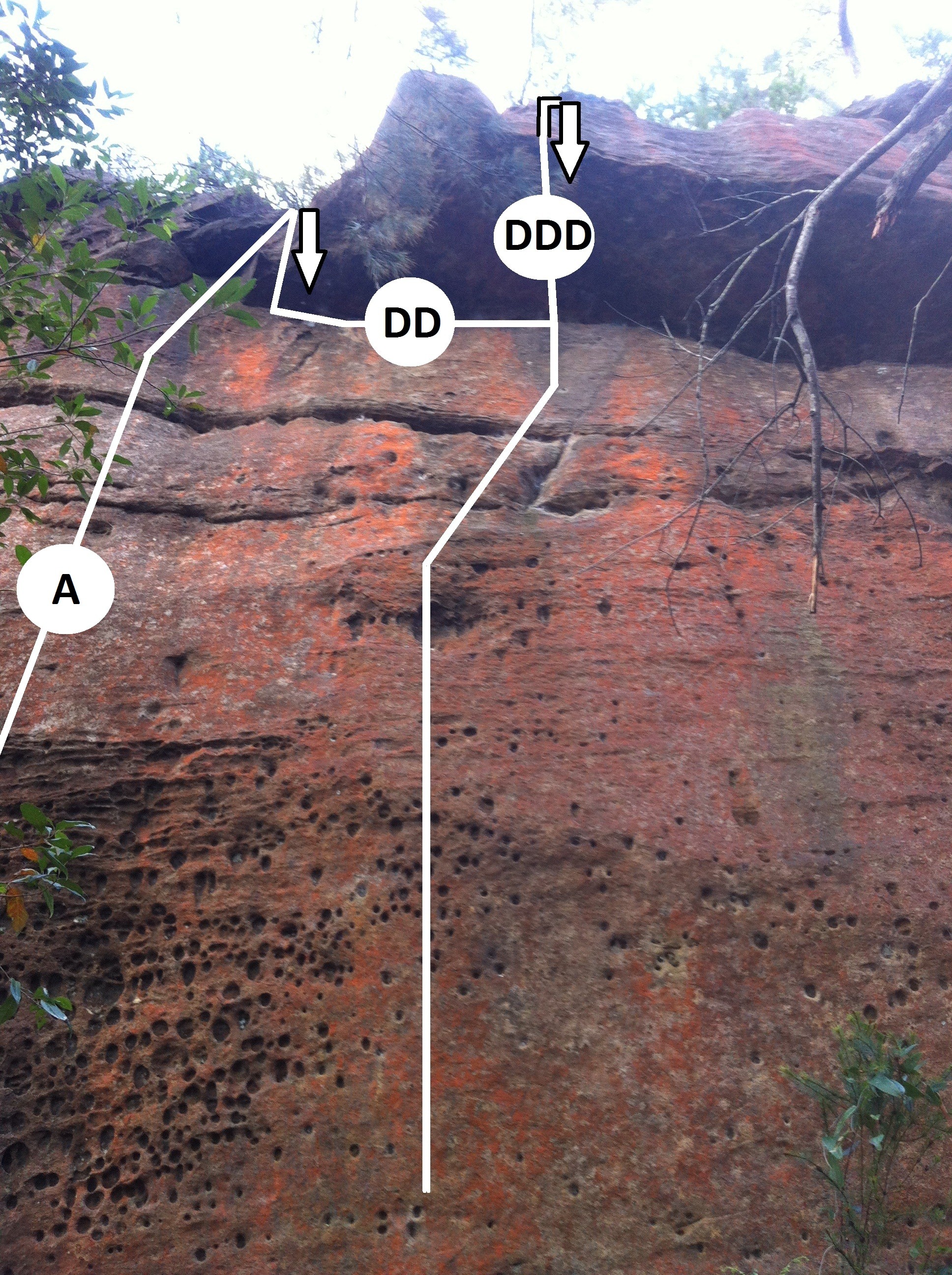 Doggie's Dinner
21
10m
4m left of EoL. 2 dodgy BRs (first is quite high) lead to roof. Finish left. New DBB hidden beneath small fallen dead tree.
Doggie's Dinner Direct
24
10m
As for DD but directly through roof past 3rd dodgy BR. New chain lower off hidden beneath ledge at top.
A
??
10m
3m left of DD. 2 BRs leading nowhere (2nd has been hammered into the rock and is unusable). Shares DD DBB.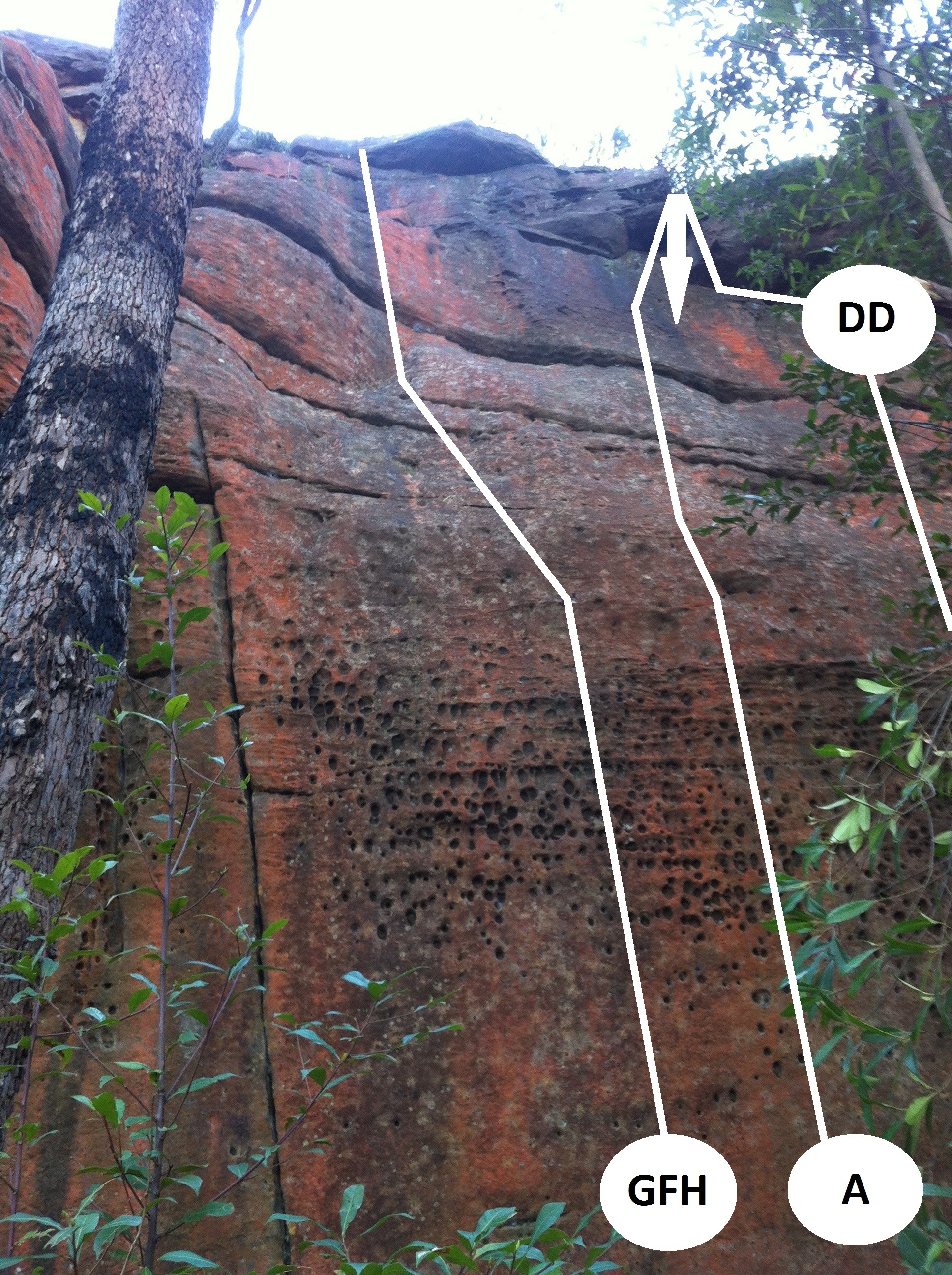 *
Grannies From Hell
23
10m
0.5m left of A. Straight up slopey wall past 3 (recently replaced) rings (first may only suit the leftward start). Natural belay from boulder with big split down the center.
*
Grannies From Hell Leftside
23
10m
A leftward start to GFH. Start 0.5m R of Z. Up bullet hole wall passing three rings. Stay out of crack! Belay as for GFH.
* *
Z
18
10m
The twin cracks 1m left of GFH. Some think its the classic of the crag! Great climbing up the line. New chain lower-off up and left (but its not a sport climb!).
*
Spiral Corpse
25
10m
Start at Z, heading left up pockets on blunt arete and over difficult bulge. Three BR's, the second of which has a bolt-plate held permanently in place by a ball of glue on the end of the bolt. Shared lower offs with Z. A good option is to use a small to mid-size cam to protect the start.
20m left is an obvious red streaked wall.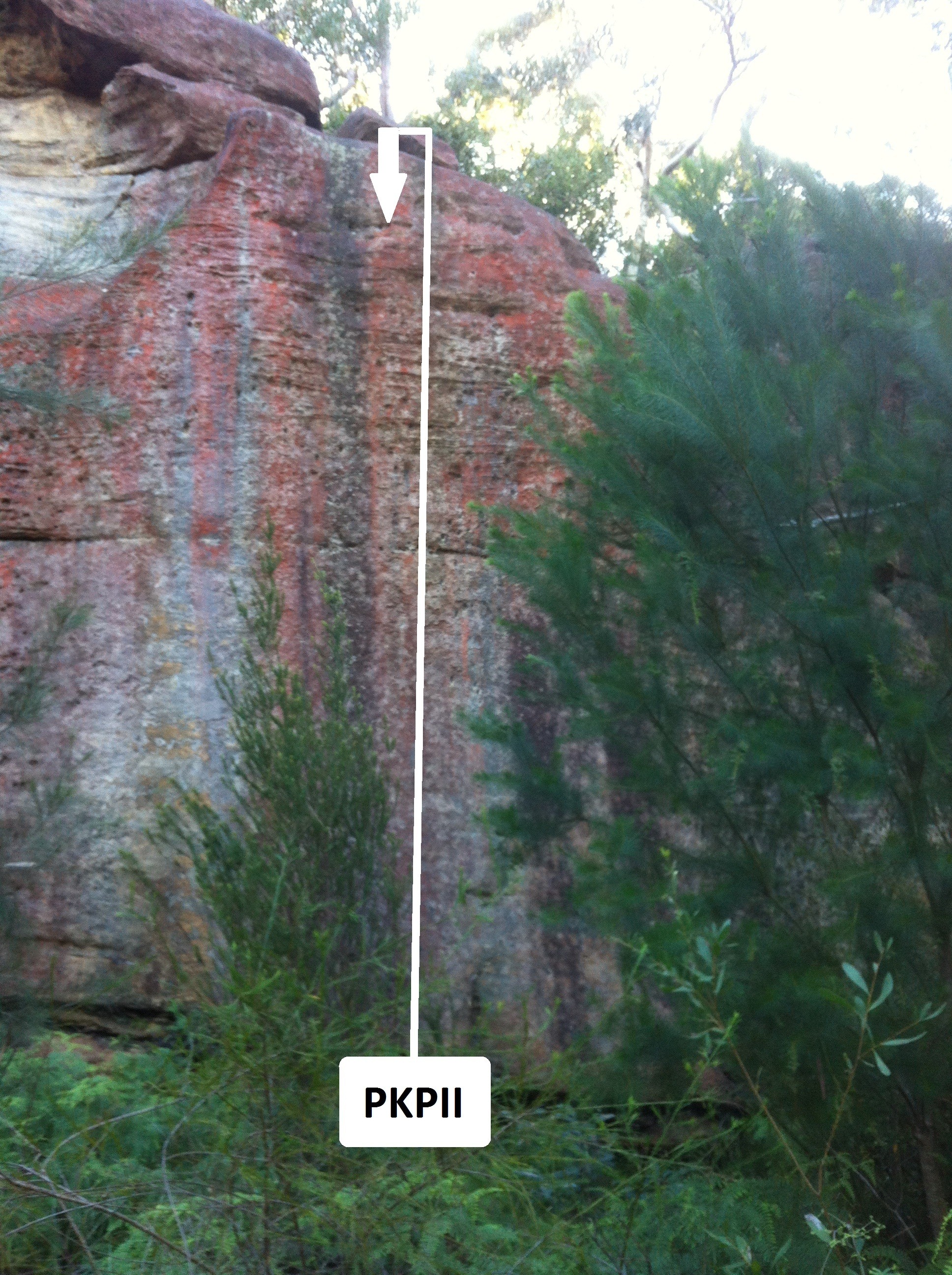 Pulpy Kidney Part II
26
8m
In middle of red streaked wall. Straight up pocketed wall past 2 new BRs and their rusted old counterparts. New chain lower off.
20m left of the red wall is an obvious overhang with some nice rock.
Unknown Project 1
?
10
1 meter to the right of TW/UA is an unknown climb . Any information on this climb would be appreciated. New DBB.
Time Warp
24
10m
Up past 2 rusty BRs to join UA. New chain lower off.
*
Unnameable Arete
21
9m
4m left of TW on block. Traverse right off the block then straight up the blunt arete past 3 manky BRs. Shared chain lower off with TW.
Unknown Project 2
?
9
1 meter to the left of UA/TW is an unknown climb. Any information on this climb would be appreciated. New DBB.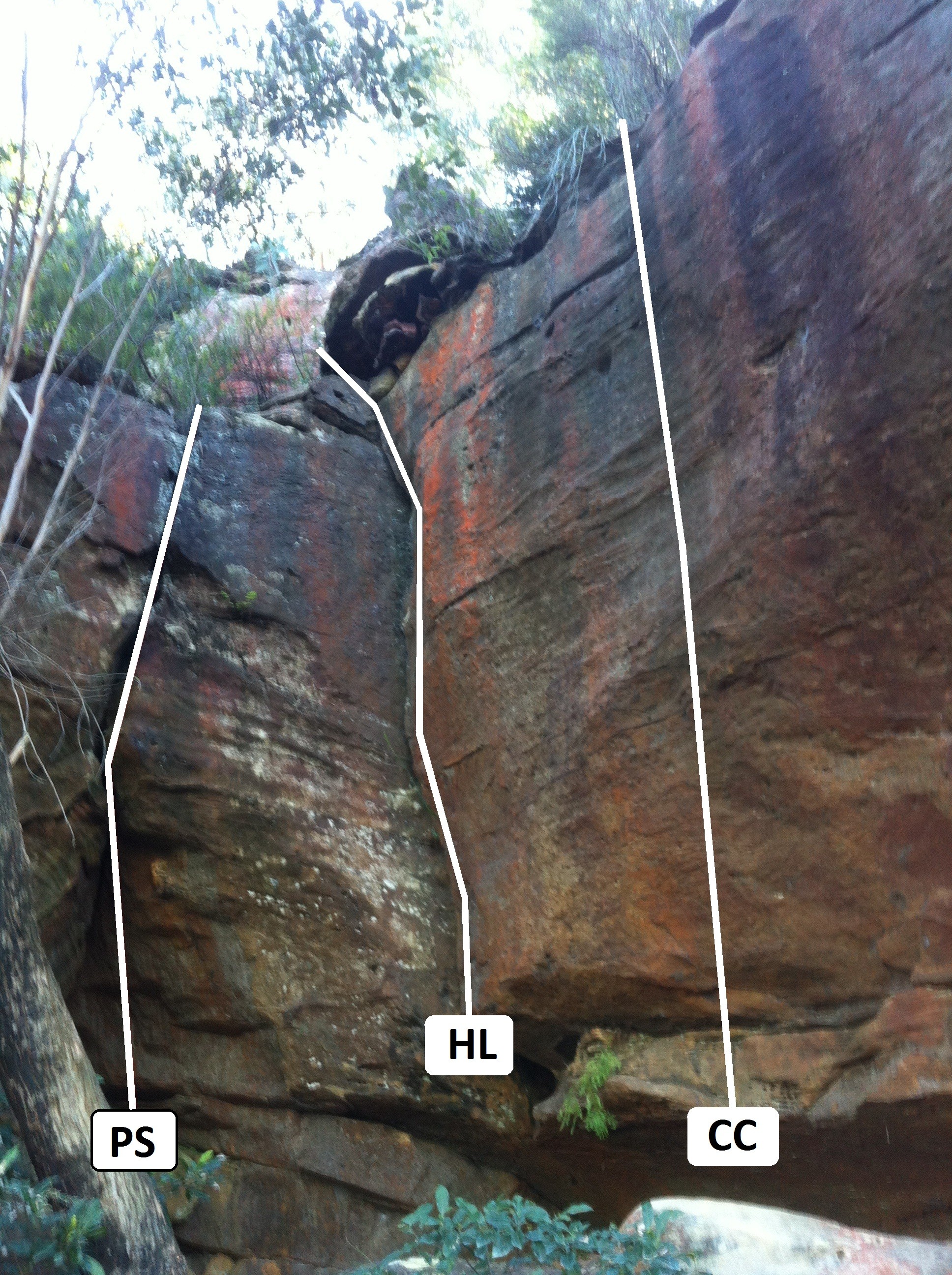 Cold Chisel
23
6m
2m left of UA. Straight up wall past 2 manky BRs. Top out needs to be cleared before climbing as it is over grown with smalll brush.
Hardware Lane
13
6m
Dirty corner crack 2m left of CC.
Pervert Street
16
6m
Undercut crack 2m left of HL.