Mandalay
| | |
| --- | --- |
| | Roadside Cliffs |
Introduction
A huge crag by Sydney standards, but it looks like a big mass of scrappy cliffs. The cliff has a north-westerly aspect and is in the bottom of the river valley, consequently it is fairly warm in winter. A helmet is strongly recommended when climbing/belaying on this cliff. Note - a 50m rope will just make it down from the rap chain above Abseil Wall. It is easy to walk/scramble off on the right hand side of the crag. Belaying is normally done on or close to the road - so watch for passing traffic (cars and horses).
Access
The crag is located on the Lower Colo Rd about 250m from the Putty Rd bridge over the Colo River. Before the bridge exit left onto the Upper Colo Rd, turn right to go under the bridge (now on Lower Colo Rd). Probably best to park beneath the bridge and walk along the road to the crag, or park about 200m past the crag in a little gulch. The cliff is obvious if you cross the bridge on Putty Rd and look right.
---
Camp Crusty
15
75m
10m left of Ethereal McCoy (2m right of short bolted arete). A long route that picks it way from the road to the top of the buttress. 1. 25m (12) Steep start from road onto slab. BR (neighbouring route) step right up thin crack. Tread right over loose blocks up to tree belay. Walk right 10m, scramble up to corner. 2. 10m (15) Up corner (This is probably "The Corner Crack", next route in this guide), at ledge go right up finger crack to tree belay. Walk up slope for 20m. Takes line between two caves. 3. 35m (15) Up slab trending right. Head left for 4m, sling thread, up overhanging strip between chossy caves. Tree. Climb up and left 3m, up off last ledge. 2m to top. Trees. Descent : Downclimb ledges to left (facing out), 2 abseils.
Julian Anderson*, John Gilson*, Chris Radford 1998
The Corner Crack
14
20m
Interesting start. Cams needed. Obvious corner/crack at far left of the overhanging section. Straight up corner.
* *
Ethereal McCoy
24
20m
An overhanging jug-haul. Start at the far left of the overhanging main section of the cliff; look for several white hangers on overhang. Up as will to roof, then follow line of bolts
M Law, G Bradbury
* *
Great Lashings of Pleasure
20
20m
Start on orange coloured (firm looking) section of rock; about 20m R of Ethereal McCoy, just left of pair of thin Yellow Bloodwoods. Up 2m corner on left then diagonally right past 7 BRs to roof. Abseil off chain
M Law, S Moon, N Nicholas Jun 1990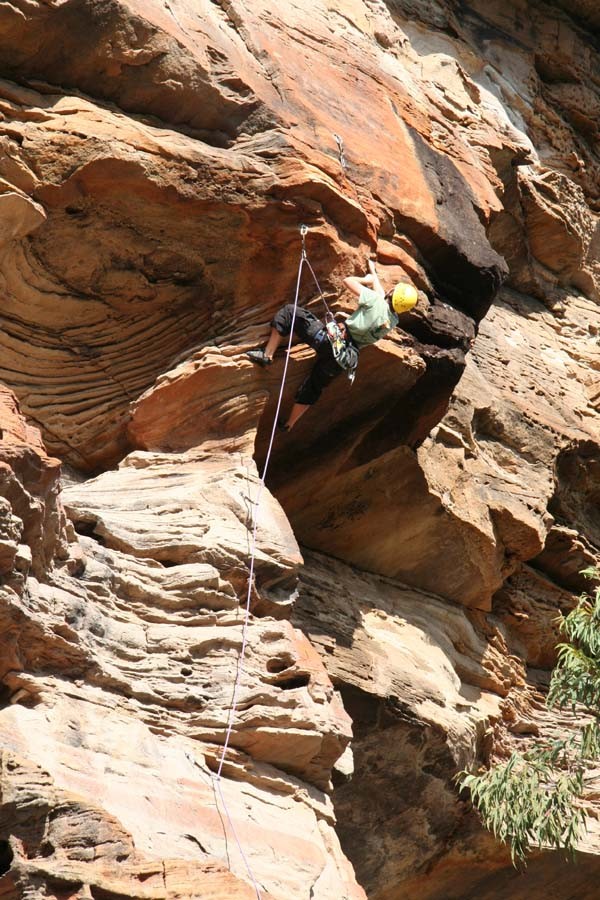 Whippet Filter
24
5m
A second pitch to Great Lashings of Pleasure. Over roof.
M Law Jun 1990
Poppet
21
25m
The rock does not look inviting. Start behind thin Yellow Bloodwood. Up Space to Rent to 3 BR, then up through layered roofs
S Moon, M Law Jun 1990
*
Space To Rent
9
30m
Winds it way easily across the orange ramp/slab, a bit run out, could use a rerobolt. Start just right of thin Yellow Bloodwood. Move up and right to BR at 6m on the arete of a little corner. Up onto ledge (hidden bolt at head height) then up to next ledge (bolt at waist level out R) then traverse to the cave and abseil point.
M Law, J Bush, H Maloof, N Nicholas Feb 1990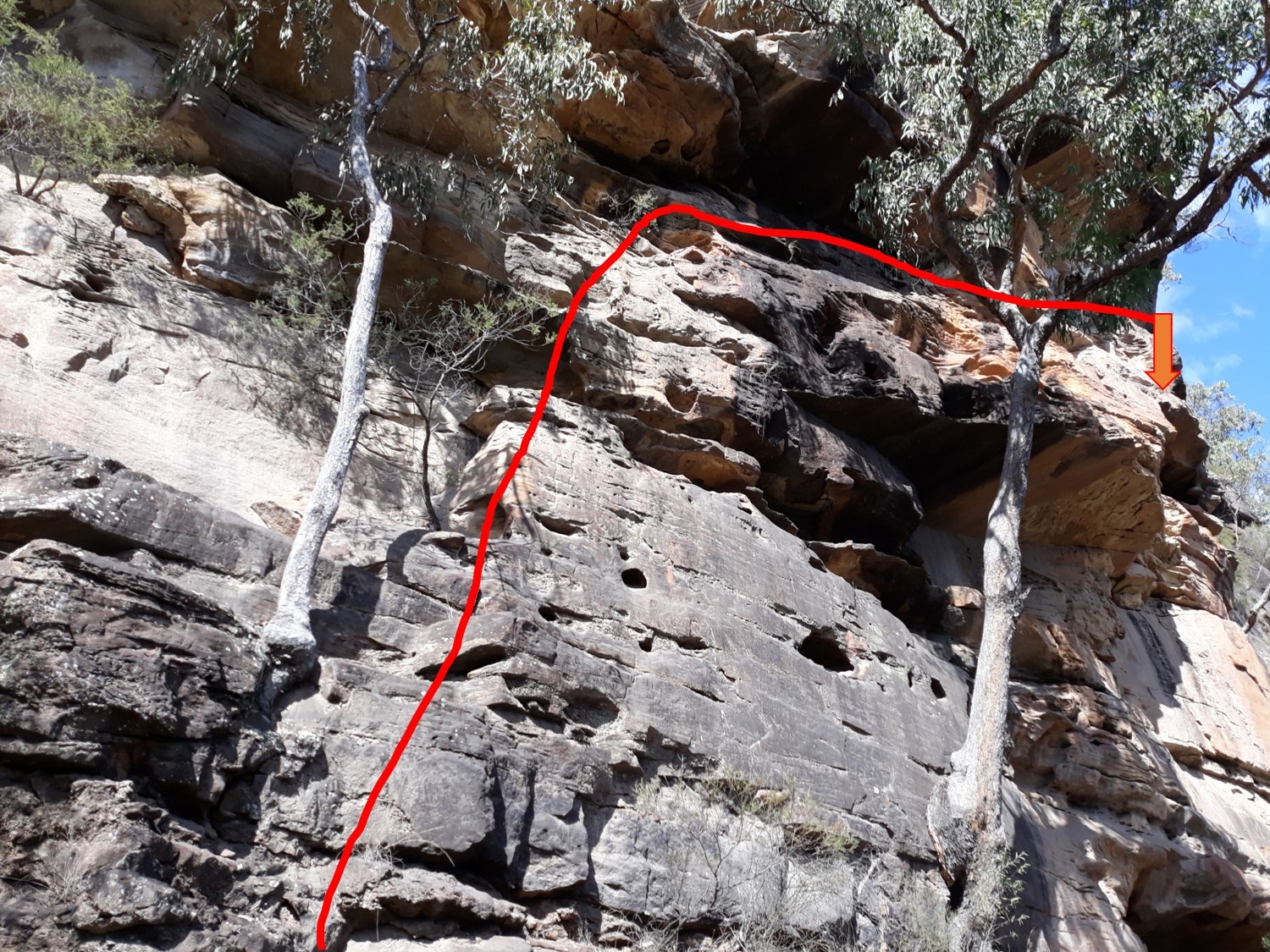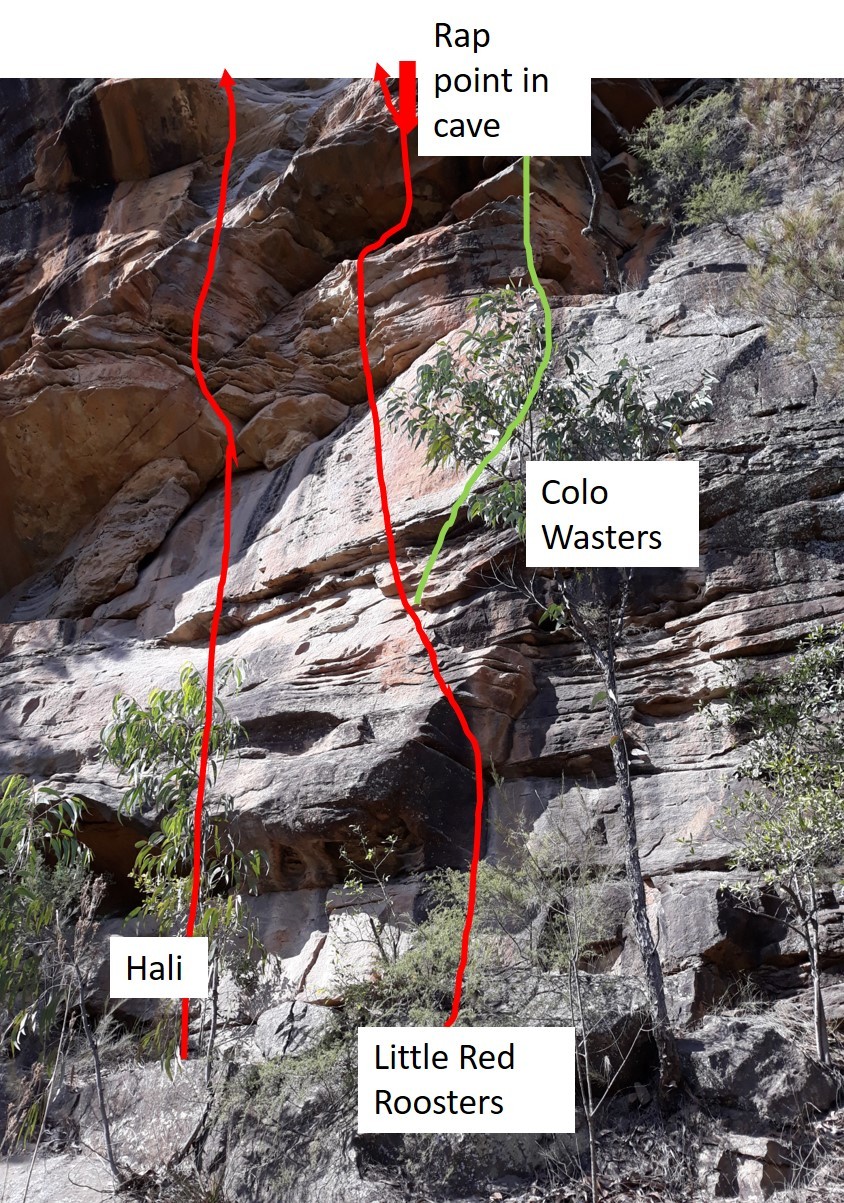 * * *
Hali
20
25m
A very popular route. You can go R past a BR into cave and rap off to make a good 18. Start below Orange slab, 3m L of corner (Little Red Rooster) here is a faint chipped H 30cm below first BR. Up slab to steep corner and onto slab. Up to scary choss cave out L then left to roof. Hand traverse right along lip, 11 BRs.
M Law, P Thompson, May 1990
* *
Little Red Rooster
18
18m
A popular route; Start at right hand end of overhanging section in short corner then left a move and up orange slab and steepness into cave. Step R and clip bolt on lip, you can clip BR on R (Colo Wasters) in cave to protect this move. easily into cave and abseil point
N Nicholas, T Thompson
*
Colo Wasters
20
25m
Start as for Little Red Rooster, up corner and right onto hard slab move. Up to tree and up right side of cave, past right side of abseil cave, hard pull at top and rap off tree.
Colo Wasters 1991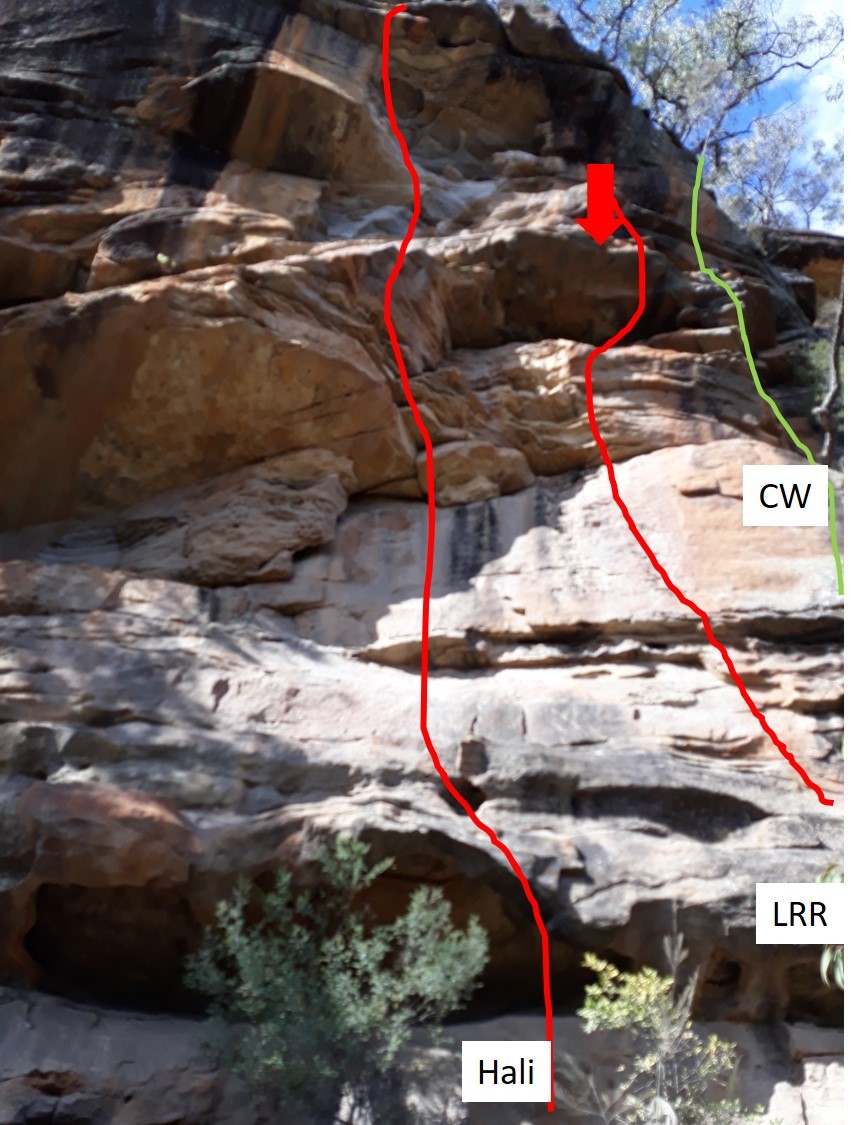 Flight Path
17/18
50m
Only 18 if followed all the way to the top. Start is marked; about 3m left of obvious corner of Twister Roots. 1. Follow line of three bolts to obvious corner crack of Twisted Roots. Up this then follow bolts to either 1 abseil chain or 2. Diagonally right to the top of the cliff.
H Luxford, D Darmanin Aug 1994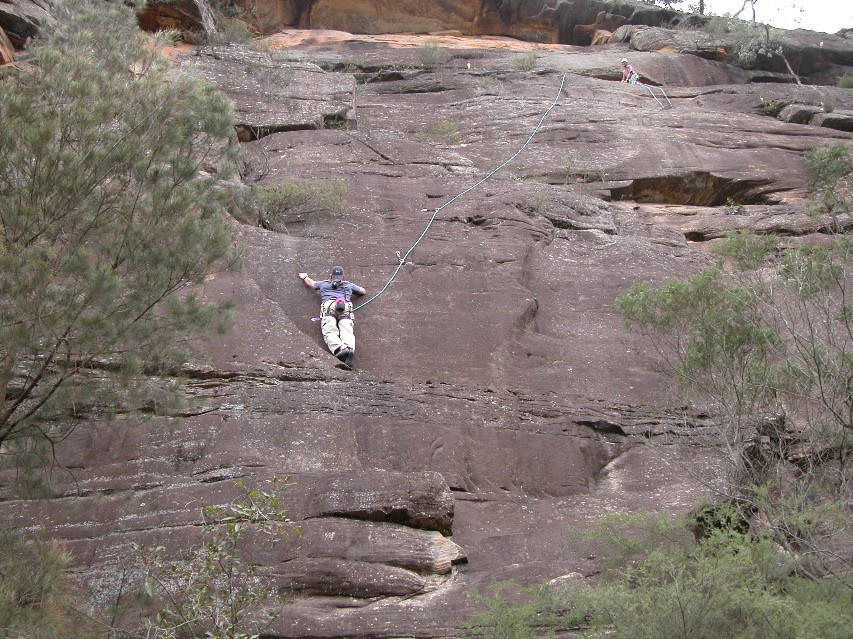 Flight Path heads straight up after the 2nd clipped bolt in this shot. Then slightly R on smooth slab under roof to rap point (40m?) or move R under roof to finish s up Lanie Wouldn't
* * *
Lanie Wouldn't
16
25m
Delicate Start as for Flight Path (3m L of corner crack). Up slab into shallow groove past 4 BRs to sandy ledge then diagonally right and up to ledge past 2 BRs to 2 BB, or traverse R 3m to rap chain (25m)
N Nicholas, T Thompson
Pleasant
14
12m
Only short, but nice wall climb. Start marked; left of nose, left of Twisted Roots. Up to small ledge then straight up, 2 BR to short chain.
H Luxford, S Chambers Jul 1994
Twisted Roots
16
55m
One of the more obvious lines. Good rock in parts. Start at right facing corner about 5m left of Yellow Bloodwood and just left of its exposed roots. 1. Up crack (BR) to ramp, left to large ledge 2. Left to belay on slanting orange corner 3. Up to BR, then left past roofs
N Nicholas, P Thompson May 1990
*
Erotic Nightmare
20
25m
You have to be tall to do the crux move at 20; most people traverse onto the crux (bulge). 2m right of Twisted Roots. Up to ledge, then delicate slab then bulge, then slightly L over bulge and up to abseil chain, 9BRs
P Thompson, N Nicholas Jul 1990
*
Abseil Wall
22
50m
About 4m right of TR. Hard crux move. Originally graded 19. 1. Up slab and slightly left to ledge past 9 BRs, left to DBB (or right to abseil point (25m)) 2. Up and right on slab, across corner then left up wall 4BR, left to tree
Mike Law, Nat Nicholas, P. Thompson 1990-06
Sleepmaster
25
5m
From the 3rd BR on pitch 2 of Abseil Wall, directly up and over roof to tree, 3 BR
M Law, N Nicholas July 1990
* *
Groove Determinator
23
25m
6m right of Twisted Roots Up slab then easy and more runout past 1 BR to ledge and L or R to rap points
M Law, N Nicholas, July 1990
* *
Jewish Generosity
18
25m
Thin slab climb; small pebbles actually hold. Start 8m right of Twisted Roots, and about 3m L of Bushy Corner. Up wall/slab past block, then right into faint corner, follow bolts over roof, 8 BR.
N Nicholas, P Thompson Jul 1990
Bushy Corner
14
16m
Good technical stuff to start, then easy slab climbing. Left facing corner 3m right of yellow bloodwood. Up thru corner past 5BRs to ledge, DRBB now replaces tree previously used. Finish via SCS or lower off from this point.
N Nicholas, T Thompson Jul 1990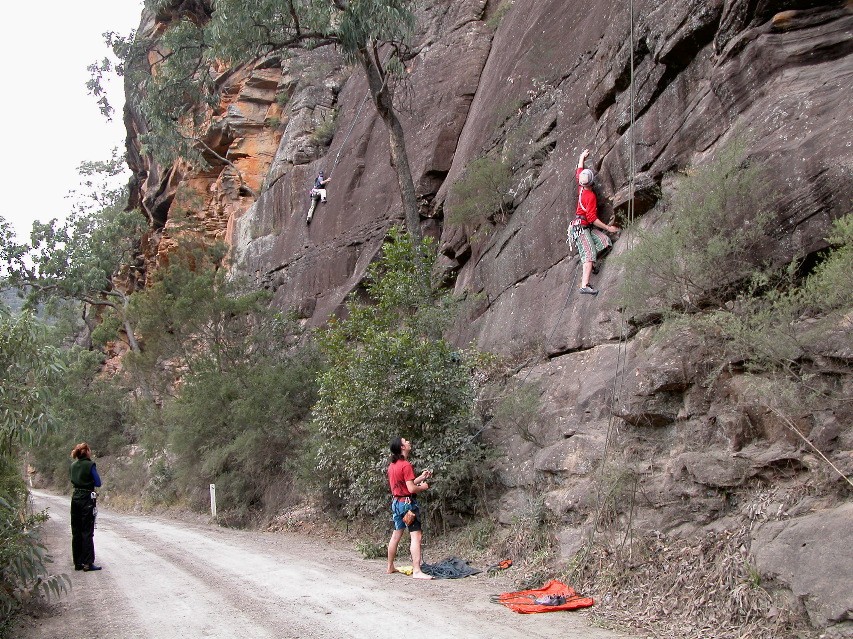 Senior Cit's Slab
14
25m
Quite enjoyable. Start immediately below Bushy Corner. Right over bulge to cave BR, up slab (small cam) then left to clip and pass bushies cnr DRBB then up past 2 BRs, finsh at DRBB over ledge. (a single 50mtr rope doulbed will NOT reach the ground from this point) use abseil chain to left or scramble off to right.
P Thompson, N Nicholas 1990
Nines Fine
15?
15m
Straightforward roof and wall. Start marked; at left hand end of left end cave. Up to bolt, slightly right to block in cave, over roof, then straight up to ledge.
H Luxford, S Chambers, S Kitchen Jul 1994
Skin Deep
16
15m
Better than it looks, some very good moves over bulge. Start marked; left hand end of obvious cave. Up to bolt, then slightly right to edge of cave, around left then straight up.
H Luxford, S Chambers, S Kitchen Jul 1994
Prawn of Prophesy
23
10m
Yellow streak right of cave. Straight up 3 BRs.
M Law Jul 1990
Jack The Zipper
18
10m
Right of Prawn of Prophesy. Up to block and above, 3 BRs.
P Thompson, T Thompson Jul 1990
Shattered Dreams
14
20m
Start marked, immediately below large bloodwood that is used by the abseilers. Straight up to tree 5BRs. A sandbag at grade 12. Some BRs are hidden.
S Chambers, Harry Luxford Jun 1994
*
I Me, Me Mine
14
20m
Popular abseil route. 3m right of Shattered Dreams, immediately below large bloodwood. Up then left then right to tree, 5 BRs.
T Thompson Jul 1990
Faded Message
16
18m
Steep technical crux. Start marked; old painted safety message on rock; left hand side of large cave. Follow line about 1 metre left of cave and roof.
H Luxford, S Chambers, P Taylor Aug 1994
* *
Kickagerm Joy Slammer
22
10m
Start at base of tree at left end of cave. Up to small roof, right across wall then up corner, 6BRs.
P Thompson Jul 1990
* *
Crabstick
28
10m
Formerly called Caps Lock. 3m right of Kickagerm Joy Slammer. Up wall and through roof, 6 BRs.
M Law 1990
* *
1976
22
19m
Straight up crack in cave.
M Law, P Thompson Jun 1990
* * *
Non-stop Sausage Action
22
15m
Extremely strenuous, Big roof 3m right of 1976, 8 BRs
Mikl Law 1980s
The following two climbs are in the cave near the bridge, behind the toilet block.
Rainy Day Roof
18
7m
Starts in the middle of the cave, follows obvious crack and pockets thru roof,passing 4BRs to DRBB at cave edge, Lower off here (first bolt requires 90 degree plate as it's hard to get others on). Climb continues over edge past two more BRs but is not recommended as top is covered in lantana and dirt, is much harder if done to end.
Unknown
Upside Down Miss Jane
23
13m
Starts on the right side of cave, up head wall to first RB, then into roof heading left past 3 more RBs to DRBB at edge of cave shared with RDR.
C Martin, J Leel 4/11/2012