Kentlyn Krag
| | |
| --- | --- |
| | 10 minutes |
| | South facing |
| | Sandstone |
Introduction
Single pitch sandstone cragging above the scenic Georges River.
Access
Signs in the carpark mention Aboriginal sites of cultural significance are in the park.<br/><br/>Drive to the northern end of Georges River Rd, Kentlyn. (#239 Georges River Rd) and park in culdescac at the bush tracks. This carpark looks a little dodgy (broken bottles, rubbish etc) but Neil was assured by the police who park there (??!!) that it doesn't get breakins.<br/><br/>10 minute access. Walk down the firetrail on the east side of the carpark (Not the one with the gate). At the first T junction (less than 100m from carpark) take the right turn. Walk a further 50m and take the next right turn at T junction. Follow this road downhill for 300m to T junction. Take the left turn and follow fireroad downhill. After 200m the road turns into a faint foot-track which leads onto ridge. 100m on the faint track eventually leads left off the side of the ridge and down rock gully to base of small cliffline. Follow this broken cliffline left (facing the cliff) for 100m around a rocky point to the short crack routes Bang and Bam. There is a descent gully in the middle of the cliff as well that can be reached by bush-bashing a short distance from the fireroad directly south to cliff. This needs to be marked as a proper track!
---
East Side of the descent gully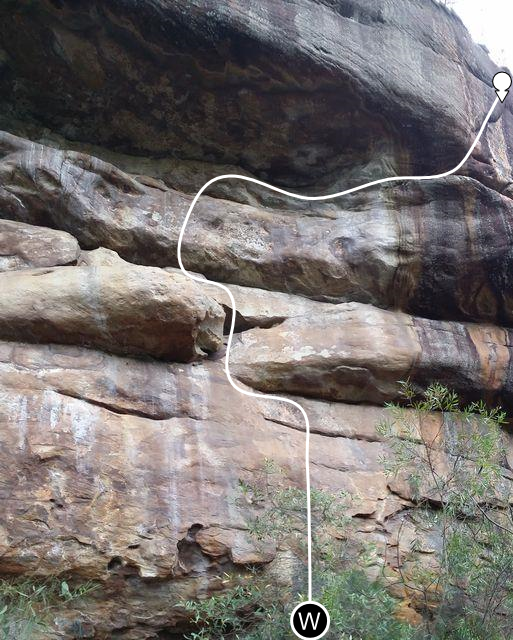 * * *
The Weaver
25
18m
Weaves a cunning line through the blankness. Slick start to under first rooflet, traverse left and mantle onto small ledge. Insane slippery rock above to under huge roof. Hand traverse spectacularly right to lip and up subtle flake to anchor. Long quickdraws useful to stop rope-drag. Very condition dependent - if it's hot stay off!
Neil Monteith & Marek, 28th Jun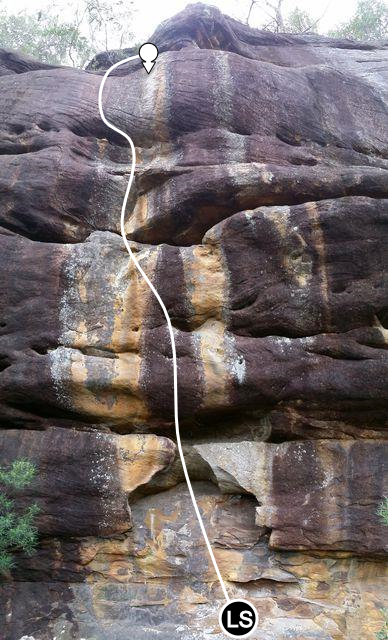 Le Scoop (Closed Project)
15m
50m right of The Weaver. Line of lovely scoops with intense crimp finish.
Set by Neil Monteith, 2014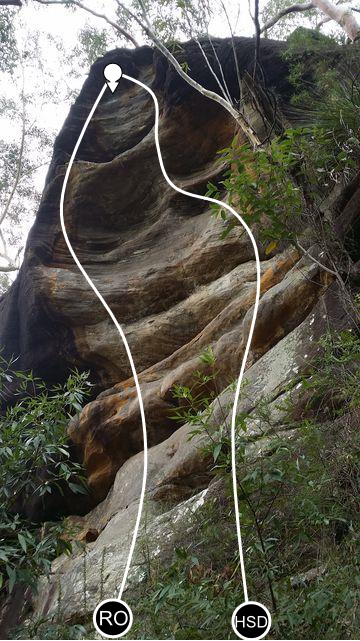 *
Rock Over
24
15m
Undercut face to start then easy stuff to super desperate sloper rockover move into scoop. Finish up airy prow. Superb quality rock from start to finish.
Neil Monteith, 6/9/2014
* *
Hope Slope Dope
23
15m
The right of the two routes up the steep scoopy wall. More desperate slopers and an exciting finish!
Neil Monteith, 6/9/2014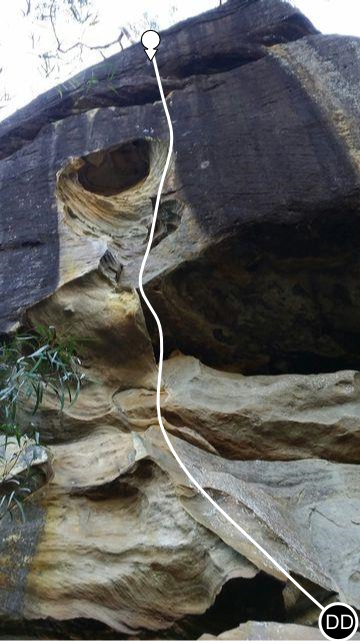 *
Demolition Derby
23
15m
50m right of Le Scoop. Sport route starting up easy ledges, out short roof and into large hanging scoop/funnel feature. Finish up reachy wall with big move to finish. Hands past the anchor for the tick.
Neil Monteith, 5/7/2014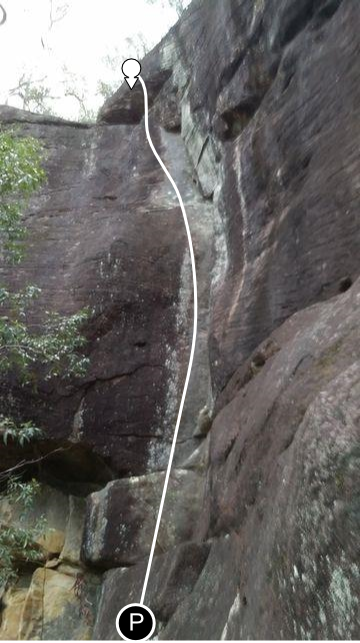 * *
Palmasarus
20
14m
Fused left facing stemming corner 5m right of the project. Not a straight down pull on the whole route!
Neil Monteith & Marek, 28/6/2014
*
Marek's Magnificent Slab
23
13m
Intense and desperate slab 5m right of Palmasaurus. Every hold is slightly sloping and footholds are short to come by. Has been massively scrubbed - help keep it clean and give it a go!
Set by Matt Brooks, 28/6/2014 FA: Marek Brock-Tasler & Neil Monteith, 5/7/2014
Rad Trad Adventure Route
13
15m
The flakes and ramp 5m right of Marek's Magnificent Slab.
Stu Dobbie, Enmoore Lin, John Thearle, 2/8/2015
I Wish I Was a 70s Climber
17
13m
Slabby corner crack leads to rooflet. Swing out right and up jugs to spectacular finish up dead leaves and tree branches. Belay off tree 10m further up the rocky hillside. All trad. Not all rad.
Neil Montgomery Monteith & Marek, 26/6/2014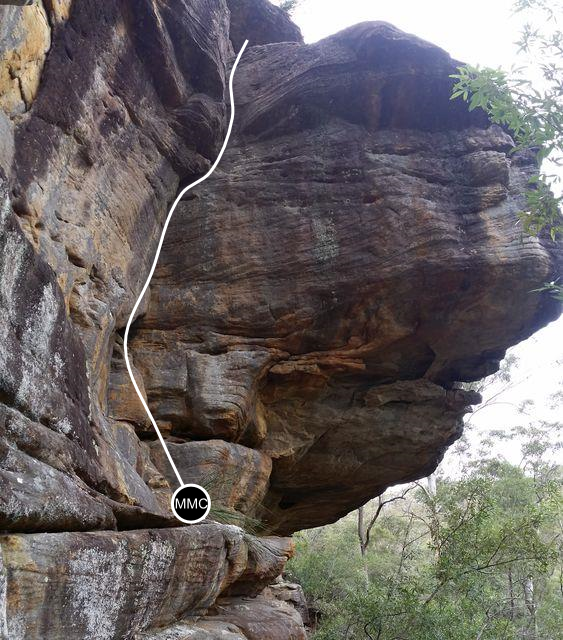 *
Marek's Mighty Corner
18
13m
Steepish corner crack on left edge of big cave, starting out at finger crack size and moving quickly to hand then wide.
Marek & Neil Monteith, 24/6/2014
50m past Marek's Corner, after a cave, is a short grey buttress with a few mini trad cracks. This section is directly below the end of the ridge walking track. It would be cool if all routes in this section where done on trad.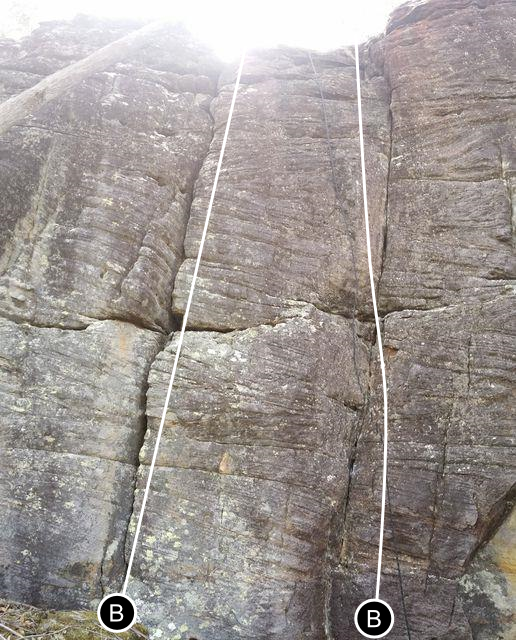 Bang
14
7m
Bangor style grit route. The major crackline up the grey buttress. Surprisingly tricky but really well protected. Top out onto ledge and tree belay.
Neil Monteith & Kathy Dicker, 6/9/2014
Boom
20
7m
Seam crack 2m right of Bang. Boulder problem start on sidepulls then tricky crack. Protected by a couple of #0.5 Camalots and wires. Belay off tree.
Neil Monteith, 6/9/2014