Jannali
| | |
| --- | --- |
| | 5 minutes |
| | Afternoon sun |
Introduction
The crag faces west, so is better on winter afternoons or in the morning during summer. A micro crag that doesn't appear to get any significant traffic and has thus become dirty. You could polish all the routes off in the space of an hour if you're keen. Mostly good lead bolts and solid trees for toprope anchors.
Access
Park at end of Taft Place in Jannali and walk down fire trail next to giant water pipe for 20m. Scramble down right and hook back under the scrappy cliff line to arrive at Mystery Climb.
---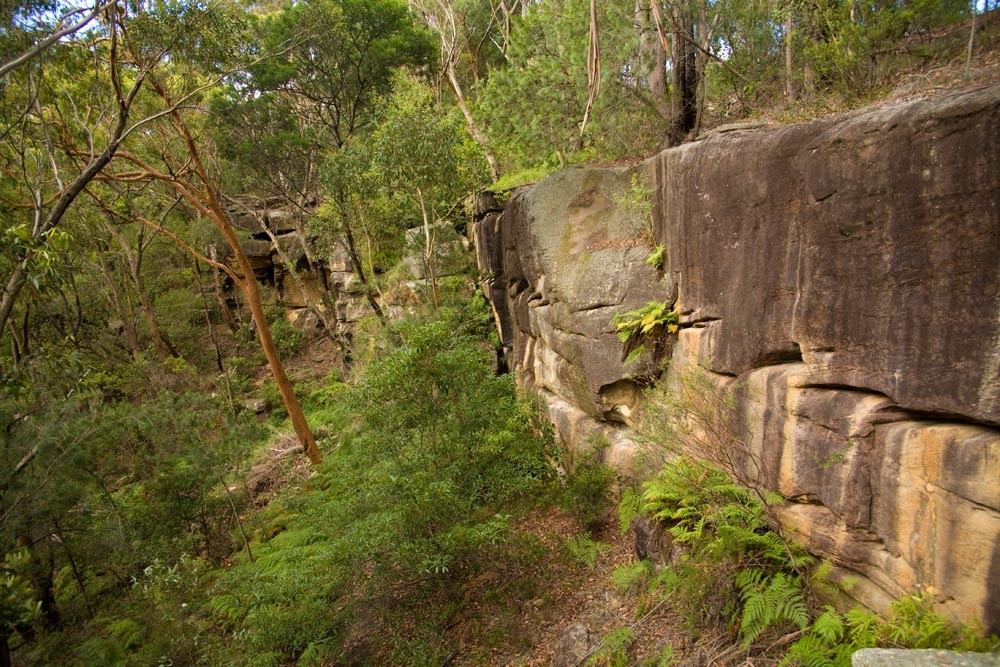 Routes are listed illogically from the left to right, starting 40m left of the descent scramble.
Woody Woodpecker
20
8m
Steep little plaything. 10m left of Between Feeds on far left end of crag. Overhung flake rib on left side of orange cave then finish out right on sandy shallow pockets.
Monty's Slot
6
8m
Squeeze up into the slot and squirm on your stomach out to the lip. What a megaclassic.
Gay Welders Union, 23/05/2015
*
Between Feeds
20
7m
2m Left of Jnarl, and left of tree. Up face on pockets, left with difficulty to layback flake then back right into scoop and rap anchors.
Jnarly
17
7m
Left side the scoop with a reachy move up high and a big tree right behind.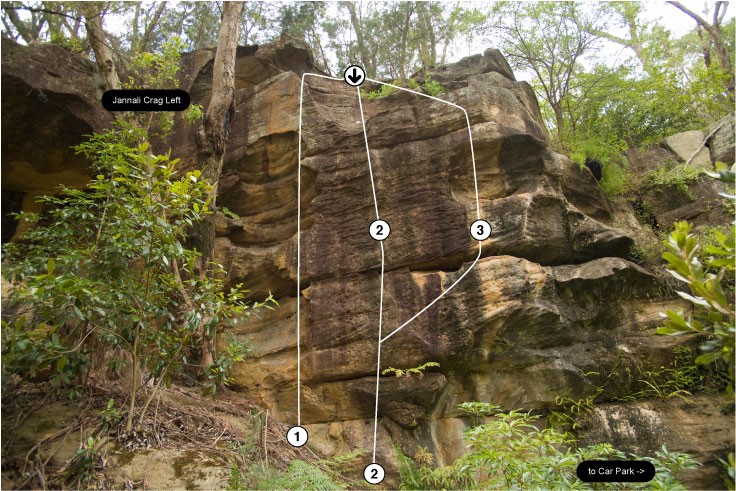 *
Music of the Night
15
8m
A nice clean featured scoop. Up the right side of small cave and finish up fun arête. Traverse right to badly positioned chain.
Paul Wheeler 1995-04
Masquerade
18
8m
1m right of MotN. Up the flake (3 RBs, optional mid size cam) to awkward mantle and large rap chain. Currently very dirty.
Paul Wheeler 1995-04
Can We Leave Now?
20
8m
Up to first RB on M, then traverse right along break (optional mid size cams, 2 RBs). Mantle up and traverse left to chain. A tad dirty.
Paul Wheeler 1995-04
The following climbs are located on a grey and orange pocketed wall 30m right. The base of this cliff is infested with bracken fern.
Roger
17
7m
A dirty and vegetated seam crack. Yum.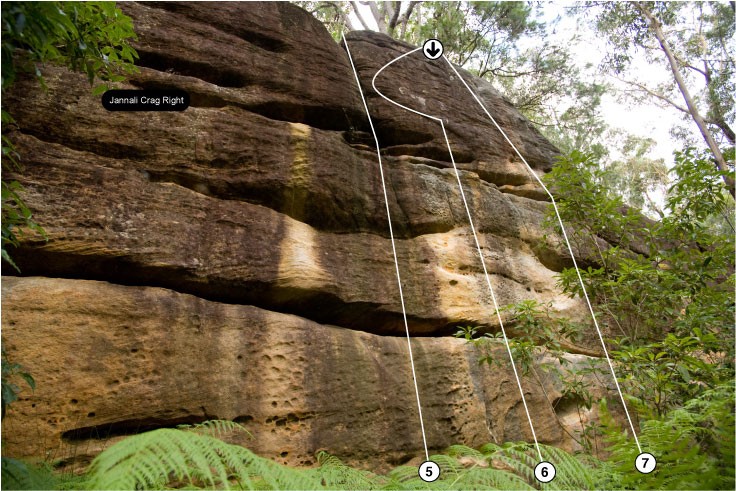 Cenotaph
19
7m
12m right of R. Line of very rusty carrots. Reachy horizontals to start then dirty crack. Needs a good clean and rebolt.
*
I Wanna Be a Cowboy
22
7m
The best route here. The middle line of bolts up the steep pocketed wall. Pull monos to the 3rd FH, step left and up the flake. Reach back right to jugs and a lower off chain. Direct finish is crimpy 23/24.
David Barnes 2000-09
He's Back Dear
21
7m
The right route on the steep pocketed wall. Bouldery moves past 2 FHs to chain lower off.
David Barnes 2000-09
Mystery Climb
14
5m
10m right of HBD. Clip useless FH at waist then step off ground and up thin left facing flake.