Illawong
| | |
| --- | --- |
| | 5 minutes |
| | Shady most of the day |
| | Short but interesting routes with easy access |
Introduction
A pleasant little south facing crag overlooking Still Creek and the Woronora River. The broken glass, rubbish and porno mags that litter the base of the crag add to the ambience. It offers a good variety of short leads and top rope problems and is somewhat reminiscent of Bangor. Many of the routes are very stop-start affairs lacking sustained sections. There are no lower-off anchors, so belay from carrots and trees from the top. The crag is great during summer since it doesn't get a lot of sun, but during winter it can be freezing and tends to be a little damp.
Access
Drive about two thirds of the way down Redman Ave in Illawong. Park opposite number 31. The cliff is located about 10m directly off the road, with descents at either end of the cliff. Climbs described left to right (west to east), facing the cliff.
---
Butt Ugly with Gravy
17
7m
Just right of the detached block, below a small, bulgy black wall. Up (RB and FH) to BB. RB not recessed.
David Barnes 2000-10
Dykes on Bikes
21
9m
Cool features. Below the right hand side of the next arete to the right. Onto wall (FH) and left to the dyke (FH). Up (mid size cam) to double BB.
M. File 2000-10-01
Just Dance (open project)
23?
9m
Up DOB to FH, then move right following the seam (wires, mid size cam and FH). Up to double BB.
Wind Wall
A chimney splits the crag here. Right of the ugly chimney is Wind Wall. Start the routes by standing on the large boulder.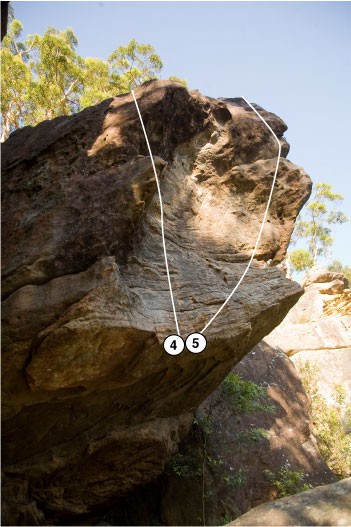 *
Pissing With the Wind
18
10m
Start on block underneath low roof. Up and out the left hand side of the steep prow (3 FHs), then up the easy slab above (dodgy BR) to double bolt belay.
David Barnes 2000-10
All Fours
V3
A boulder problem starting on small block and traversing right to finish in flake in roof. Located below start of PWtW.
Zack Wasson 2008
*
Let's Get Ripped
21
10m
Really weird climbing. Up to first FH on PWtW, then follow flake right through overhang (2 more FHs). Up the arete to rejoin PWtW (BR to double bolt belay).
M. File 2000-10
Open the Pod Bay Door Hal
17
10m
Start just round the corner of LGR off detached block. Chin undercut start and follow crack (3 BRs). First move is hard.
S. Tullock, D. Stone 1992
Skin Slab
Both routes have a hard start then much easier finish.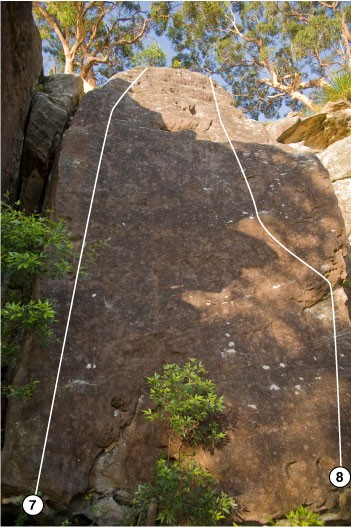 * *
Skin
21
10m
Start below left side of bulging, grey slab. Excellent! Tenuous layback to start, then straight up the engaging slab above. 3 FHs to triple BB (above B).
David Barnes 2000-10
* *
Bulges
17
8m
2m R of OtPBDH. Also excellent! Up right side of bulging slab, staying off the arete. 3 BRs to triple BB.
D. Stone, T. Pool 1992
Main Wall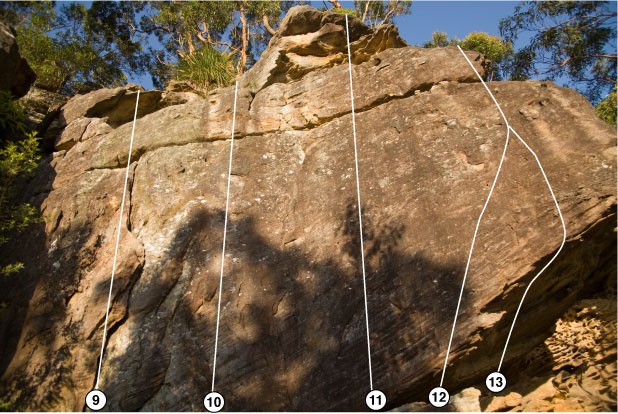 Shlonging the Nurse
12
8m
Flake 3m right of B. Natural pro.
D. Stone, T. Pool 1992
Dodgy Bolt
18
8m
1m right of StN. Contrived but engaging. Follow 3 BRs (staying left of the crease) to a double bolt belay up on top of the cliff (or lower off BRs on ledge 2m lower down).
D. Stone, T. Pool 1992
Flaky
15
8m
1m right of DB. Up, staying just right of the crease (3 BRs to the same double bolt belay). The first BR looks very dodgy.
D. Stone, T. Pool 1992
Troada
14
8m
Start as for F. Stand up to face, then move right, following 4 BRs. Same belay as for DB and F.
P. Faill, D. Stone 1992
Troada Direct Start
19
8m
Start as for T. Hand traverse the lip of the roof, then mantle up to join T.
Doug Smith 1999
A (Project)
??
10m
Right of T. Top rope only?
There's a big choss cave just here with a corner / roof crack.
Chicken Therapy
18
8m
Inside cave at left-hand corner crack. Follow crack all the way to roof (mid-sized cams), then out and up. DBB at top set back and to the right.
Phil Ward 18-2-2010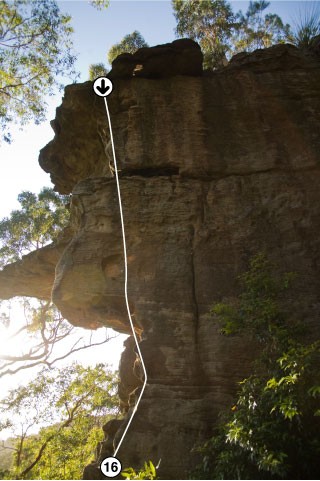 *
Olympic Spirit
15
8m
10m right of T, below undercut arete. Up (2 FHs) to chain lower off.
A. Le Gras 2000-10
The next wall has two seepy, vegetated (and unclimbed!) cracks.
Blood from the Territory
15
8m
Right of the right hand crack. Up the slab (2 FHs) to BB.
David Barnes 2000-10
*
Breakfast Radio
18
8m
Right side of arete. Up short seam (dodgy micro wires), then up wall (FH) and right side of arete to double BB.
David Barnes 2000-10
B
??
10m
Up the incipient corner crack (BR near top), over small roof to chain lower off.
*
Angel 125
16
10m
6m right of B. Up the vague crack then out steep section (2 FHs) to double BB.
David Barnes 2000-10