El Dorado
| | |
| --- | --- |
| | 30 minutes uphill |
| | Early morning sun, then mostly in the shade. Cliff faces east and south. |
Introduction
The fabled "Lost City of Gold" that eluded the Spanish Conquistadors. This impressive cliff is easily seen from the road on the left before arriving at Newnes, and boasts a number of stellar crack lines and sheer walls.
History
First cilmbed by Roland Pauligk and friends in the 70's, this cliff remained pretty much unvisited until it was rediscovered by Wade Stevens in 1996 who picked a virgin plum line and put up a few stunning modern routes.
Access
Look out for the old cattle corral on the right side of the road, about 3.7 km past the Coal Mines/Glow Worm Track carpark. (If coming from Newnes it's 3.1km from the old pub.) Another 500m towards Newnes is a tiny pullover on the river side of the road, and (as at 2011) a pink ribbon hangs from a tree marking the path up the hill. There was a Parks sign mentioned in the 2001 guide but it has since been removed. Follow the fenceline up the hill to a gate, cross the fence line and continue up and diagonally left towards a giant house-sized boulder. Scoot around the back of this, cross a ferny glade and pick out a cairned track that zig zags up the hill.
Camping
Little Capertee Creek campground
---
The zig zag track should bring you to the base at Flamingo.
* *
Fistful of Feeling
75m
18
Start 8m L of major L-facing scrubby corner at L end of Sinecure buttress. A good line that needs more traffic to keep clean and maintain its quality climbing. 1. 40m (18) R-facing corner then sky-rocketing "thin hands" crack (take med Hexes and many #1-2 cams) to big break (#4 cam). Step L across the top of a corner then up and left (past BR - hard to spot) to 2BB on ledge. 2. 35m (19) Up crack, which widens. Chockstone at top then L (BR) onto face for an exciting finish. Tree anchors.
Wade Stevens, Abhinav Keswani 28-11-96
*
Sinecure
23
60m
1. 30m (23) As for TSW up to and through scoops, then L and up faint R-facing corner (2BR, med cam) to 1BB, med cam, 1RBB. Rap 23m to deck or: 2. 30m (17) Slab (3BR, cams) to join STW arete 8m before tree.
Wade Stevens, Abhinav Keswani 28-11-96
* *
The Seventh Wave
23
60m
The arete L of Papillon. Double ropes recommended. 1. 35m (23) Up Papillon to first ledge, L and up arete (Br, 2FH). Move L onto face (FH) and up scoops (small & med cams). Trick move back R (BR) and up arete (3BR) to 3BB. 2. 25m (17) 4BR then veer L (med cam) to ledge. Tree anchor. Rap 48m to deck or 3. 23m (16) Very runout.
Wade Stevens, Abhinav Keswani 26-11-96
* *
Papillon
17
50m
A steep, right-facing corner 70m L of Flamingo. Marked. 1. 40m (crux) Follow the line, you can't get lost. You'll need some fist-size cams for the initial grunt, then 4s and 5s for the stylish upper section beyond the cave. 2. 10m Exit pitch. Probably best to traverse R to the rap on TD or left to do the second pitch of TSW (grade 17).
Roland Pauligk, Tony Nemec, Pete Canning 19.1.75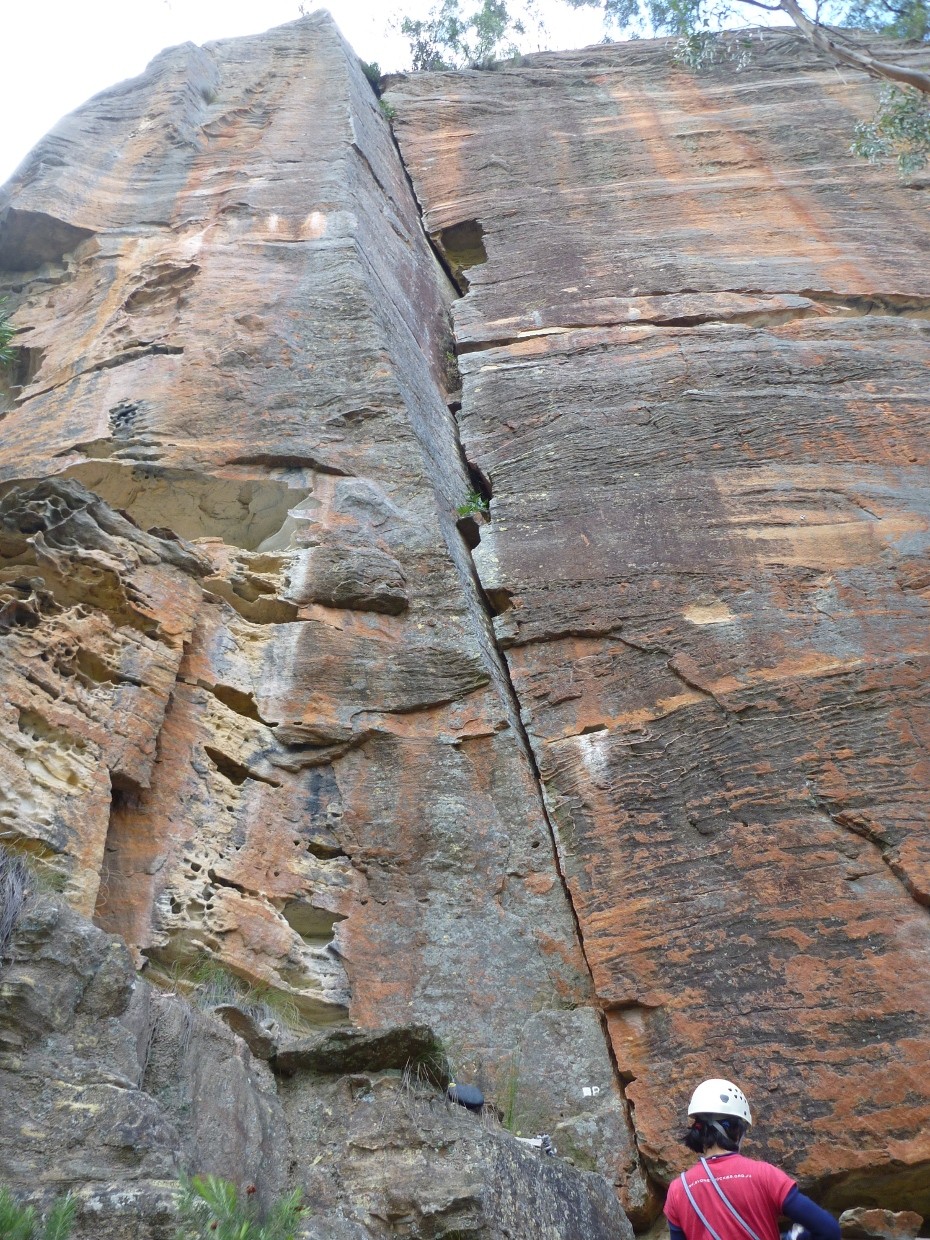 [photo] The corner of Papillon. Tentative Decisions takes the wall to the right, and The Seventh Wave is on the left.
* *
Tentative Decisions
22
30m
Sustained with multiple cruxes. Sandbag? Start 1m R of Papillon. Follow bolts up L trending line (4FH, 10BR) stepping R at 3rd FH. 2BB, rap ring at stance.
Wade Stevens 28-11-96
Shootout
17
30m
A different, devious and sometimes dastardly route that takes the fairly straight and bloody steep line between Papillion and Flamingo. Marked. 10m R of Papillon at a prominent widening crack in an orange wall. Up crack and difficult mantleshelf into recess. Chin up on prominent flake and move up the outside of the offwidth to tree anchor at top.
Matt Dunstan, Chris Peisker 14.12.74
Maribou Stalk
22
75m
The skyscraping arete L of Flamingo. Might still be a project, not sure. 1. 45m (22) Steep start 1m L of "F" mark, up diagonally L (3BR, large cam) to arete, then R side of arete (8BR) to rap station on small ledge (2BB, 1RB). 2. 30m (21) Up R side of the arete (2BR, small-med cam, 3BR) to ledge. Move R to 2BB, 1RB rap station.
Brett Miller, Wade Stevens 1999ish
* *
Flamingo
19
85m
A stunning corner line. If you've followed the cairned track up the hill this should be the first climb you meet. Marked. 1. 25m (18) Awkward, steep start in from the right, then move up into corner proper. Up over ledges to ledge with bushes. 2. 45m (19) Steep, sustained climbing up corner to dirty ledge. 3. 15m (12) A "get-off" pitch up slot to enormous tree anchor. Descend from MB rap anchors.
Tony Nemec, Roland Pauligk (alt leads) 18-1-75
* *
Cymberline
18
75m
Mentioned in the 1984 guide as a unclimbed "magnificent hand jamb crack soaring up a big black wall". Described in the 2001 guide as "like three Eternitys stacked on top of each other!". Perhaps a little over-hyped, but the climb is none-the-less worth the walk up the hill. You'll find it 30m R of Flamingo around the corner. Eats up medium friends and hexes, take lots. 1. 45m (18) Clean hand crack past two sets of bushes, the second shrubfest is passed on the right with a lone BR to keep you going. Up past cave to recessed belay seat (save a #2 friend for belay). 2. 30m (17) Keep following the line, then straight up where the crack forks for the last 5m. Some fragile holds, take care. Descent is via trees to the right (facing cliff). 22m and 45m to deck.
Wade Stevens, Glen Lewin (alt leads) Chris Thomas 18-6-2000