Diamond Falls
Introduction
6 new routes on "Diamond Jack" Wall. All new climbing starts one pitch up the wall. The best access is to rap in, if already at the base of the cliff climb pitch one of In Harms Way or The Jewel Thief. All routes deserve one to two stars.
Access
Access to top of routes: Follow the standard Diamond Falls walk in approach. After about 3 mins you will descend a short slope, the track is flat again till it reaches the top of a short upper cliff, descend another slope and leave the main track where it does a sharp hairpin bend (back right), contour around left following a rough track sticking close to the short upper cliff for 40m to a nice cave with an old expansion bolt. There is a collection of bolts some dating back to the 90's around the top of the cliff that provide anchors to fix a rope to access the routes. • In front of the cave ½ way to the cliff edge there are 2 old carrots. From here you can rap down the line of Giant Staircase/Stairway to Heaven. 60m rope required to reach the base of the wall. • 2 carrots on the wall at head height just before the start of the cave provide an anchor to rap in to the semi hanging belay for Lucy in the Sky. A 55m rope is required, we backed up to a banksia 5m back from the cliff edge. Note: You will need to swing and/or clip a bolt on the way down. Otherwise you will be hanging in space.
---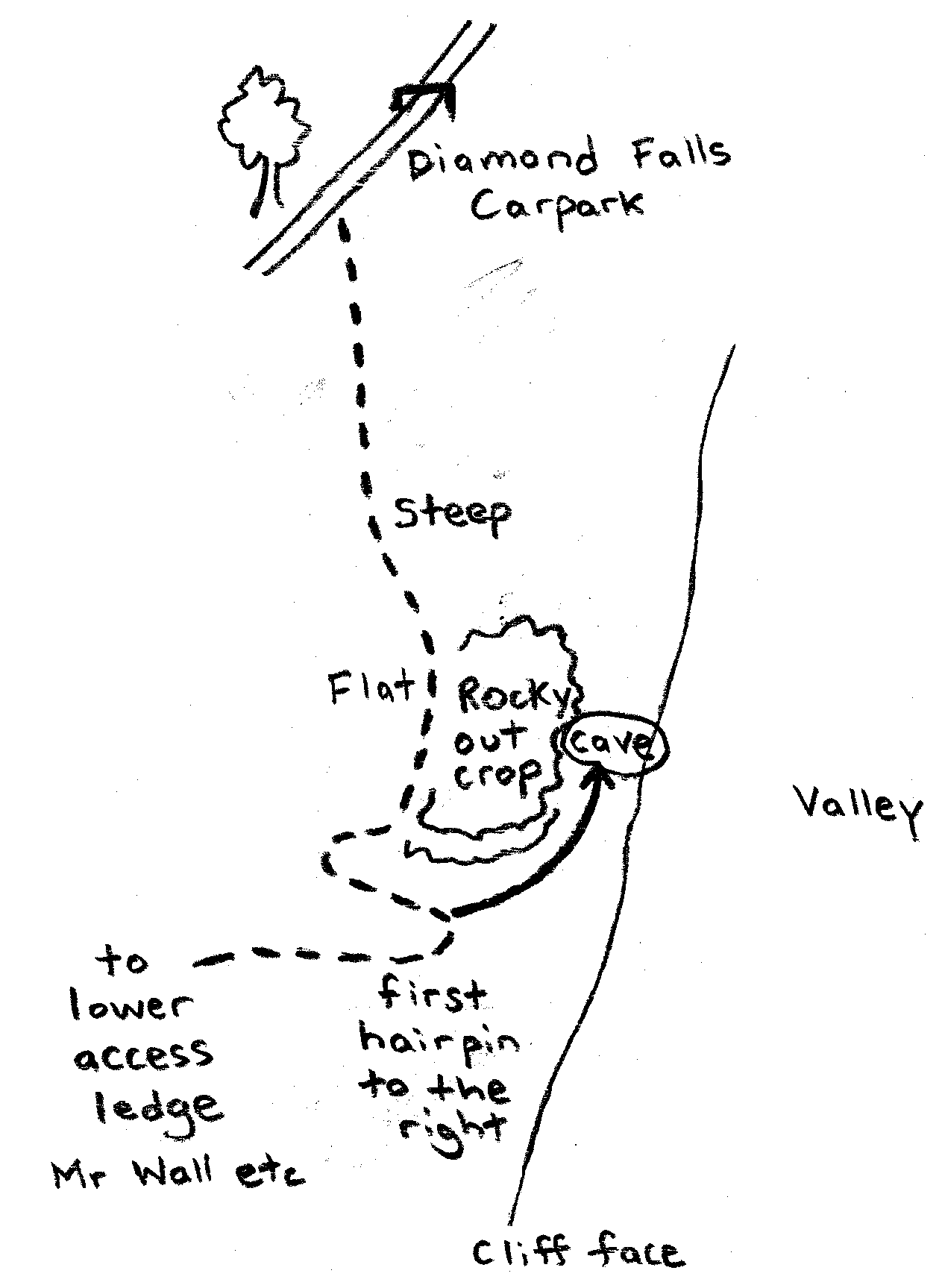 Giant Staircase
20
81m
Nice trad line wandering across the middle of the wall. Set of wires, set of cams #00 to #5 wild country, double up on #00 to #1.5 extender draws handy. Pitch 1: First pitch of "In Harms Way" 18m 20. Pitch 2: 18m 17 Start up New Years Route passing a carrot. At 3m you will reach the horizontal crack, start traversing right. Keep an eye out for old triple carrot bolt belay 2m above break, cams and wires. Pitch 3: 45m 19 Straight up large flake system at 14m take the right flake, continue up and rightwards past smaller flakes. At 27m join "Gem Stone". Continue up past 5 rings (38m to finish at double U bolts or 45m to top out and build anchor. (Note: Place #5 cam 1m above the belay when leading off)
Mark Wilson, Brendan Helmrich (alt leads) 1st December 2011
The next 3 routes start from the same semi hanging belay stance.
Lucy in the Sky
21
50m
Access: Abseil to double U bolts with small footledge 15m above the ground. 7 bolts, wires, double set of cams from #0.5 to #4 with triples of #1 and #2.5 (wild country friend), take 20 quickdraws. Has a distinct crux. Climb up and slightly left past 2 U bolts, continue up and slightly left then straight up aiming for 3 fixed hangers half way up the route. There are 2 fixed hangers when you climb through the overhang at the top. Save a #2.5 friend for 4m before last 2 bolts.
Brendan Helmrich, Mark Wilson, 29/12/2011
Amber Gem
21
50m
Access as for "Lucy". 4 bolts, wires, cams from #00 to #0.5 double from #1 to #4 and triple of #3(wild country friends) Start as for "Lucy". After the two U bolts continue up past flake systems following least line of resistance. After 20m you will pass 2 rings. Continue up, at major overhang traverse 3m right to double U Belay on "Diamonds and Pearls" below stepped roof weakness. Continue up "Diamonds and Pearls" last pitch.
Brendan Helmrich, Mark Wilson, 13th January 2012
Diamonds and Pearls
21
50m
Access as for "Lucy". 10 bolts, set of cams from #0.5 to #4 doubles from #1 to #2.5, take 15 quickdraws. Pitch 1: 40m Head up and right towards fixed hanger. Keep climbing up and slightly right aiming for fixed hanger 10m up. Follow fixed hangers. Belay at double U bolts in cave. Pitch 2: 10m Monkey through overhang. 2 U bolts and one fixed hanger.
Mark Wilson, Brendan Helmrich 29/12/2011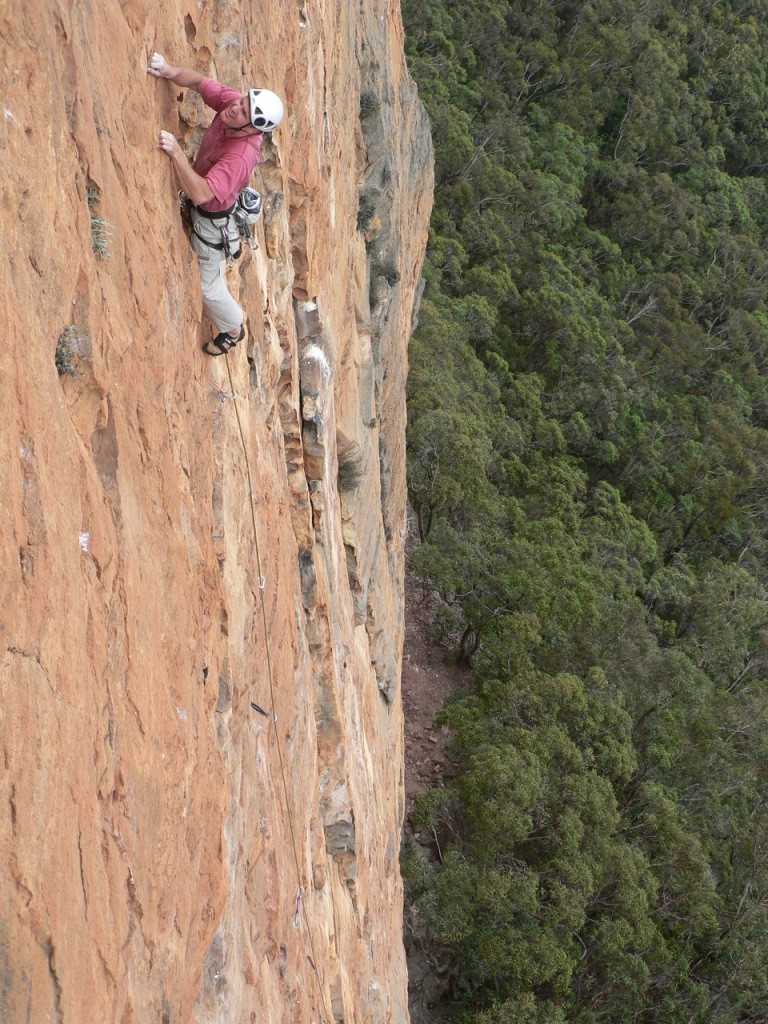 Stairway to Heaven
21
45m
Variant last pitch to "Giant Staircase" Rack as for "Giant Staircase" At 14m take the left flake past 3 fixed hangers, slightly left then up via main left facing corner system to belay on double U bolts as for "Diamonds and Pearls". Continue up "Diamonds and Pearls" last pitch.
Mark Wilson, Brendan Helmrich , 13th January 2012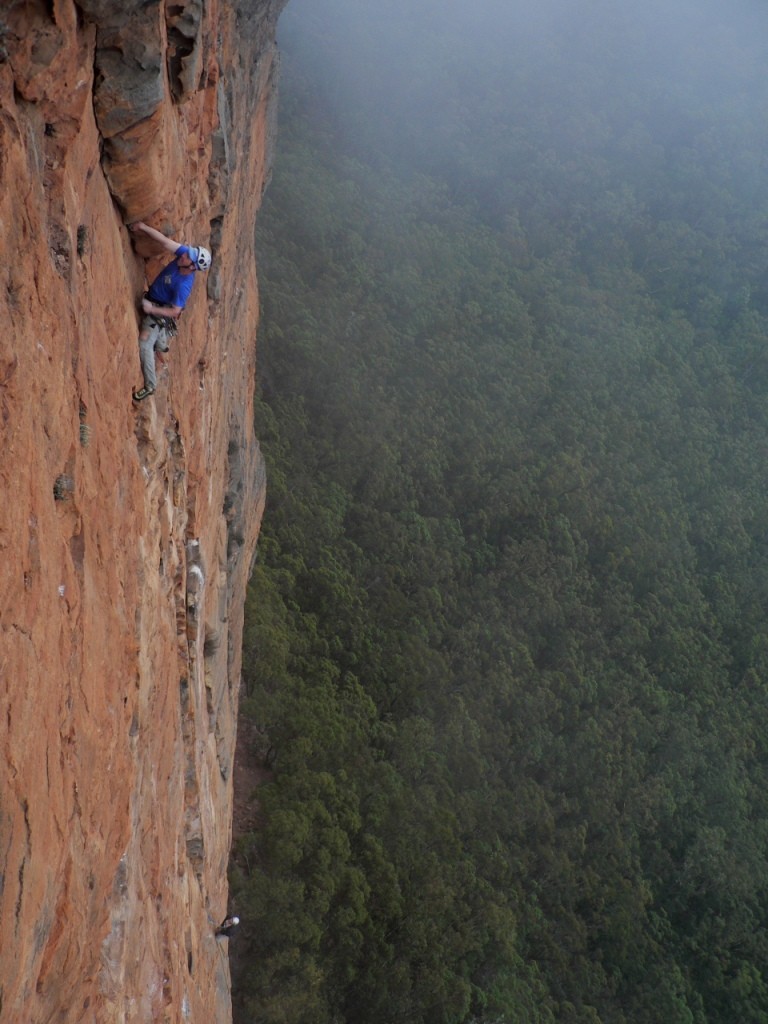 Gem Stone
20
31m
Gem of a second pitch to "The Jewel Thief". When you reach the anchors of "The Jewel Thief" continue up 2m then left 5m passing a ring to reach the first pitch anchors of "Diamond Jack", 3 rings and a carrot. "Gem Stone" starts from this belay. Can also be accessed by rap from above. Nine rings, double U bolt lower off 1m below top of cliff. 60m should reach on stretch if lowering back to belay anchors. 38m to reach bolt belay if topping out. Enjoy!
Mark Wilson, Brendan Helmrich 1st December 2011
*
A Girls Best Friend
26
35m