Clovelly
| | |
| --- | --- |
| | Morning sun |
| | Sea cliff |
Introduction
Located on the northern point of Clovelly Beach, this isn't a bad little area with some patches of nice rock (along with the inevitable choss), and some good bouldering too.
Access
To get there, catch a 339 or 340 bus down to Clovelly beach and walk north along the rocks or through Burrows Park (park here if driving). The easiest descent is the walk down gully near Sarah and Peter, although the climbs below the white survey marker may be difficult to walk around to at high tide or in a big sea. For these climbs, the recommended descent is abseiling in off the survey marker with some backup cams below it. The three climbs in front of the bowling club are best accessed from the fisherman's descent at the northern end of the orange wall. Take care since some of the ladders are falling to bits. There is also a fisherman's descent just to the south of the orange wall, but it is quite unpleasant and is best avoided. Climbs are described left to right, facing the cliff (south to north).
---
50m left of the descent gully is a prominent projecting block offering a variety of toprope problems off four old (and hideously weathered) BBs. Sometime during mid 2001 someone (believed to be the same person who retrobolted Queen's Park) retrobolted the following two problems.
Lets Go Retro
20?
9m
Starts under the left hand side of the projecting block. Traverse right along the lip, then head up the front face of the block. 4 RBs to double RB lower off.
Unknown
Magic Rings
21
10m
Start below the vegetated corner to the right of the block. Traverse left along the lip, then head up the front face of the block. 5 RBs to double RB lower off (shared with LGR).
Unknown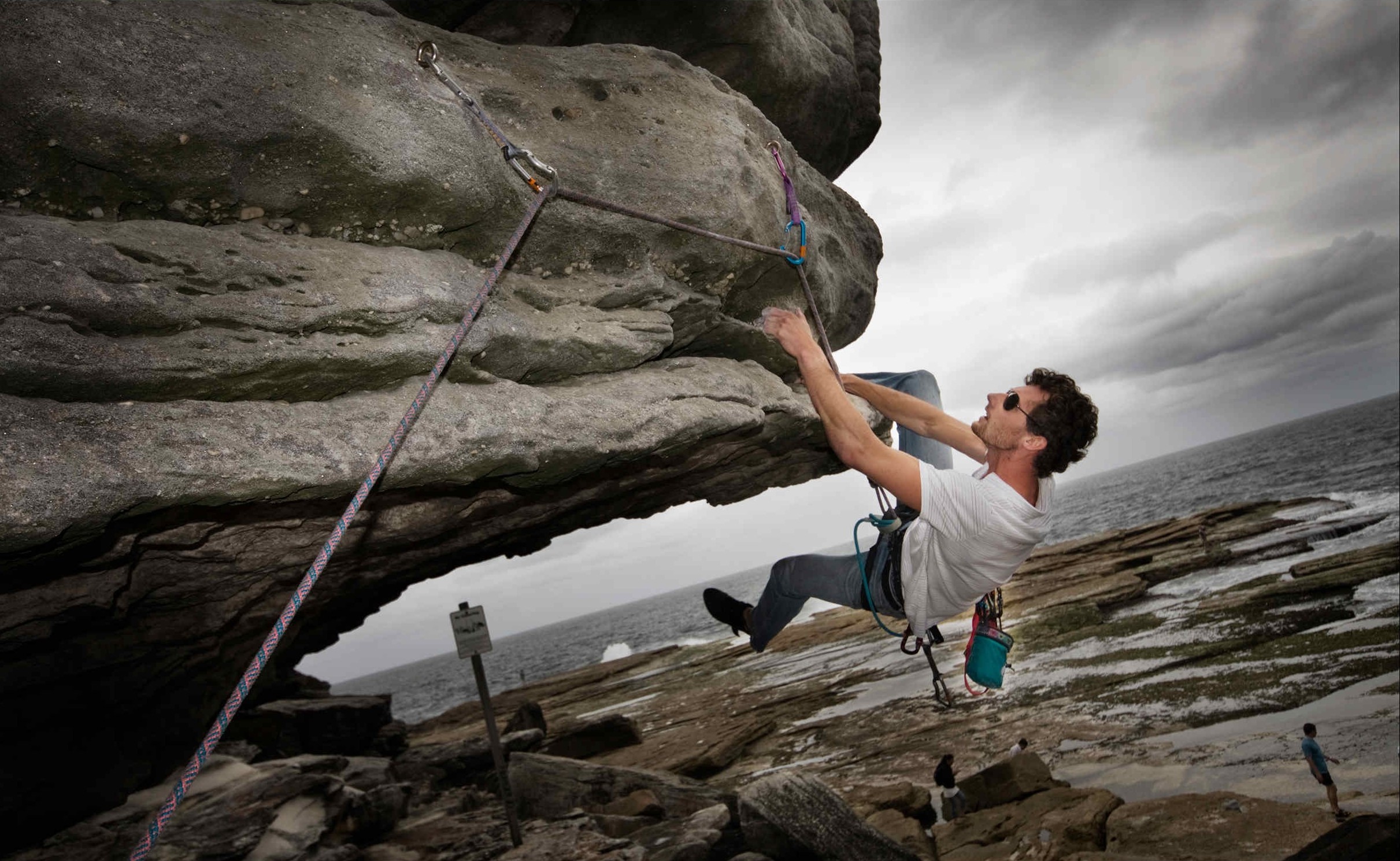 There's a nice 15m long by 4m high bouldering wall located halfway between the projecting block and the descent gully. It offers a variety of interesting move up problems (with three sets of triple bolt belays on top for top roping) as well as a hard and sustained traverse. The descent gully reaches the base of the crag about 25m right of the bouldering wall. The right hand side (facing the cliff) of the descent gully offers some good top rope problems (triple bolt belay) on a gorgeous orange wall. Just a shame it's so short.
Sarah
8
8m
Starts below the undercut, low angled corner on the left wall of the descent gully. Hard start then up the easy corner (large gear). Triple bolt belay.
Peter
16
7m
Starts 1m right of S at flake / corner. Up the flake then through the choss roof (with care!). Top rope only. Triple bolt belay.
DTD
23
7m
Starts 1m right of P. Marked. Big moves on tiny holds. Top rope only. Underneath this climb is a 5m boulder problem chipped into the large conglomerate roof. A rather contrived direct start, perhaps?
Disparity
22
7m
3m right of DTD on block. Straight up vague arete and smooth slab. Top rope only.
Normal Eyes
18
9m
Start as for D. Step off block and traverse right along break to first corner. Up corner.
C
??
9m
5m right of NE below seepy cracks. Up the cracks. Not sure if it's been completed, but we retrieved booty gear off it!
Flagfall
16
9m
6m right of C below corner up high. Up the easy walls then dangle right past shockingly rusty BR. Triple bolt belay (take care - 2 of the bolts are badly weathered).
*
Solidarity
20
10m
The obvious flake in the black wall, 50m right of F. Up the easy wall to rusty iron blob that might have once been a BR. Jug on lip (clip mediocre BR) then hard moves to gain flake. Delicately up fragile flake to top (1 BR and massive thread belay). Rarely dry. Take care since the base of this climb is often swept by waves.
Barknuckles
23
8m
5m right of Solidarity, below obvious thin crack out conglomerate roof. Head up to the crack (hideously manky BR in sandy band of rock), then out the big roof. Looks harder than 23!
Pete's Effort
M2
12m
10m right of B, below even bigger roof crack. Set a belay off 2 good BBs (and maybe a cam or two) on the small ledge under the crack. Out the roof then up the garbage choked crack above (take care of broken glass and rusty cans). Natural belay.
Peter Nolan 1998
Survey Marker Walls
The following nine climbs are all best accessed from the white survey marker on the cliff top, 50m or so north of Solidarity. Although it is possible to scramble around the bottom, it is much easier (and safer!) just to rap in off the survey marker (back it up with cams on the small ledge in front).
D
??
15m
Below the black wall 6m left of PS. May not be a climb. A single carrot is visible about 5m off the ledge, with apparently no pro higher up. There may be a double ring or chain lower off above this climb, though.
Pigeon Shit
16
17m
5m left of DC. Two rusty fixed hangers lead up to and join DC. Take care in the upper section and for the belay.
Trevor Cooper-Williams 1994
Dusty Condom
17
17m
3m left of DMF. Bent BR at ledge, then 3 RBs and large cam to rusty FH and RB belay. Very poor rock in the top section, and take care with the belay (it's really poor).
Trevor Cooper-Williams 1994
*
Dead Man's Fingers
25
15m
20m left of S at blunt arete. Slightly overhanging arete with 5 RBs to double RB lower off. Not known to have been repeated.
Trevor Cooper-Williams 1994
* *
Steep
22
10m
20m left of D, below rooves on northern side of small bay. Big RB at ground level. Two RBs to double RB lower off.
Trevor Cooper-Williams 1994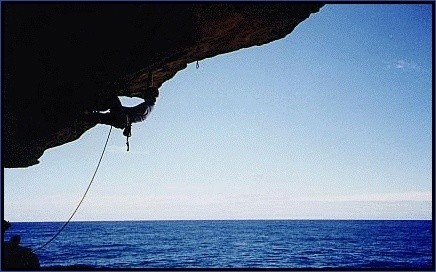 Heat Seeker
20
17m
Could not be located. Apparently just around the corner from S with chains.
Matt Carter 1994?
*
E
11
13m
Starts 10m left of F. Up wall past 3 BRs (first looks dodgy, and a lot of rock has fallen away from here recently) to double BB on nose. First BR is quite high, and hard to find (it's hidden in the back of one of the honeycombs).
If you rap in off the survey marker, you will reach the bottom of the cliff here. There's a manky, terrifying fisherman's descent 3m to the right.
*
F
15
13m
Start directly below the white survey marker. Up past BR to conglomerate ledge. Up increasingly steep wall past another 2 BRs and a RB to natural belay (small to mid cams and / or rap rope). Quite a lot of rock has eroded away on this route, resulting in the bolts being more exposed than they previously were. Take care.
* *
G
23
13m
Start 5m right of F, below hard-to-spot BR in conglomerate band. Up to BR in conglomerate band (hard to spot), traverse right to severely overhanging arete (RB). Strenuously up and out over the ocean (RB) to a small ledge (small cam on left) then on up to 2 BBs.
Matt Carter? 1994?
Bowling Club Wall
The following three climbs are chipped into the orange wall in front of the Clovelly Bowling Club. They are most easily visible from the bottom. Top rope only. Belay off the green logs at the back of the rock platform (take care).
H
21?
15m
The left most line.
I
21?
15m
Middle line on wall.
J
18
15m
Right most line.