Bow Wall
| | |
| --- | --- |
| | Morning sun |
| | Sea cliff |
Introduction
This is the sea cliffs located just south of Diamond Bay. Some recent rebolting has brought this crag back into fashion.
Access
There are 3 ways of accessing the crag. The first involves parking as for Diamond Bay, then walking south along the cliff top, through a small stone gate then down a horrendous and extremely dangerous descent. The strongly recommended alternatives are to park at the end of Oceanview Ave and go down one of 2 descents. Either walk 50m north along the cliff top until you reach a good set of rap rings above Something Wild (ignoring the various bits of ironmongery installed by long departed fishermen). Leave the rap rope in place and take jumars to get out. See also the photo access shot in the Diamond Bay section. Alternatively, to access Prowess, walk about 15m north of the Oceanview Ave entry and rap in from the Ubolt and thread above Prowess (see Prowess for more details). To escape either do Something Wild, jumar up an abseil rope, go up the logs of death, or else there is an easy escape route starting about 20m left of Banger in the Basement. Head diagonally left past an old fisherman's ladder and new U bolts to belay as for Prowess, then up Wuss Corner (20 or 16 with one aid).<br/> Important note: climbing at Bow Wall is only possible in certain conditions; in particular when the tide is low, the swell is small and when the prevailing weather is westerly. DO NOT ATTEMPT TO CLIMB HERE WHEN A SOUTHERLY OR EASTERLY IS PREVAILING - if you're lucky you might be found washed up on the west coast of New Zealand. This is not a joke - climbers have been hit by waves even high on routes, and only luck has prevented drownings from occuring. Take care!<br/> Climbs described left to right (south to north), facing the cliff.
---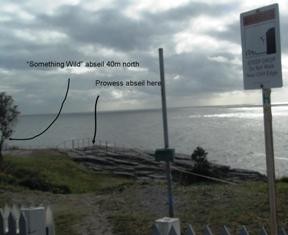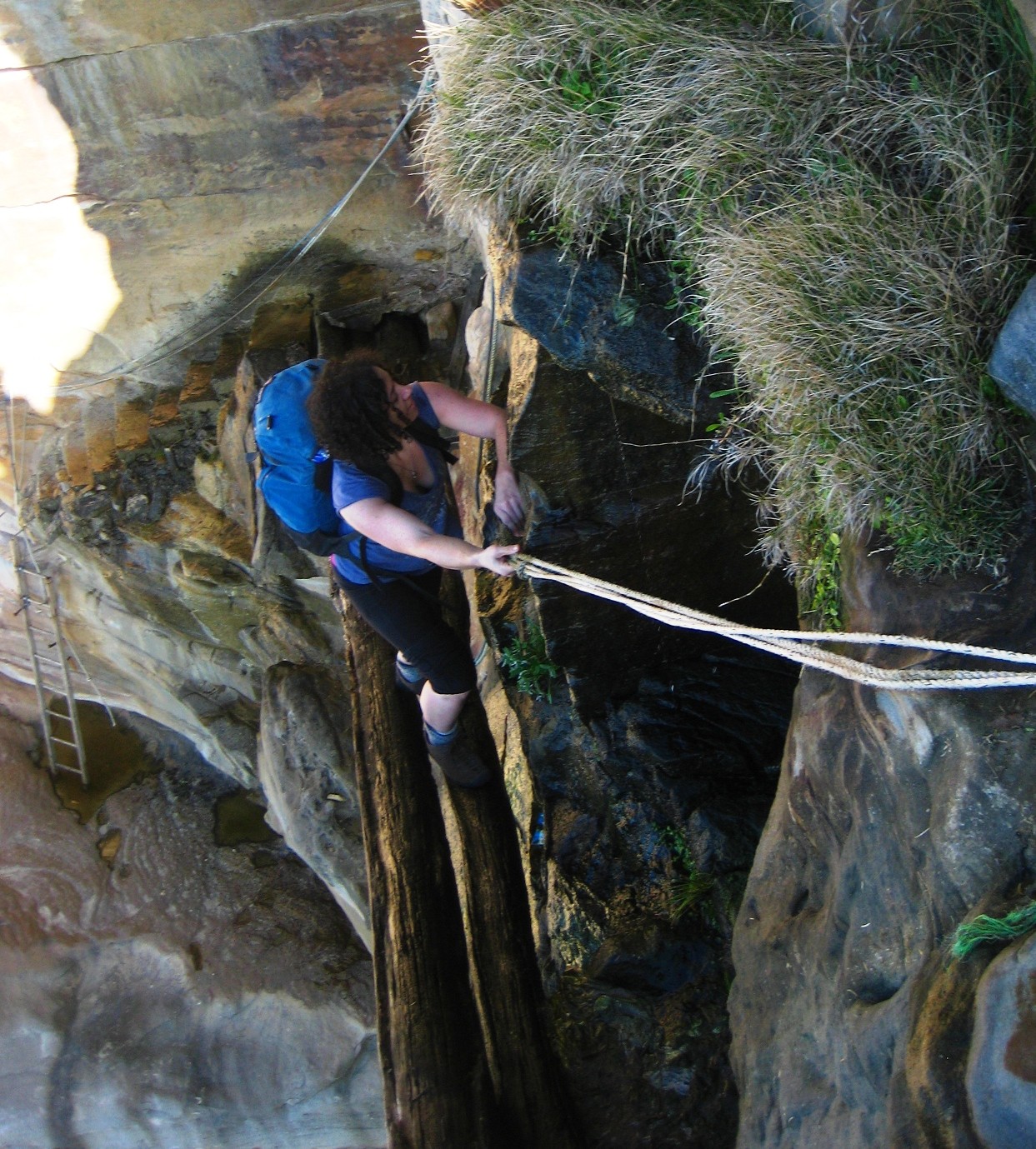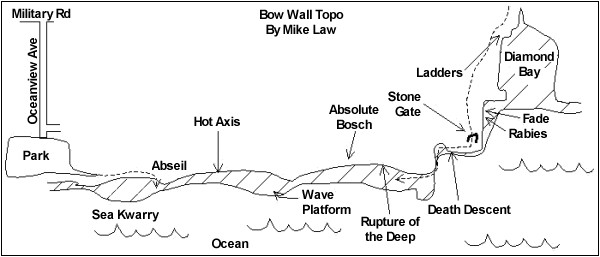 * * *
Prowess
23
15m
Classic steep arete about 30m left of Sea Kwarry. From Oceanview Avenue walk 15m north and cross the fence till you can see the arete then rap in from ring and good thread in cave/fish-gutting area above the arete (saner, and you can clean the holds). Alternatively, scramble up from wave platform 30m left of Sea Kwarry.
mikl, Axel 2011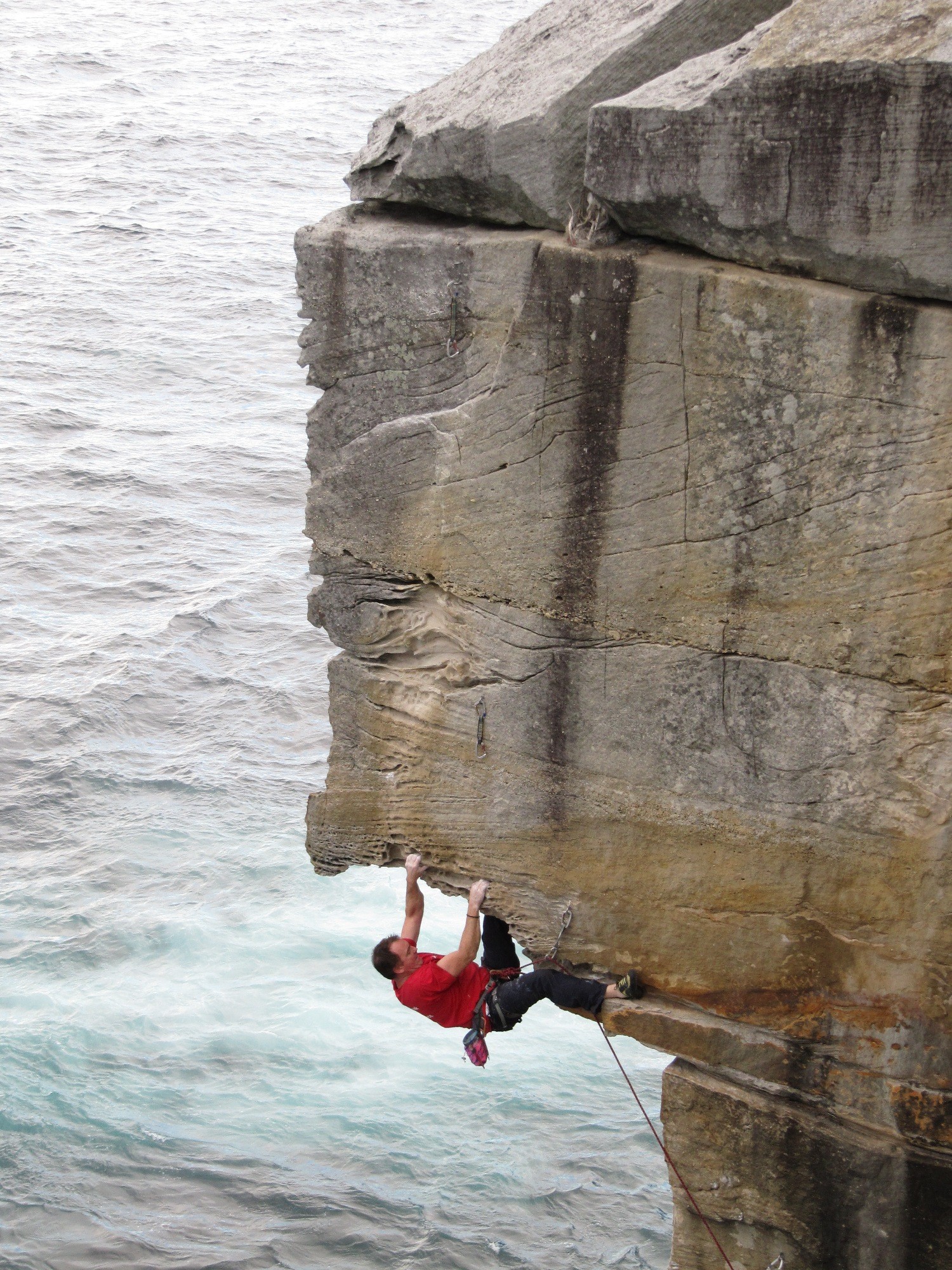 *
Wuss Corner
20
15m
From belay below Prowess, right and up to exciting stretched out move under roof. About 16 with one aid.
Mikl, Axel, 2011
The Sea Kwarry
The small sport crag at the left hand end of the wall, with lower offs below the ledge at 12m.
*
Banger in the Basement
8
8m
Weakness at far left hand end of wall. A reverent and exciting re-enactment of an old fisherman's route. Up and right (no pro) to double ring bolt anchor.
Mike Myers 1990's
Cossack Corner
22
10m
15m right of BitB below short corner and wall. One move wonder. 3 RBs to rap anchor.
Mike Law 1990s
*
Nipples to Play With
24
12m
1m right of CC. Middle grade shocker - a goodly pump. 4 RBs to rap anchor.
Mike Law 1990s
*
Gluckstern
27
12m
Flake 2m right of NtPW. "Lucky Star". Technical on natural holds (unusual for this wall). 4 RBs to lower off.
Mike Law 1990s
*
Drowning by Numbers
25
13m
1.5m right of G at cave. Eventual exhaustion.
Mike Myers 1990's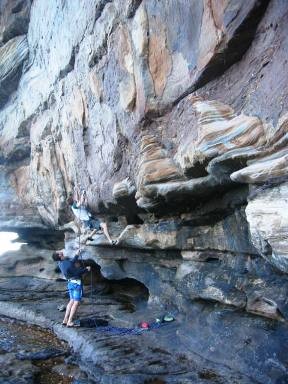 *
Rubberman
26
13m
1m right of DbN. Awkward near the top. RBs?
Mike Myers 1990's
John Cooper Clarke
25
12m
7m right of R. A slippery jug to start, then muscle-bound for stardom to the top. Up then left past 3 RBs (plus one just above the second which is in the process of being removed - take care!).
Mike Law 1990s
*
Occasional
24
12m
3m right of JCC. Venus' finest hour. 4 RBs, left at top.
Venus Kondos 1990s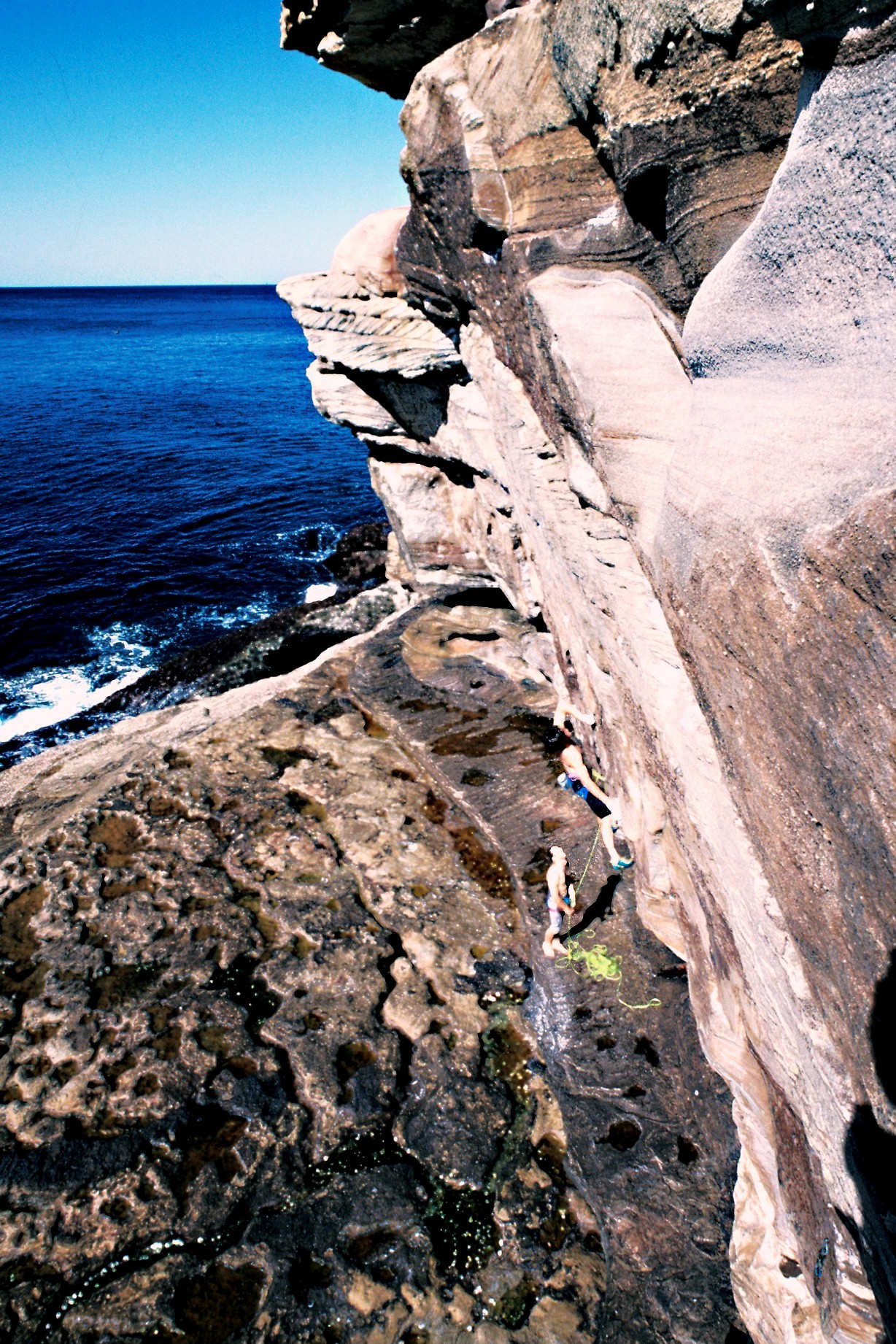 *
Black Tuesday
27
15m
Second pitch to O, starting on ledge where O finishes. Steep climbing with a big roof move. 7 RBs.
Mike Law 1990s
Sweet Times
24
12m
1m right of O. 4 BRs, veers left across O.
Mike Myers 1990's
*
Make Believe
22
12m
2m right of ST below small corner in middle of wall. A great little pump with 4 RBs.
Mike Myers 1990's
*
Bottom Gun
23
12m
Start as for MB. A three ring circus. Easy, but easy to fall off. Diagonally right up wall.
Mike Myers 1990's
White Magic
25
12m
1m right of BG. Hands in small pockets. Start over roof then veer right in the middle. 5 BRs (best to preclip).
Mike Myers 1990's
*
My Left Sheep
26
10m
Schwarzenegger (the black shepherd) would love this. Hump the lip of the roof and up. 3 RBs.
Mike Law 1990s
*
Something Wild
25
24m
2m right of MLS at right end of wall. Maximum pump for the grade. Up wall past 3 RBs to ledge, up past another RB and into cave. Clip RB on lip, move right 1m and up overhung line to top.
Mike Law 1990s
Main Wall
The following climbs are all on the main wall, located further along the wave platform.
Honey, I Shrunk my Dick
25
20m
Right of SW. Head up and leftwards, through short double roof crux and up. 6 RBs.
Mike Law 1990s
* * *
Hot Axis
22
24m
10m right of HISmD at a flake / corner about 10m up. The classic of the crag. After the initial easy session in "The Devil's Sandpit" the climbing is excellent and reachy. Move up right and back left to base of route, then follow a flake line over bulge and slab to rap ring. 7 RBs en route. Take care in the sandpit - Saxon fell on easy ground before he'd clipped the first bolt. But it is basically exposed walking .
Mike Law 1990s
Absolute Bosch
25
25m
50m right of HA below obvious line in middle of wall. Often wet, climbs the wall and horrendous undercling flake.
Mike Law 1980s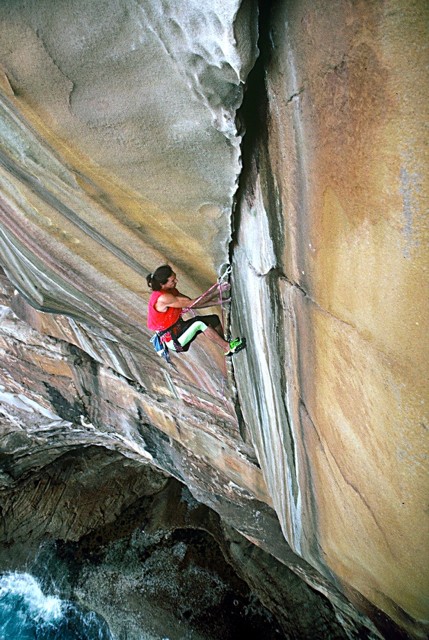 *
Rupture of the Deep
26
26m
10m right of AB. Climb up with increasing difficulty to a bridging session then a pair of rooflets and finish at the 8th RB. Lower off this final single RB. A 50m rope just reaches.
Mike Law 1990s