Bondi
| | |
| --- | --- |
| | Morning sun |
| | Sea cliff |
Introduction
Bondi is a big and serious crag, with not much in the way of easier routes and difficult access to boot. Despite this, it's definitely worth a visit, since the rock on the main wall is some of the best on the sea cliffs. While there's some bouldering on the northern point (including on the massive block visible from the beach), the main climbing area is located further north, below Williams Park. As a result of some generous retrobolting it has become a great place in winter.
Access
To get there, park at the intersection of Wallis Parade and Military Rd or catch a 389 bus to Military Rd. Walk due east through the golf course until you hit the edge of the cliff, where a series of gully systems drop down to the northern end of the main wall. There are several descent options.<br/> 1) The original descent route was down the aptly named "Black Filth Couloir", just north of the main wall, but at least one (non-climbing) person has died in it. Not recommended.<br/> 2) Rap in off the double bolt belays above Grand Mal or Modern Plumbing. This requires double 50m ropes, although it's probably better to fix one rope and lead out on the other since the rope doesn't pull that easily, or rap on one, climb, lower off (most routes die out before the top) and finally walk up the south descent described next.<br/> 3) South descent: This is a much safer and easier gully about 75m to the south, at the southern end block south of the main wall. At this point there is another series of crevasses and gullies, with an easy descent gully heading basically south, there is a ring at the top and a 10m length of rope would make it easier. From the bottom an easy walk back north leads to the main wall.<br/> 4) There is a fisherman's descent about 200m to the north of the wall, just past the small quarry but before the smokestack. This leads down a series of ladders and chopped holds (take care!) to a steel wire tyrolean that heads out to an offshore rock (fishermen are mad!). From here walk back south until the ledge peters out, then a scary little traverse (might be an idea to rope up here) leads back to the base of the main wall.<br/> Climbs are described left to right facing the cliff (south to north).
---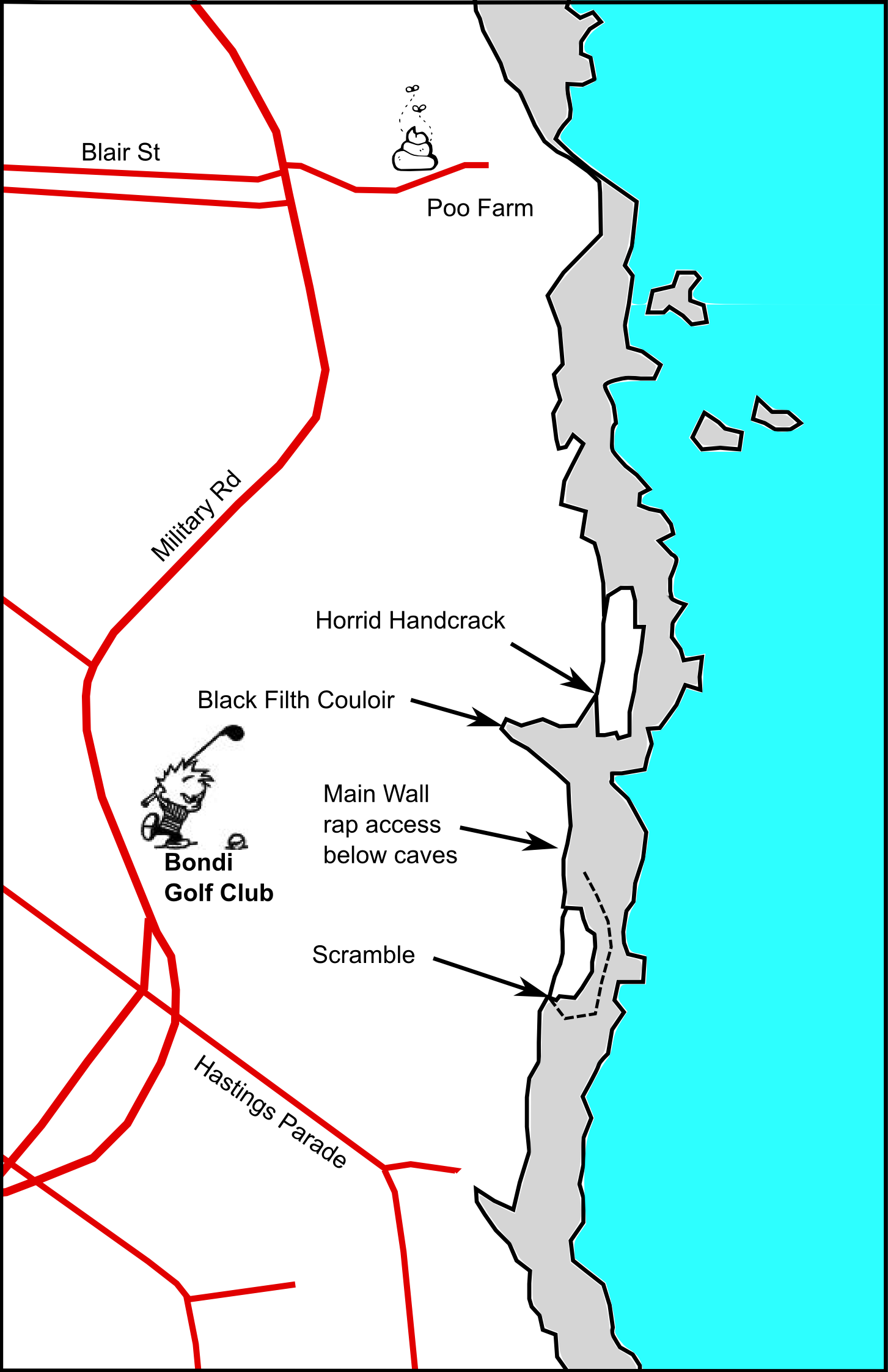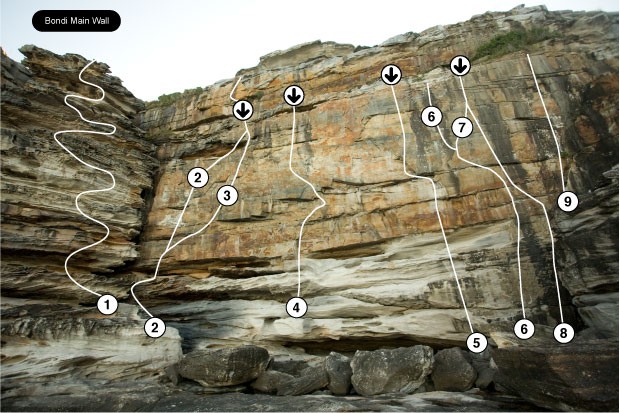 The following route is located on the north facing wall of the crumbling pillar at the southern end of the main wall.
Turpentine Wall
16
35m
Start somewhere in the middle of the wall. Up the crumbling horror show.
David Wagland 1980s
To the main wall.
Smut
22
35m
Just right of chimney at southern end of main wall. 1. 23m (22). A tough move low down, then follow manky BRs up and right along flake and up small corner. Or lower off as for Daylight Shaving. 2. 12m (20). As for GM.
Mikl Law 1980's
*
Daylight Shaving
22
22m
Horrible start but gets nicer the higher you go. Start as for Smut. From the horrible undercut move at the first bolt traverse right across horizontal break and up wall and subtle groove on great rock. For a more enjoyable climb just pull on the first bolt (grade 20).
Neil Monteith & Kent Paterson - 2008-10-07
* * *
Grand Mal
24
25m
Chipped, retrobolted and good now. Start below left end of cave in middle of wall. 1. 25m (24). Either desperate boulder start, or walk way left and up and back right, up and leftwards to lower offs. 2. 12m (20). Up the corner and left up wall.
Mike Law 1980s
*
Plunging Grandmas
26
25m
5m left of shallow corner on northern end of main wall. The name says everything about the history of this climb! A little old lady jumped off the top of this a few minutes after the FA. 1. 6m. Up and left to big ledge (manky BR en route). 2. 19m 26. Head up and into small corner (rusty BRs), then head up and left (manky BRs and an old PR) to rap point.
Mike Law, Charlie Creese, Warwick Baird 1980s
*
Electric Eel
23
25m
5m right of PG. Head straight up to flake (4 BRs), head left and follow line of BRs to rap point.
Mikl Law 1980's
* * *
Plumber's Mate
23
20m
Start as for EE. Straight up wall (desperate move) past 2 Ubolts to arete. Up this to horizontal. Traverse left then head up and right to join MP and lower off.
Giles Bradbury 1980s
* *
Modern Plumbing
23
40m
4m right of PM, at shallow corner. 1. 25m (23). Head straight up corner (3 BRs), then step down 2m and traverse left for 3m. Head up and right past 2 more BRs then left to belay (possible to rap off from here). 2. 15m. Up (carefully).
Giles Bradbury 1980s
Fuck Off
20
15m
About 10m right of MP (in middle of slab). Delicately up slab (2 rusty BRs). Take care with rock and pro.
*
Metamorphosis
22
45m
About 10m right of FO (in the bottom of the chasm). Head up the black rock (BR) then up the orange rock above (cam and BRs). Single bolt belay (either rap off or head up Arapiles P2).
Dave Grey 1980s
* * *
Arapiles
18
45m
5m right of M (below the chimney 2m left of the arete). 1. 12m (18). Up the chimney, then up the pleasant thin crack above to Ubolt belay or lower off (recommended) 2. 33m. Continue up the worthless, friable and poorly protected wall to the top (good double BBs).
Mike Law 1980s
Queer Fish
20
18m
2m right of A at arete (at foot of Black Filth Couloir). Up the arete with poor protection. At the top veer left to join P1 of A.
Old Vic
18
25m
6m right of QF, below corner. Named after a man collecting golf balls who kept accosting us for long chats whenever we appeared at the top of the cliff. It's worth tying into an abseil rope for the belay at the top of P1. 1. (18) Corner crack to roof (take a micro cam), traverse left to platform then up the easy open crack. 2. As for P2 of A.
Adrian Philbey, Andrew Grant 1996-10-12
The following climb is located on the opposite wall of the Black Filth Couloir.
*
Who Cares
21?
15m
On the north wall of the Black Filth Couloir. An excellent climb in an awful place. 5 FHs to chain. Bolts look suspect from the ground, and it looks harder than 21.
N. Thompson 1992-10-03
The following climb is located in the north / south chasm right of the Black Filth Couloir. To get to it, descend the chasm from the top.
Horrid Handcrack
18
20m
On the eastern (seaward) side of the chasm. Up the corner, traverse right and up the crack.
M Law 1980s