Bluebell
| | |
| --- | --- |
| | 10 minutes |
| | Afternoon sun |
| | Steep and juggy |
Introduction
A steep orange scoopy wall with some of the best pumpy steep climbing in the Shire. The cliff faces west, so it gets shade until midday then roasts in the sun. The crag seeps badly both during and after rain.
Access
Park at the end of Bluebell Rd, Heathcote. Hop the gate onto the fire trail and follow it around to the left for a couple of hundred metres. The crag is located down to the right. Locate the scramble down (about 50m beyond the crag) and walk back to the crag.
---
Mini Crag
Jeff's megaslab project
on Grey slab 10m L of walkdown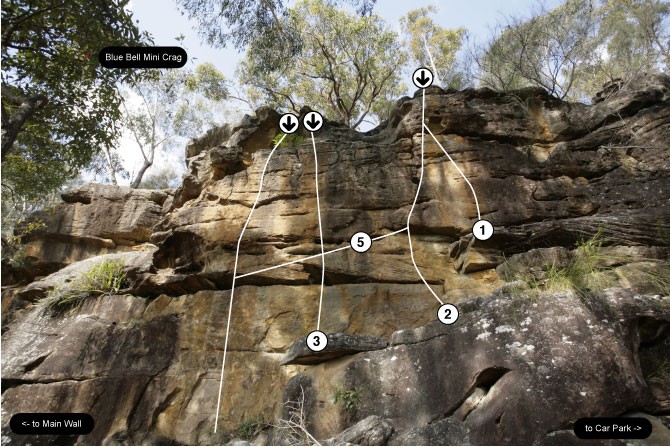 The following 5 routes are on the little orange wall before the main wall. Despite the low grades they aren't great beginner routes as a missed clip or fall at the wrong spot will result in decking.
Duncan Direct Start
10
6m
Start below short orange wall. Up wall passing one high RB to lower off.
Jason Lammers 2006-10-23
Duncan
11
7m
Start left of small corner. Up over small bulge then veer right to loweroff.
Jason Lammers 2006-10-23
Zara
19
7m
2m right of A. Up wall past high RB (stick clip) to lower off shared with A. A hold has broken raising the grade from 14.
Jason Lammers 2006-10-23
*
Anika
16
8m
At left end of wall. Tricky move past 1st RB then nice wall to lower off.
Jason Lammers 2006-10-23
Nathan
16
9m
The girdle traverse route. Start at A and move across and up bast bolts on Z and D to finish on anchors as for D.
Jason Lammers 2006-10-23
Main Wall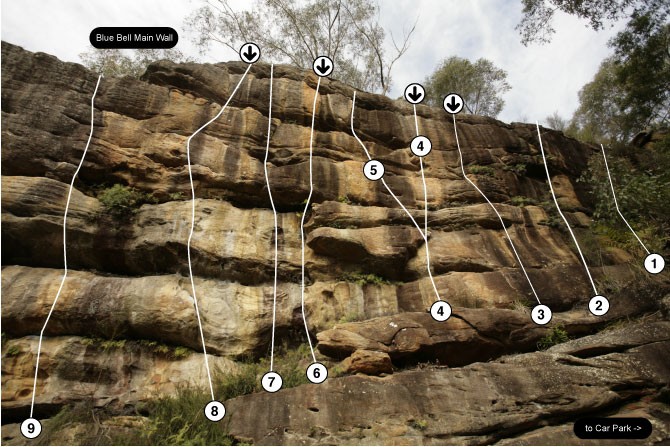 *
Trust Me I Used Araldite
16
7m
At far right hand end of main wall. Up flake and through bulge (crux) then up headwall. Left to shared anchor on Travolta. Now rebolted with modern glue
Shae Constantine 1992
*
Travolta
22
7
Start 2m left of Trust me... Up and right to huge move off jug, avoiding the hols on Trust me I used Araldite
mikl 2015
Al's Nightmare
8m
As for Travolta then left past carrot. Open project
Alan Smith
*
Heathcote Homo
18
10m
Start 3m right of SC. Up past 2 BRs to RB, funky move to gain anchors.
Jason Lammers 2008
Screaming Cockatoos
20
10m
4m left of AN, below obvious flake. Shared start with S, up flake and drift right past a few more bolts to shared lower off with HH. Hard to clip loweroffs.
Shano 1992
* *
Sparky
16
10m
Start as for SC. Up flake (RB), head left then steeply up Fantastic climbing. Shared Lower offs with Meltdown
David Barnes 1992
*
Meltdown
19
10m
Just left of S. Straight up corner and wall
David Barnes 1992
*
97% McDougall Free
22
12m
The 2nd Ubolt just snapped, stay off till fixed. The direct line just left of M. Stay out of the corner at the start. 4 RB to lower off.
Jason Lammers 2006-12-05
* *
Welcome to the Body Shop
21
12m
Best 21 in Sydney. Start left of M. Sustained climbing on excellent, steep, juggy rock. Rebolted 2008 (and again in 2015)
David Barnes 1992
* *
Bitch'n
23
12m
Left of WttBS. More steepness. Delicate over bulge and then get on trucken to the end.
David Barnes 1993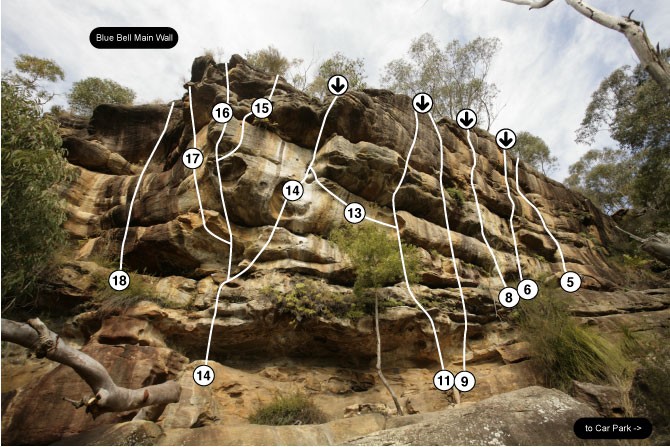 * *
Frustration Index
23
15m
Streno, start between Bitch'n and Ruthless Babe, straight up to a big move off a gym hold near the top. All natural finish is an open proj
mikl 2015
* *
Bundy in a Bottle Shop
23
18m
Linkup. Start as for RB. Clip first FH on RB then move up and right to a big side pull (U bolt). Traverse right into B, clipping 2 bolts on B then move up into pumpy steep territory past 2 more U bolts. Finish at lower off on WttBS.
Jason Lammers 2006-05
* * *
Ruthless Babe
23
12m
Left of B below big rooves. An awesome, sustained route featuring a full body length roof and some of the best rock in Sydney. Was 22 until a big hold snapped off (hmmmmm....maybe the rock isn't that good!).right to lower off. Tends to seep after rain.
David Barnes 1992
* *
Ruthless Shop
23
18m
Another linkup. Real Estate is precious at the Bell. Start up RB and do the crux thru the roof. Stand up and clip the next ring with a long sling, then great balancy moves across the head wall to the anchors on WttBS.
* *
Gatekeeper
23
13m
Linkup. Start as for RB. Climb up RB past the 1st 2 bolts. Then great hand traverse under the roof. Finish up DBoM. Avoids the crux of DBoM, but is still a classic!
David Barnes 1992
* *
Guerilla Radio
26
16m
Do crux on DBoM, traverse right and do crux on G. Link into BiaBS and finish at anchors. El Pumpo supremo!
* *
Darling Buds of Mayhem
25
15m
2m left of G, below arete. RB on FK to start then straight up past 4 new U bolts. A true Sydney classic!
Mike Law 1992
Bundy Project
15m
Start as for Darling Buds of Mayhem. Through the crux, then directly up through the final roof
Divine Intervention
23
15m
Start as for FK. Up FK for 3 bolts, then head right past 3 BRs to DBB at top.
* *
Flying Kites
23
15m
Start as for DBoM. Up pumpy arete, passing 5 UB then move right to shared lower offs
G. Morton 1993
*
Heel and Toe Polka
24
15m
Climb FK to 2nd bolt and then big move and clip U bolt on left. Up to carrot and thru roof, clip another U bolt, then top out. DBB lower off. Plenty of heel hooking and toe locks.
Jason Lammers 2006-02
Lobotomised
18
15m
2m left of FK. Ramble up ledges (cam) then up over bulges (2 BRs and a FH). Triple BBs.
Chris Wallace 1992