Barden Ridge
| | |
| --- | --- |
| | 1 minute |
| | Morning sun |
Introduction
A little middle grade crag just below the road. The wall faces almost due east and is hence good on winter mornings and summer afternoons. This cliff has been a bit of a training and testing ground, with Bundy placing his first bolts here and Mikl performing his famous "trad testing" days.
History
It was originally discovered by the Sutherland Bushwalking Club in the 1970s and has been used by the club for rock training since then. Dave Barnes "rediscovered" the cliff in 2000 and added lead bolts to a number of the existing top rope problems.
Access
The crag is located further north along the same ridge as the Lucas Heights crag. To get there, drive south along Old Illawarra Road until it becomes Thomas Mitchell Drive. Follow this along the top of the ridge until it starts to drop down and curve around to the left. Park at number 37 or 39 - the crag is located just across the road, about 15m into the bush. The best descent is to the right (facing out), just to the left of the rough stone block retaining wall. This brings you down to the left hand end of the crag (facing the cliff). To the right of the main wall (facing the cliff) are a number of short, good looking bouldering walls. Climbs described left to right, facing the cliff.
---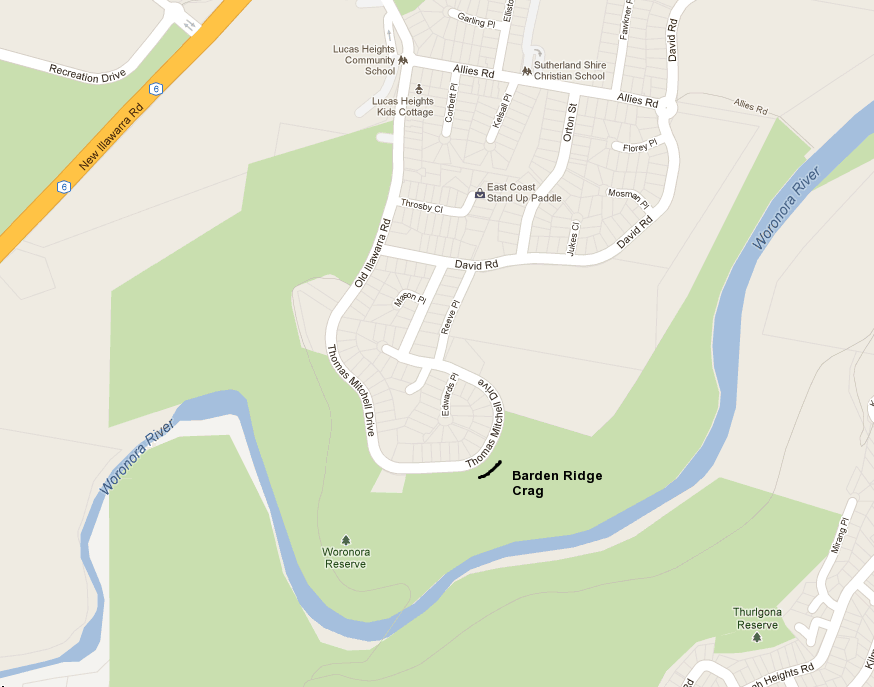 *
Let the Games Begin!
18
13m
Start as for EE. Up to BR on EE, then up and left to ledge. Great moves up and out the overhang (2 FHs) on jugs, then up as for EE (take a mid size cam). The first FH is very poorly placed - it loads the carabiner over an edge. Most of the original holds above the first FH have subsequently broken off, so this climb is probably harder than it originally was. Take care.
David Barnes 2000-09
*
Errant Edge
17
12m
Start 2m right of block. Thin start (BR) to ledge. Over roof (BR), then left up ramp and up the steep featured headwall (take a mid size cam for a marginal placement to the left). BB on top.
Alan Silva, Matt Andrews 1995-05-22
*
Gotta Love This City
17
12m
1m right of EE. Up slab (FH and optional small cam) to ledge. Overhang (FH) to small ledge then headwall (FH) to bolt belay.
David Barnes 2000-09
*
Budawang Barking Beetle
16
12m
Marked. 1m right of GLTC. Up flakes and breaks to ledge. Good moves over bulge to small ledge and crack. Up crack (crux - BR on right) to top. Bolt belay. Take cams and wires.
Alan Silva, Don Rice 1990-04-08
Emu's Paradise
21
12m
1m right of BBB at the Gymea Lilly. Thin and desperate moves up slab (FH) to breaks (or traverse in from BBB and aid past FH - grade 16). Up breaks (cams) to ledge. Step left and up headwall (BR) to tree belay. Please don't trash the Lilly.
David Barnes 2000-09
*
Speed Zealot
21
12m
Start as for EP. Up EP to ledge. FH on lip, then strenuously over roof on jugs and up easy headwall. Tree belay.
David Barnes 2000-09
* *
Gymea Lilly
17
6m
Crack 1m right of SZ (behind the Gymea Lilly). Hard moves up crack to finish on ledge (BB). Please don't trash the Lilly.
The wall with the following 5 routes on it has fantastic rock.
Rod's Rodeo
20
8m
3m right of GL. 2 UB to double UB belay.
Jason Lammers 2005-08
*
Ring Around a Rodney
21
8m
2m right of RR. Cruxy start then great climbing past 2 UBs to anchors on RR.
Jason Lammers 2005-08
*
Rod Ramset and the American Eagles
22
8m
3m right of RAaR. Nice to 1st UB then hard but nice move over bulge (passing a 2nd UB) then more easily to double UB anchor.
Jason Lammers 2005-08
The Whippet
21
8m
Starts about 5m left of HNiI. Streno start to nice snakey layback crack. Up to big tree on edge of cliff.
Jason Lammers 2005-08
*
Her Name is Iris
17
6m
Below arete at right hand end of bouldering wall. Good moves past 3 FHs (2nd looks a bit dodgy). BB.
David Barnes 2000-09