Alfords Point
| | |
| --- | --- |
| | 5 minutes |
| | Morning sun, then shade most of the day |
| | Short, easy access |
Introduction
One of the larger cliffs in the Shire, with good rock quality and a scenic position perched above Great Moon Bay (Georges River). A day underneath the high frequency wires, on a cliff a little larger than the normal Shire stone, with easy access, makes for a good day out. The cliff comes into shade early so its not a bad spot to enjoy a summer's afternoon or a winter's morning.
History
This area was first known as a Scout abseiling hangout. Because of its weird access off the freeway it was ignored for many years by 'real' rockclimbers. In the early 1990's the area was visited by Chris Wallace, Dave Barnes and the growing crowd from the new local gym at the time, The Rocknasium. This is when many of the established routes were done.
Access
The crag is located on the eastern side of Alford's Point Rd, south of the Alford's Point Bridge. The new bridge and road works have changed access. Park in Maxwell Close and walk right (north) along the bike path along Alford's Point Rd for a couple of hundred meters until you see a thin concrete pillar 1m high in the bush with white and blue stickers, and extensive views out east over the river. The crag is below. There is an easy scramble down to the base at the southern end of the cliff (right hand, facing river). Sometimes there is a hermit living in the cave near "Green Frogs and Liver", he is not too scary so say hello! The crag is located within Georges River National Park.
---
Climbs described left to right (south to north), facing the cliff.
Green Frogs and Liver
18
6m
20m Left of main wall. 2 Ubolts to lower-off.
Shae Constantine 1994
Blackened Slab
16
10m
Random dark bolt about 10m left of main wall. Climb past 3 rings to shared lower-off with Runnel Wall.
?
*
Runnel Wall
10
10m
Start 2m R of Blackened Slab, step up right onto ledge then gain big ledge, left and up nose to shared lower-off. Belay practice setup possible at halfway ledge on 2 Ubolts
mikl solo 2014
*
Iota
17
6
start1 M left of MacGuyer, up. Nice but tiny.
mikl 2015 solo then retrobolted
*
Smidgeon
19
6
Start as for McGuyver and up, move left to single bolt lower off for Iota
mikl 2015 solo then retrobolted
MacGyver
16
8m
The climb - that was supposed to be a warm up, but didn't quite work out that way. Quite tricky for the grade and missing a clip could find you on the floor. Start on left side of short orange wall. Traverse right wards along the break then up the big flake. Continue to move right to anchors below big tree.
Bundy and Wade - 2014
Bee's Dick
23
10m
As per MacG, but continue to traverse along the break for another bolt then up the tricky moves on NA.
Wade and Bundy - 2014
No Answers
23
6m
Start below orange streak, left of main wall. Thin and bulgy. Three FHs.
Chris Wallace 1993
Bundy's after work winter project
8m
There are no holds so will need to wait to winter to try this one. Start up Suburbanitis to break then move left and up to lower offs.
Bundy in winter time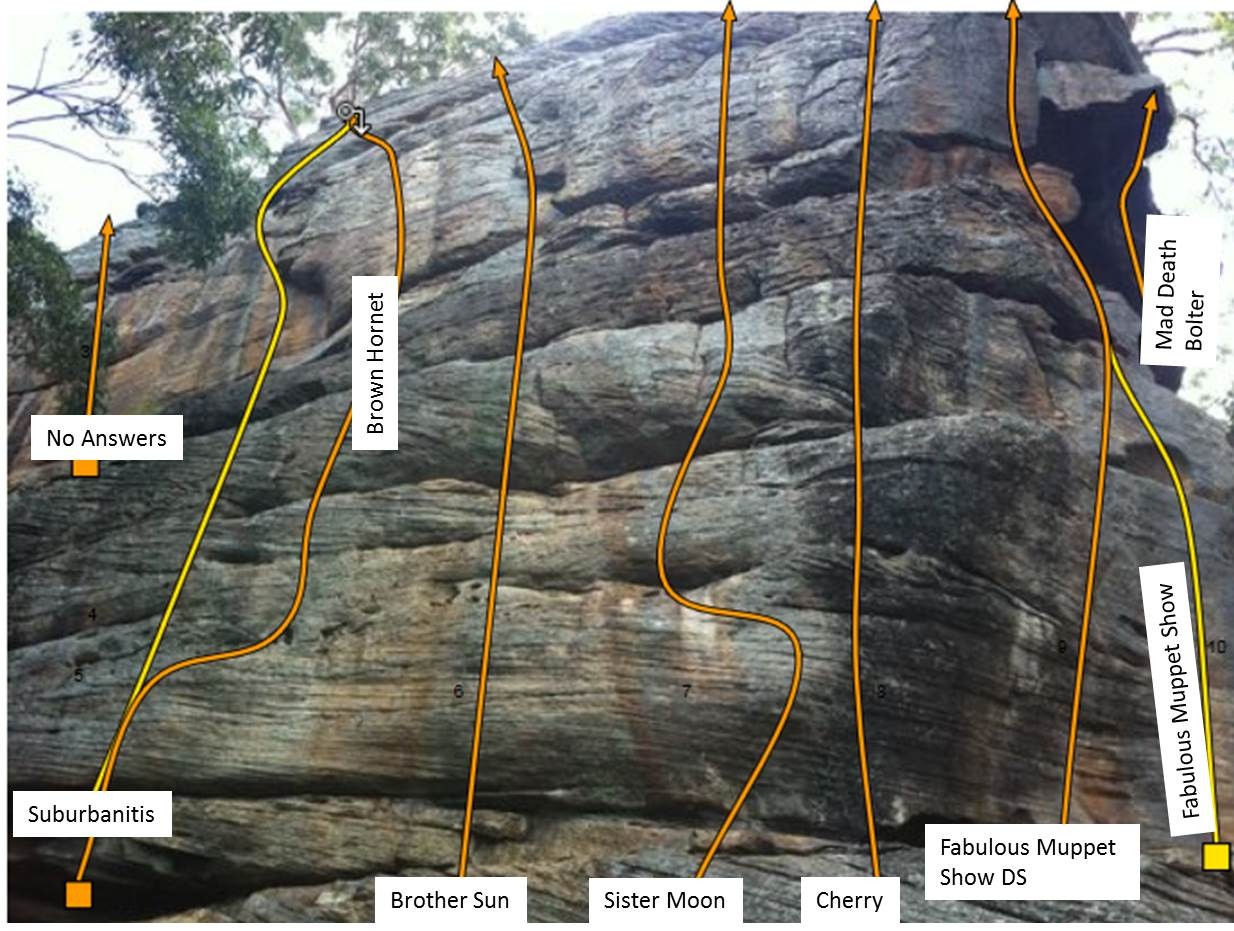 * *
Suburbanitis
18
16m
Nice wall with a hard thin start and easy finish. Start at big pockets on left side of tall wall. Cruxy thin moves past three bolts to ledge. Up to steep flake with cool, easy moves, then right and up to lower-off anchor. Was 16, but with inflation now 18.
David Barnes 1993 (retrobolted)
* *
Brown Hornet
19
16m
Start 1m right of S. Stickclip first ring and boulder the bulge at the start to pockets. Trend right for a few bolts then straight up the middle of wall above to shared lower-off with S. Was 15 until The Alfords Point Regrading Committee fixed that.
Chris Wallace 1993
* *
Brother Sun
19
17m
A great wall route with excellent features. Juggy pockets to start, then a few tricky moves to gain big left facing flake. Lower-off anchor. Was originally led with one bolt.
(retrobolted)
* *
SBB Link Up
18
18m
A link-up chasing good protection and climbing on Suburbanitis, Brown Hornet and Brother Sun. Great climbing with even greater pro. Start at first bolt for S and head up and diagonally right with either cams in pockets or clip bolts. Up flake on BS and to lower-off anchors.
Probably climbed as a variation in the 90's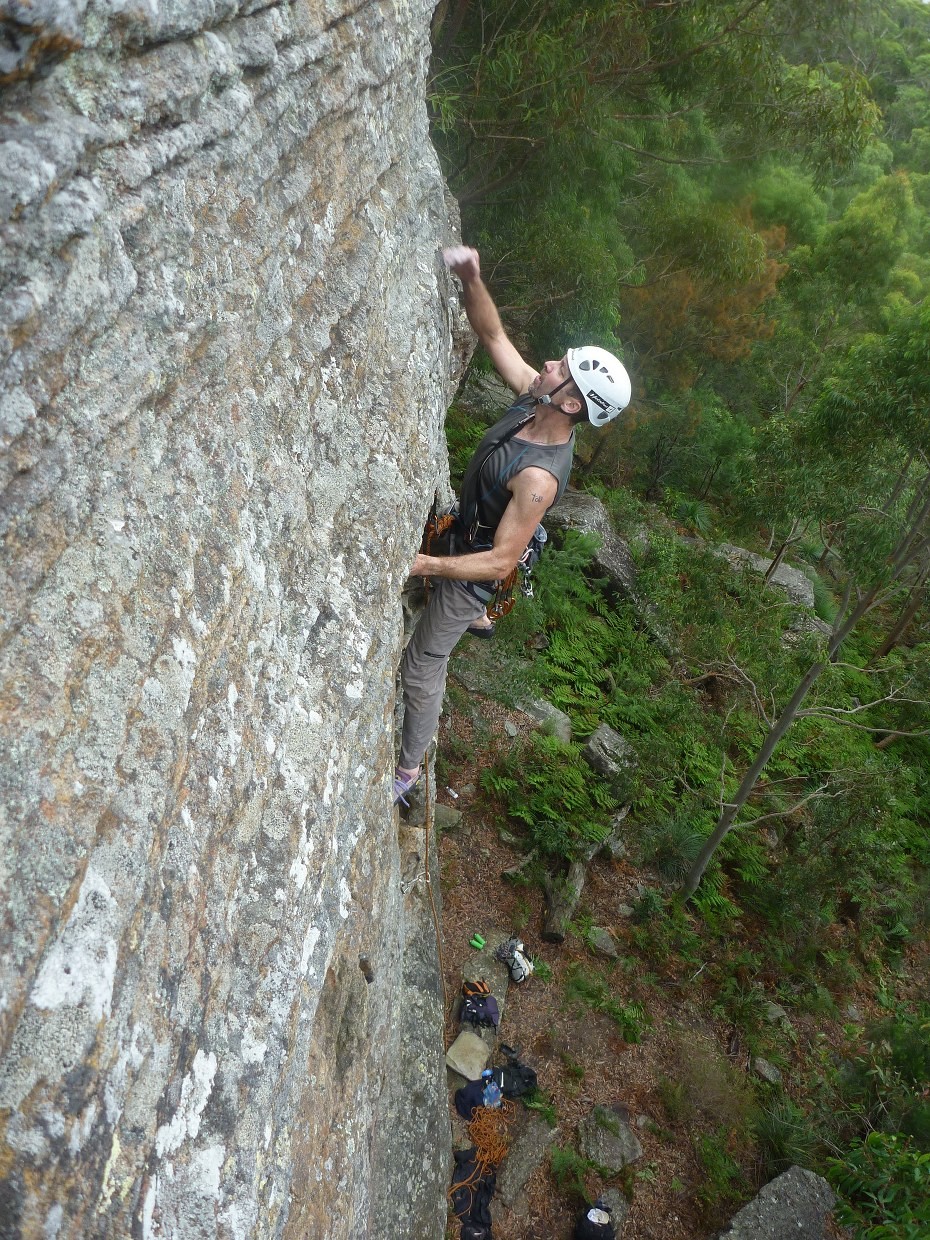 * * *
Sister Moon
21
17m
2m right of BS. Crag classic up the highest part of this crag. A long featured wall climb. Lower-off anchor at top.
(retrobolted)
* *
Cherry
21
15m
Burly start 1 m right of SM, with a bit of a move near the top.
Jason Lammers, Paul Thomson & Neil Monteith, Jan 2013
*
Fabulous Muppet Show
17
5m
The arete. 5 Ubolts to lower off. Avoid the desperate dyno start by coming in from the right up delicate corner.
Shae Constantine 1994
*
Fabulous Muppet Show Direct Start
23
14m
Directly below FMS. Stick clip BR then boulder up and dyno to jug. Continue as for FMS.
Doug Smith 1998
Mad Bolter
7m
Short roof climb through middle of small cave above FMS. 3 new Ubolts to lower off. Belay well, the ground is close. Has this been climbed?
Mrs Doubthold
20
7m
Start just right of Mad Bolter and traverse left crossing MB at the 3rd bolt. Finishes with hands on top at the crack, backjump to clean.
Jeff Crass 2014
A scramble up is possible here, further right the cliff gets bigger again.
Bumbly's First
14
8m
Corner and arete 4m L of 4 moves 3 bolts
Erwin Gamboa, 2014
*
Stumpy
21
8
2 cool boulder problems, step left to shared anchor
mikl 2016
*
4 moves 3 bolts
24
18m
20m R of main wall is short wall with a crack on the left. Bolted line 3m R of crack. Up to ledge then onwards
mikl 2014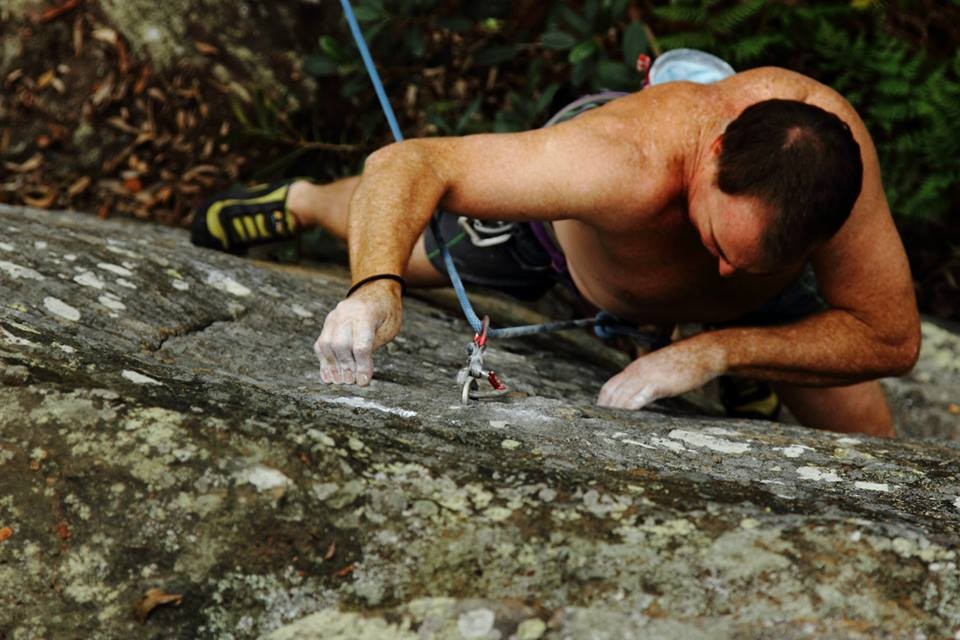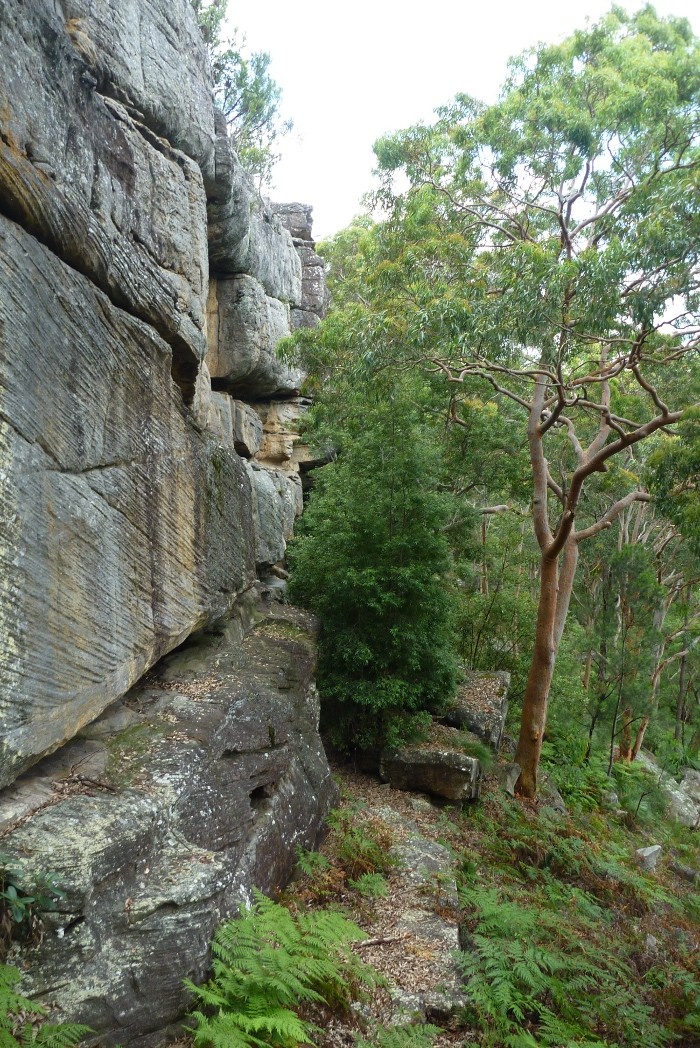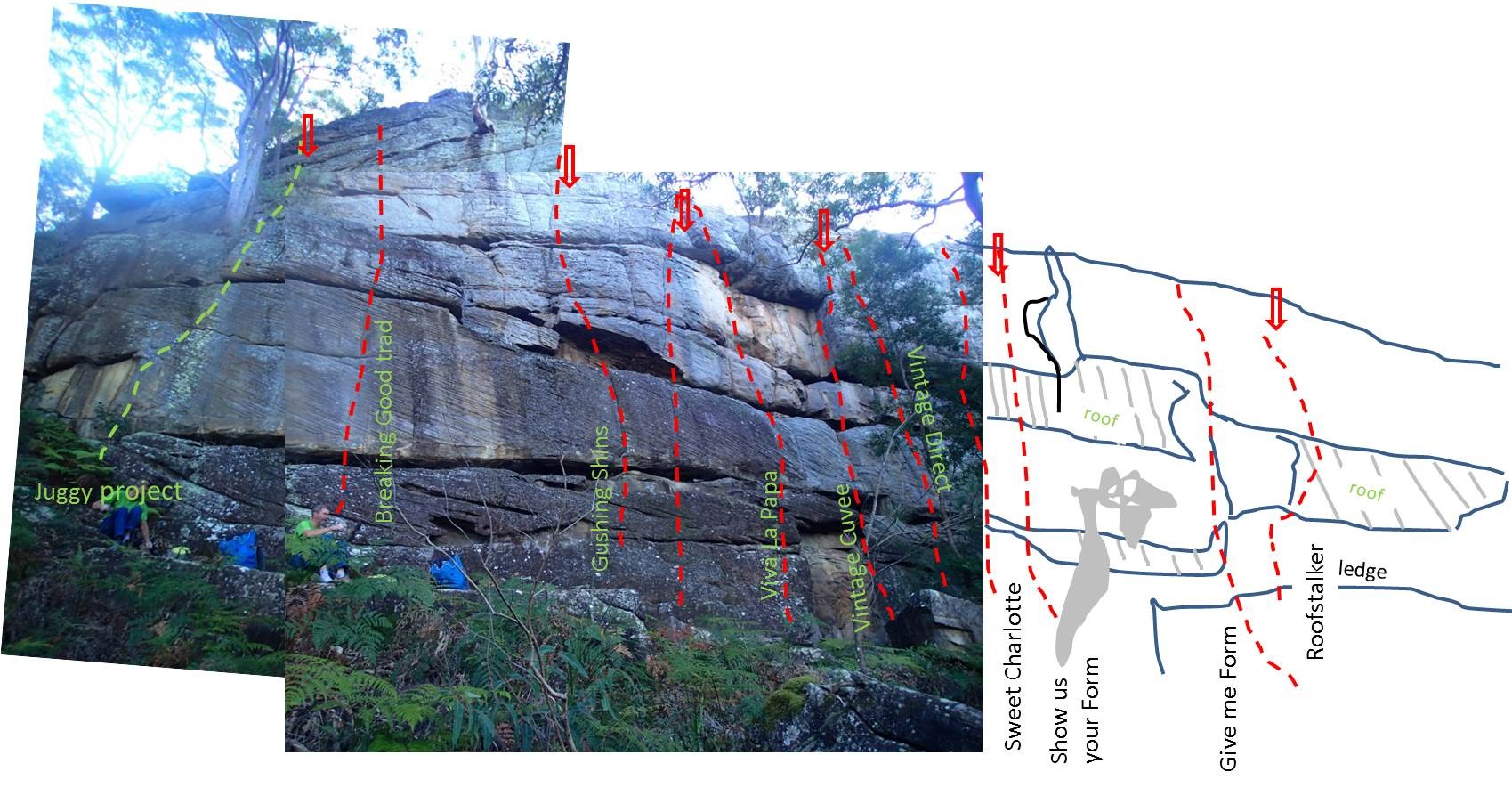 *
Stretch Target
24
8m
Start 2m R of 4 Moves 3 Bolts. Levitate up wall.
mikl 2014
* *
Breaking Good
21
18m
Trad climbing on Arapiles style breaks. Start in middle of orange wall, 3 finger to thin-hand cams in first break then easily to ledge and up wall behind. Boltholes have been drilled on this in strange places also.
mikl law, Jeff Crass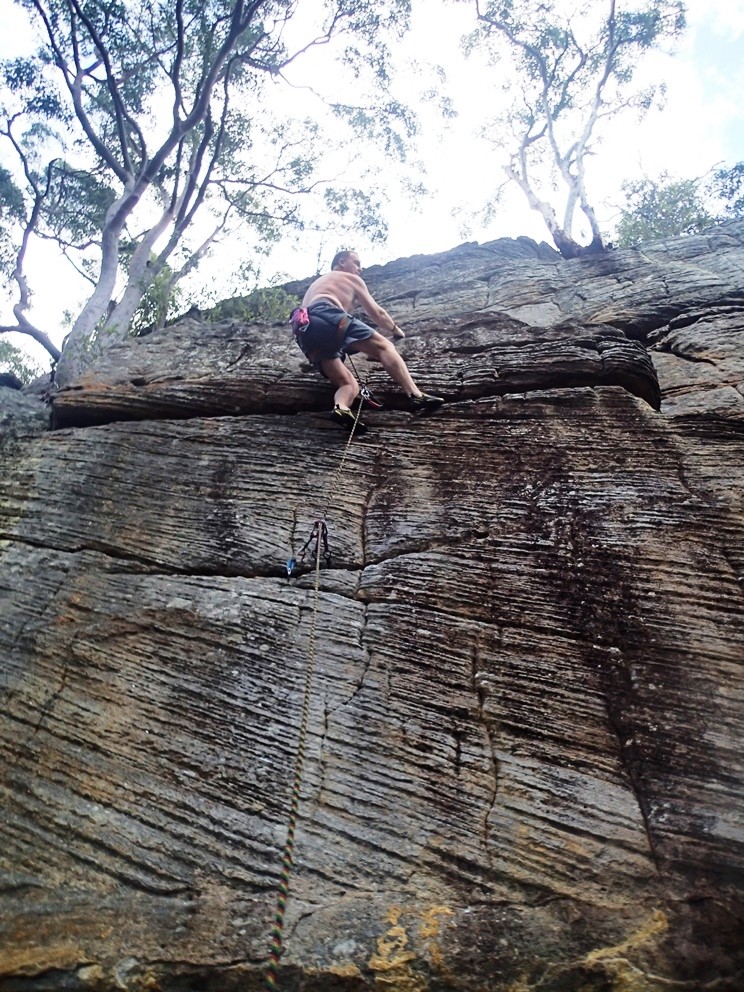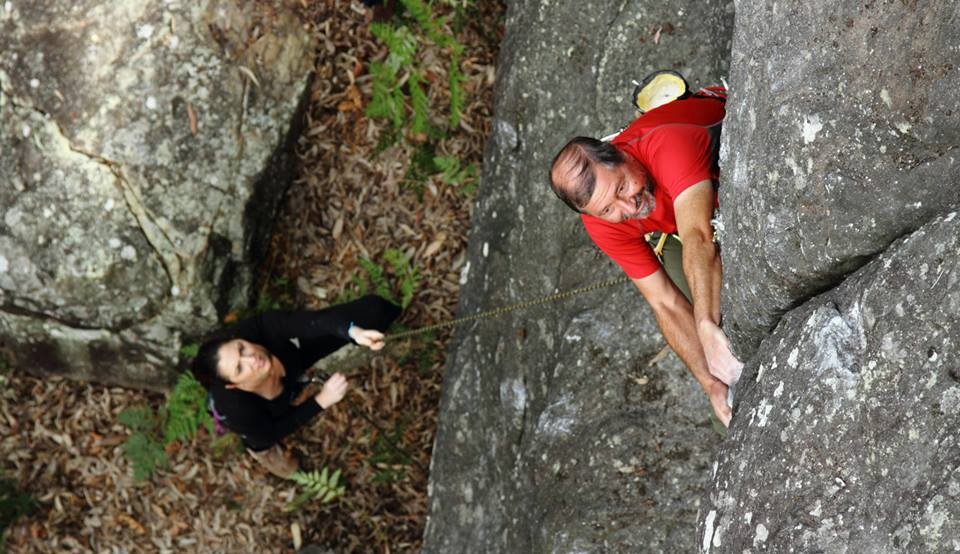 * *
It's a wrap
18
15
3m right of Breaking Good. Start off short person's cheating stone and up
V Peterson 2016
* *
Gushing Shins
19
15m
Start at thin seam 4m above the ground marked K (probably an old top-rope route), 6m right of Breaking Good, 40m R of main wall. Up seam and wall.
Jeff Crass 2014
* *
Gushing Knees
19
15m
Start 3m right of Gushing Shins, up and follow vague seam to shared lower-off with Gushing Shins
Jeff Crass 2014
*
Necropolis Kidney
20
15m
3m right of Gushing Shins. Short slab to shallow seam. Share lower-off with Viva la Papa
Chris Wallace 1993
* *
Viva La Papa
19
15m
Tricky slab, then super orange stone to overhang. Loweroff.
David Barnes 1994 (retrobolted)
*
Lurch
20
15m
Start 1m R of VLP and up till you can out a foot in Vintage Cuvee for a move
mikl 2014
* *
Vintage Cuvée
16
15m
Orange left facing corner some 50m R of the main wall. Easy start, into nice corner. Pop out right and up the nice headwall.
* *
Vintage Direct
24
15m
Start just R of VC, follow the seam and holds on right then through bulge and seam. Classic Arapiles style trad climbing on bomber rock. The top 4m was an old sport route on dangerous bolts. The new trad version was head-pointed (easy to toprope off Vintage Cuvee rings) to find gear including 2 good RPs in first seam, and big cams (fist) in the back of the cave before final bulge.
mikl law 29/05/2014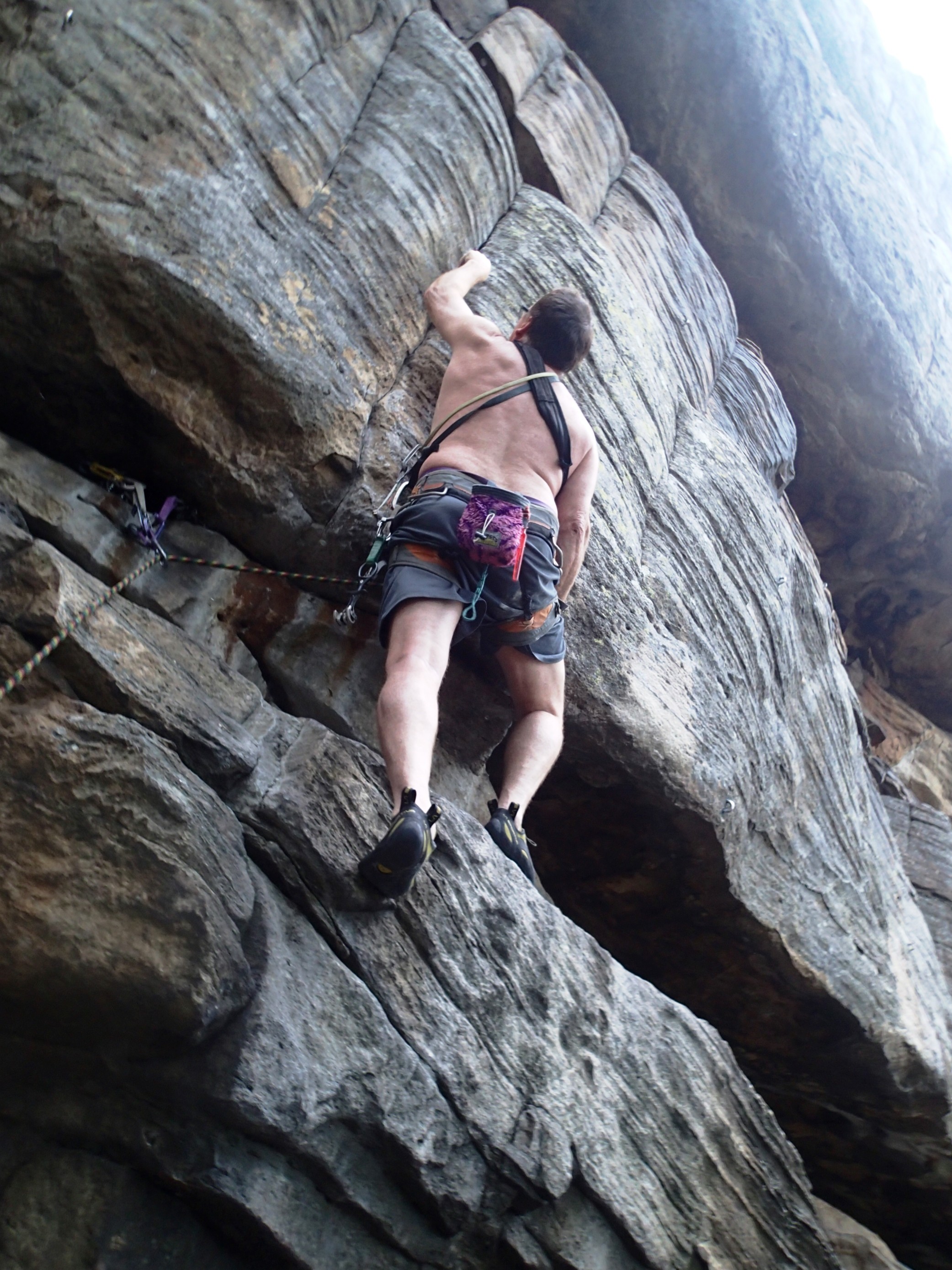 * *
Sweet Charlotte
25
15m
2 hard sections up wall 3m R of VC, shares a crimp at the start.
Dave Barnes 1994
* *
Show Us Your Form
23
15m
Start at tree 6m R of VC, up and thru roof
David Barnes 1994
* *
Glamworm Roof
23
15m
Weird outward facing move through roof, start as for Show Us Your Form for 5m then step right to seam.
mikl 15-06-2014
Roof project
Start 3m R of SUYF
* *
Working from Home
23
15m
Nice finish to Give Me Souls, from the 3rd bolt on GMS, step left and up, traverse lip and up to same lower-off.
Bundy 2014
* *
Give Me Souls
23
15m
Start in left side of big cave, 5m right of tree and SUYF. Up steeply left and on to the head wall.
David Barnes 1994
* *
Roof Stalker
22
16m
Hard start then up to horizontal flake thingo. Clip a couple RBs in the roof, and then up the headwall.
Ogawayama
23
15m
Up RS to the Mikl flake (use extended draw or sling here) and traverse right across the lip of the roof to a big (hard) move on big holds to easy dirty finish.
Bundy - 2014
Exploding V
23
15m
Not sure how the Shire grid bolting locals missed this, but Wade found himself a sweet line to bolt for his first ever FA. Then next one along in the cave. Steep start with some hard moves thru the V - then easy to the top.
Wade - 2014
* *
Sideline Jack
15
14m
A long forgotten route now rejuvenated to become A Sydney Bumbly Classic! The line of rings at the right end of the cave, at the left side of some small trees against the wall. Up to cave slot and through steep and incredibly juggy terrain. 6 U-bolts to lower-off.
David Barnes 1993
*
Japan15
18
12m
Great latter day addition. Clip first bolt on 'SJ' then up rightwards thru the bulges. Good double down this way with SJ
Bundy - 2014
*
Soccer Mum
17
14m
A steep wall, start 3m R of Sideline jack, at the right side of small trees against the wall. Watch out for Sodomy bush when lowering off.
Vanessa Peterson 2014